Downtown Business Spotlight: Bottoms Up Scrubs
This week's business spotlight shines on Bottoms Up Scrubs! Located at 4913 48 Street, this specialty uniform store has everything you need if you're in the medical professional field of work. We sat down with the manager, Jenny, to learn more about this business!
What is your business?
We are Bottoms Up Scrubs. We're a specialty uniform shop for medical professionals and chefs, we do a variety of quality uniforms, shoes, accessories. Our customer base has kind of expanded over the last six months with COVID. We're getting everything from teachers, to eye clinics—a whole gambit of folks looking for scrubs. We've definitely gone past that medical professional's side of things, but that's still a majority of where our niche is.
When did you open?
The current owner [Linda Stevenett], took over the business in November of 2013, but the business has been around for over ten years, with two previous owners as well.
What would you say makes your business unique?
There are a few things that make us unique. For Red Deer, we're the only specialty uniform store in the city, so that sets us apart. In terms of what makes us unique in the uniform world, we cater to everybody. We carry everything from plus size—in stock—to men's, maternity, shoe sizes up to a size 43. We definitely make sure to cover the full range, instead of making you special order everything in just because you're outside the box.
What are some products/services that you offer?
We offer everything from uniforms, shoes that are suitable for those long shifts, stethoscopes, watches, all the little accessories, badge reels, that kind of stuff that folks may need to get their day-to-day job done.
Why did you choose Downtown Red Deer as the location for your business?
When the owner took over the business in 2013 it was already an established business. This was the location it was in when she took it over, so we kept it for that reason because customers knew where we were at still, at that point. The central location for us works well. Were not that far from the hospital, were close to transit, we're close to a lot of corporate companies like dental offices, there's a lot of that in the area as well.
What do you think makes Downtown vibrant?
The diversity of people and the variety of business in the area is a big one for us. There isn't much in terms of products and services that you can't find in the Downtown area. The variety of activities hosted by businesses and the DBA adds to the charm that is Downtown.
I love Downtown Red Deer because… it's where our story began. Since 2013, we have expanded our business; we do have a location in Calgary, as well. I was down in Calgary for two years setting up that store, but definitely, Red Deer is home, Downtown Red Deer is home—that's where we start!
For all things, scrubs and accessories, go check out Bottoms Up Scrubs and follow their social media for all the latest deals and events!
Website: https://www.bottomsupscrubs.ca/
Facebook: https://www.facebook.com/bottomsupscrubsyqf
Instagram: https://www.instagram.com/bottomsupscrubs/
Twitter: https://twitter.com/BottomsUpScrubs
Council boosting budget for Downtown Business Association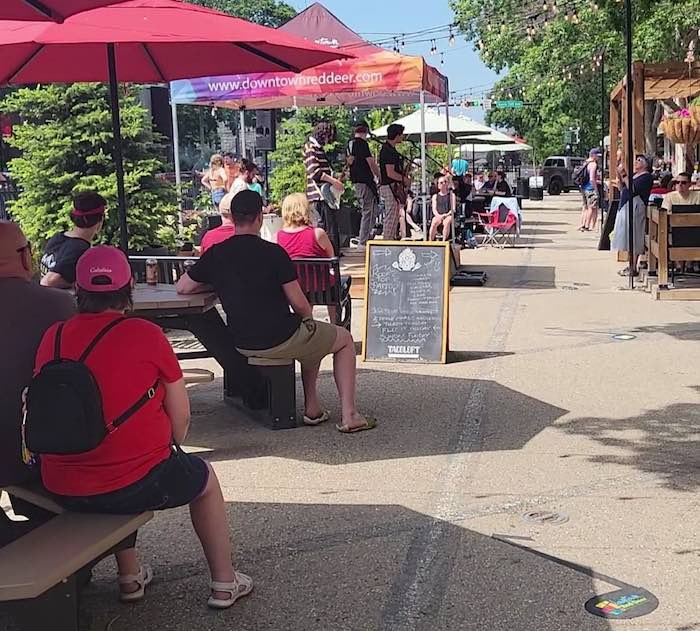 Council approves 2024 DBA budget, increased investment in events
The Downtown Business Association is investing more time, money and energy into downtown events following City Council approving its 2024 budget. During the presentation today, DBA Executive Director, Amanda Gould and Board Chair, Brandon Bouchard outlined the organization's plans for the upcoming year to continue to work towards creating a busier downtown that intends to result to increased support for businesses within the Business Improvement Area (BIA).

"The DBA remains steadfast in its objective to build on the growth seen in 2023. The collaboration between The City of Red and the DBA is at all time high and with the pending actions set to be delivered through the Downtown Activation Playbook, I know there are many great things to come that will support our business community and create the thriving downtown we all want to experience," said Amanda Gould, DBA Executive Director.

"Today Council demonstrated their commitment to their strategic priorities with the support shown to the DBA through unanimous support of the 2024 budget. This mighty Association continues to do great work on a shoestring budget and the 2024 Board of Directors are keen to lend their expertise and entrepreneurial skills to benefit the downtown in its entirety."
Brandon Bouchard, DBA Board Chair

The DBA's budget is partially funded through the BIA tax levy, which is collected by The City of Red Deer. Each year, the DBA presents its proposed budget to Council for their consideration. When reviewing the budget, Council considers alignment between the DBA's downtown priorities and City's community priorities.

"DBA has constantly hit far above its weight in our downtown, I can't think of a more supportive messenger of promotion than the team at the DBA, it's so encouraging to see this strong support for our downtown," said Mayor Ken Johnston. "I'm encouraged by the leadership and direction of the DBA and look forward to what they have in store for 2024. They continually bring positive initiatives to the downtown even with the constraint on finances."

The DBA's total approved budget for 2024 is $775,160, with $277,725 funded through the BIA with the remaining amount funded through items such as grants and contracts. The BIA portion for 2024 is an increase of five per cent from 2023.

The Downtown Business Association has been operating in Red Deer for more than 30 years, serving approximately 350 business owners in the Downtown area. Through partnerships and leadership in advocacy and promotion, the DBA is the catalyst for a vibrant and prosperous downtown that is the place to live, work, play and do business.
What's Happening Downtown: Holiday Edition!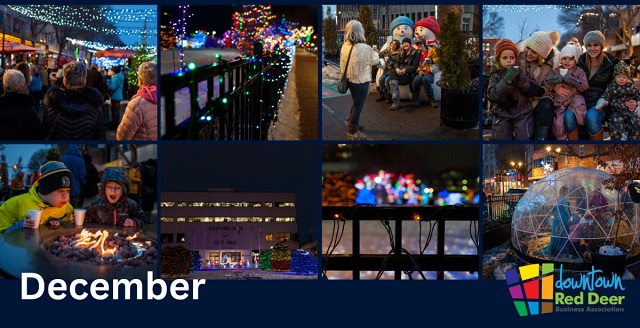 Hey Red Deer!

Embrace the festive spirit downtown this holiday season! Immerse yourself in the dazzling brilliance of the city hall lights, delight in family-friendly events, and complete your holiday shopping at the heart of the city this December. Explore a myriad of activities and events designed to make your holidays truly magical. Read on for detailed information about the incredible lineup of festive events awaiting you this season!
Frost Street Patio Party
December 8th @ 4:00 pm – 7:00 pm
Join the DBA and Spandy Andy on the Ross Street Patio for some frosty fun! Check out the children's entertainer's activity booths and sip hot chocolate under the festive downtown lights. Bring the whole family together for an unforgettable outdoor celebration. Whether you're grooving to the DJ or simply basking in the warm glow of the fire tables, the Ross Street Patio is the place to be for an evening of free family fun. Visit https://downtownreddeer.com/north-pole-stroll/ for more information.
Santa Bus

Dec 8, 9, 15, 16 @ 5pm – 8pm

Santa is back on the bus! Merrily cruising down the streets of Red Deer, you can follow Santa Claus on the My Bus App for his arrival time in your neighbourhood.
Christmas Pickle
November 15 – December 15th
A pickle used as a Christmas decoration may seem odd at first, but it's an old tradition. When decorating the tree, the pickle is hung last, hidden among the branches. The first person to find the Christmas Pickle on Christmas morning receives a special blessing for the year and an extra gift! As part of North Pole Stroll, many Downtown Red Deer businesses place pickles in their stores. Customers lucky enough to spot them are eligible to win a prize from that business, such as a discount or raffle entries. Please click here for more information.
Mary Liv at the Velvet Olive Lounge

Dec. 20th | Doors 5pm | Show 7:30pm

Check out the talented multi-instrumentalist and songwriter Olivia Morelli, an emerging artist from Saskatoon, Sk.

Ticket price is $10 + 2.50 SC

The Velvet Olive Lounge hosts LIVE music 4 days a week. Check out the full December line up here.
Afro-Caribbean Cultural Cafes

& Storytelling

December 13th, 2023 @ 6PM

Discover a celebration of diverse cultures with tantalizing ethnic cuisine and captivating storytelling at the Flex (4919 49 ST). Join us alongside your family, friends, and colleagues for an enriching experience.

Free and open to the public!

Contact: 403-550-4067

Click here for more information or register at www.accoca.ca.

Supported by the African Caribbean Centre of Central Alberta and the City of Red Deer.
Window Scavenger Hunt
November 16th- December 16th
Many downtown Red Deer businesses decorate their windows for the holiday season. The Downtown Business Association has created a self-guided tour in the form of a scavenger hunt so you can see them all! Get a copy of the scavenger hunt at downtownreddeer.com for your chance to win a 300$ prize package. Email your completed copy to [email protected] with your name and contact info. The winner will be announced on December 16th.
Twinkle Tour & Late Night Shopping
December 15th @ 4:00 pm – 7:00 pm
For one night many Downtown businesses remain open late to help Red Deerians with their holiday shopping and to encourage the support of local businesses. From 4-7PM, downtown visitors are invited to grab a free hot chocolate and a copy of the holiday scavenger hunt on the Ross Street Patio. Check out the beautiful window displays and City Hall lights and pick up some Reindeer Food & Snowman Soup on your way to your favourite shops.
Visit https://downtownreddeer.com/north-pole-stroll/ for more information.
| | |
| --- | --- |
| | Red Deer Arts Council and the City of Red Deer have partnered on a writing contest to keep our imaginations warm this winter. We invite Red Deer youth, teens and adults to create a short poem or story (fiction or creative non-fiction) with a maximum length of 500 words about winter and/or the holiday season in Red Deer. All submissions can be sent to the Red Deer Arts Council at submissions@reddeerartscouncil.ca for a chance to win exciting prizes. |
Amanda Gould

Executive Director

Follow Us on Social Media