Discovery Centre rolls into Capstone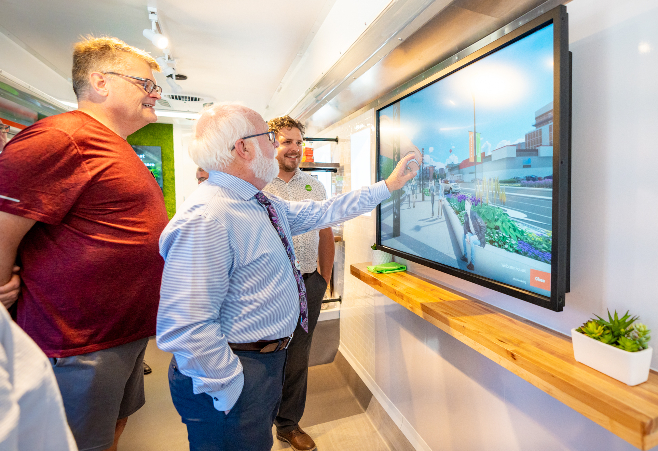 The City of Red Deer, Land & Economic Development team publicly launched a real estate presentation centre for the Capstone community redevelopment program. The presentation centre has been designed specifically to educate and engage Red Deerians and Central Albertans on the vision of the community and its importance to the vitality and sustainability of downtown Red Deer. The opening marks a new era in the transformation of the area into a master planned urban village in the heart of downtown Red Deer.
While traditional 'bricks and mortar' real estate centres are still common practice in community development, The City of Red Deer took a more innovative approach to sharing the vision of the Capstone redevelopment, by converting a decommissioned transit bus into a discovery centre.
Named the Capstone Discovery Bus, the mobile real estate centre allows The City a unique opportunity to travel throughout Red Deer and into smaller areas to broaden interest for and educate on the community vision. Civic celebrations, annual festivals and cultural performances will be regular stops when the bus is not at its main stop near Canada 150 Square inside Capstone.
"Having a community presentation centre that engages and educates the public is a vital part of real estate development as it supports storytelling, which ultimately affects a buying decision," said Mayor Ken Johnston. "It gives future residents and real estate prospects a sampling of how the community will look, feel, and behave. Importantly, it addresses how the community will meet the needs of its residents."
Capstone is quite unique in its design and development intentions and represents a new type of community for Red Deer. The vision for Capstone is a mixed use, multi-family community in which 5,000 residents will one day live in some 2,000 condominiums, apartments, and townhomes. Its' location on the Red Deer River, west of the downtown, means Capstone is both a prime riverside address and an accessible city home.
"The success of the Capstone redevelopment program underpins the future health and vitality of our downtown core," City Manager, Tara Lodewyk. 'Our city is expected to grow by approximately 20,000 new residents over the next 10-12 years and accommodating some of this population growth in Capstone is good news for our downtown businesses and services. We have planned for the highest and best use of the lands in Capstone to accommodate for our growth."
The interior spaces and displays of the remodeled city bus have been meticulously designed to portray the Capstone vision. Within its tiny 280 square foot footprint, the Capstone Discover Bus allows visitors to experience a typical day-in-the-community. An urban condo, a brew pub, a micro grocery store, and a mini park space all come together to describe the personality and built form of the neighbourhood. A 3-D model, depicting the community at full build-out, will be delivered digitally and will orient the visitor to the lands of Capstone, while highlighting the future density ambitions and design aesthetic.
Extensive research was done on the wants and needs of the future resident, and young working professionals and older adults have identified as most interested in calling Capstone home. With nearby retail services and amenities, including an expanded regional hospital, the future Capstone citizen is seeking a community which not only satisfies their social and recreational needs but also offers beautifully appointed and designed homes.
The Capstone Discovery Bus is free of charge to the public and is open 12 – 6 p.m. Thursday through Sunday and on holiday Mondays. No reservation is needed; the public is invited to find us in Capstone and throughout the downtown core this summer. Follow us at #liveincapstone.
What the latest Bank of Canada rate hike means for inflation, consumers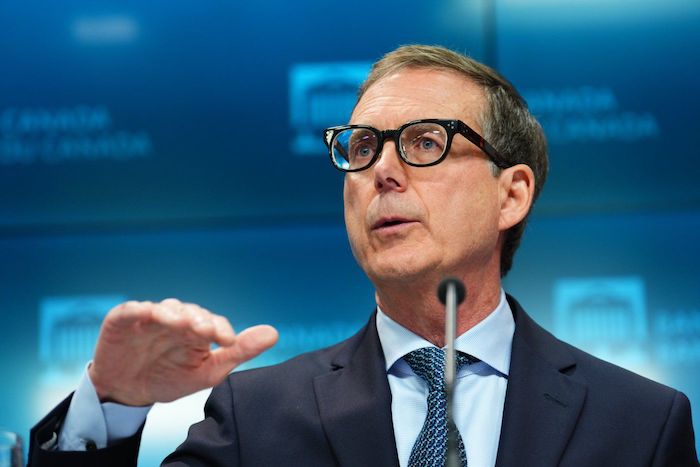 By Tara Deschamps
The Bank of Canada hiked its key policy rate by half a percentage point to 4.25 per cent — the highest it's been since January 2008 — on Wednesday in its final rate decision of a year that has been marked by stubbornly high inflation and rapidly increasing interest rates.
The bank, which has made a steady succession of large hikes over the course of the year, is widely believed to be nearing an end to the increases.
In announcing the rate hike Wednesday, the bank said it will consider whether the rate "needs to rise further to bring supply and demand back into balance and return inflation to target."
Here's a look at what the rate means, how analysts are interpreting it and what it could mean for consumers.
What is the key policy rate and what does it do?
The key policy rate, also known as the target for the overnight rate, is how much interest the Bank of Canada wants commercial banks to charge when lending each other money overnight to settle daily balances.
Knowing how much it costs to lend money, or deposit it with the central bank, helps set the interest rates charged on things like loans and mortgages.
Lowering the rate generally makes borrowing money more affordable, while raising it makes such activities more expensive.
Why is the bank using the rate to target inflation?
Inflation is a measure of how much prices of goods and services are rising or falling. High inflation is a sign of an economy that's overheating.
Canada's annual inflation rate reached a peak of 8.1 per cent in June, the highest level in four decades.
It has eased since then, reaching 6.9 per cent in September, but didn't budge in October. And shoppers have seen higher prices for common expenses like groceries. Grocery prices have been rising at the fastest pace in decades and were 11 per cent higher in October than they were a year ago.
Economists and the central bank want to see a further easing, which is why interest rates have been rising so quickly in the hope of cooling consumer spending patterns.
"Inflation is still too high and short-term inflation expectations remain elevated," the bank said in its announcement. "The longer that consumers and businesses expect inflation to be above the target, the greater the risk that elevated inflation becomes entrenched."
What does this mean for my mortgage?
Mortgage rates tend to increase or decrease in tandem with interest rates.
When Canadians buy homes there are two kinds of mortgages they can select — fixed rate or variable. Fixed-rate mortgages allow borrowers to lock in the interest rate they will pay for a set amount of time, while variable-rate mortgages can fluctuate.
Allison Van Rooijen, vice-president of consumer credit at Meridian Credit Unit, estimates the rate hike Wednesday will bump payments on a $450,000 variable-rate mortgage on a 25-year amortization up another $130 or so every month. Since the beginning of 2022, rising rates have amounted to roughly $1,000 more per month since the beginning of 2022.
"Because of the high cost of housing in Canada and years of low borrowing rates, Canadians are carrying record-levels of debt on mortgages and lines of credit, so it's really important that people go through their expenses and look to scale back discretionary spending where they can," she said in an email.
She recommends people double down on efforts to pay off debt with higher interest rates as much as possible and if they are running into trouble making payments, discuss whether switching to another format of mortgage is right for them.
Does this mean interest rates will stop rising soon?
Shortly after the announcement, many economists predicted the bank isn't done with hikes yet, even though the language in the statement signalled the possibility of holding steady at 4.25 per cent.
BMO Capital Markets chief economist Douglas Porter said a further hike of about 25 basis points is likely still to come because he's concerned about the "stickiness of underlying inflation."
James Orlando of TD Economics agreed. He expects the bank will deliver its final rate hike for the foreseeable future in January, bringing the measure to 4.5 per cent.
"We don't think the Bank of Canada is done yet, but it is quickly approaching the end of its hiking cycle," he wrote in a note to investors.
"As all Canadians know, the rapid rate hikes over 2022 have caused a dramatic adjustment in the real estate market, and we are starting to see this in consumer spending data. We expect this to continue to weigh on the economy over 2023 as the lagged effects of past hikes filter through."
This report by The Canadian Press was first published Dec. 7, 2022.
Experts raise concerns as Nigeria limits cash withdrawals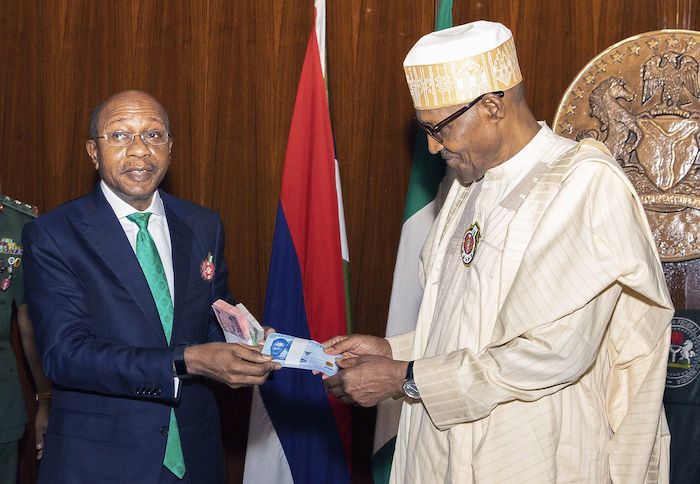 By Chinedu Asadu in Abuja
ABUJA, Nigeria (AP) — Experts on Wednesday raised concerns over a new policy announced by the Central Bank of Nigeria that heavily limits withdrawals of money in a push for a cashless economy.
The monetary policy, which applies to ATMs, banks and cash back from purchases, follows the launch of the West African nation's newly designed currency notes to control the money supply.
The central bank limited weekly over-the-counter cash withdrawals to 100,000 naira ($225) for individuals and 500,000 naira ($1,124) for corporations, with a processing fee required to access more.
When the policy takes effect in Jan. 9, ATMs will no longer dispense Nigeria's high denominations of 1,000 naira ($2.25) and 500 naira ($1.10) while withdrawals from ATMs and point-of-sale terminals also will be limited to 20,000 naira ($45) daily.
"In compelling circumstances, not exceeding once a month, where cash withdrawals above the prescribed limits are required for legitimate purposes, such cash withdrawals shall not exceed 5,000,000 naira ($11,236) and 10,000,000 naira ($22,471) for individuals and corporations, respectively," said Haruna Mustafa, the bank's director of banking supervision.
Policymakers say the withdrawal limits and recent monetary initiatives from the central bank would bring more people into the banking system and curb currency hoarding, illicit flows and inflation.
But analysts worry that with digital payments often unreliable in Nigeria, the initiative could hurt daily transactions that people and businesses make.
"The policy is intended to cause discomfort, to move you from cash to cashless because they (the central bank) have said they want to make it uncomfortable and expensive for you to hold cash," economic analyst Kalu Aja said.
"That is a positive for the CBN (because) the more discomforting they are able to achieve, the more people can move," Aja said.
In Nigeria, the majority of people work in the informal sector — mainly activities outside of the legal framework and government regulation such as farming, street and market trade, and public transport. The economy is heavily dependent on this sector, and cash is usually preferred for transactions because many lack bank accounts.
Only 45% of adults in Nigeria have accounts with regulated financial institutions, according to the World Bank. In the absence of bank accounts, point-of-sale terminals have emerged as one of the fastest-growing areas of financial inclusion in the country.
Through the withdrawal limits, the central bank is "directly attacking" such agency banking services and "people will essentially begin to hoard their money," said Tunde Ajileye, a partner at Lagos–based SBM Intelligence firm.
"It is not going to drive people to start to try doing electronic transactions. On the contrary, it is going to move people away from the financial institutions," he said.