"Davos Elite at it's worst" Poilievre grills Carney for killing Canadian jobs while heavily investing in regions with serious human rights issues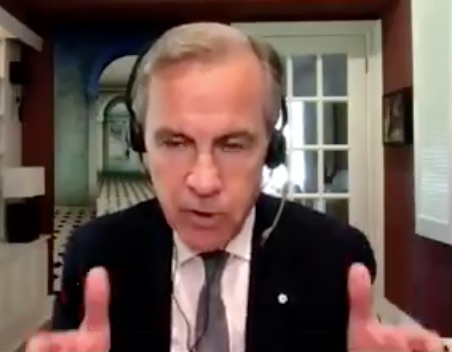 Former Bank of Canada Governor Mark Carney addressed a Federal Industry Committee hearing Thursday. That gave Conservative shadow critic Pierre Poilievre the opportunity to point out several disturbing realities regarding the work of Brookfield Asset Management. Mark Carney is Head of Impact Investing at Brookfield.
These compelling exchanges give disturbing insight into the movement to ditch oil and gas production in favour of renewable power. The videos clearly point out some of the issues regarding links to human rights abuses and widespread use of coal fired power.
From the Facebook page of Pierre Poilievre
Davos elite Mark Carney tells Industry Committee he opposes western Canadian pipeline project, but supports his company's multibillion-dollar-pipeline investments in Latin America and the Middle East.
He can make money off fossil fuels abroad, but Canadian workers can't do so at home.
Face it: the Davos elites are screwing working people.
Here's a millionaire whose company invests in Middle East & South American fossil fuels, but he wants to shut down pipeline jobs in Canada.
He makes a fortune, while turning other people's lives upside down.
In this exchange Poilievre asks Carney to acknowledge that Brookfield Asset Management buys about 50% of the raw material they use to build solar panels from coal-powered plants in China. The main product is suspected by US Lawmakers (from Reuters) of being produced in work camps in the region where the Chinese Communist Party is punishing the local Uighurs population.
In a closing statement on his social media page Poilieve posted a follow up question for Canadians.
From Pierre Poilievre's Facebook page
Carney is lecturing business about putting human values before shareholder profits.
He had a chance to put his money where his mouth is today, by recognizing the Uyghur genocide & risk angering China where his company has billions in business.
Did he choose people or profits?
Business leaders blast Ottawa's 'unnecessary and unacceptable' oil and gas emissions cap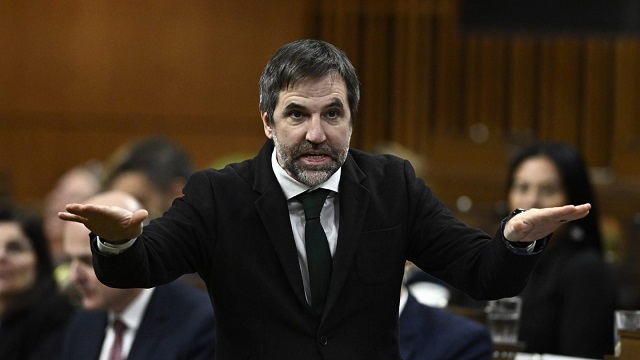 From the Canadian Energy Centre
The federal government is proceeding with its plans to cap emissions from the oil and gas industry in a move business leaders say will ultimately hurt Indigenous communities and everyday Canadians.
The Business Council of Canada called the cap part of a "full-on charge against the oil and gas sector."
The government announced on December 7 that it will implement measures to cap oil and gas emissions in 2030 at 35 to 38 percent below 2019 levels. A similar cap has not been announced for any other industry.
"It all seems punitive and short-sighted," wrote Business Council of Canada vice-president Michael Gullo and Theo Argitis, managing director of Compass Rose Group.
A cap on production
They don't put much stock into the government's claims that the cap is not intended to limit Canada's oil and gas production.
"That's semantics. To work, a cap would ultimately need to be severe enough to curtail production if needed, and that would have significant economic consequences," Gullo and Argitis said, warning of a "direct and immediate" loss of income for Canada's economy.
"There would be significant indirect costs as well, incurred by every household and business across the nation because Canada relies on income generated by oil and gas companies—totaling $270 billion in 2022 alone—to support social programs like health care, education, and infrastructure," they wrote.
Already on the path to net zero
On the world's current trajectory, oil and gas will still account for 46 per cent of world energy needs in 2050, down only moderately from 51 per cent in 2022, according to the International Energy Agency.
Industry leaders argue that Canada's oil and gas producers are already on the path to net zero emissions without the need for the cap.
According to Environment and Climate Change Canada's latest report to the United Nations, emissions from so-called "conventional" (non-oil sands) production declined to 26 megatonnes in 2021, from 34 megatonnes in 2019.
Producers in Alberta have already reduced total methane emissions by 45 per cent compared to 2014, hitting the target three years ahead of schedule.
Oil sands emissions did not increase last year despite production growth, and total emissions are expected to start going down before 2025, according to S&P Global.
"Imposing an emissions cap on Canada's oil and gas producers, who are already achieving significant emissions reductions as shown in the federal government's own data, is unnecessary and unacceptable," the Explorers and Producers Association of Canada said in a statement.
A cap on Indigenous opportunity
The Indigenous Resource Network (IRN) – which advocates for Indigenous participation in resource projects – said the cap would be "devastating" for Indigenous communities.
"A pathway to self-determination is being achieved through the ownership of oil and gas projects and involvement in the sector," said IRN executive director John Desjarlais.
"This would result in a cap on Indigenous opportunity in the oil and gas sector."
Desjarlais said the IRN is seeking an exemption from the cap for Indigenous communities who are engaged in oil and gas development.
He said the proposed cap directly contradicts the government's promises on reconciliation and its support for the United Nations Declaration on the Rights of Indigenous People.
Counter–approach to the United States
The approach of capping emissions runs counter to the incentive-based approach being pursued in the United States, the Canadian Association of Energy Contractors (CAOEC) said in a statement.
"There, the Inflation Reduction Act has attracted capital and accelerated low-carbon technology and innovation in the energy sector at the expense of Canadian businesses and workers," the CAOEC said.
Ottawa has yet to finalize announced investment tax credits to support clean technologies like hydrogen production and carbon capture, utilization and storage (CCUS), the Business Council of Canada noted.
"We have engaged the federal government in good faith over the past two years and have asked them to partner with us to accelerate the deployment of carbon abatement technology. As of today, we have received no support from this government," said CAOEC president Mark Scholz.
"Stop working against us and start working with us."
Final regulations on the proposed emissions cap are expected in 2025.
Danielle Smith: Just 'watch me' protect Alberta from federal restrictions on oil, gas production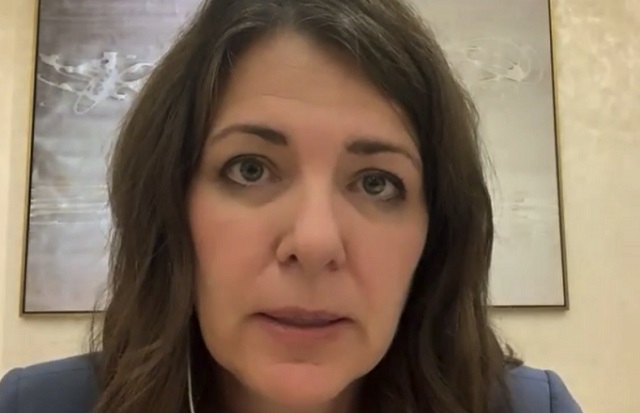 'That is what the Sovereignty Act was about, sending the indication that we're simply not going to comply with federal rules around this'
Alberta Premier Danielle Smith warned the federal government of Prime Minister Justin Trudeau to "watch me" over how she will shield her province from economic damage and high fuel prices after the feds announced a plan to cut oil and gas production by a third via an "emissions" reduction scheme by 2030.
"You'll just have to watch me if you don't believe me. That is what the Sovereignty Act was about, sending the indication that we're simply not going to comply with federal rules around this," Smith said while speaking to reporters at the United Nations' COP28 climate confab on Thursday.
Smith warned that the Trudeau government is risking a full-blown "constitutional crisis" over what she said are "economic sanctions" on Alberta because of Trudeau's oil and gas production cut.
On Thursday, Environment Minister Steven Guilbeault unveiled a plan at COP28 to slash oil and gas emissions by 35% to 38% below 2019 levels. He claimed that Canada needs to reach "carbon neutrality in Canada by 2050."
Natural Resources Minister Jonathan Wilkinson claimed that the federal government's new rules are needed to keep the planet from "burning up."
Smith agreed to attend COP28 to paint her province in a positive light and to promote its oil and gas industry in direct opposition to the Trudeau feds. She said Alberta and Canada are under attack by the Trudeau government and his "eco-extremist," admitted socialist environment minister.
Smith issued a joint statement with Alberta Minister of Environment and Protected Areas Minister Rebecca Schulz on Thursday that said the Trudeau government's new rules amount to a "de facto production cap on Alberta's oil and gas sector" that is an "an intentional attack by the federal government on the economy of Alberta and the financial well-being of millions of Albertans and Canadians."
"Alberta owns our resources and under the constitution we have the exclusive jurisdiction to develop and manage them," Smith said.
"We have done so responsibly by setting a price on carbon as far back as 2007, developing a carbon offset and trading program (TIER), investing billions in commercial scale carbon capture, creating an innovation fund that has so far supported 260 emissions reducing projects with $2.6 billion in grants."
My joint statement on the Federal government's proposed emissions cap on Alberta's oil and gas sector with Minister Environment and Protected Areas Minister Rebecca Schulz:

Today's announced de facto production cap on Alberta's oil and gas sector amounts to an intentional attack… pic.twitter.com/mNR69saHkP

— Danielle Smith (@ABDanielleSmith) December 7, 2023
Smith noted that Alberta has its own plan for "reaching carbon neutrality across our entire economy by 2050," which may or may not come to fruition.
She then took a shot at Guilbeault, calling him an "eco-extremist" whose ideals are "threatening the jobs of hundreds of thousands of Albertans."
"Ironically, they are also significantly undercutting global emissions reduction efforts by effectively de-incentivizing capital investment by the oil and gas sector in the emissions-reducing technologies and fuels the world needs Alberta to develop and share," she said.
Earlier this week, Guilbeault announced at COP28 his first attack on the oil and gas sector via a methane emissions cap. Smith blasted his new rules as "unrealistic" and "unconstitutional."
The Trudeau government is trying to force net-zero regulations on all Canadian provinces, notably on electricity generation, as early as 2035. His government has also refused to extend a carbon tax exemption on heating fuels to all provinces, allowing only Atlantic provinces this benefit.
Trudeau's current environmental goals are in lockstep with the United Nations' "2030 Agenda for Sustainable Development" and include phasing out coal-fired power plants, reducing fertilizer usage, and curbing natural gas use over the coming decades.
The reduction and eventual elimination of the use of so-called "fossil fuels" and a transition to unreliable "green" energy has also been pushed by the World Economic Forum (WEF) – the globalist group behind the socialist "Great Reset" agenda – an organization in which Trudeau and some of his cabinet are involved.
Last month, after announcing she had "enough" of Trudeau's extreme environmental rules, Smith said her province has no choice but to assert control over its electricity grid to combat federal overreach, by enacting its Sovereignty Act." The Sovereignty Act serves to shield Albertans from future power blackouts due to federal government overreach.
Unlike most provinces in Canada, Alberta's electricity industry is nearly fully deregulated. However, the government still has the ability to take control of it at a moment's notice.
Guilbeault's extreme eco-activist past
Guilbeault is as extreme as they come for an environment minister and his background shows a history of breaking the law via activism. In 1997, he joined Greenpeace and served for a time as a director and then campaign manager of its Quebec chapter for about 10 years.
He was arrested many times for environmental protests, the most famous arrest coming after an incident in 2001 when he climbed Toronto's CN Tower with British activist Chris Holden. The pair hung a banner saying "Canada and Bush — Climate Killers."
Greenpeace is a group that advocates for population control in addition to calling for an end to all oil and gas.
His extreme ideals have continued in his role as environment minister. He threatened arrest and jail time for Saskatchewan Premier Scott Moe, who said that on January 1 his province will no longer collect a federally imposed carbon tax on electric heat in addition to natural gas.
Smith has repeatedly defended Alberta from Trudeau's climate regulations and asserted Alberta's right to control its power grid, also promising the province will not be "transitioning away" from oil and natural gas. She has called on Trudeau to replace Guilbeault because he is too "extreme."
Alberta does have support from the Supreme Court, however, which recently sided in favor of provincial autonomy when it comes to natural resources. The Supreme Court ruled that Trudeau's law, C-69, dubbed the "no-more pipelines" bill, is "mostly unconstitutional." This was a huge win for Alberta and Saskatchewan, who challenged the law in court. The decision returned authority over the pipelines to provincial governments, meaning oil and gas projects headed up by the provinces should be allowed to proceed without federal intrusion.
The Trudeau government, however, seems insistent on defying the recent rulings by pushing forward with its various regulations.