Current COVID-19 situation in Red Deer leads to emergency order for temporary shelter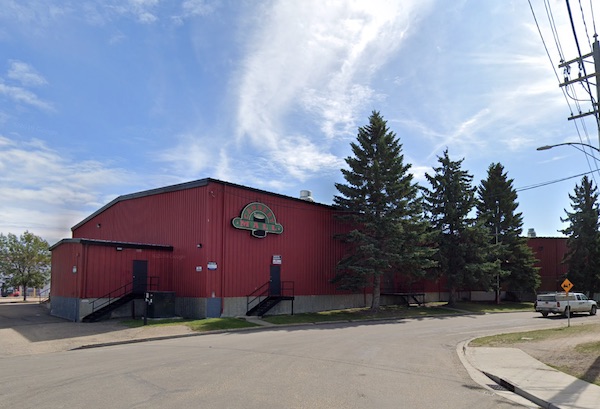 The Emergency Operations Centre has signed an Emergency Order to allow the temporary emergency shelter at Cannery Row to continue operating for the duration of the State of Local Emergency, including any renewals, or until this order is revoked.

"Our healthcare system is overloaded and cases are surging in our community. The decision to put the emergency order in place to allow the operations of the temporary shelter at the Cannery Row site did not come easy, we took into consideration the current outbreak status among our vulnerable population, the pressures on our emergency response services and the ability to support community-based outbreak protocols. We want to make sure our vulnerable population have access to care and resources, with the intent of diverting non-emergent issues from the hospital," said Ken McMullen, Director of Emergency Management. "The site will allow us to monitor, test and mitigate any further community-based spread and increased dependency on our already strained health supports.
A third party organization will continue to operate the shelter, with the Provincial Government to continue funding the operations. Mitigation strategies implemented in May will continue in the area while the temporary shelter is operational.
"We have extended the mitigation tactics in place to mirror the timeframe of the order, tactics such as security, cleanup, area liaison and fencing will continue for the time being to help minimize issues faced by surrounding residents and businesses," said McMullen. "Our number one goal here is to keep our community safe and minimize the spread while protecting our healthcare system. We are in a situation where hard decisions need to be made to protect all Red Deerians, and we believe that this order will help meet our goal."
The ability to implement the order comes following the State of Local Emergency (SOLE) being enacted on September 17 for up to 60 days by the Emergency Advisory Committee. The SOLE gives The City access to additional resources and special powers under the Emergency Management Act, including personnel, from other orders of government if required.
Charlie Brawn selected as the 2021 Red Deer honourary senior as a part of the Mayor's Garden Party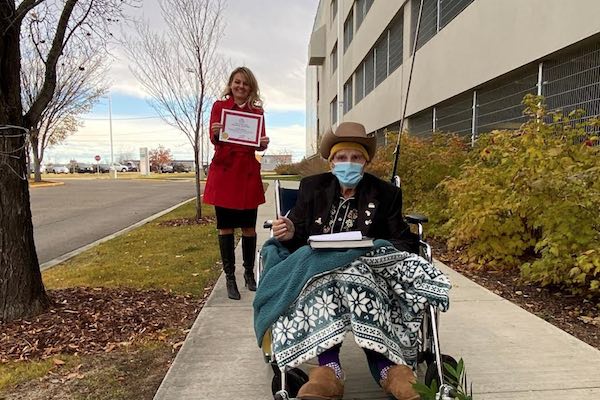 Each year, Red Deer's Mayor chooses a honourary senior who is recognized as a part of the Mayor's Garden Party for their contributions to our community,
province and country.
This year, Mayor Tara Veer selected Charlie Brawn from Parkvale Lodge as the recipient of the Honourary Senior designation. In lieu of publically acknowledging him, Mayor Veer visited Charlie to thank him for everything he has done for our community and province, presented him with a certificate, and a donation to the charity of his choice.
At 92 years young, Charlie has been a strong community builder for many years. Charlie has volunteered and donated valuable collections of models to Sunnybrook Farm throughout his years in Red Deer, first moving here in 1988.\
Mayor Veer first met Charlie through his volunteer work, and visited him again this summer at the Mayor's Garden Party. The purpose of the Honourary Senior is to say thank you to someone who has served our community with distinction.
"It was truly an honour to meet Charlie and his family safely outside to present him with this designation," said Mayor Tara Veer. "Charlie, like so many seniors in our community, share their knowledge and experience with us, and contribute so much to our community. I want to thank Charlie for his many contributions to the people of our city."
The Mayor's Garden Party is a time-honoured tradition for Red Deer seniors and those who hold the City's highest office. This year, with safety of residents and staff top of mind, the party took to the road.
"Even though we were unable to host our seniors in the gardens of City Hall Park again this year, we couldn't miss this annual opportunity to celebrate them," said Mayor Tara Veer. "We would like to extend our heartfelt thanks to our seniors for sharing your skills, knowledge and experience through the years. You all have contributed to the strength of our community, province and country, and we honour you for the legacies you have built.
New Red Deer City Councillor joins frontline workers in protest against 'mandatory' vaccination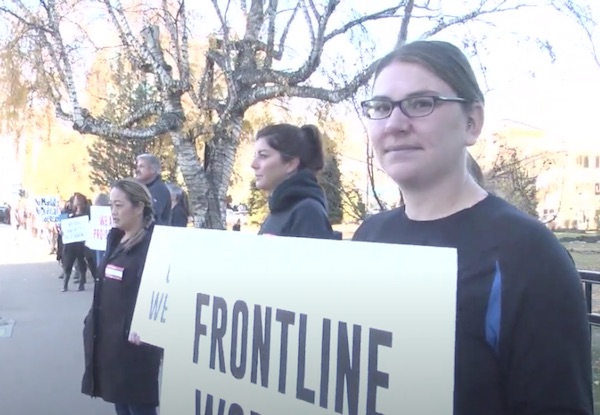 Under imminent threat of losing their jobs, as many as two hundred frontline healthcare workers including paramedics, nurses, and fire fighters gathered in downtown Red Deer Thursday afternoon for a silent protest in front of City Hall Park.  Organizer Kaitlin King, a paramedic from the North Central region says she represents thousands of workers who've already had covid and benefit from a very high level of immunity.  Despite her opposition to the covid vaccines, King says she'd be willing to be tested on a regular basis if that was an option.
As of Friday afternoon, AHS claims 94% of it's employees are fully vaccinated.  That number is contested by those who point out the AHS boosted the percentage of vaccinated employees drastically by dropping "casual" employees from their stats.
Whatever the actual number is, AHS has decided it it too high.  Friday, AHS announced via Twitter, that the deadline for AHS employees to be vaccinated or face the loss of their jobs would be delayed from November 1st, to December 1st.
AHS is hoping thousands of employees who've decided against the jab so far, will change their minds and begin the process in the coming days.
Meanwhile it appears Vaccine Mandates will be hotly contested by Red Deer's new City Council.  Newly elected Councillor Victor Doerksen attended the silent rally Thursday.  Doerksen is looking forward to discussing the validity of mandates with his fellow council members as soon as possible.