Updated: Cpl Courtney McKinley is first female soldier from 41 Signal Regiment to deploy from Red Deer in four decades
Correction: Cpl McKinley is the first female soldier from "41 Signal Regiment (2 Sqn)" in Red Deer to deploy overseas. There have been as many as 5 female soldiers from Red Deer that have deployed since 1979/80. In the original version of this article I incorrectly stated that Cpl McKinley was the first female to deploy in 4 decades. She is the first female "signaller" to deploy in that time. My apology.
What follows is the original article, updated for accuracy.
As we go about our busy lives in Red Deer, rarely do we think of the soldiers that work, live, and train in our city. The reality is that we have a growing group of soldiers here, members of 41 Signal Regiment (2 sqn) and 78th Field Battery, a unit of the 20th Field Artillery Regiment.
Given our lack of knowledge at what goes on inside Cormack Armoury and the military in general, it's fair to say many of us wouldn't realize that it's very rare for a female soldier from Red Deer to deploy on an international operation. Forty years ago this past month Cheryl Bolander, Connie Kaastrup, Karen Russel, Bev Scott and Joan Verbonic returned from deployment to Germany. In the ensuing years, there have been as many as 5 deployments of female soldiers from the city.
Those numbers were bolstered recently when Cpl Courtney McKinley Of 41 Signal Regiment took up the call and volunteered for deployment to Latvia in July 2019 for six months. McKinley returned recently to resume her studies in political science at the U of A.
Operation Reassurance in Latvia is part of NATO's assurance and deterrence measures ained to reinforce NATO's collective defence and shows the strength of solidarity of our Allied forces.
The CAF support to NATO helps make Central and Eastern Europe more secure and stable. It also shows that the CAF is a professional force that is ready for any task.
I got together recently with Cpl McKinley to talk about her unique experience.
The interview appears below, lightly edited for brevity.
How long have you been a member of the Armed Forces and what led you down that path?
McKinley: I've been a member for about 3 years. I grew up in Wainwright, and as you know, that's a military town. It really influenced me and I've always thought it was a really cool thing for people to do, and I appreciated it myself, and it's proven to lead me into some very cool experiences.
What was your role there and why did you want to do deploy?
McKinley: Well, Canada has been deploying an increasing amount of troops to Latvia the past several years as part of NATO's Enhanced Forward Prescence in the Balkins with Canada being the Framework Nation for Latvia so many of my colleagues from the Regiment and from the Brigade in general had previously deployed and I heard alot of positive feedback. It's not a combat tour, but it's more of an exercise-based mission and it really allows members to hone in on the roles of their trade and really become professional soldiers. As a Reservist, it allowed me to take my theoretical knowledge and apply it to real world situations. What led me to deploy is I wanted to put my training to a practical use to become a better soldier in the future.
What was your role?
McKinley: Being a Signaller in the Canadian Army means that you are responsible for establishing all types of communications systems. Further you need to be able to track what is going on in the battle and relay that information from the elements in the field back up to the Commanders. You are responsible for everything regarding communications in a military situation.
What did you learn from soldiers from other countries?
McKinley: We worked with militaries from approximately 9 different countries. When you form an international NATO battle group, it's an amazing dynamic because all of these different militaries are expert in some things, but not necessarily everything, Canada included. We were all able to learn from each other and bring that knowledge back to our countries and now work with our peers to advance our own skills. Montenegro for instance, is a very small country and their troops are getting some pretty extensive training on how NATO operates as a whole, and Montenegro, being the newest member of the alliance, is gaining significant knowledge and experience. In my case, I don't think I'm exceptional, but I did have the flexibility in my life, and was readily available, and I really wanted to do it.
What did this experience do for you personally?
McKinley: I guess I gained the knowledge of how other countries perceive Canada and our fighting force. And the ability to make friends with people who do not speak a common language using google translater. And learning that everyone has the same problems and challenges. One example would be, when you supply a mass amount of equipment to a group like this, there are problems – with your leadership, officers, and just personal things. One thing that really stood out for me was at Christmas. We were all away from home, it was the end of the mission, we were all tired of being away, but being able to spend time with our peers and newly-found friends was pretty awesome.
You're studying Political Science at the U of A. Do you intend to continue with your military career and does your education align with this?
McKinley: I have no plan to leave my military life. Me studying politics plays more into the nature of my curiousity in the world around me and my interest in the military, and why I wanted to deploy in the first place.
What would you say to an employer about why a reservist would be a great asset to their company or organization?
McKinley: I would say that throughout my time in the reserves, what I have learned is alot of practical skills. And that goes from how to work with people from different nationalities, down to vehicle mechanics, and how those all play into a working environment. In the military you are taking policy put in place by NATO, really taking political theory and applying it right down to maintaining the equipment needed to make sure that mission succeeds. As a troop on the ground you're part of the gears that are actually working to a successful mission and feel like I've seen all levels of that in my brief military career. The values you see in the military would be working together on a team and working towards a common goal with that team. It's not about the individual. That's probably the biggest lesson I've learned from my military career that can transcend into my civilian work. And trusting in leadership to take you where you need to be in order to be successful.
The military has made diversity a priority over the past few years. What would you say to someone, a female particularly, who is considering a career in the forces?
McKinley: It's important for them to know that all members of the army are treated equally and are all held to the same standard. I can only speak for myself, and in my experience, yes it is a male-dominated field but I've never felt at any point that I was less than because I was a woman, and I guess I'd encourage them to join if they're students or looking for practical skills development. You will have the same expectations if you are a man or a woman, and I've never experienced any objectification in my threee years. I'd encourage women to experience for themselves and listen to the experiences of women who have been in the forces. I think women are starting to realize that the military is very much a field for women as well.
Background:
In June 2017, the CAF deployed about 540 Canadian Army members to Latvia. They are leading a NATO battlegroup comprising military members from several nations, including:
Albania
Canada
Czech Republic
Italy
Montenegro
Poland
Slovakia
Slovenia
Spain
This battlegroup works as part of the Latvian Land Forces Infantry Brigade. It is based at Camp Adazi, Latvia.
Mission timeline
April 29, 2014 – the CAF sent its first CF-188 Hornet Air Task Force to Europe. Since then, the CAF had periodically sent air task forces to Central and Eastern Europe.
May 3, 2014 – the CAF sent a Land Task Force to Central and Eastern Europe, based in Poland.
May 13, 2014 – the CAF sent a Maritime Task Force of one frigate to Central and Eastern Europe.
June 19, 2017 – Canadian-led NATO enhanced Forward Presence battlegroup Latvia was stood up during a ceremony at Camp Adazi, Latvia.
August 17, 2017 – The Land Task Force in Poland completed its final deployment.
July 10, 2018 – The Prime Minister of Canada announced the renewal of Canada's contribution to NATO's enhanced Forward Presence until March 2023. The CAF will also increase the number of members deployed to Latvia from 455 to 540.
Past Deployments
CAF members have continuously supported NATO assurance and deterrence measures since 2014.
To date, seven different ships have contributed to this operation; three of them have deployed twice.
From May 2014 to August 2017, over 1000 soldiers deployed in eight rotations to Europe. Based at Drawsko Pomosrkie Training Area, Poland, they regularly took part in exercises with allies and partners.
The CAF has sent an air task force to three different countries: Romania (four times), Iceland, and Lithuania.
If you've enjoyed this article, please share it. Here's a link to a documentary from 2017 that highlights Alberta soldiers who have deployed overseas.
United Conservatives jump out to early lead in tight Alberta election
By Dean Bennett
Alberta's United Conservative Party jumped out to a lead over the NDP in early returns Monday in what was forecast to be a tight race in the provincial election.
Danielle Smith's UCP was holding strong in its traditional rural strongholds while Rachel Notley's NDP was faring well in Edmonton, where it won all but one seat in 2019.
Early results were still mixed in the key battleground of Calgary.
The UCP is seeking a second mandate while the NDP is fighting to regain the majority government it lost to the UCP in 2019.
Polling have suggested a close contest between the two parties, with support for smaller parties falling off.
Advance polls set a record of 758,540 votes cast, eclipsing the previous record of more than 700,000 in 2019.
The campaign has taken place alongside a record-breaking spring for wildfires in Alberta. Ten communities were under evacuation orders Monday.
Elections Alberta set up alternate voting locations for those displaced. Evacuation was added as an eligible reason to vote by special ballot and mobile voting stations were placed in evacuation centres.
Calgary has been seen as the campaign's battleground and half of the top 10 advance polling stations were in that city. Two were in Edmonton suburbs.
To win, the NDP would have to continue its dominance in Edmonton, flip the majority in Calgary and hope for some help in smaller cities, while defeating scores of UCP incumbents including cabinet ministers.
The NDP needs to swing 20 seats in the 87-seat legislature.
The UCP won 63 seats under then-leader Jason Kenney in 2019 to 24 for Notley's NDP.
Polls suggest the UCP should continue its near total domination in rural areas and smaller centres, giving it a cushion of up to 40 or so seats to reach the 44 needed to form a majority government.
The month-long campaign has been dominated by the economy and health care.
Albertans are struggling with high costs for consumer goods, a shortage of family doctors and long waits in emergency rooms.
Smith has promised to keep Alberta the lowest-tax regime in Canada.
Her government, she says, would introduce a law to mandate a referendum before any personal or corporate income tax hikes. There would also be tax changes to benefit those making more than $60,000 a year, at a cost of $1 billion annually to the treasury.
The NDP promised to maintain Alberta's status as Canada's lowest tax regime. It pledged to end the tax on small businesses and raise the corporate income tax to 11 per cent from eight per cent, which it says would help pay for investments in health and education while keeping the books balanced and maintaining the lowest corporate rate in Canada.
The NDP also promised legislation to counteract UCP policies that hiked the cost of utilities, auto insurance, a range of fees and tuition.
Both leaders promised to preserve the publicly funded health system while creating more primary care teams — physicians accompanied by related specialists such as nurses and therapists — so more Albertans are able to access a family doctor and not clog emergency wards for care.
Polls showed trust was a key issue, with Notley viewed more favourably than her party and vice versa for Smith.
Smith was dogged during the campaign by past comments she made comparing those who took the COVID-19 vaccine to credulous followers of Adolf Hitler. A report also came out mid-campaign from the province's ethics commissioner that concluded Smith undermined the rule of law by pressuring her justice minister to end the criminal court case of a COVID-19 protester.
This report by The Canadian Press was first published May 29, 2023.
Police looking for these 3 suspects after Super 8 Motel in Innisfail robbed early Monday morning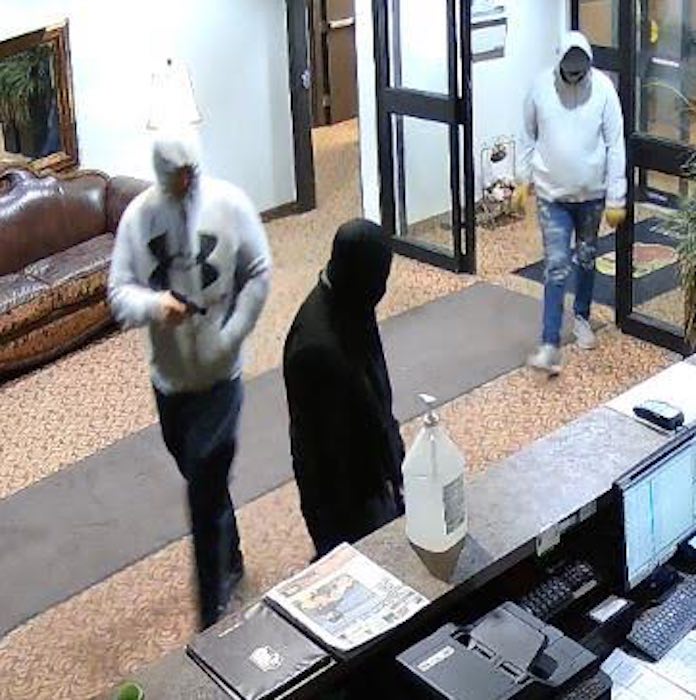 Innisfail RCMP investigate robbery
Innisfail Ala. – On May 29, 2023, at approximately 4:10 a.m., the Super 8 motel in Innisfail was the victim of an armed robbery. Three male suspects entered the hotel, two of which had firearms. Money was demanded from the manager. All three left the motel in a vehicle which is described as:
Chevrolet Dura Max truck
Sliver
Lifted
The suspects are described as:
Suspect #1: Caucasian male, tall and muscular. Wearing jeans and a grey Under Armour hoody. He was carrying a pistol.
Suspect #2: Caucasian male, short. Wearing all black. He was carrying a sawed off shotgun
Suspect #3: Caucasian male tall with a chubby belly. He was wearing a grey hoody, jeans and a black ball hat.
If you have information about this incident, please call the Innisfail RCMP at 403-227-3341 or call your local police. If you want to remain anonymous, you can contact Crime Stoppers by phone at 1-800-222-8477 (TIPS), by internet atwww.tipsubmit.com, or by SMS (check your local Crime Stoppers www.crimestoppers.ab.ca for instructions).