COVID cases continue to fall – Update from Mike York
Alberta has had 1287 new cases reported today, also 1499 recoveries. There are now 14,555 active cases in the province.
The Central Zone has had an increase of 107 cases, and 141 recoveries since yesterday.
Active cases in the region are now at 1430.
There are currently 94 people in hospital, up 3 from yesterday's report, and 12 in intensive care, up 1 from yesterday's report. 2 more deaths were also reported.
Red Deer has had just 18 new cases in the last 24 hours, with 37 recoveries. Our active cases are therefore down to 277 at this time.
RDRH has 40+ cases currently within it's walls, 10 of these are in the ICU.
Cheers everyone.
Service Dog program looking for volunteer "Puppy Raisers" and boarding homes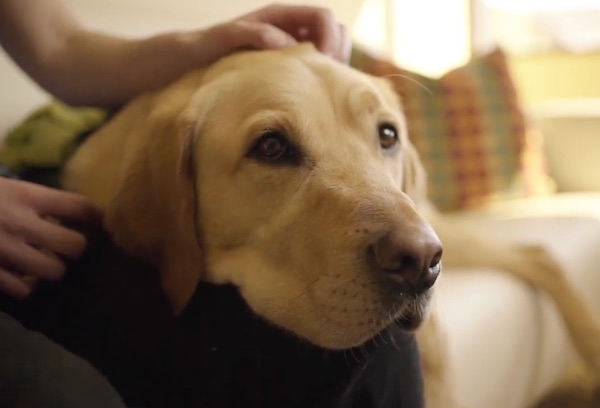 Red Deer Puppy Raising Program Announcement                                                                      
Dogs with Wings (DWW) is launching a new volunteer puppy raising program in Red Deer, AB this Spring! The Red Deer puppy raising program is a satellite puppy raising program where volunteers raise, train, and foster puppies from 8 weeks old to 14 – 16 months old and prepare them to become Service Dogs when they grow up. The Red Deer program will need full time puppy raisers and boarding homes, to puppy sit when puppy raisers are away. This program will join our three other locations in Edmonton, Calgary, and Grande Prairie and it's an exciting time for us!
We have partnered with the Central Alberta Child Advocacy Centre (CACAC) in Red Deer for this special announcement. In October 2020, we placed our Facility Dog DWW Quinn at the CACAC to assist them in the important work that they do in their community.
"Having Quinn as a part of our Child & Family Advocacy program provides a huge amount of comfort not only to the children and youth coming through our doors, but to their families and our entire staff as well. We're excited for Central Alberta to have the opportunity to be a part of a program that has such a great impact in our community – these puppies are going to make a huge difference in many lives, starting with their foster families'." Mark Jones, CEO, CACAC
Quinn is our 5th Assistance Dog to live in Red Deer, alongside Facility Dog DWW Harley at the Red Deer City Victim Services, two Companion Dogs, and one Autism Service Dog.
Dogs with Wings relies heavily on the assistance of our volunteer puppy raisers to be able to have our dogs earn their wings and graduate with a client! Our dogs help individuals with a wide range of tasks, ranging from assisting individuals who use wheelchairs, to providing safety and support to children with Autism, to assisting children and adults with disabilities at home and in their communities, and working with organizations to assist them in their community work. We need your help to become a puppy raiser! We are looking for 5 volunteer Puppy Raisers and 3 volunteer Boarding Homes to welcome puppies into their home this spring.
"Puppy Raisers are the cornerstone of our training program at Dogs with Wings.  At the heart of every successful assistance dog team is a puppy raiser who embraced the opportunity to raise a special puppy, teach them to feel safe in the world, and help them learn the skills necessary to have a solid foundation for their working career. We look forward to expanding this program to the Red Deer community." – Doreen Slessor, Executive Director, Dogs with Wings.
As a Puppy Raiser, you become part of our team that works toward fulfilling our mission, which is to enrich the lives of people with disabilities by providing them with highly skilled Assistance Dogs that increase their mobility, foster independence, and further their contributions to the community. The position of Puppy Raiser is the most demanding and rewarding. By accepting the care and education of a DWW puppy, you become one of our most valuable team players. A Puppy Raiser is a 24-hour, 7 days per week volunteer position.
The role of the Puppy Raiser is to socialize a puppy to as many environments and situations as possible. The puppy must be exposed to various situations, on a regular basis, such as: offices, malls, restaurants, downtown areas, elevators, and public transportation. The ultimate goal of a Puppy Raiser is to help the puppy develop sufficient social skills to behave in such a manner that its presence will be acceptable in all circumstances. DWW provides care for your dog when you are on vacation and covers the cost of all dog food, gear and equipment, training equipment, food bowls, service dog in training jacket, and covers the cost of all veterinary expenses. All you need to do is provide a name tag, toys, a bed, and treats! To become a Puppy Raiser, all that we ask is that one adult must be home during the day (or able to bring the puppy to work with you) and that you attend weekly training classes. For more information on our criteria and expectations, please contact us!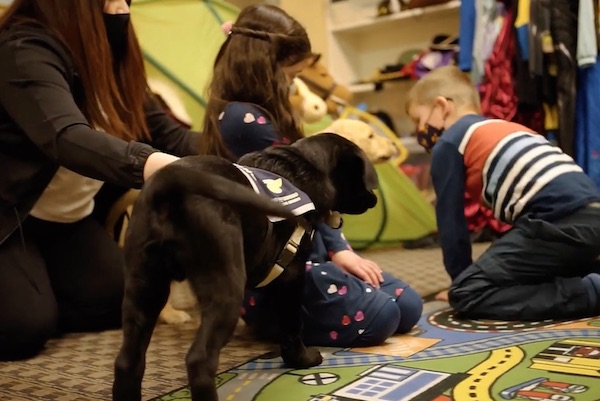 "Dogs with Wings is excited to open a new puppy raising program in Red Deer and expand our puppy raising program. This will allow us the opportunity to raise and train more dogs to help our clients. It has been an absolute privileged to work with the clients in the Red Deer and Central Alberta community and to see our dogs make such an incredible difference in their lives." – Veronica Fraser, Dogs with Wings Instructor & Training Manager.
If you are interested in being a Puppy Raiser, please complete and send this application form: http://dogswithwings.ca/volunteer-application/. If you have any questions or concerns, feel free to contact our office at (780) 944-8011 or via e-mail at [email protected].
More information about our organization and the programs we offer can also be found on our website (https://dogswithwings.ca/helping-us/volunteering-edmonton-calgary/_ at www.dogswithwings.ca. Thank you for your interest in being a Puppy Raiser that will help a dog earn its wings and give the gift of independence to someone in your community!
About DWW: Dogs with Wings Assistance Dog Society's (DWW) mission is to foster integration and independence for individuals with disabilities by providing them with highly trained Assistance Dogs and aftercare. They are a registered Non-Profit Society with a volunteer Board of Directors. Dogs with Wings Assistance Dog Society is an internationally accredited organization through Assistance Dogs International (ADI). Dogs with Wings specializes in the following areas: Service Dogs, Autism Service Dogs, Facility Dogs, and Companion Dogs. Service Dogs assist people with physical disabilities who use wheelchairs to enhance their quality of life and achieve greater independence. Autism Service Dogs provide greater safety and independence for children with Autism. Facility Dogs are part of a specially trained team that provides goal directed interventions, which promote improvement in physical, social, emotional, or cognitive abilities. Companion Dogs assist those who would benefit from having a well-trained service dog, but do not require public access. For more information, visit www.dogswithwings.ca
Central Alberta Child Advocacy Centre (CACAC): The Central Alberta Child Advocacy Centre is a not-for-profit organization rooted in the protection and recovery of today's most innocent and vulnerable – our children. The Centre is comprised of a collective that is driven by the courage to support children, youth, and their families affected by abuse, enabling them to build enduring strength and overcome adversity.
We work in a collaborative partnership with the Central Region Children's Services, Alberta Health Services, Alberta Justice, Alberta Education, the Central Alberta Sexual Assault Support Centre and the RCMP. Together we harness our collective courage to provide children with supported recovery. For more information on CACAC, please visit: centralalbertacac.ca
Investigation of attempted home invasion at Innisfail leads to six arrests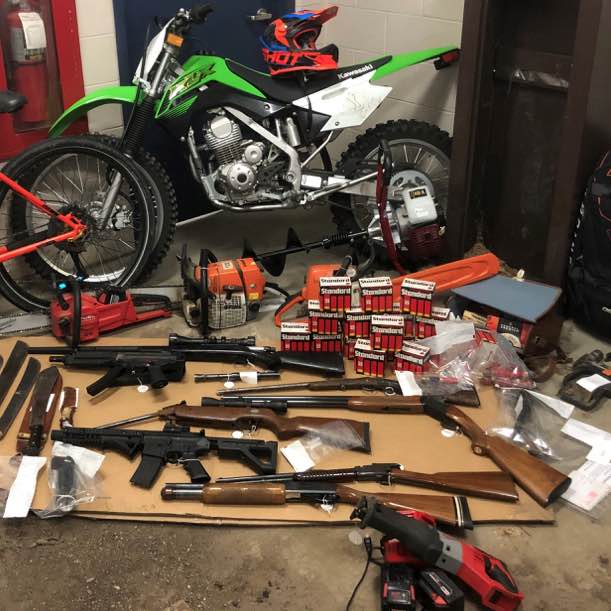 From Innisfail RCMP
Innisfail RCMP work with multi partners to seize stolen property and charge six suspects
A report of an attempted home invasion on Feb. 18 led to the arrest of six property crime suspects and the recovery of a substantial amount of stolen property by Innisfail RCMP.
The Innisfail RCMP responded in the evening of Feb. 18 to the attempted home invasion near downtown Innisfail.  Two males were reported as trying to break into the home while in possession of weapons.
The two suspect males were identified by the RCMP. On Feb. 19 Innisfail RCMP with the assistance of the Central Alberta District Crime Reduction Unit and RCMP Air Services attended a property on the C+E Trail in Red Deer County, north of Penhold, to arrest the suspects.  One was arrested without incident and the second fled in a Ford F350, with two other occupants, recently stolen out of Saskatchewan. A pursuit ensued, and efforts were made to deploy tire deflation devices, but they were not successful.
The F350 travelled throughout the central Alberta area to a location near Pigeon Lake, where three occupants abandoned the F350 and were picked up by a second Ford dually pickup truck. The dually was under observation as it travelled back into Red Deer where all 5 occupants were eventually arrested at two different locations in the city with the assistance of the Red Deer City RCMP, Innisfail Integrated Traffic Unit and the RCMP Police Dog Services.
On Feb. 20, Innisfail RCMP with the assistance of RCMP Calgary Auto Theft and Blackfalds GIS executed a search warrant at the C+E Trail property. The RCMP seized items related to many property crime investigations throughout Central Alberta including: stolen firearms, ammunition, a stolen dirt bike, stolen tools, break-in tools and other weapons. The dually was examined by the Calgary Auto Theft Unit and found to be a cloned (different VIN) vehicle that was stolen 3 years ago from a ranch near Strathmore.
The following persons all from the Red Deer area have been charged as follows:
Gary Auvigne (45) is facing over 20 criminal code charges, including break and enter, use a firearm while committing an offence, utter threats, possession of a stolen firearm and breach of a release document (x6).
Thomas Larkin (41) is facing 17 charges including break and enter, possession of a stolen vehicle, possession of break in tools, flight from police and dangerous driving. He is also charged with breaching a release document (x7).
Katherine Young (29) and Thomas Foshay (36) are both charged with possession of a stolen vehicle and possession of break-in tools.
Adam Bogusky (36) is facing seven criminal charges including possession of break in tools, fraudulent concealment, possession of a weapon for a dangerous purpose, dangerous operation of a vehicle and flight from police.
Kameryne Boyd (21) is charged with possession of break in tools, fraudulent concealment and possession of a weapon for a dangerous purpose.
Auvigne and Larkin were held in custody pending Judicial Interim Release hearings scheduled for Feb. 26, 2021 in Red Deer Provincial Court. Young and Foshay  participated in Judicial Interim Release hearings and were released by a Justice of the Peace for future court dates. Bogusky and Boyd were released by police for first appearance court dates on April 6, 2021 in Red Deer Provincial Court.