City of Lacombe Council Highlights
City of Lacombe
COUNCIL HIGHLIGHTS
January 8, 2018
Presentations
HT Catering and Meats
Henk and Tamara Bos from HT Catering and Meats presented Council with a request to become the exclusive
in-house caterer for the Lacombe Memorial Centre, in an effort to realize greater revenue for both HT Catering
and the City. They also indicated that HT would be willing to work with community groups to help cater their
events.
Financial Services
Bylaw 393.1 (Utilities)
Council gave second reading to Bylaw 393.1, the Utility Rate Bylaw, for the supply of water, wastewater and
solid waste services to the residents and customers of the City of Lacombe, as amended.
Bylaw 448 (Line of Credit)
Council gave first reading to Bylaw 448, the City's annual bylaw authorizing the establishment of a $3,500,000
line of credit.
Bylaw 440 (2018 Supplemental Assessment)
Council gave first reading to Bylaw 449, the 2018 Supplementary Assessment Bylaw, for the levying of the
annual supplementary property assessment tax.
Council & Legislative
Bylaw 370 (Procedural Bylaw)
Council gave first reading to Bylaw 370.1, Council's Procedural Bylaw, as presented.
Board and Committee Appointments
Council approved the following board appointments for citizens-at-large as presented:
• Corey Gish has been appointed to the Lacombe Police Commission for a term ending December 31,
2019
• Tamara Helder has been appointed to the Lacombe Library Board for a term ending December 31,
2020
Motions Out of Camera
Leasehold Proposal
Council passed a resolution to decline the submitted renovation proposal from HT Catering. Council also
declined the exclusive catering request for the Lacombe Memorial Centre.
Infrastructure Administration
Council directed Administration to submit a proposal in response to the North Red Deer Wastewater Services
Commission's Request for Proposal for Management Services.
*The next scheduled Regular Council Meeting is on January 22, 2018, at 5 p.m.
*The next scheduled Council Committee Meeting is on February 5, 2018, at 5 p.m.
*The next scheduled Regular Council Meeting is on February 12, 2018, at 5 p.m.
*The next scheduled Regular Council Meeting is on February 26, 2018, at 5 p.m
Train Derailment south of Lacombe: 1 rail car leaked liquid asphalt
News Release from Blackfalds RCMP
Blackfalds RCMP advise of train derailment – Update
Blackfalds, Alta. – On July 2, 2021, at 8:15 p.m., Blackfalds RCMP received a 911 call of a train derailment along Highway 2A in Lacombe County.
Initial reports suggested a number of oil cars were leaking oil and possibly on fire. A nearby residence was evacuated as a precaution, and multiple emergency crews responded.
Emergency crews were able to determine that 23 train cars had derailed, four of which were carrying Tar Oil (liquid asphalt). Upon further inspection, only one of the cars was found to have a leak while the remaining were intact. No fires had started.
No injuries were reported and those evacuated were able to return home.
CP Rail and Lacombe County Emergency Management remain on scene and Highway 2A is expected to be blocked to traffic for several more hours while crews investigate and cleanup.
CP Rail Police has taken over this investigation.
$100,000 to the winning community – Come on Red Deer – we can do this!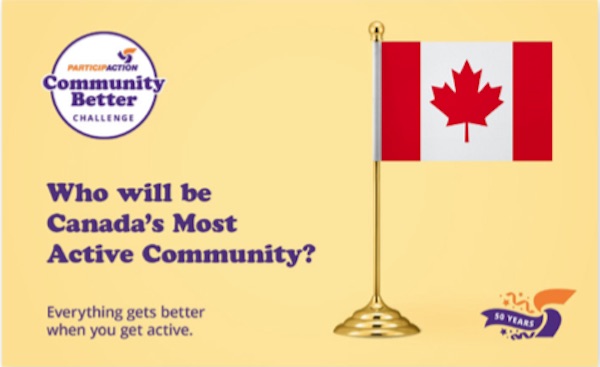 The Red Deer Wellness Network is excited to announce that Red Deer will be participating in the ParticipACTION Community Better Challenge from June 1st – June 30th, as we strive to be named Canada's Most Active Community.
The ParticipACTION Community Better Challenge is helping strengthen communities through physical activity and sport because everything gets better when you get active. ParticipACTION is awarding $100,000 to the community who rallies the most participants and accumulates the most active minutes during the challenge. There is also a new this year, Provincial Prize. Participants can also win individual prizes through the ParticipACTION app when activity minutes are logged.
We are encouraging all residents aged 17 and older to download the app and track their activity to support our Community Better challenge! You can also track it on the website. 
It's as easy as 1, 2, 3!
1. Download the new ParticipACTION app
2. Track and contribute to total active minutes from June 1st to June 30th.
3. Invite your friends to do the same! You can also create a team on the app to encourage one another along the way and win team prizes.
Schools, Sport Organizations, Workplaces and Gyms are encouraged to track their activities as a group on the ParticipACTION website. Families can track for their whole family on the website and groups can track for large group participation.
Steps to log as a group:
Step 1:  Go to www.participaction.com/challenge
or scan this QR Code.
Step 2: Sign up as a group organization or as a family with a name and e-mail
Step 3: Start tracking activity minutes from June 1-June 30th. You may enter daily or all at once.  Example: School Name, 500 students, 60 minutes of activity/day, 10 days
Step 4: Deadline to enter all minutes is July 1st at midnight
The Red Deer Wellness Network is an umbrella organization for a variety of non profit groups in the city that have a focus on wellness, active living and healthy nutrition.