City of Lacombe appoints new Chief Administrative Officer
Lacombe, Alberta (March 5, 2018) – City Council is pleased to announce that Matthew Goudy has been appointed as the new Chief Administrative Officer (CAO) for the City of Lacombe, effective March 6, 2018.
"Council is convinced that Matthew is the right choice for this critical position, given his long-standing familiarity with Lacombe's municipal operations and our regional partners, and his proven attention to fiscal responsibility," said Mayor Grant Creasey. "His experience and his ability to facilitate meaningful public engagement has resulted in many successful programs, and we look forward to working with him to achieve our strategic vision."
"I feel privileged to be given the opportunity to become the next Chief Administrative Officer for the City of Lacombe," said Matthew Goudy. "I believe that the relationships I have developed and experience gained in my various roles with the City of Lacombe will help me continue the good work of Council and staff in making Lacombe a great community."
Prior to his new role at the City of Lacombe, Matthew served as the Operations and Planning Services Director for the City from 2012-2018, and before that as the Engineering Services Manager for the Town of Lacombe from 2007-2012. He also serves as the Chief Administrative Officer for the North Red Deer Regional Wastewater Services Commission.
Matthew has a Bachelor of Science in Civil Engineering from the University of Saskatchewan. He has achieved the Certified Envision Sustainability Professional designation from the Institute for Sustainable Infrastructure Program. Matthew has also achieved the Incident Command System Level 300 certification, as well as Level 1 of the Alberta Water and Wastewater Operators Certification.
Matthew is a member of the Association of Professional Engineers, Geologists, and Geophysicists of Alberta. He serves as a committee member of the Alberta Urban Municipalities Commission's Audit and Finance Committee, and is an active member of the Government Finance Officers Association. He is also a member in good standing of Mensa Canada.
Matthew Goudy came to Lacombe by way of Saskatchewan. He is married to Nicole, and has two young daughters: Amelia and Liliana. Matthew enjoys many outdoor pursuits, including skiing and camping. He is an avid motorcycle enthusiast.
CAO Selection Process:
Upon the departure of former CAO Dion Pollard in late 2017, a recruitment process was adopted by Council and the position was advertised in January 2018. It attracted much interest from many qualified individuals.
After a comprehensive review and scoring of the candidates, Council shortlisted five worthy individuals, and interviews were conducted on February 20, 2018. The interview panel consisted of the members of Council and was facilitated by the Human Resources Manager. Upon conclusion of the interviews, the applicants were rated, and after due deliberation, Council chose Matthew Goudy as the successful candidate.
Iran parliament speaker says protests could weaken society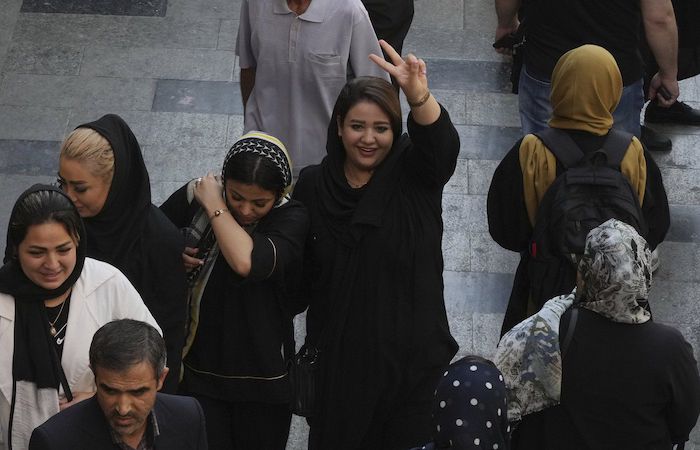 DUBAI, United Arab Emirates (AP) — Iran's parliamentary speaker warned Sunday that protests over the death of a young woman in police custody could destabilize the country and urged security forces to deal harshly with those he claimed endanger public order.
Mohammad Bagher Qalibaf told lawmakers that unlike the current protests, which he said aim to topple the government, previous demonstrations by teachers and retirees over pay were aimed at reforms, according to the legislative body's website.
"The important point of the (past) protests was that they were reform-seeking and not aimed at overthrowing" the system, said Qalibaf. "I ask all who have any (reasons to) protest not to allow their protest to turn into destabilizing and toppling" of institutions.
Thousands of Iranians have taken to the streets over the last two weeks to protest the death of Mahsa Amini, a 22-year-old woman who had been detained by Iran's morality police in the capital of Tehran for allegedly not adhering to Iran's strict Islamic dress code.
The protesters have vented their anger over the treatment of women and wider repression in the Islamic Republic. The nationwide demonstrations rapidly escalated into calls for the overthrow of the clerical establishment that has ruled Iran since its 1979 Islamic revolution.
The protests have drawn supporters from various ethnic groups, including Kurdish opposition movements in the northwest of Iran that operate along the border with neighboring Iraq. Amini was an Iranian Kurd and the protests first erupted in Kurdish areas.
Iranian state TV has reported that at least 41 protesters and police have been killed since the demonstrations began Sept. 17. An Associated Press count of official statements by authorities tallied at least 14 dead, with more than 1,500 demonstrators arrested.
Qalibaf, the parliamentary speaker, is a former influential commander in the paramilitary Islamic Revolutionary Guard. Along with the president and the head of the judiciary, he is one of three ranking officials who deal with all important issues of the nation.
The three meet regularly and sometimes meet with Supreme Leader Ayatollah Ali Khamenei, who has final say on all state matters.
Qalibaf said he believes many of those taking part in recent protests had no intention of seeking to overthrow the government in the beginning and claimed foreign-based opposition groups were fomenting protests aimed at tearing down the system. Iranian authorities have not presented evidence for their allegations of foreign involvement in the protests.
"Creating chaos in the streets will weaken social integrity, jeopardizing the economy while increasing pressure and sanctions by the enemy," he said, referring to longstanding crippling U.S. sanctions on Iran.
Qalibaf promised to "amend the structures and methods of the morality police" to prevent a recurrence of what happened to Amini. The young woman died in the custody of the morality police. Her family alleged she was beaten, while officials claim she died of a heart attack.
His remarks came after a closed meeting of Parliament and a brief rally by lawmakers to voice support for Khamenei and the police, chanting "death to hypocrites," a reference to Iranian opposition groups.
The statement by Qalibaf is seen as an appeal to Iranians to stop their protests while supporting police and the security apparatus.
Meanwhile, the hard-line Kayhan daily said Sunday that knife-carrying protesters attacked the newspaper building Saturday and shattered windows with rocks. It said they left when Guard members were deployed to the site.
On Saturday, protests continued on the Tehran University campus and in nearby neighborhoods and witnesses said they saw many young girls waving their head scarves above their heads in a gesture of defiance. Social media carried videos purportedly showing similar protests at the Mashhad and Shiraz universities but The Associated Press could not independently verify their authenticity.
A protester near Tehran University, 19-year-old Fatemeh who only gave her first name for fear of repercussions, said she joined the demonstration "to stop this behavior by police against younger people especially girls."
Abdolali, a 63-year-old teacher who also declined to give his last name, said he was shot twice in the foot by police. He said: "I am here to accompany and support my daughter. I once participated in the 1979 Islamic Revolution that promised justice and freedom; it is time to materialize them."
There were no immediate official reports of Sunday demonstrations, though some on social media said protests had resumed at universities in Tehran and Mashhad.
On Sunday afternoon, witnesses said security was tight in the areas nearby Tehran University and its neighborhoods downtown as hundreds of anti-riot police and plain clothes with their cars and motorbikes were stationed on junctions and squares. Local shops and businesses appeared open as normal.
Also on Sunday, media outlets reported the death of another Revolutionary Guard member in the southeastern city of Zahedan. That brought to five the number of IRG members killed in an attack on a police station by gunmen that, according to state media, left 19 people dead.
It wasn't clear if the attack, which Iran said was carried out by separatists, was related to the anti-government protests gripping Iran.
Florida deaths rise to 47 amid struggle to recover from Ian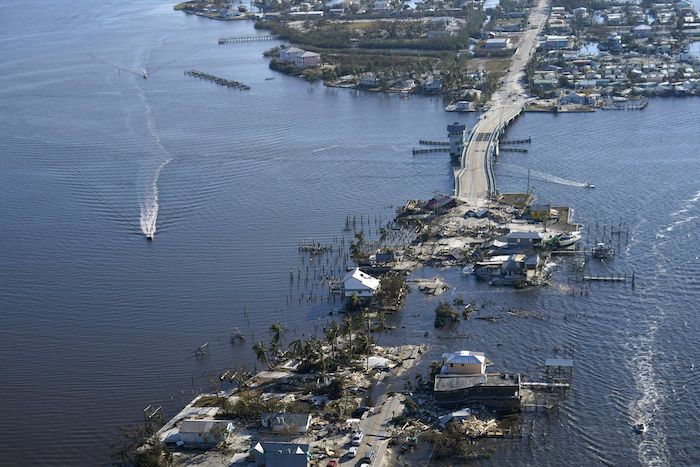 By Rebecca Santana And Meg Kinnard in Fort Myers
FORT MYERS, Fla. (AP) — Rescuers evacuated stunned survivors on a large barrier island cut off by Hurricane Ian and Florida's death toll climbed sharply, as hundreds of thousands of people were still sweltering without power days after the monster storm rampaged from the state's southwestern coast up to the Carolinas.
Florida, with nearly four dozen reported dead, was hit hardest by the Category 4 hurricane, one of the strongest to make landfall in the United States. Flooded roadways and washed-out bridges to barrier islands left many people isolated, amid limited cellphone service and a lack of basic amenities such as water, electricity and the internet.
Florida Gov. Ron DeSantis said Saturday that multibillionaire businessman Elon Musk was providing some 120 Starlink satellites to "help bridge some of the communication issues." Starlink, a satellite-based internet system created by Musk's SpaceX, will provide high-speed connectivity.
Florida utilities were working to restore power. As of Sunday morning, more than 700,000 homes and businesses were still without electricity, down from a peak of 2.67 million.
At least 54 people were confirmed dead: 47 in Florida, four in North Carolina and three in Cuba. The weakened storm had drifted north on Sunday and was expected to dump rain on parts of Virginia, West Virginia, Maryland and southern Pennsylvania, according to the National Hurricane Center, which has warned of the potential for flash flooding.
More than 1,000 people were rescued from flooded areas along Florida's southwestern coast alone, Daniel Hokanson, a four-star general and head of the National Guard, told The Associated Press while airborne to Florida.
In Washington, the White House announced that President Joe Biden and first lady Jill Biden would travel to Florida on Wednesday. But a brief statement did not release any details of the planned visit.
The bridge to Pine Island, the largest barrier island off Florida's Gulf Coast, was destroyed by the storm, leaving it accessible only by boat or air. The volunteer group Medic Corps, which responds to natural disasters worldwide with pilots, paramedics and doctors, went door-to-door asking residents if they wanted to be evacuated.
Some flew out by helicopter, and people described the horror of being trapped in their homes as water kept rising.
"The water just kept pounding the house and we watched, boats, houses — we watched everything just go flying by," Joe Conforti said, fighting back tears. He said if it wasn't for his wife, who suggested they get up on a table to avoid the rising water, he wouldn't have made it: "I started to lose sensibility, because when the water's at your door and it's splashing on the door and you're seeing how fast it's moving, there's no way you're going to survive that."
River flooding posed a major challenge at times to rescue and supply delivery efforts. The Myakka River washed over a stretch of Interstate 75, forcing a traffic-snarling highway closure for a while before officials said later Saturday that it could be reopened.
While swollen rivers have crested or are near cresting, the levels aren't expected to drop significantly for days, National Weather Service meteorologist Tyler Fleming said.
Elsewhere, South Carolina's Pawleys Island, a beach community roughly 75 miles (115 kilometers) up the coast from Charleston, was also hit hard. Power remained knocked out to at least half the island Saturday.
Eddie Wilder, who has been coming to Pawleys Island for more than six decades, said it was "insane" to see waves as high as 25 feet (7.6 meters) wash away a landmark pier near his home.
"We watched it hit the pier and saw the pier disappear," he said. "We watched it crumble and and watched it float by with an American flag."
Wilder's house, located 30 feet (9 meters) above the shoreline, stayed dry inside.
In North Carolina, the storm downed trees and power lines. Two of the four deaths in the state were from storm-related vehicle crashes, and the others involved a man who drowned when his truck plunged into a swamp and another killed by carbon monoxide poisoning from a generator in a garage.
At Port Sanibel Marina in Fort Myers, Florida, the storm surge pushed several boats and a dock onshore. Charter captain Ryan Kane said his vessel was so badly damaged that he was unable to use it to help rescue people, and now it will be a long time before he can take clients fishing again.
"There's a hole in the hull. It took water in the motors. It took water in everything," he said, adding: "You know, boats are supposed to be in the water, not in parking lots."
___
Kinnard reported from Pawleys Island, South Carolina; Associated Press contributors include Freida Frisaro in Miami; Brendan Farrington in Tallahassee, Florida; Gerald Herbert in Pine Island, Florida; Mike Pesoli in Lehigh Acres, Florida; Sarah Rankin in Richmond, Virginia; and Amy Forliti from Minneapolis.