City not mandating masks in Red Deer yet
Statement from Mayor Tara Veer, on behalf of City Council, on mask usage in Red Deer
"The mandatory use of masks continues to be a topic of conversation in communities across Alberta and around Canada as we all respond to the global COVID-19 pandemic. The Government of Alberta has indicated that they do not have province wide plans for mandatory masking and have left the decision to municipalities to make decisions based on their local situation.
The City continues to follow the number of cases in Red Deer and the Central Zone health region very closely. The recent uptick in cases in the region is concerning and serves as a reminder of the importance of following all public health orders to protect ourselves, our loved ones and our community. At this time, given current case numbers within the city, The City of Red Deer is not considering implementing mandatory masking in Red Deer, however this may be revisited at any time given fluctuating case numbers in the city and region along with direction from the Chief Medical Officer of Health.
We are asking our citizens and businesses to follow health and safety protocols on a voluntary basis and for the safety of others. Mask use continues to be strongly recommended, particularly indoors, when physical distancing of two metres from people outside your cohort group is not possible. The Province has made masks available in a number of places across Alberta, free of charge, and The City of Red Deer received masks to hand out for free to transit users. There are also masks available at City recreation facilities for scheduled users to help elevate voluntary public participation in City amenities.
Implementing a mandatory masking policy in public spaces needs to be considered with other health orders and in context with the overall local severity of the pandemic. The caseload in the region is absolutely critical to The City's consideration of implementing a mandatory mask policy. As such, we continue to have discussions with other local leaders within the Central Zone health region to ensure our decisions are cohesive as we all access the same healthcare services."
Southside Dodge donates new van to Ronald McDonald House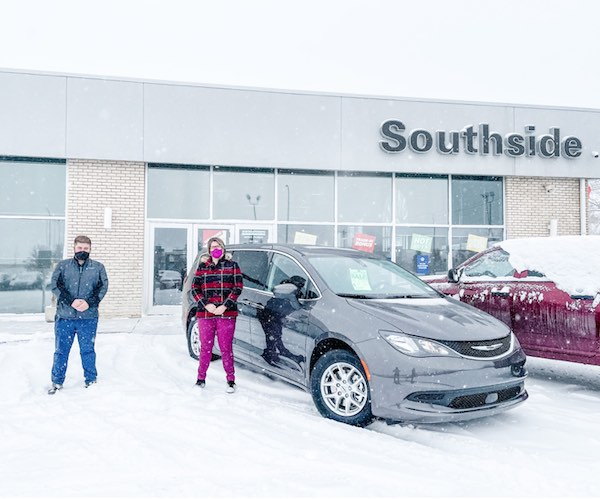 Matt Swainson (Vice President & General Manager, Southside Dodge Chrysler Jeep Ram) -left , Lori Rechlo (General Manager, Ronald McDonald House Charities Alberta – Red Deer House) – right
Submitted by

Sarah Heibein,

Stakeholder Relations Manager, Central Alberta Ronald McDonald House

We've received a donation of use of a Dodge Caravan from Southside Dodge- they've been an incredible support of us over the years. Attached is the photo we took at the dealership when we picked up the keys on Friday.
Ronald McDonald House Charities Alberta, Red Deer House is truly grateful to Matt Swainson and his entire team at Southside Dodge for their steadfast support of our work to keep families together during the unimaginable hardship of the need to travel for medical treatment for their sick or injured child. Our House is not a nice to have, but a need to have, and we are honoured to work with such an amazing community partner in Southside. The use of the 2021 Dodge Caravan will help us to keep our operating costs down so that we can focus on our work to keep families close.
We have operated in the city for over 8 years, ensuring there is a safe and comfortable place for families to rest while they focus on the recovery of their child(ren).
We are grateful to everyone in Red Deer who supports us! 😊
Smiles Thru Lindsey reaching out with a new video message and urging Albertans to look out for each other at this challenging time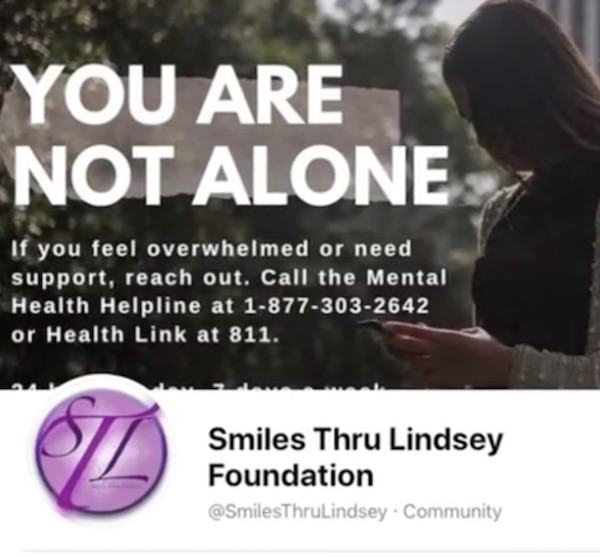 The holiday season is well behind us, we're heading into the coldest part of the winter, and although the days are starting to grow longer there's still a definite lack of daylight in our lives. The winter blues are a real thing and this year we have COVID, a whole new serious problem to add to our mental health issues.
COVID is also the reason the Smiles Thru Lindsey team has not been able do public events for many months. Unable to reach out physically through school visits and fund raisers, Smiles Thru Lindsey is reminding Central Albertans to check in on each other. Also, please follow the Smiles Thru Lindsey Facebook page . They'll lead you to the resources you or your loved ones need right away.
Meet Lindsey and the Smiles Thru Lindsey team in this powerful video. …And remember to check in on the people in your life.
If you'd like to help Smiles Thru Lindsey with a donation please click here.