Charlie Brawn selected as the 2021 Red Deer honourary senior as a part of the Mayor's Garden Party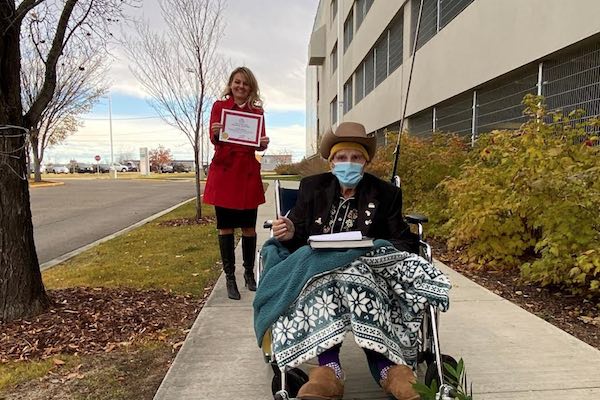 Each year, Red Deer's Mayor chooses a honourary senior who is recognized as a part of the Mayor's Garden Party for their contributions to our community,
province and country.
This year, Mayor Tara Veer selected Charlie Brawn from Parkvale Lodge as the recipient of the Honourary Senior designation. In lieu of publically acknowledging him, Mayor Veer visited Charlie to thank him for everything he has done for our community and province, presented him with a certificate, and a donation to the charity of his choice.
At 92 years young, Charlie has been a strong community builder for many years. Charlie has volunteered and donated valuable collections of models to Sunnybrook Farm throughout his years in Red Deer, first moving here in 1988.\
Mayor Veer first met Charlie through his volunteer work, and visited him again this summer at the Mayor's Garden Party. The purpose of the Honourary Senior is to say thank you to someone who has served our community with distinction.
"It was truly an honour to meet Charlie and his family safely outside to present him with this designation," said Mayor Tara Veer. "Charlie, like so many seniors in our community, share their knowledge and experience with us, and contribute so much to our community. I want to thank Charlie for his many contributions to the people of our city."
The Mayor's Garden Party is a time-honoured tradition for Red Deer seniors and those who hold the City's highest office. This year, with safety of residents and staff top of mind, the party took to the road.
"Even though we were unable to host our seniors in the gardens of City Hall Park again this year, we couldn't miss this annual opportunity to celebrate them," said Mayor Tara Veer. "We would like to extend our heartfelt thanks to our seniors for sharing your skills, knowledge and experience through the years. You all have contributed to the strength of our community, province and country, and we honour you for the legacies you have built.
Downtown shoppers could win $1,000.00 a week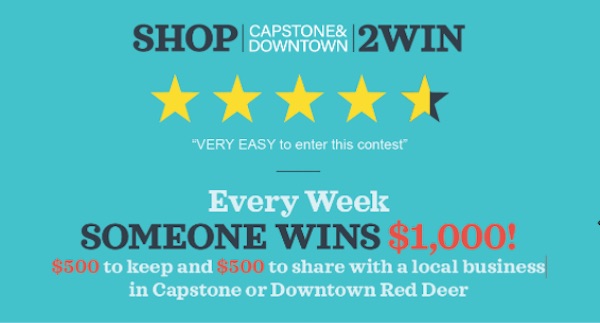 Support local
businesses in
Capstone &
Downtown Red Deer
Save receipts of $25 or more
(including taxes)
Upload photos of all
your receipts weekly
Digital receipts, third party delivery app receipts and Google reviews are all acceptable entries.
City Council to hear arguments for and against extending homeless shelter at Cannery Row for 2 more years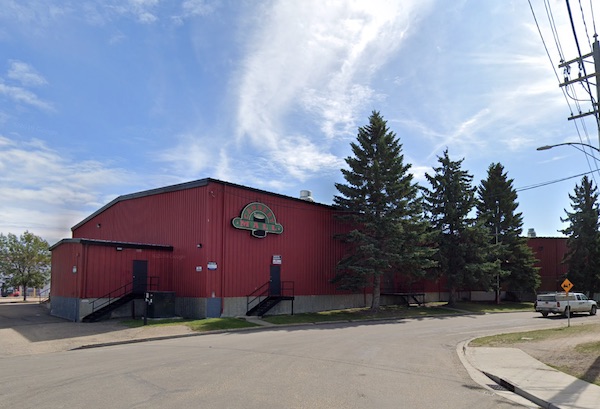 Public Hearing set for Land Use Bylaw amendment for temporary emergency housing
A Public Hearing is now set for January 17, 2022 at 4 p.m. following Council's approval of first reading of a Land Use Bylaw (LUB) amendment today. The amendment being considered is to allow for continued operations of the temporary emergency housing site at Cannery Row (5239 53 Avenue) until February 1, 2024.

The existing site exception for the temporary emergency housing site expired on September 30, 2021, and it is now operational through an executive order following the declaration of a State of Local Emergency (SOLE) in place up until February 15, 2022.

As part of the Public Hearing process, neighbours within 100 meters of the site will receive a letter from the administration inviting them to submit feedback on the amendment. The general public is also invited to provide feedback in advance or during the Public Hearing. Those wishing to provide feedback during the Public Hearing on January 17, 2022 are invited to attend the online Council meeting at 4 p.m.. Full details on the Public Hearing and how to provide feedback will be uploaded to The City's site in the coming weeks. Details will be available at www.reddeer.ca/publichearing.
Council received an update on the current emergency housing status in the community on December 1, 2021. Administration had explored all opportunities for relocating the temporary site, but no viable solutions were available. The report outlined the need for full spectrum housing in the city, the goal is to have a permanent purpose-built emergency housing site in Red Deer operational within two years. Funding is in place and steps are underway with the province to make this a reality for the community. A location for the permanent site has not been decided. This Land Use Bylaw amendment would facilitate a temporary emergency housing solution at the current location until the permanent site is operational.
For background information on the temporary emergency housing site, visit www.reddeer.ca/emergencyhousing.