Central Alberta's Parker Thompson Takes Double Podiums In His First Weekend of Sports Car Racing
April 8, 2019
BARBER MOTORSPORTS PARK, ALABAMA
Touting #DriveAnything, Parker Thompson got behind the wheel of the #3 JDX Racing – Hertz – Byers Porsche GT3 Cup Car this weekend for his first experience in fender-to-fender racing action at the 2019 IMSA Porsche GT3 Cup Challenge USA season opener.
"… I know Barber Motorsports Park very well with my background in open wheel cars, but this was a huge learning weekend for me…"
As an experienced open-wheel race car driver, Thompson's debut in the series generated significant intrigue about his potential in sports car racing. The final results did not disappoint. At the conclusion of each race, Thompson found himself celebrating on the podium. Third-place finishes in both race one and race two, position him 3rd overall in the GT3 Cup Challenge USA Championship standings.
Both races saw hard battles and close quarter racing that is characteristic of the Porsche GT3 Cup Challenge, but race two was particularly close. Thompson's #3 car took damage on lap four, destroying the front splitter and significantly challenging his pace from that point forward.
As a result, Thompson found himself on the defence against sophomore drivers Maxwell Root, and JDX Racing teammate, Jeff Kingsley. Root showed tremendous pressure, often going side-by-side with Thompson on the winding road course, but he never managed to execute a full pass. Root would eventually collide with lapped traffic, leaving Thompson to defend Kingsley alone. The battle between the two young Canadians lasted right to the checkered flag, with Thompson managing to hold his spot and earn the final podium position.
With this outstanding result, Thompson is excited about future opportunities to race in the Porsche GT3 Cup Challenge, but remains focused on the Indy Pro 2000 Championship. After winning the opening two races at the season opener in St. Petersburg last month, Thompson holds a significant lead in the Championship points standings.
"… I know Barber Motorsports Park very well with my background in open wheel cars, but this was a huge learning weekend for me. I think I learned more about racing in the last four days than I have in the past year! I was driving a car that I'd never driven before; I had a new team and new crew behind me and the JDX Racing guys were just awesome. We all gelled really quickly and the atmosphere and communication under the tent was outstanding. The #3/JDX Racing/Hertz/Byers Porsche got better with every change and my understanding of what it takes to drive this car fast also grew. I'm ecstatic with our performance this weekend, but I'm equally as hungry for more results…" – Parker Thompson
Click below to learn more about Parker Thompson Racing.
Today: Come meet Red Deer's Silver Medalist Rebecca Smith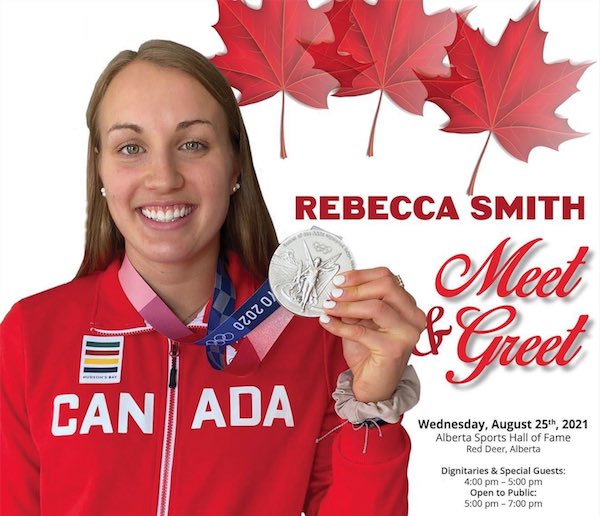 Submitted by Tourism Red Deer
Come celebrate with us and congratulate Red Deer's own Rebecca Smith.
Alberta Sports Hall of Fame and Tourism Red Deer invite you to meet Red Deer's Summer Olympic Silver Medalist Rebecca Smith!
Rebecca was a part of Team Canada's 4 x 100-meter freestyle relay swim team at the 2021 Tokyo Olympics. She'll be here to meet, greet, and show off her hardware.
Where: Alberta Sports Hall of Fame, 102-4200 Highway 2, Red Deer
When: Wednesday, August 25, 5:00 pm – 7:00 pm
Access to Dawe Centre pool and community centre affected by expansion project – Details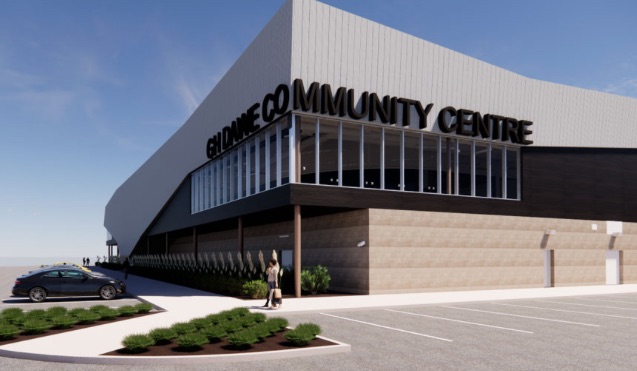 Limited access to G.H. Dawe Community Centre this summer due to construction
Due to construction, access to the G.H. Dawe Community Centre will be limited this summer, with a full closure planned for August.

As announced yesterday, City recreation centres are opening fully to the public as of July 1. With construction underway at the G.H. Dawe Community Centre, only limited services and areas will be available.

Here's what you need to know:
Starting July 2, fitness and gym areas will open from 10 a.m. – 8 p.m., daily. In July, summer day camps that normally operate from the Dawe will operate from other facilities.
The pool will remain closed until September.
To accommodate interior heating and ventilation construction, the facility will fully close from July 26 to August 31. Some registered preschool and summer camp programming may proceed, but no rental or general admission options will be available.
On September 1, we anticipate the pool will be open, but some other amenities, like the gym, may not be available. More information will be provided as construction progresses.
Playing surfaces in the arena will not be available until construction is complete, which is expected to be early 2023.
We are currently offering a discounted monthly Value Pass for $27 for adults ($24.50 for seniors; $21.90 for students; $19.30 for youth; $14.20 for children, and $60.50 for a family. It provides unlimited access to all facilities. As of August the Value Pass will only provide access to the Recreation Centre and Michener Aquatic Centre; however, access to the Dawe will be included in the Value pass until the pool, gym and fitness areas are open.
About the G.H. Dawe Community Centre Project
Work is underway now on the G.H. Dawe Community Centre Project and some exciting changes are in store. We expect to welcome visitors to the transformed space in early 2023. Here's just some of what you can expect:
Two NHL standard playing surfaces
Expanded fitness areas, including a running track
Outdoor spray park with washroom facilities
Improved accessibility
Additional north entrance + site access from 67 Street
Additional parking
During construction, there will be some changes and impacts to existing amenities and programs, and we'll do you best to share this information in advance. Thanks for your patience as we complete this work.
For more information about the project, please visit reddeer.ca/DaweProject.