UPDATE: Central Alberta Humane Society looking for support for a most desperate animal
From the Central Alberta Humane Society
**PUPDATE – Angel**
Hi everyone! We wanted to send an enormous thank you from the entire team for your generous donations, thoughts and prayers for this sweet girl. We are overwhelmed by your kindness and compassion.
We named this love Angel because oh my…she is the sweetest, and it's Christmas after all!
Yesterday she spent some time with Dr.Lisa having X-Rays and tests. She has confirmed that she does have an irreparable paralysis in her back end. Her weight and condition is a real concern and so we are looking closely at her tests to be sure that there is no underlying condition that is causing this. She does have a very healthy appetite and is going to the bathroom. It is early days…
Some asked yesterday is if her paralysis has caused incontinence and sadly it has. She is not in any pain. We believe based on her atrophy that she has been this way for some time and has adapted. We also heard yesterday from a number of people who currently have dogs with similar conditions that are living healthy, quality lives with the use of a chair. This gives us all hope for a future for this pup… Please keep Angel in your thoughts and we will continue to monitor her progress, provide healing care and shower her with love on your behalf. ❤️
Please note:
At this time we are unable to comment on the ongoing investigation and what led to her condition.
Original Post
***Warning***
These images are extremely upsetting, discretion is advised.
This poor girl was just brought into our care from the Town of Sylvan Lake Bylaw and is receiving urgent veterinary diagnosis and care.
She was found outside of an apartment building in the Hinshaw drive area of Sylvan Lake. At this point it is unknown if she has sustained an injury or has a birth defect of some kind. What is known is that she is extremely malnourished and has no feeling in her back end whatsoever. This is clearly a case of neglect and potentially abuse. Any information you can provide will help us to understand her story and will be passed on to Alberta SPCA for further investigation. We don't know what can be done for this sweet pup at this time but we do know that she is in the best of hands and will be loved.
Call (403)342-7722 if you have any information.
Donations towards treatment and care are appreciated.
Skills that maintain healthy relationships
Learn ways to improve your relationship skills using the acronym DEARMAN and GIVE, from the DBT therapy perspective, presented by a PCN Mental Health Counselor, Lana.
Interpersonal Effectiveness Skills
Learning to get along with others while also asserting your own needs is essential to healthy relationships. It can be difficult to balance your own needs and the needs of others. How can you get what you need without being aggressive or neglecting of the needs of others? There are three sets of skills you will learn to help achieve this goal: objective effectiveness, relationship effectiveness, and self-respect effectiveness.
Judy's story: I'm on the healthy road!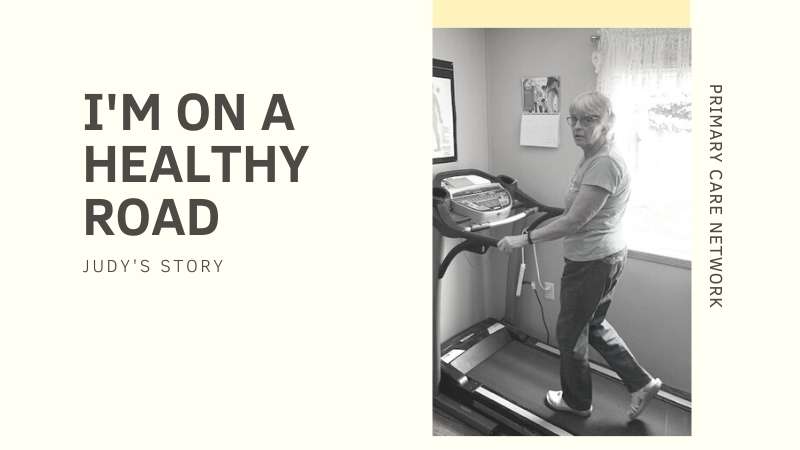 On the Healthy Road!
My journey to better health starting when my doctor told me my blood sugar was at pre-diabetes levels, my blood pressure continued to require medication and I had weight to lose. He sent me to see the RDPCN nurse. After some appointments there, the nurse referred me to the Health Basics program.
Exercise was my downfall. Working from home, I always found something else to do rather than exercise. Health Basics increased my awareness. I tracked what I was eating and became more aware of what I ate, when I ate and why I ate. I also realized things that would make me healthier that I wasn't doing. I realized being healthy is a process and I took one healthy step at a time. I also became aware of the wider variety of options for healthy lifestyle.
My husband and I visited friends over the summer and noted they had lost weight. This stimulated us to pay even more attention to our food intake. As a result of our overall efforts, I have lost about 32 pounds and my husband has lost 37. My blood sugar is now in the normal range. I have had significant decrease in my blood pressure medication. I have more energy. I enjoy exercising more as it is easier to move around and I have less arthritis pain. Health Basics is an excellent class- it started me on the healthy road. I also have much more confidence in my future health.
Click to learn more about the Red Deer Primary Care Network.
Read more success stories from the Primary Care Network.