Celebrate "A Very Acoustic Christmas" with George Canyon!
From Westerner Park
"A Very Acoustic Christmas" with George Canyon presented by Real Country 95.5
Join us on December 3rd, 4th or 5th for "A Very Acoustic Christmas" with George Canyon and a Christmas buffet dinner by Red Deer Catering.
Treat your office, friends, or family cohort to an intimate, socially distanced Christmas party.
The night will begin with cocktails at 6:00 pm, followed by a festive dinner buffet served by Red Deer Catering at 7:00 pm, and live entertainment to follow.
Drink tickets can be pre-purchased through Tickets Alberta and a cash bar will be available on-site serving alcoholic and non-alcoholic beverages.
Enjoy some Christmas cheer while celebrating the year you have made it through!
Event Details
3 shows – Thurs, Dec 3, Fri, Dec 4 or Sat, Dec 5, 2020
Marquis Room, Harvest Centre, Westerner Park
Doors: 6:00 pm
Dinner: 7:00 pm
Entertainment: 8:00 pm
Ticket Information
Tickets – $89.95 each (Dinner, taxes, and service fees included)
Tickets will be sold in tables of 2, 3, 4, 5, and 6 and assigned a dedicated table.
When you arrive, Westerner Park will check you in, give you your pre-purchased drink tickets and direct you to your table.

Purchase your tickets through TicketsAlberta.ca or call 1.866.340.4450
____________________________
COVID-19 Precautions
Health and safety is our top priority. To ensure the comfort of our guests, staff, and performers, and to reduce the spread of COVID-19 we have implemented several measures and precautions including:
Limiting ticket sales to a maximum of 95 per night and hosting the event in a venue with 9,400 sq ft of space, a pre-COVID capacity of 400
Tickets will be sold to cohort groups and assigned a dedicated table to ensure proper social distancing
Staff and guests will be required to wear a mask upon entering and when moving around the venue
Hand sanitizer station at entries and high touch areas
Enhanced cleaning procedures, including documentation of cleaning schedule
All Westerner Park staff, volunteers, and contractors are required to follow the AHS guidelines
If you are feeling unwell, have symptoms, traveled outside of Canada, or have been in close contact with a person with COVID-19 please contact TicketsAlberta and do not attend the event.
____________________________

Westerner Park follows the guidance documents on Alberta Biz Connect and implements measures that comply with public health requirements to reduce the risk of COVID-19 among staff, volunteers, and guests.
We follow the direction and best practices of Alberta Health Services (AHS) and the Alberta occupational health and safety (OHS) legislation protocol for respiratory viruses in the workplace as well as the best practices of the International Association of Fairs and Exposition and the Canadian Association of Fairs and Exposition.
Alberta Health Services encourages all Albertans to visit alberta.ca/COVID19 for the latest information, guidance, and resources
Come to Capstone for a Father's Day riverwalk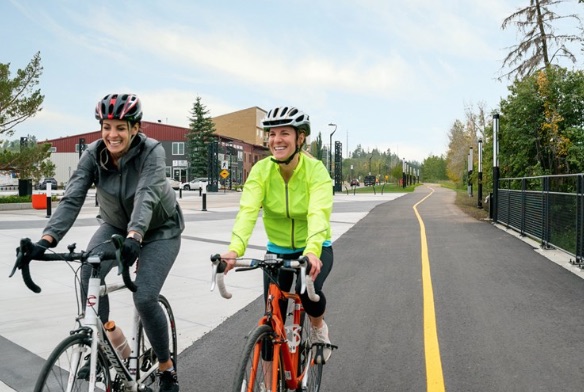 Capstone invites Red Deerians to enjoy new community spaces
Sunday June 20, Red Deerians can enjoy a fantastic Father's Day in Capstone – Red Deer's newest riverside community.

Stroll with your family down Riverwalk, where you can view a special Father's Day mural by local chalk artist Haley Abrahamsz, on display all week (weather dependent). Food trucks will be in Canada 150 Square from 11 a.m.–to 7 p.m., providing outdoor dining choices in addition to the many food and beverage options already located in Capstone. The first 200 customers will also receive a complimentary soda coupon for Troubled Monk's delicious line of sodas. You may even see Spandy Andy dancing his way through Capstone.

"For the next several months, as restrictions ease, our team will be focused on creating events that showcase the many features and amenities that the Capstone community has to offer, in a way that feels comfortable and safe for Red Deerians to attend", says John Sennema, Manager of Land and Economic Development at The City of Red Deer. "This includes events that happen over a period of several weeks so that people can attend without encountering large crowds, and installations that are spread out over the community."
Future activities in 2021 include scavenger hunts, food truck festivals, outdoor recreation classes, and art installations. "Activating these spaces is a critical step in the adoption of the neighbourhood vision, especially as this master-planned community evolves into an active, modern community" explains Project Manager Cory Edinga.
Last year The City of Red Deer conducted extensive research on the wants and needs of the future resident of Capstone – dubbed the 'Cap-Citizen'. These future residents are curious, active types, who are social, and community minded. Events and activations will be planned with their needs and wants in mind.
For more information about the community and public spaces of Capstone or to view the 3D animation which depicts how the community might look and feel in 2040, visit liveincapstone.ca.
Red Deer Restroom just might be the loveliest lavatory in Canada!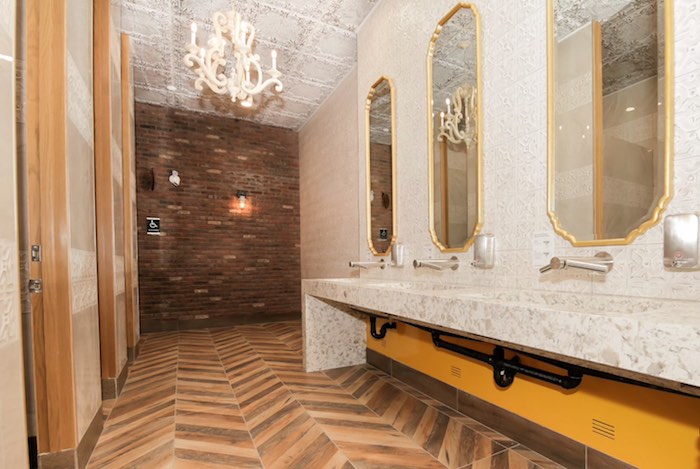 Technically it's in Gasoline Alley which means Red Deer County can also lay claim to this magnificent water closet at the Sweet Market Esso Station on the city's south edge.  Canada's best restroom contest has named the top 5 finalists and three incredible Alberta biffies are on the list!
Clearly the Sweet Market Esso's palatial potties are the most beautiful, but that does not make it the clear cut winner.  The Sweet Market will need Central Albertans to rally behind this luscious lavatory if they're going to win.  This is a voting contest so you can do your part to make sure the Sweet Market Esso 'wipes up' the competition.
Just look at this beauty!  Voting information is below.
News Release from Cintas Canada
The Sweet Market Esso Station in Red Deer, AB is a finalist in the 2021 Canada's Best Restroom contest!
The five finalists include:
Toronto Zoo – Toronto, ON
Surrey Park – Surrey, BC
Sweet Market Esso Station – Red Deer, AB
The ROOFTOP – Calgary, AB
Borden Park – Edmonton, AB
The public can submit multiple votes for the Toronto Zoo and the other four finalists now through July 9 at bestrestroom.com/Canada.
The facility that receives the most votes will win $2,500 in facility services from Cintas to help maintain their award-winning washrooms.
Cintas Canada Unveils Five Finalists in the 2021 Canada's Best Restroom Contest
The polls are open now through July 9
Cintas Canada, Ltd. invites the public to vote for the five finalists in the 2021 Canada's Best Restroom contest! The polls are open now through July 9 at bestrestroom.com/Canada. The facility that receives the most votes will win $2,500 in facility services from Cintas to help maintain their award-winning washrooms.
Cintas' nationwide contest highlights businesses that have invested in developing and maintaining exceptional washrooms. "These five facilities demonstrate a commitment to prioritizing hygiene and customer service – especially as cleanliness is so important right now – combined with creativity and whimsy not usually seen in washrooms," said Candice Raynsford, Marketing Manager, Cintas Canada.
Nominees for this year's contest were judged on five criteria: cleanliness, visual appeal, innovation, functionality and unique design elements. The five finalists include:
Toronto Zoo – Toronto, ON
Designed with the Toronto Zoo's mission of connecting people, animals and conservation science to fight extinction in mind, the new washrooms in the Zoo's Tundra Trek feature iconic Canadian species. The design draws on inspiration from our natural world for its fresh yet familiar atmosphere. From the cool blue mosaic walls that represent the calm transition of horizon to sky, to the dark and dramatic overhead features that represent the vast night sky across the tundra, no detail is too small. Each handwashing unit features a hands-free faucet, soap dispenser and hand dryer. The trough-style sink eliminates water splashing on the floor and includes hooks on the outside of the counter to hang a purse, backpack or coat. This state-of-the-art facility modernizes the Toronto Zoo's guest experience in a visually stunning way.
Surrey Park – Surrey, BC
The intent for the park washroom was to create a playful, durable, safe facility that works well within the City of Surrey's park contexts. The washroom was designed to be universally accessible, hands-free with no-touch fixtures and configured for solar power. It also features public art panels on all four sides of the structure. The design employs a distinct form, strong colours and unique use of materials.
Sweet Market Esso Station – Red Deer, AB
The washrooms at Sweet Market Esso boast decorative high-end tiles and five-star finishes, giving the restrooms a classy feel, mimicking a fancy hotel suite in Italy rather than a convenience store restroom. These washrooms are always a topic of customer conversation in the store where selfies take center stage. The constant comments regarding the awe of it all – plus the extreme cleanliness – are great reminders of the sheer elegance and grandeur these restrooms provide for the customer.
The ROOFTOP – Calgary, AB
The ROOFTOP restaurant is a unique "weather managed" outdoor patio experience located in downtown Calgary. The adjacent indoor washrooms were designed to be inclusive, engaging and distinctively unique. As you enter "The Alley" you are greeted by a life-sized bobblehead re-imagined as your personal concierge. Walk in to immerse yourself in the funky and fun graffiti wallpaper sections taken largely from the "John Lennon Peace Wall" originally created in Prague. Elements of surprise abound throughout these unusual washrooms, including the porta-potty door in the "Mostly Men" area and hidden selfie walls.
Borden Park – Edmonton, AB
Designed by gh3, the washrooms are at the core of the single-level pavilion surrounded by highly reflective glass. An integrated approach to environmental sustainability is evident in the choice of materials: wood, concrete and glass were selected for their durability, permanence and timelessness. The washroom features hands-free elements to reduce germs and a stainless-steel trough-style sink that prevents water splashing on the floor. The sleek washroom stands as a striking improvement on the typical concrete options, and a sign of outstanding design to come.
For contest updates, fun facts and washroom trivia, "Like" Canada's Best Restroom on Facebook at www.Facebook.com/CanadasBestRestroom.