Celebrate "A Very Acoustic Christmas" with George Canyon!
From Westerner Park
"A Very Acoustic Christmas" with George Canyon presented by Real Country 95.5
Join us on December 3rd, 4th or 5th for "A Very Acoustic Christmas" with George Canyon and a Christmas buffet dinner by Red Deer Catering.
Treat your office, friends, or family cohort to an intimate, socially distanced Christmas party.
The night will begin with cocktails at 6:00 pm, followed by a festive dinner buffet served by Red Deer Catering at 7:00 pm, and live entertainment to follow.
Drink tickets can be pre-purchased through Tickets Alberta and a cash bar will be available on-site serving alcoholic and non-alcoholic beverages.
Enjoy some Christmas cheer while celebrating the year you have made it through!
Event Details
3 shows – Thurs, Dec 3, Fri, Dec 4 or Sat, Dec 5, 2020
Marquis Room, Harvest Centre, Westerner Park
Doors: 6:00 pm
Dinner: 7:00 pm
Entertainment: 8:00 pm
Ticket Information
Tickets – $89.95 each (Dinner, taxes, and service fees included)
Tickets will be sold in tables of 2, 3, 4, 5, and 6 and assigned a dedicated table.
When you arrive, Westerner Park will check you in, give you your pre-purchased drink tickets and direct you to your table.

Purchase your tickets through TicketsAlberta.ca or call 1.866.340.4450
____________________________
COVID-19 Precautions
Health and safety is our top priority. To ensure the comfort of our guests, staff, and performers, and to reduce the spread of COVID-19 we have implemented several measures and precautions including:
Limiting ticket sales to a maximum of 95 per night and hosting the event in a venue with 9,400 sq ft of space, a pre-COVID capacity of 400
Tickets will be sold to cohort groups and assigned a dedicated table to ensure proper social distancing
Staff and guests will be required to wear a mask upon entering and when moving around the venue
Hand sanitizer station at entries and high touch areas
Enhanced cleaning procedures, including documentation of cleaning schedule
All Westerner Park staff, volunteers, and contractors are required to follow the AHS guidelines
If you are feeling unwell, have symptoms, traveled outside of Canada, or have been in close contact with a person with COVID-19 please contact TicketsAlberta and do not attend the event.
____________________________

Westerner Park follows the guidance documents on Alberta Biz Connect and implements measures that comply with public health requirements to reduce the risk of COVID-19 among staff, volunteers, and guests.
We follow the direction and best practices of Alberta Health Services (AHS) and the Alberta occupational health and safety (OHS) legislation protocol for respiratory viruses in the workplace as well as the best practices of the International Association of Fairs and Exposition and the Canadian Association of Fairs and Exposition.
Alberta Health Services encourages all Albertans to visit alberta.ca/COVID19 for the latest information, guidance, and resources
Peavey Mart Centrium – Peavey Mart Industries buys naming rights from Westerner Park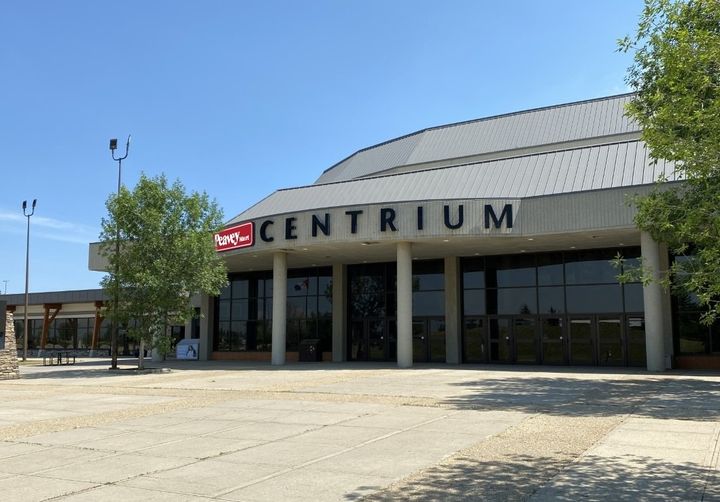 News Release from Westerner Park
Westerner Park Announces New Sponsor for the Centrium
Westerner Park is excited to announce they have signed a 5 year agreement with Peavey Industries LP for the naming rights of the Centrium and as their "Official Agricultural Supply Partner". As of July 12, 2021, the Centrium will be named the Peavey Mart Centrium.
Peavey Industries and Westerner Park share common goals. The synergy of their commitment to community and agriculture is one of the many reasons this partnership is the perfect fit.
"This partnership is a natural fit and one that will continue the arena's legacy of bringing the community together," says Mike Olesen, Chief Executive Officer, Westerner Park. "With the addition of a naming partner on our iconic Central Alberta arena, we are ready to welcome our guests back for Red Deer Rebels Hockey, Agri-Trade Equipment Expo, Canadian Finals Rodeo, and the 2022 World Junior Hockey Championships!"
"Peavey Industries' head office has been located here for decades, making Peavey Mart truly 'Red Deer' at its very core. We are thrilled to partner with Westerner Park and further our local connection while showcasing the overarching dedication we have for a city we are also very proud to call our hometown." – Doug Anderson, President & CEO, Peavey Industries LP.
The Peavey Mart Centrium is a landmark of Central Alberta, rooted in the community for the last 30 years. The arena is a multi-use facility accommodating national events, concerts, hockey, rodeo, trade shows, and even graduations. The Peavey Mart Centrium has an impressive history of notable events – such as the 2016 Memorial Cup, Scotties Tournament of Hearts, the Brier and concerts like – Elton John, Rush and Motley Crue just to name a few.
Canada's largest fireworks show of the year set for Calgary, Edmonton, Lethbridge, and Red Deer to celebrate the Stampede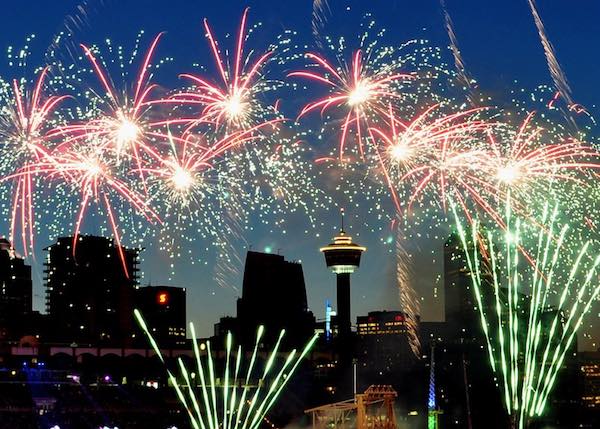 News Release from The Calgary Stampede
Calgary Stampede to Light up the Night Sky Across Alberta!
The Calgary Stampede is proud to celebrate the resilience and determination of our great province through a province-wide fireworks display on Friday, July 9. The Fireworks Spectacular presented by Bell, will take place in Lethbridge, Red Deer, Edmonton and Calgary and we invite all Albertans to join together in celebration as we light up the night sky in recognition of our shared goals and bright future for our province. This incredible display will be a must-see, as the largest and most sophisticated firework event produced in Canada this year.
Since 1912, fireworks have played an important role in Stampede celebrations. Taking place in coordination with the fireworks of the Calgary Stampede Evening Show performance on the first night of Stampede 2021, the sparkling world-class display will occur simultaneously in all four participating cities to a synchronized musical soundtrack.
"This is our way of lighting up the Alberta skies and providing the opportunity to celebrate together," says Steve McDonough, President & Chairman of the Stampede Board. "Thousands of Albertans will be able to view this amazing firework show from their own neighbourhood at the same time, with the same soundtrack on July 9th."
"On behalf of Lethbridge City Council, we congratulate our friends in Calgary for their creativity and collaboration on this fireworks spectacular. We look forward to helping celebrate the beginning of the Calgary Stampede with what is sure to be a brilliant display of fireworks for residents and visitors to enjoy," says Mayor Chris Spearman of the City of Lethbridge.
"The Calgary Stampede is leading the way in the return to community life in our province. Red Deer is honoured to be a part of this initiative to celebrate our Western heritage together," says Red Deer Mayor, Tara Veer. "Albertans have been hit hard by the pandemic, but together we can rebuild and demonstrate our resilience on July 9th."
The pyro-technical experts from Fireworks Spectaculars Canada, an Alberta based company, are familiar with all four cities, and bring their award winning and awe-inspiring team together across the province to create this magical moment to kick-off the 2021 Stampede.
"At this stage, we have to think about how we get major events up and running again. The Calgary Stampede is leading the way and, one by one, other events will follow. As Explore Edmonton takes over management of K-Days in Edmonton, we are watching and learning from our friends at the Stampede. This will mark the beginning of recovery for the events sector and it marks a milestone moment for Alberta as we emerge from the pandemic," says Maggie Davison, Interim CEO, Explore Edmonton
"As we move hopefully into our post-pandemic future, this fireworks display will allow us to safely honour what we've been though, to express our gratitude to all the essential workers who gotten us through, and to look forward with optimism," says Calgary Mayor Naheed Nenshi
The Fireworks Spectacular presented by Bell will feature four identical, world-class firework displays in each city – Calgary, Edmonton, Red Deer and Lethbridge – starting at 11 p.m. on July 9. Albertans are invited to participate in this in this free, family-friendly celebration with specific viewing locations and information available at CalgaryStampede.com. It will also be broadcast live on CTV Calgary, CTV2 and CTVNews.ca beginning at 11 p.m., so that you can watch from the comfort of your own home. Tune in as we light up the night sky to celebrate Stampede Spirit across Alberta. We thank our community partners Explore Edmonton, The City of Red Deer, Westerner Park and Lethbridge & District Exhibition. This is a celebration of our province, and at the Calgary Stampede we believe we are Greatest Together.
Watch in person from your seat at the 2021 Calgary Stampede Evening Show! Evening Show and Rodeo tickets are now available and include admission into Stampede Park the day of the show. New in 2021, a VIP, full-service, outdoor experience that will put you in the heart of the action on the Grandstand tarmac. Reserve a table for your group of four or six people to enjoy the experience in a brand-new way! To book your Evening Show, Rodeo or VIP Tarmac tickets, or to purchase general Park admission for days you are not attending the Evening Show or Rodeo, go to CalgaryStampede.com
About the Calgary Stampede
The Calgary Stampede celebrates the people, the animals, the land, the traditions and the values that make up the unique spirit of the west. The Calgary Stampede contributes to the quality of life in Calgary and southern Alberta through our world-renowned Stampede, year-round facilities, western events and several youth and agriculture programs. Exemplifying the theme We're Greatest Together, we are a volunteer-supported, not-for-profit community organization that preserves and celebrates our western heritage, cultures and community spirit. All revenue is reinvested into Calgary Stampede programs and facilities.