Canadian Pacific matches donations including a $20,000 gift for Cardiology Equipment at Red Deer Regional Hospital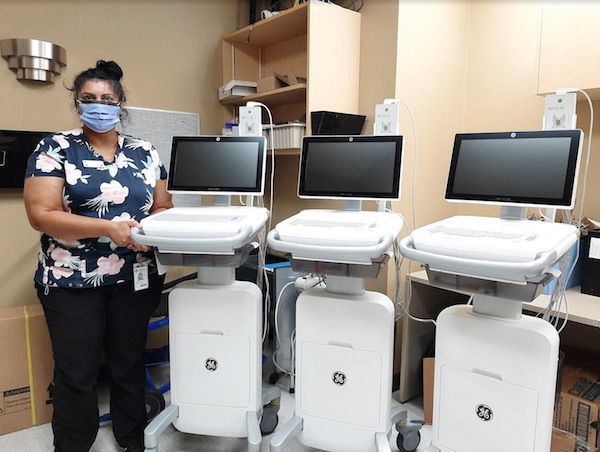 Donations Help Raise Funds for Cardiology Equipment at Red Deer Regional Hospital
Three new Electrocardiogram (ECG) machines have been purchased for the Cardiology Unit.
Red Deer Regional Health Foundation (RDRHF) is pleased to announce the Cardiology unit at Red Deer Regional Hospital received three Electrocardiogram (ECG) machines with funds raised from earlier this year.
In February 2021, Canadian Pacific (CP) matched every donation, including a $20,000 gift from Ron and Donna Durham of Red Deer. In total, over $60,000 was raised and the ECG machines have since been purchased and are now in operation.
Scott Young, CP Trainmaster, stated, "We're proud that this donation will support Red Deer Regional Hospital in their pursuit to provide the best care for Red Deer and area residents." The Durhams are also big supporters of the hospital and the charitable work done by the Foundation. "This hospital is a vital part of our community," said Donna. "We are very thankful that CP matched our donation and helped make this become a reality."
"I am very grateful and excited to use these new pieces of equipment," said Shobhika, a Lab Assistant who works in the Cardiology unit at Red Deer Regional Hospital. "These machines are used to diagnose many cardiac concerns and we really couldn't help our patients without them."
The Foundation wishes to thank all donors who contributed to the matching gift campaign. To stay up to date on causes you can support through the Red Deer Regional Health Foundation, visit www.rdrhfoundation.com.
Donations to RDRHF provide funding for programs, services and medical equipment for Red Deer Regional Hospital Centre and other health care centres throughout Alberta Health Services Central Zone.
The Laft Hus celebrates 35 years in Red Deer
The Laft Hus is a replica of an 18th-century farmhouse in the Numedal district in Norway. It was created through the efforts of volunteers, and it officially opened to the public in 1987.
The museum contains many old artifacts and examples of Norwegian arts and crafts and a small butikk of Norwegian items and the house itself is of note due to its traditional sod roof.
The museum and gift shop are open to visitors every day (except Mondays) from June 1 through to August 31, 9:00 am to 3 pm. For the remainder of the year, the Norwegian Laft Hus is open each Wednesday when a group of ladies meet to work on Norwegian arts and crafts.
This year, the Laft Hus celebrates its 35th year in Red Deer. The annual festival will take place on June 18, 2022 and will have many activities, entertainment, Norwegian food and vendors for the visitors to enjoy. Help us celebrate!
For more information, visit their website.
Children's Fest is back in the park in 2022!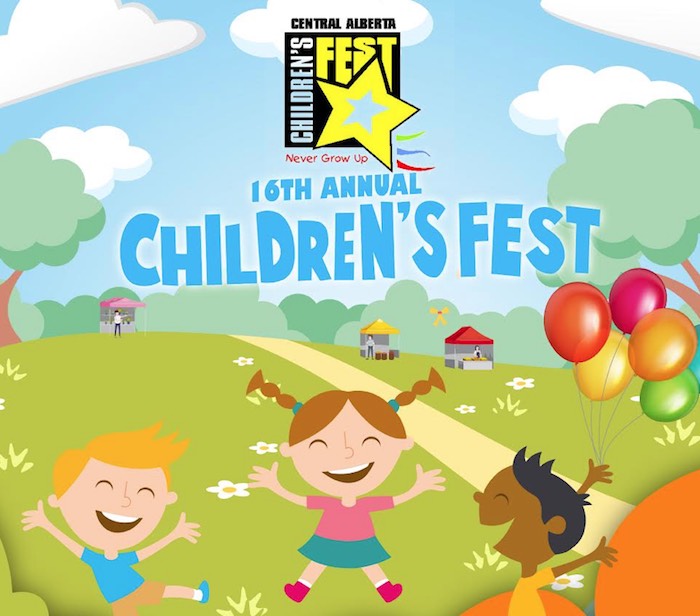 Groups and organizations come together to host the 16th Annual Central Alberta Children's Festival
Never Grow Up!
After 2 years of re-imagined festivals we are excited to be hosting the 16 th Annual Central Alberta Children's Festival back in the park. This family-friendly event is held over two days the first weekend of June. The festival is an opportunity for children and their families to get first-hand knowledge and exposure to the arts, to allow their creativity and imaginations to blossom.
June 3rd and 4th Rotary Recreation Park 4501 47A Ave, Red Deer will come to life with music, dancing, children running and laughing enjoying tons of interactive fun!
The community planning committee has been busy putting together a great two days that will enchant and engage children of all ages. With support from various community partners, the festival brings affordable, culturally diverse, and exciting entertainment through featured artists and interactive fun. We strive to allow families to actively engage in learning and playtime by fostering their imagination and creativity. From dancing, ultimate fort building, Laser Chase, Imaginate where you will learn from local artists, glitter tattoos, and performances this children's festival has it all.
Live shows include:
 Beppie a JUNO nominated recording artist and an award winning music educator based out of Edmonton,
 LANCE CARDINAL ᐊᐧᒐᐢᐠ First Nations artist, designer, and entrepreneur. Lance recently began a new role as Indigenous consultant and designer for the Edmonton Oilers, writing the new pre-game land acknowledgement video and designing the new Turtle Island Logo.
 The Joe Show – Start with a little magic. Add some breathtaking illusions. Stir in appearances from an amazing collection of animal friends with ventriloquism, Sprinkle in a healthy dose of jokes, laughter and fun, and you have the recipe for an amazing show known as the Joe Show
With our admission fee of only $7 per person, or $25 per family or anytime pass $40.00 for a family, every family can enjoy the world-class entertainment and all activities. Included with the admission, families will also have access to free
snacks and water (bring a bottle!), The Central Alberta Children's Festival welcomes kids ages 0 – 99!
For more information on the festival visit www.centralalbertachildrensfestival.ca