Canadian Army Reserve opens Armoury doors to the public
By Lloyd Lewis, HLCol 41 Signal Regiment
September 22, 2017 – Red Deer
Have a love of history? How about technology? Teamwork? If you said yes to any of these, then you owe to yourself to drop down to Cormack Armoury on September 30th. Armouries across the country will open their doors to showcase the important work that Reservists do for Canadians through interactive displays, conversations, and activities.
There are 2 Reserve units that operate out of Cormack Armoury – 41 Signal Regiment (2 Squadron), who specialize in all forms of military communication, and 78th Field Battery, an artillery unit. Both are a part of the Canadian Armed Forces Reserve. The Open House gives you a great opportunity to find out more about the Reserves, check out some of the equipment. and talk to the soldiers. Find out why they're so passionate about the role they play. Capt. James Gascoyne is the Senior Officer at the Armoury.
Note that Armouries across the country will open their doors to showcase the important work Reservists do for Canadians through interactive displays, conversations, and activities.
Calgary: Mewata Armoury, 801 – 11th Street SW and General Sir Arthur Currie Building, 4225 Crowchild Trail SW
Edmonton: Brigadier James Curry Jefferson Building, 11630, 109th Street NW and LCol Philip Debney Armoury, 8403 Roper Road
Lethbridge: Vimy Ridge Armoury, 337 Stubb Ross Road
Medicine Hat: Patterson Armoury, 120 Cuyler Road South East
Red Deer: Cormack Armoury, 4402 – 55th Street
Yellowknife NT: 3 Coronation Drive, Bay 5, Yellowknife
These events will place Canadians in the company of our nation's soldiers and is part of the Canadian Army's overall initiative to recruit new members to the Army Reserves. Under Strong, Secure, Engaged: Canada's Defence Policy, the Government of Canada has committed to increasing the size of the Reserve Force to 30,000 (an increase of 1,500) and to reduce the length of time it takes for an individual to join the Reserve Force to approximately 30 days.
In Red Deer, the Canadian Army Reserve Open House will take place on September 30, 2017 from 10:00 a.m. to 3:00 p.m. at the Cormack Armoury, 4402 – 55th St.
Learn more about the Canadian Armed Forces Reserves.
Run/Hike for Red Deer Hospice Takes Place This Sunday at Bower Ponds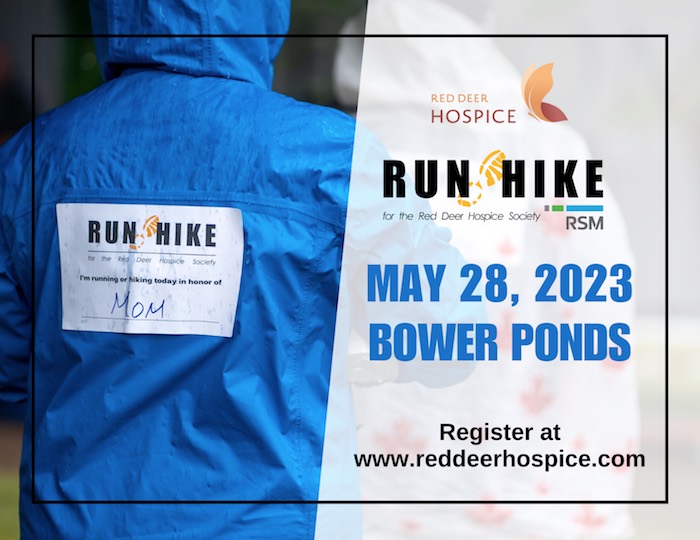 News release from Red Deer Hospice
Red Deer Hospice's 16th Annual Run/Hike event, presented by RSM Red Deer, will take place at Bower Ponds this Sunday.
Registration will open at 9:00am and those wishing to run, walk or stroll the 1km, 3kms or 5 kms will start at 10:00am. A light breakfast and hot, post-race lunch, provided by Mr. Mikes, will be available to participants and live entertainment will be provided by the band Fun House in the amphitheater.
"This will be a day to remember and reflect, while taking in the natural beauty of the trails in and around Bower Ponds," said Jerri Taylor, Executive Director of Red Deer Hospice. "As our main fundraiser for the year, our goal is to raise $38,000." Proceeds and donations will go towards Red Deer Hospice's mission of supporting a peaceful and compassionate end-of-life journey.
Online registration on the Red Deer Hospice website will close at 3:00pm on Friday, May 26, 2023. Those interested in participating in this year's Run/Hike event who have not registered can do so in person on Sunday morning at Bower Ponds.
For more information, visit www.reddeerhospice.com.
Glendale Skatepark now includes on-site mentors from the YMCA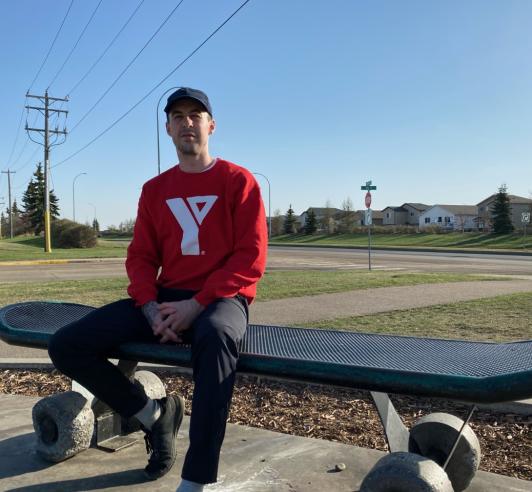 With consistent fair weather and summer right around the corner, skateboarders, BMXers and scooter-riders are excited to return to Red Deer's skateparks. Glendale Skatepark in Red Deer's north side is a popular choice, and has the added benefit of being staffed by Northside Community Centre YMCA's skatepark mentors.
The Y's skatepark mentors are experienced skaters and BMX bikers who want to help make sure the skatepark remains a safe and inclusive space for kids and youth of all skill levels and backgrounds to enjoy. They hang out at the park every day after school and on weekends, offering encouragement, teaching skills and providing water and snacks to anyone who wants it.
"The biggest part [for me] is just creating community engagement and connections," one skatepark mentor explained in a video on the YMCA's social media channels, adding, "engaging with the kids, teaching what you love to do… just being a positive influence on everyone and trying to make this place a better community."
The YMCA Skatepark Mentorship program was piloted in 2021, and after a successful season Border Paving Ltd. stepped up with a generous donation to make it possible for the Y to staff the park all summer long in 2022 and 2023. The Y has since expanded the program, and will have skatepark mentors and youth workers at the Red Deer Skatepark downtown in addition to Glendale, starting in July.
Youth can find YMCA skatepark mentors at the Glendale Skatepark Monday to Friday from 2:30 to 7:30pm, and noon–4pm on Saturdays and Sundays until the end of June. Starting in July, their weekday hours will expand to 12:30 to 8:30pm and they can be found at the Red Deer Skatepark downtown from 10am to 1pm every Tuesday, Wednesday and Thursday.
Visit ymcanab.ca/skatepark to meet Northside Community Centre YMCA's skatepark mentors for 2023 and learn more about youth programs at the Y.