Canada-wide warrant issued for murder suspect Mohamud Dhiblawe
Homicide investigators issue Canada-wide murder warrant for the arrest of Mohamud Dhiblawe
February 10, 2020
The Edmonton Police Service's Homicide Section has issued a Canada-wide, second-degree murder warrant for the arrest of Mohamud Dhiblawe, 29, in connection to the death of a 32-year-old male in northeast Edmonton Saturday evening.
Dhiblawe (see photo below) is alleged to be responsible for the death of Mohamed Ahmed Makaran, 32, who was shot and killed in an apartment suite on McConachie Boulevard this past weekend, Saturday, Feb. 8, 2020.
Earlier today, the Edmonton Medical Examiner's Office completed an autopsy into Makaran's death, confirming the 32-year-old male died from a gunshot wound with the manner of death being homicide.
Dhiblawe, of Toronto, is believed to be armed and dangerous, and as such, investigators are urging the public to not engage with him should they see Dhiblawe, but rather to contact EPS directly.
Anyone with information regarding this homicide or Dhiblawe's whereabouts is asked to contact the EPS immediately at 780-423-4567 or #377 from a mobile phone. Anonymous information can also be submitted to Crime Stoppers at 1-800-222-8477 or online at www.p3tips.com/250.
Background:
On Saturday, Feb. 8, 2020 at approximately 11 p.m., Northeast patrol members responded to a weapons complaint at an apartment complex on McConachie Boulevard. Upon arrival, patrol officers discovered a deceased 32-year-old-male inside a suite.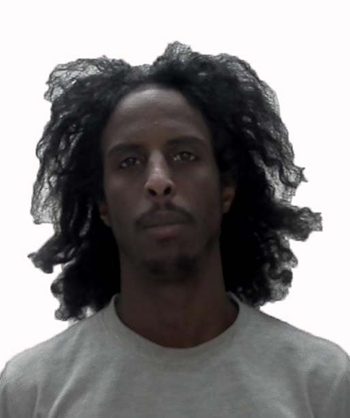 Wanted for murder: Mohamud Dhiblawe, 29 
Read more stories on Todayville Edmonton.
Active shooting incident in Airdrie – Multiple injuries from BB guns
From Airdrie RCMP
Airdrie RCMP investigate reports of an active shooter
Airdrie RCMP are currently investigating an incident which has lead to multiple people injured from at least 6 different locations.
At this time it appears that BB guns were used in the "shootings". One person is in custody and RCMP are looking for the others involved.
RCMP has businesses in a "Shelter in place" in the downtown core. Anyone in the downtown/midtown communities are asked to stay inside.
This is an unfolding situation and more information will be released when it becomes available.
RCMP looking for suspect in connection to robbery and kidnapping
From Ponoka RCMP
Ponoka RCMP lay charges after social media meeting results in kidnapping – Female Wanted
The Ponoka RCMP have laid charges and made arrests against two males and a female following a 911 complaint of a kidnapping, beating and robbery which occurred on Sept. 7.
At 4:23 a.m. on Sept. 7, Ponoka RCMP were alerted to the above incident which was reported to have occurred, hours earlier, in Ponoka.  Investigation reveals that a 22-year-old male victim from Slave Lake met a female online, and after almost a year of online communication, agreed to meet her.  The male got into a vehicle, determined to be previously stolen, with the female in Ponoka.
Allegations are that the while in the vehicle, the male was assaulted by two unknown males, one of whom had a gun.  Over a lengthy period, the male was driven to several banks where he was forced to provide his banking information in order for withdrawals to be made from his accounts. The victim's truck and cell phone was stolen, and he was eventually dropped off in Blackfalds.
Ponoka RCMP General Investigation Section members collaborated with Red Deer and Blackfalds RCMP to coordinate intelligence on this incident. The suspects were identified as Amber Loretta Knickle (21), Jared Michael Mcleod (26) and Chasetin Jon Arthur Morin (25).  Charges were sworn against all three subjects. An arrest warrant was issued for Knickle on Sept. 9 and for Mcleod and Morin on Sept. 15.
Knickle is charged with robbery, while Mcleod and Morin are charged with robbery with a firearm (x2), kidnapping and assault.
On Sept. 16 at 11:58 a.m., the Central Alberta District Crime Reduction Unit located a stolen vehicle in Gasoline Alley, and with assistance from Blackfalds RCMP, arrested Jared Mcleod and Chasetin Morin, who were both in the vehicle. A search of the vehicle incidental to arrest led the RCMP to recover an imitation firearm, a loaded shotgun, ammunition, methamphetamine, and at least 61 pieces of miscellaneous stolen identity documents.  Charges are pending.
At the time of his arrest, Morin was wanted on an arrest warrant out of Red Deer for an earlier incident where he fled from police while driving the victim's stolen truck.
The RCMP have been unable to locate Amber Loretta Knickle and are seeking public assistance.  Amber is described as:
–          Caucasian female
–          5'3" tall / 119 lbs.
–          Blonde / brown hair and green eyes
–          Unknown tattoo on one of her fingers
If you have information about the whereabouts of Amber Knickle, please contact the Ponoka RCMP at 403-783-4472 or call your local police. If you wish to remain anonymous, you can contact Crime Stoppers at 1-800-222-8477 (TIPS), online at www.P3Tips.com ( http://www.p3tips.com) or by using the "P3 Tips" app available through the Apple App or Google Play Store.