Canada beats Sweden 4-1 to claim gold in Hlinka Gretkzy Cup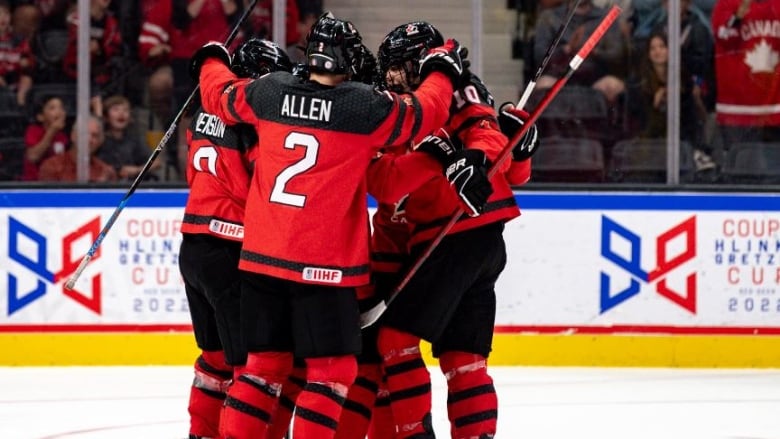 Red Deer – Canada scored early and often and also stayed out of the penalty box en route to a 4-1 victory over Sweden in the gold-medal final of the Hlinka Gretzky Cup.
Tanner Howe, Ethan Gauthier, Calum Ritchie and Brayden Yager scored for the Canadians, who held period leads of 2-1 and 3-1 at the Peavey Mart Centrium on Saturday. Riley Heidt also chipped in with two assists for the champions.
Hugo Pettersson scored for Sweden, who were outshot 36-26. Each team received eight minutes in penalties.
Canada had beaten Sweden 3-0 on Aug. 3.
"Three weeks ago, we put this roster together and I felt right away this was a tight group," said head coach Stephane Julien. "It's not easy when you have this much talent, but everyone accepted their role and I'm so happy for them."
The win is Canada's first gold medal since 2018, the last time this tournament was held in Canada.
"I'm so happy for this group," added Julien. "They haven't had it easy in their careers the last two years with the pandemic, but now they have this, a gold medal and something they are going to remember for the rest of their career."
Canada advanced to the final with a 4-1 win over Finland, while Sweden defeated Czechia 6-2. Finland beat Czechia 3-1 in Saturday's bronze-medal final.
The Hlinka Gretzky Cup will shift to Europe in 2023, returning to Breclav and Piestany, Czechia for the first time since 2021.
This report by The Canadian Press was first published Aug. 6, 2022
Canada's men's U18 team defeats Finland 4-1 to advance to Hlinka Gretzky Cup final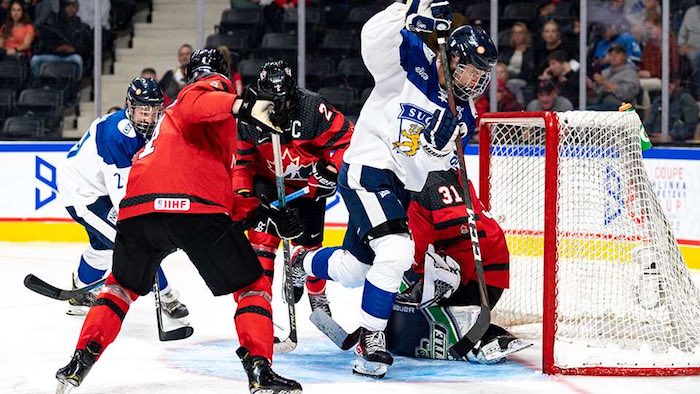 RED DEER, Alta. — Canada's men's under-18 team defeated Finland 4-1 to advance to the Hlinka Gretzky Cup final Friday night.
Ethan Gauthier scored the opening goal in the first period, his tournament-leading fifth of the competition.
Calum Ritchie added another for his second in the past two games. Matthew Wood and Denver Barkey scored 19 seconds apart around the halfway mark of the final period to put the game out of reach.
Finland got on the board with only 18 seconds remaining, courtesy of Arttu Alasiurua.
Scott Ratzlaff made 23 saves, conceding his first goal of the tournament in three appearances for the undefeated Canadian team.
In the other semifinal, Sweden defeated Czechia 6-2 to set up another showdown against the Canadian squad. Sweden lost 3-0 to Canada in the final game of the preliminary round on Wednesday.
Canada will seek its first gold medal since 2018 when the two sides meet Saturday.
This report by The Canadian Press was first published Aug. 5, 2022
The Canadian Press
Schedule for 2022 Hlinka Gretzky Cup at Peavey Mart Centrium released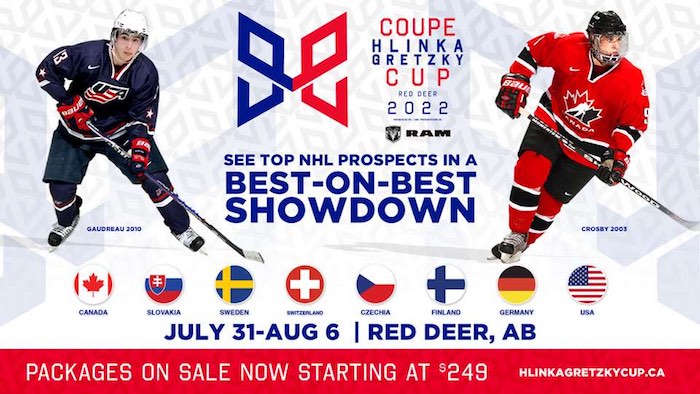 News release from Hockey Canada
SCHEDULE ANNOUNCED FOR 2022 HLINKA GRETZKY CUP, PRESENTED BY RAM
Red Deer to host all 18 preliminary and medal-round games
Hockey Canada has announced the schedule and groups for the 2022 Hlinka Gretzky Cup, presented by RAM, which is set to run from July 31-Aug. 6 in Red Deer, Alta.
For the first time in tournament history, one Canadian community will host the entire event, bringing the best-on-best showcase to the Peavey Mart Centrium for six days of competition.
"We are very excited to bring this event back to Canada, and in partnership with the City of Red Deer and the Red Deer Rebels, host an incredible week of hockey in the community this summer," said Dean McIntosh, vice-president of events and properties with Hockey Canada. "This tournament has seen some of the top under-18 players in the world compete against each other for the first time, and this summer will be a chance for fans in Alberta to see players that will suit up at future World Juniors."
Canada's National Men's Summer Under-18 Team will join Slovakia, Sweden and Switzerland in Group A, while Czechia, Finland, Germany and the United States will form Group B.
The tournament will begin on July 31 with Czechia playing Finland at 11 a.m. MT, the United States facing Germany at 3 p.m. MT and the host Canadians taking on Switzerland at 7 p.m. MT. Canada will round out its preliminary-round schedule against Slovakia on Aug. 2 and Sweden on Aug. 3, with both puck drops at 7 p.m. MT.
The top two teams from each group will advance to the semifinals on Aug. 5, with the bronze and gold medal games set for Aug. 6 at 12 p.m. MT and 4 p.m. MT, respectively.
"Red Deer is thrilled to host this year's tournament and welcome the world back to our city," said Ken Johnston, mayor of Red Deer. "We had the honour of co-hosting this tournament in 2018, and after a cancellation in 2020, we cannot wait to watch the world's best under-18 hockey players in Red Deer once again."
Since the tournament began in 1991, Canada has captured a record 22 gold medals, including twice on home soil. The best-on-best showcase has featured some of the world's best under-18 players, including Sidney Crosby, Nathan MacKinnon, Steven Stamkos and former Red Deer Rebels captain Ryan Nugent-Hopkins.
Packages for the 2022 Hlinka Gretzky Cup, presented by RAM, are on sale now, beginning at $169 for youth and $269 for adults, at HockeyCanada.ca/Tickets.
"This tournament is one of the marquee events on the international hockey calendar, and to have it solely in Red Deer speaks to the reputation the community has built for hosting events," said Merrick Sutter, senior vice-president of the Red Deer Rebels. "All eight countries participating will have players that will go on to have successful professional hockey careers, and this is a chance for families in Red Deer to take advantage of that and join us for an unforgettable week this summer."
TSN and RDS, the official broadcaster partners of Hockey Canada, will provide full coverage of the tournament.
Recruitment information for volunteers will be announced later in June, with more than 150 positions available leading up to and during the tournament.
For more information on the 2022 Hlinka Gretzky Cup, presented by RAM, please visit HlinkaGretzkyCup.ca, or follow along on Facebook, Twitter and Instagram.