Mill Street Brewery – Setting The Bar For Energy Efficiency
Mill Street Brewery, born out of the Toronto Distillery District, their story begins with the emergence of a small red brick brewery back in 2002. Over the last two decades, one thing has consistently taken precedence over their process. Care and consideration for their environmental footprint on the commercial and local level.
The IBM Institute for Business Value (IBV), in association with the National Retail Federation, conducted a research study of 18,980 consumers in 28 countries. Some of this data reported 57% of consumers would pivot their spending habits for more environmentally friendly brands. In line with the efforts by the Mill Street Brewery team, the study also reports 77% of consumers consider sustainability and environmentally responsible brands important when asked about their spending habits.
Not often do we deep dive into what our favourite brands are proactively doing to increase their green initiatives, whether it be energy efficiency, consumption, recycling or waste management. Fortunate to have the opportunity to speak with Kaitlin Vandenbosch, Brewmaster for Mill Street Brewery and Bennie Dingemanse, Head Brewer at the Mill Street Brewery Calgary Brewpub to discuss their efforts as an organization and also what it means to their team as they continue to improve their environmentally friendly initiatives.
An interesting story to tell behind this brand, continuing to produce their Original Organic Lager since the day their doors opened. Continuously seeking new ways as a team to reduce their energy consumption and environmental footprint. Serving local areas in Toronto, Calgary, Vancouver, Ottawa and St. Johns, Mill Street is the largest producer of certified organic beer in Canada. The best part is that their certified organic pale barley malt is Canadian grown & processed. The barley they use is grown in Saskatoon and Alberta, then malted in Thunder Bay, Ontario. Kaitlin offers some additional insight into sourcing local as an organization.
"It used to be very difficult to find raw organic materials back in 2002, over the years we have worked very closely with the barley malt industry in North America and Canada Malting. Since 2007, working with these organizations, we were able to transition all of our organic malts to be grown in Canada on the prairies and they certified their facility in Thunder Bay to process that malt for us. Around 15-20 Canadian farmers grow the grains that are used in our organic beers."
Being one of the largest breweries in Canada, the importance of having educated professionals working as a team to implement set targets to work towards is a great way to continuously improve and reduce their emissions. Kaitlin mentions exceeding some of the targets they set for 2019.
"For 2019, we had targets set a for 10% energy and water reduction and a 4% increase in waste divergence. We exceeded all of those targets. Working with our various operations and maintenance teams, engineers, the city and the companies that pick up our waste. We have had a 12.5% reduction in energy usage, a 17% decrease in water consumption, and a 12.5% increase in divergence of waste. It is something that we are always looking at both in our production facility and our brewpubs."
Mill Street has one Brewpub location in Calgary managed by Head Brewer, Bennie Dingemanse. Located on 17th Avenue SW, serving Mill Street house-brewed products and great food in the most vibrant part of the city. The green initiatives continue to be a key driver for the Brewpub team, Bennie offers his thoughts on working towards a cleaner future in his Calgary location.
"We divert our waste stream from our restaurant with our waste collection service providers. After collecting data from just our first quarter, we saved 2.2 barrels of oil, we saved about 14 trees, close to 4,000Kw/h of energy and 22,000 liters of water just by diverting our waste and having it properly disposed of. Another thing we do on the Brewpub level is looking at new methods when cleaning our tanks, where we analyze our water usage and work towards minimizing our wastewater while achieving the same result."
Not only that, but Bennie and his team have proactively found ways to have their waste material exported so that it can be repurposed for commercial use by local merchants. One example is a partnership with coRISE, who actively utilize spent grain from the Calgary Brewpub for baked goods to sell in the local community. Bennie and his team have also been extracting sugar from spent material, combining it with food waste from the restaurant to be turned into compost.
As we continue to navigate this mid-to-post pandemic; breweries, restaurants and bars alike have adopted eCommerce to serve their customers. Mill Street has a variety of options to continue offering its house-brewed products and menu. Delivery is available on UberEats, SkipTheDishes, Doordash and from their Calgary website. As an added benefit, Bennie mentions that they recently updated their delivery radius to service areas outside of the downtown core.
Visiting The Mill Street Calgary Brewpub
To stay updated, Bennie recommends following his location on social media for any future updates on guidelines or new product releases. On the Brewpub level, following all Alberta Health Services recommendations in regards to capacity and sanitization. They have implemented new cleaning policies, hand sanitizer as you enter and staff are washing their hands regularly. Recently partnering with a local startup called LivCity that has developed an app for contactless ordering from your table using your smartphone, mitigating interactions between customers and staff in the efforts of social distancing.
If you would like to learn more about the forward-thinking initiatives being implemented by the Mill Street Brewery team, or to browse their wide array of products available, visit their main website here, Calgary Brewpub website or follow them on their social media accounts below.
Mill Street Calgary Brewpub Facebook
For more stories, visit Todayville Calgary
StatCan report casts clouds on claims of a widespread labour shortage in Canada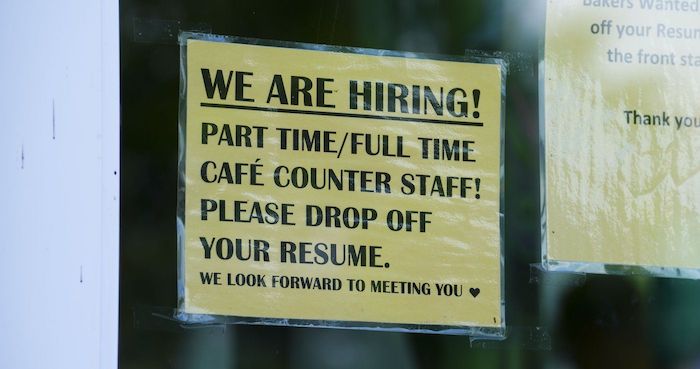 A new report is casting doubt on the idea that Canada is facing a widespread labour shortage, bolstering arguments by labour economists who say the country has more than enough workers. A sign for help wanted is pictured in a business window in Ottawa on Tuesday, July 12, 2022. THE CANADIAN PRESS/Sean Kilpatrick
By Nojoud Al Mallees in Ottawa
A new report is casting doubt on the idea that Canada is facing a widespread labour shortage and bolsters the arguments by some labour economists that high job vacancies aren't due to a shortage of workers.
The Statistics Canada analysis finds there are no labour shortages for jobs that require high levels of education, suggesting other factors, such as a mismatch in skills and pay, might be to blame for a high number of empty positions.
In the aftermath of the COVID-19 pandemic, labour shortages have grasped headlines from coast to coast as businesses have advertised more job openings than ever. Job vacancies skyrocketed to more than one million at one point last year.
The perceived countrywide labour shortage has put pressure on governments to help businesses find workers, including by increasing Canada's immigration targets.
But the report published this week compares unemployment and job vacancies by education level and paints a more nuanced picture of the labour market.
"Things look really different depending on whether you look at vacancies that require a high level of education, versus those that require a high school diploma or less," said René Morissette, the assistant director of social analysis and modelling division at the federal agency.
The report, which looked at labour data between 2016 and 2022, found for jobs requiring a bachelor's degree or higher education, there were always fewer jobs available than people to fill them.
For example, there were 113,000 vacant positions requiring a bachelor's degree or higher education in the fourth quarter of 2022, but 227,000 individuals who held such an education were unemployed during the same period.
But for positions that required a high school diploma or less, the shortage of workers only started in the third quarter of 2021.
Morissette said the findings don't mean that there are no labour shortages in some markets, but shortages may not be as extensive as previously assumed.
"It's certainly conceivable that there are local shortages in some in some positions," Morissette said. "What we're saying is that the shortages may not be as widespread as initially assumed in the early discussions about the high vacancy rates in Canada."
For employers trying to fill vacancies that require a post-secondary education, the report says their hiring challenges cannot be attributed to a lack of workers available with those qualifications.
Instead, the difficulties may be the result of a mismatch in skills required for the job and those possessed by candidates. Another factor could be that employers aren't offering wages that are on par with what job seekers expect.
The report also casts doubt on the hiring challenges facing firms trying to recruit workers with lower levels of education.
"The degree to which these job vacancies can be attributed to labour shortages in specific low-skilled occupations instead of relatively low-wage offers and fringe benefits or other factors remains an open question," the report says.
Jim Stanford, an economist and the director of the Centre for Future Work, says the report from Statistics Canada busts "long-standing myths" about labour shortages in the country.
"If you were really short of labour, and you couldn't find someone to do that minimum wage job at a McDonald's restaurant, then why aren't they either increasing the wage or trying to replace the work with machinery?" Stanford said.
"Neither are happening, which suggests to me that employers in general are quite happy with the current state of affairs, no matter how much they complain about labour being in short supply."
So what explains the high number of job vacancies?
Morissette said for low-skilled industries, businesses may be choosing to keep wages low and accept higher vacancy rates.
"For employers that have negligible training costs, a human resource strategy that combines relatively low wages with high worker turnover and some vacancies might actually … maximize profits," he said.
The federal government has kept an open ear to business groups raising alarm bells about labour shortages.
In the fall, Ottawa announced new immigration targets that would see the country welcome 500,000 immigrants annually by 2025. Immigration Minister Sean Fraser has touted the new plan as a solution to the country's labour woes.
Canada has also experienced a surge in the number of temporary foreign workers brought into the country to help businesses fill vacant positions.
The apparent shortage of low-skilled workers could push policymakers to think that even more temporary workers are needed, but Stanford said that would be a "disastrous" conclusion to draw from the report.
Many economists have reservations about temporary foreign worker programs that they worry can suppress wages domestically, if used excessively.
"The goal of immigration policy should not be to solve the recruitment problems faced by low-wage employers, or any employers for that matter," he said.
This report by The Canadian Press was first published May 27, 2023.
WestJet pilots deal grants 24% pay raise over four years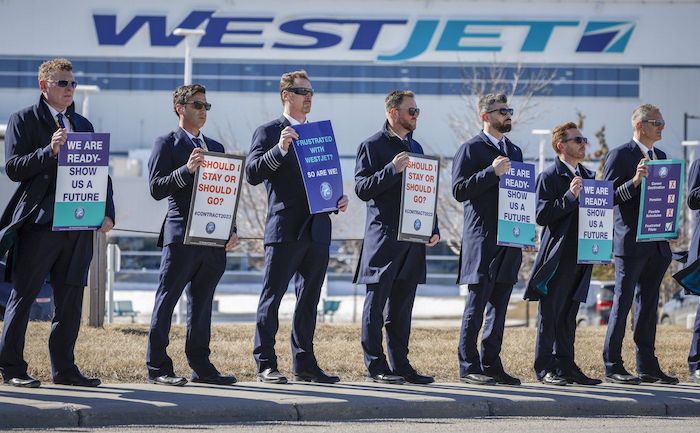 WestJet pilots are poised to get a 24 per cent pay bump over four years under an agreement-in-principle between the company and the union. Members of the Air Line Pilots Association demonstrate amid contract negotiations outside the WestJet headquarters in Calgary, Alta., Friday, March 31, 2023.THE CANADIAN PRESS/Jeff McIntosh
Calgary
WestJet pilots are poised to get a 24 per cent pay bump over four years under an agreement-in-principle between the company and the union.
A copy of the tentative agreement summary obtained by The Canadian Press states that pilots will receive a 15.5 per cent hourly pay raise this year retroactive to Jan. 1 upon ratification of the deal.
It also lays out a cumulative 8.5 per cent hike to their hourly wage over the remainder of the contract, from 2024 through 2026.
Bernard Lewall, who heads the Air Line Pilots Association's WestJet contingent, said last Friday after reaching a deal that the union achieved its main goals of better pay, job security and work-life balance.
Aviation expert Rick Erickson says the deal marks a new standard for labour negotiations in Canadian aviation, and could also make it tougher for budget airline competitors to retain pilots.
Bargaining came down to the wire last week, with WestJet cancelling more than 230 flights in preparation for job action before a deal was reached hours ahead of the strike deadline Friday morning.
This report by The Canadian Press was first published May 26, 2023.