What's on Tap? – The Vibrant Beer and Atmosphere of Railyard Brewing
Like so many of our favorite local craft breweries, the Railyard Brewing backstory began in a backyard as a project between two neighbors who simply enjoyed home brewed beer. 
Opened in December 2017, Railyard Brewing's massive taproom is located in the northeast, near the Calgary airport. Inspired by the classic graffiti art often featured on the side of train cars travelling throughout Alberta, the brewery celebrates the role of the railroad in building Alberta's early brewing industry, with a twist. Railyard's unique style highlights the creative within the conventional, "The craft brew industry is a dynamic industry, and we wanted to showcase that vibrant spirit by combining great craft beer with an artistic vibe." 
The first thing you'll notice when you walk into Railyard is the 50,000 feet of black ropes dangling from the rafters surrounding the bar. Carefully arranged to represent a modern take on a traditional cathedral style ceiling, this art installment took three months to assemble and is unlike anything in the city. The industrial art gallery taproom is illuminated by string-lights draped over graffiti-covered walls and tables, where patrons can enjoy their pints and light snacks among the massive tanks where Railyard brews their beer. 
With 6 core beers alongside a number of continuously rotating taps featuring their latest and greatest developments, Railyard is constantly on the move. 
One of the greatest challenges in Alberta's rapidly expanding craft brew industry, according to Aaron Wyers, Railyard Brewing Sales Manager, is keeping up with demand. "We're always evolving, just trying to stay ahead of the trends and keep up with production," he says. "Our Belgian Cherry DIPA can just came out last week and it sold out completely in 30 hours." 
Throughout the ups and downs of COVID-19 in Calgary, Railyard Brewing has managed to stay busy by transitioning quickly and remaining connected to the community. When the taproom shut down on March 17, the brewery responded quickly and was able to launch their online delivery service on March 19, just two days later. "The community response was massive," says Aaron, "we had over 30 deliveries on the first day." As local businesses weather the ongoing COVID-19 storm, Aaron encourages the public to continue supporting local. "All of the breweries in Calgary are quite close knit," he says, "we all want to see each other succeed." 
The remainder of 2020 promises to be full of excitement for Railyard Brewing, with ongoing plans for taproom upgrades and a ton of new products. Moving forward, "We've got some big batch products for the entire province and lots of new stuff just for the taproom and the city of Calgary," says Aaron, "there's going to be something new every two or three weeks!" 
For more information on Railyard Brewing, visit https://www.railyardbrewing.ca.
For more stories, visit Todayville Calgary.
Alberta's premier faces down restive United Conservative caucus over COVID-19 crisis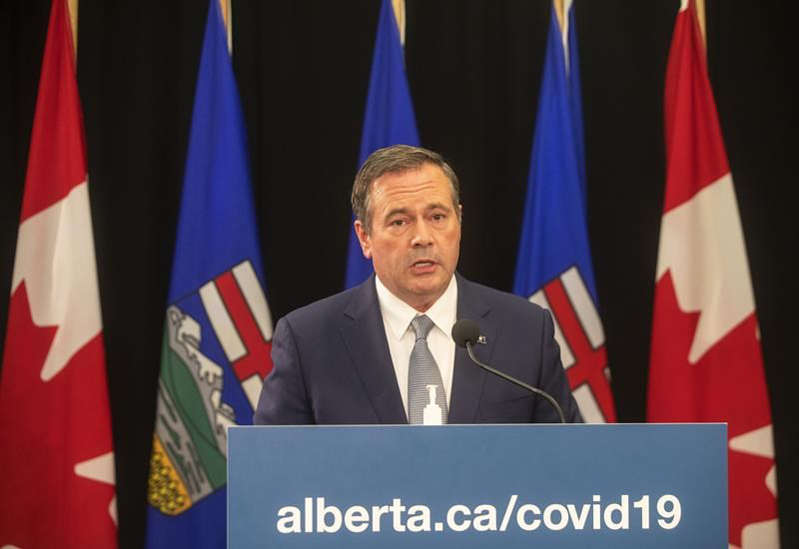 CALGARY — Alberta Premier Jason Kenney faced down a restive and divided United Conservative Party caucus Wednesday, focusing on COVID-19 while managing to avoid a straw vote on his leadership.
UCP backbencher Searle Turton said it was a wide-ranging caucus meeting, but there was no vote of confidence on Kenney's leadership.
He said the focus of the debate was the pandemic.
"There was discussion about the party, about unity, about how we got here, about COVID. Caucus is a robust place to do discussion in a confidential setting," said Turton, who represents Spruce Grove-Stony Plain.
"There were no votes by caucus. There was lots of robust discussion about the pandemic."
Kenney has been challenged by some of his legislature members for decisions on COVID, which has escalated into a crisis that has overwhelmed the provincial health system and forced Alberta to seek outside help.
Some of Kenney's caucus members have criticized his health measures as being too little too late, while others say he has gone too far and violated individual rights by imposing a form of voluntary vaccine passports.
Joel Mullan, the party's vice-president of policy, has already called for Kenney to resign and says enough constituency associations have signed on to force an early party review and vote on Kenney's leadership.
Kenney isn't slated to face a mandatory leadership review until late next year.
But Mullan has said 30 constituency associations have promised to pass resolutions to call for an earlier review. If that happens, Kenney could face a vote by the membership in about three months and would lose the top job unless he wins at least a simple majority.
Kenney has dismissed accusations of party infighting and calls to resign, saying Tuesday he's focused on the COVID crisis.
Alberta has more than 20,000 active cases of COVID-19 and its critical care facilities have already been pushed well past normal capacity.
There were 1,040 people in hospital Wednesday with the illness, including 230 in intensive care. There were 20 more deaths reported, for a total of 2,594. The province also announced its first COVID-19 death of a person under 20.
Kenney's government is looking to other provinces for critical care staff, particularly intensive care nurses and respiratory therapists. It is also working with the federal government to potentially have the military airlift some patients to other provinces.
Other medical procedures have virtually ground to a halt, with non-urgent surgeries cancelled to free up staff for COVID care. Doctors are being briefed on the criteria to use if resources run short and they must decide which critically ill patients get help and which do not.
The province has pinned its hopes on getting vaccination numbers up. Those numbers have improved since last Wednesday, when Kenney introduced a vaccine passport for non-essential businesses.
More than 81 per cent of eligible Albertans, those over age 12, are now fully vaccinated and almost 73 per cent of those eligible have had at least one shot.
Businesses that stick to the new passport can operate with almost no restrictions but must make sure patrons are double vaccinated.
Kenney's government has been criticized for leaving that decision up to businesses because it causes confusion and forces compliant businesses to face the wrath of anti-vaccination customers.
Other provinces have made it mandatory.
Calgary city council took matters into its own hands Wednesday, voting to make the passport — known in Alberta as a "restrictions exemption" — binding on non-essential businesses, with fines for violators. That new rule begins Thursday.
Elsewhere in Alberta, the passport is voluntary but non-essential businesses that do not comply face other restrictions, such as maximum one-third customer occupancy or, in the case of restaurants, outdoor seating only.
Also Wednesday, Alberta's Opposition NDP called for the reinstatement of contact tracing in schools and an early warning system for potential school closures.
NDP education critic Sarah Hoffman says action is needed immediately given that there are nearly 5,000 active cases among students, staff and families.
— With files from Dean Bennett in Edmonton
This report by The Canadian Press was first published Sept. 22, 2021.
Alanna Smith, The Canadian Press
Oilers goaltender Stalock likely to miss season due to possible heart condition
EDMONTON — Goaltender Alex Stalock will likely miss the season due to a possible heart condition said Edmonton Oilers GM Ken Holland on Wednesday.
Speaking on the opening day of Oilers training camp, Holland said the possible condition was detected when he returned home for more tests after the team's physical exam at the end of the 2020-21 season.
Holland said Stalock contracted COVID-19 before the start of the 56-game shortened season, but was later cleared to play and spent time on the Oilers' taxi squad after the team claimed him off waivers from the Minnesota Wild in March. 
He did not appear in a game with either Minnesota or Edmonton last season.
Holland said Stalock has seen "a couple" of cardiologists and is looking to get additional opinions.
Stalock, a 34-year-old from St. Paul, Minn., has a 61-49-18 record with a 2.61 goals-against average and a .909 save percentage in 151 career NHL games with San Jose and Minnesota.
This report by The Canadian Press was first published Sept. 22, 2021.
The Canadian Press