Best Places to Visit to Lose Yourself
Best Places to Visit to Lose Yourself
If you are struggling with personal anxiety, depression, or addiction, it is important to find a way to unwind and take a break from yourself. Getting the distance you need requires losing yourself in a new environment and concentrating on the meaning of your life. Doing so will provide you with the power you need to beat addiction.
Spending Time Outdoors is Healing
One of the most effective ways to lose yourself is to spend time outdoors. People have noted for generations that the natural world has healing powers. However, it goes beyond simply making a person feel better. Nature is, in many ways, our natural environment. When you go kayaking, take a hike, or camp in the woods, you are coming back to an instinctive home.
It might not be easy for you to manage this kind of outdoor living at first. Many people struggle to enjoy camping or will miss modern electronic technology. However, that's a big part of why the outdoors are so effective for losing yourself. If you find a comfortable, but not extravagant, cabin in the woods, you cut yourself off from the sometimes negative influence of the modern world.
Great Places to Camp
A few of the best places to camp in our province include Banff National Park, Jasper National Park, and Waterton Lakes National Park. Each has their advantages. For example, at Banff, you can hike to glacial lakes and can camp in one of the most natural and beautiful places on the planet, just a few hours away.
Vacations Can Be Helpful, Too
While spending time in nature is the most efficient way to lose yourself, it may not be right for everybody. Some people simply can't handle those kinds of mental or physical demands. That's when a nice vacation can be so effective. People who spend time in beautiful vacation areas often find their troubles disappear and their mind clears wonderfully.
Consider a Mexican Vacation
Mexico is a relatively short flight from Canada and there are plenty of great places where you can vacation. One particularly beautiful destination is Cancun, which has a variety of wonderful beaches to relax on while you lose yourself and your worries.
You could also check out Mexico City, where ancient Aztec ruins exist next to places like the Frida Kahlo Museum. And in Teotihuacan, you can visit the ancient Pyramid of the Sun and celebrate the Day of the Dead in style.
Why Finding Yourself Again Matters
Losing yourself on a road trip to a relaxing vacation spot is just part of the journey towards addiction recovery. Once you have lost yourself and experienced mental and spiritual awakenings, you need to find yourself again. After an experience like this, you are not going to be the same person. That's a good thing, as the person you were before was struggling with an addiction.
How do you find yourself? By spending time in your new area and thinking hard about who you are as a person. For example, you could try to figure out why you started using, why it became an addiction, and what you can do to stop it. You can also try to rediscover your life goals and brainstorm ways to achieve them.
Losing Yourself Can Help With Addiction
By losing yourself and your troubles in a new environment, you can open up new avenues of self-expression and personal understanding. Many people in similar situations turn to an addiction recovery center in times like these. They can be a powerful tool for those who can't seem to shake their substance abuse and who need help regaining a sober life.
So if you need help beating addiction, consider visiting one of these treatment centers. They are a healthy and healing way to get through withdrawal, identify the influences behind your addiction, and walk away as a clean and sober person. While it won't be easy, it will help you become the person you deserve to be and make success a real possibility.
Kevin Gardner
Maybe Kevin's article gave you the travel bug? Check out some of Gerry's adventures and get out and see the world.
Todayville Travel: Turks and Caicos – The Road Less Travelled
New Pompeii finds highlight middle-class life in doomed city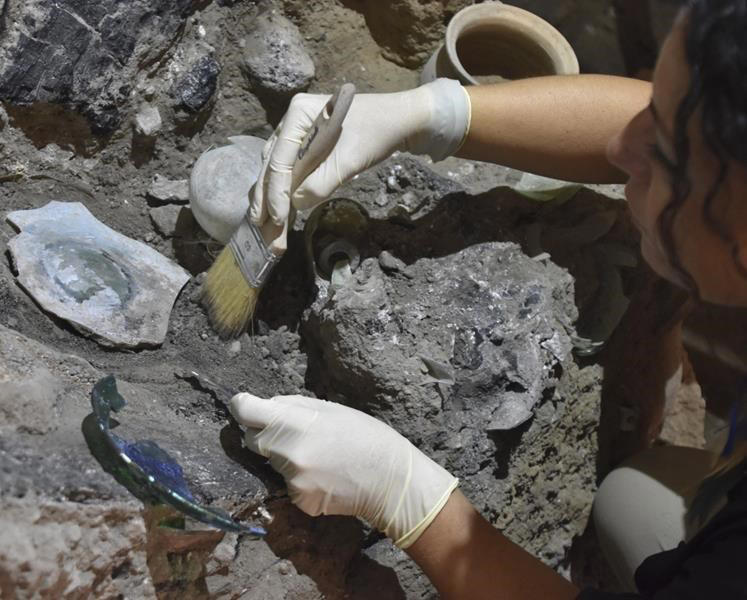 ROME (AP) — A trunk with its lid left open. A wooden dishware closet, its shelves caved in. Three-legged accent tables topped by decorative bowls. These latest discoveries by archaeologists are enriching knowledge about middle-class lives in Pompeii before Mount Vesuvius' furious eruption buried the ancient Roman city in volcanic debris.
Pompeii's archaeological park, one of Italy's top tourist attractions, announced the recent finds on Saturday. Its director, Gabriel Zuchtriegel, said the excavation of rooms in a "domus," or home, first unearthed in 2018 had revealed precious details about the domestic environment of ordinary citizens of the city, which was destroyed in 79 A.D.
In past decades, excavation largely concentrated on sumptuous, elaborately frescoed villas of the Pompeii's upper-class residents. But archaeology activity in the sprawling site, near modern-day Naples, has increasingly focused on the lives of the middle class as well as of servants and other enslaved people.
"In the Roman empire, there was an ample chunk of the population that struggled with their social status and for whom 'daily bread,' was anything but a given," Zuchtriegel said. "A vulnerable class during political crises and food shortages, but also ambitious about climbing the social ladder."
The finds unveiled on Saturday include furnishings and household objects in the domus, which was dubbed the House of the Larario for an area of a home devoted to domestic spirits known as lares. The home unearthed in 2018 has one in the courtyard.
Zuchtriegel noted that while the courtyard also had an exceptionally well-adorned cistern, "evidently, the (financial) resources weren't enough to decorate the five rooms of the home." One room had unpainted walls and an earthen floor apparently used for storage.
In a bedroom, archeologists found the remains of a bed frame with a trace of fabric from the pillow. The kind of bed is identical to three, cot-like beds unearthed last year in a tiny room in another residence that archaeologists believe doubled as a storeroom and sleeping quarters for a family of enslaved inhabitants of Pompeii.
The bedroom findings announced Saturday also included the remains of a wooden trunk with an open lid. Although the weight of beams and ceiling panels that crashed down in the wake of the volcanic explosion heavily damaged the trunk, among the objects found inside was an oil lamp decorated with a bas relief depicting the ancient Greek deity Zeus being transformed into an eagle. Nearby was a small, three-legged round table, similar to the accent tables in vogue today.
Exposing the storeroom revealed a wooden closet, its backboard still intact but the shelves caved in. Archaeologists believe the closet had at least four panel doors and held cookware and dishes for the nearby kitchen. The excavators found a hinge from the enclosure.
Other objects found in the house include a large fragment of what had been a translucent, rimmed plate in brilliant hues of cobalt blue and emerald, and a well-preserved incense burner, shaped like a cradle.
Frances D'emilio, The Associated Press
Ticket bought in Illinois wins $1.337B Mega Millions jackpot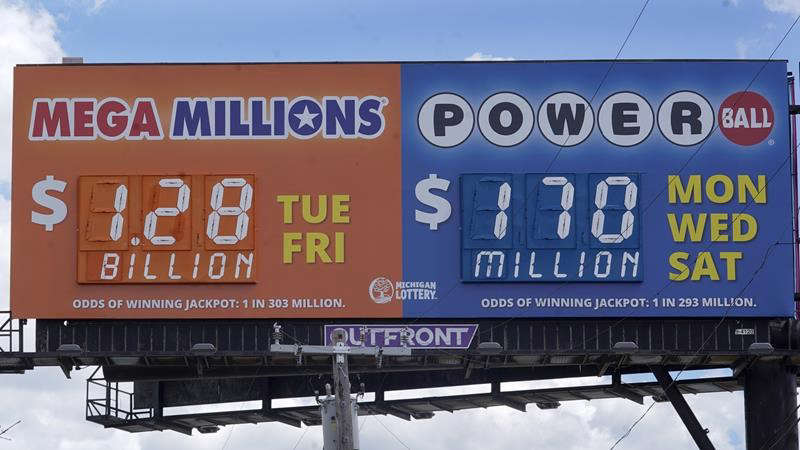 By Don Babwin in Chicago
CHICAGO (AP) — A single ticket bought in a Chicago suburb beat the odds and won a $1.337 billion Mega Millions jackpot.
According to megamillions.com, there was one jackpot-winning ticket in the draw Friday night, and it was bought at a Speedway gas station and convenience store in Des Plaines.
The winning numbers were: 13-36-45-57-67, Mega Ball: 14.
"We are thrilled to have witnessed one of the biggest jackpot wins in Mega Millions history," Ohio Lottery Director Pat McDonald, the current Lead Director for the Mega Millions Consortium, said in a statement on the lottery's website. "We're eager to find out who won and look forward to congratulating the winner soon!"
The jackpot was the nation's third-largest lottery prize. It grew so large because no one had matched the game's six selected numbers since April 15. That's 29 consecutive draws without a jackpot winner.
Illinois Lottery officials had estimated the winning take at $1.28 billion, but revised the number up to $1.337 billion on Saturday.
The total prize is for winners who choose the annuity option, paid annually over 29 years. Most winners opt for the cash option, which for Friday night's drawing was an estimated $780.5 million.
The odds of winning the jackpot are 1 in 302.5 million.
According to the Illinois Lottery, the store that sold the ticket is a pretty big winner, too; it will receive half a million dollars just for selling the ticket. A clerk at the Speedway store who answered the phone but declined to give his name said the store has not been officially notified officially that it sold the winning ticket and that he learned about it from reporters calling for comment.
Mega Millions is played in 45 states as well as Washington, D.C., and the U.S. Virgin Islands. The game is coordinated by state lotteries.
Illinois is among the states where winners of more than $250,000 can choose to not reveal their names and Illinois Lottery spokeswoman Emilia Mazur said the vast majority of those winners do just that.
Even lottery officials may not know for a while who won because winners don't have to come forward straight away. And the winning ticket may have been bought by a group of people.
"We won't know whether it's an individual or it's a lottery pool until the winner comes forward to claim their prize," National Mega Millions spokeswoman Danielle Frizzi-Babb said.
Emily Irwin, managing director, Advice & Planning, at Wells Fargo's Wealth & Investment Management, said Friday that the winner should consider keeping a low profile and resist going on an eyebrow-raising spending spree that everyone knows the winner cannot afford.
"This is not the time to start calling everybody you know, saying, 'Hey, I have a big secret. Can you keep it?'" Irwin said.
This is necessary to avoid being inundated with requests for money.
"There are scammers and others who follow big winners," she said, admitting that sudden wealth can put a lottery winner in physical danger.
"Privacy equals safety," she said.
One thing the winner must do immediately is sign the ticket. That's because if the ticket hasn't been signed then it really isn't yours. If the winner loses an unsigned ticket and another person finds it and signs it, the ticket now belongs to them.
Irwin suggests a step further to survive a legal battle over ownership.
"Take a Polaroid of you holding it and (put) it in a safe deposit box or somewhere else safe," she said.
Pratik Patel, the head of Family Wealth Strategies at BMO Family Office in Chicago, said the winner should work with a financial planner to map out their future.
"I would run a Monte Carlo market simulation," Patel said, explaining that this is an analysis of what a winner's annual income might be and what the proceeds from various investments might be. "What you're doing is using analytics to inform your spending."
Frizzi-Babb agrees that talking to a financial planner is a good idea.
"I would suggest that you do that before you even set foot in a lottery office," the national lottery spokeswoman said.
There is also a question nobody wants to answer at that particular time: What happens to the money when you die?
Irwin said don't leave this unanswered; you must take action to ensure the bulk of your estate goes to your beneficiaries rather than the government.
"You need a manager who specializes in this and understands this world," said Patel. "Someone making $60,000 a year might need a certain type of professional manager and they may want to switch to someone who does ultra wealth."
Whatever the winner does, it is important to do it slowly.
"You can absolutely indulge but let's be smart about it," Patel said. "It's a lot of money but until you figure out what you can afford, there are still limitations."
For example, he said, consider chartering a private jet before diving in and buying one.
"You may be interested in owning your favorite basketball team," he warned, "but maybe that isn't a good idea if it uses up all your money."