Join Gerry for a wild ride through the Slums of Mumbai Pt. 3 of a 4 part series
This is the third in a four-part series on India
The Slums of Mumbai by Gerry Feehan
It was in the rooftop restaurant of the Intercontinental Hotel in Mumbai, that we first encountered Joe Tourist. He was at the other end of the open-air bistro, ordering sushi. "Hey," he shouted across the floor at the flustered waiter, "make that four tuna belly and throw in an extra order of unagi."
Ordering sushi in India is ill-advised – for a couple of reasons. First, there is a near-zero probability that you will actually receive what you ordered and second, in the days following, you will almost certainly regret your decision to consume raw fish netted from the Bay of Bengal.
While events unfolded on the far side of the restaurant, we sat quietly enjoying a soft Indian evening and a delicious appetizer of aloo gobi and paneer fried in onion gravy. On the street far below the honking traffic crawled while pedestrians strolled Mumbai's broad malecon, which serpentines along Marine Drive. 
We overheard Joe Tourist ask for the bill, "La cuenta por favor." (He must have mistaken Mumbai for the Mayan Riviera.) The waiter, barely able to comprehend English, stared blankly, mystified by Joe T.'s garbled Spanish.
Minutes later, as if on cue, a tsunami arose from Mr. Tourist's table over the fishy tab. Ignoring the commotion, we dug into our delightful entree of tandoori chicken and bhindi masala, served with a side of steaming garlic naan. But serendipity had a cruel fate in store for us. This was not to be the last time we would cross paths with Joe Tourist during our adventure in India. (Part IV next month).
Mumbai (formerly Bombay) is the fourth largest city in the world. India's business capital is undergoing the greatest construction boom in the country's history. Everywhere huge apartment buildings are being erected, scraping the sky. Yet just meters from these multi-million-dollar luxury condominiums lie Mumbai's vast slums. Eighty percent of Mumbai's twenty million residents live in these jumbled shantytowns.
In the movie Slumdog Millionaire the protagonist, an 18-year-old orphan from the Dharavi slum, relies on his street smarts to answer a series of obscure questions – and collects the grand prize of 20,000,000 rupees. In true Bollywood fashion there is also an elaborate dance scene – and of course in the end he gets the girl. 22 year-old Nic is also from Dharavi. He picked us up at the hotel for a tour through the slum he calls home. But first he showed us the sights of colonial Mumbai: Shivaji Terminus (formerly Victoria Railway Station), the iconic Gateway of India in Mumbai Harbour and, across the street, the opulent Taj Mahal Palace Hotel. 
On November 26, 2008 Pakistani militants stormed the hotel, setting off explosives and killing 31 guests. Nic was in the plaza across from the Taj when the terrorists began strafing the crowd with automatic rifle fire. "When the firing started, I broke away on my own," he told us matter-of-factly. "Shooters are more likely to fire at a group than one person." Duly noted.
We weren't permitted to take pictures in the Dharavi slum. But what I saw is forever seared into my memory: a group of women crouched on haunches in a dimly-lit room, separating an endless mountain of used plastic utensils; two young lads – without the benefit of eye, ear or lung protection – shoving broken toys into a gas-powered chipper. I stuck my head in that forsaken room for a few seconds before the deafening noise and smell of churning plastic drove me out. 
From the 'plastic' district, Nic led us past open sewers, under precariously dangling electrical wires and through narrow twisting passages to a quarter where the planet's discarded leather coats are re-tanned. The gutter ran ochre with chemical sludge. Then, holding our breath, we entered a smoky neighbourhood where bricks are re-kilned. Finally we toured an area where dirty paint cans from around the globe are emptied, cleaned and banged back into shape. The gutter here ran all colours of the rainbow.
And every Dharavi rooftop billowed to overflowing with stuff the world has long-since discarded.
Amidst all this commotion folks lived, cooked, cleaned, ate. Children played, old men smoked, teenagers flirted, mothers nursed, babies slept. In this single square kilometre of squalid, stifling slum, a million people go about the daily business of survival. But to street-smart Nic, Dharavi is just home, the place where he rests his head each night. 
If you visit India, you may wish to bring an attractive blonde along. Your group will be popular. We couldn't walk down the street without someone requesting a selfie with our cute friend from Saskatoon. In Mumbai's main square locals surrounded her like paparazzi hounding a celebrity. Thus began our symbiotic photo relationship with India. Locals took shots of our 'BB Ji' while we, demanding a reciprocal favour, photographed them photographing her.
Last evening in Mumbai. Returning to the Intercontinental from a late-night stroll along the Malecon, I was pooped, ready for bed. A motorcycle pulled up to the curb. "Jump on." It was Nic. Fueled by a couple of Kingfisher beers and disregarding all common sense rules mother may have laid down, I climbed aboard for a death-defying, adrenaline-stoked roar down Marine Drive. Nic laughed and joked as we weaved at break-neck speed through cars, trucks, rickshaws, pedestrians – and other insane motorcyclists. I hung on for dear life. Eventually he returned me, unscathed, to the hotel door. "That was fun," I said, shaking. He waved, shouted "Alvida," and sped off into the bedlam. 
I didn't sleep a wink that night. Despite utter exhaustion, I lay awake listening to the incessant, unrelenting, honking traffic – and thinking of the millions of souls eking out an existence in the slums of Mumbai.
In the morning we left chaotic Mumbai for the relative calm of Kerala, on India's extreme southwestern tip. The 'land of coconuts' is a tropical paradise dense with rain forest, wild elephants, monkeys, tea plantations – and spices. Kerala is home to a wonder of zesty flavours: pepper, cinnamon, licorice, chili, cardamom, ginger, nutmeg, coriander, cumin, turmeric. For centuries the colonial powers fought, won and lost wars over the exotic spice trade. 
And from these amazing seeds and roots comes India's great contribution to world cuisine: curry. 
Next time: the spices of Kerala.
Thanks to Rod Kennedy and Kennedy Wealth Management for helping to make this series possible.
If you go: Explore India from Vancouver B.C. (www.exploreindia.ca) capably and professionally handled all aspects of our private month-long tour – air and land travel, hotels, meals, guides, drivers, entrance fees and activities – for one all-inclusive price.
"India? Are you nuts?" Join Gerry for Part 1 of his series on India.
India Part 2- Terrific photos! Experience the Taj Mahal and Ganges with Gerry Feehan
"The Planet is not an Ashtray" – It's Time to Stop Throwing Cigarette Butts on the Ground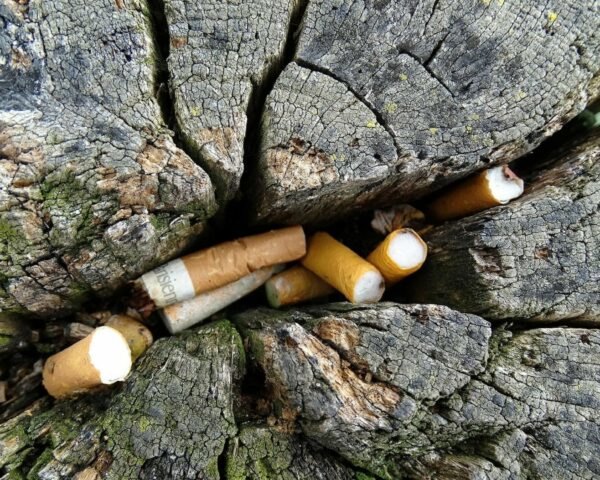 Raise your hand if you've ever witnessed someone flick their burnt out cigarette butt onto the ground while they're standing outside the pub, or walking down the sidewalk. Or, if you've ever driven over a still-lit cigarette on the road after the driver in front of you chucked it out the window of their moving car. 
In a public setting, throwing a soda can or an empty coffee cup onto the ground is a hard no, often met with swift social backlash by surrounding witnesses. So why, then, is it considered socially acceptable to throw cigarette butts – literal chemical trash on fire – onto the ground?
While the act of discarding a cigarette butt onto the ground may seem insignificant in the moment, statistics show the staggering and destructive impact this decision has on the environment when made by millions of people every day. 
According to a National Geographic article released in August 2019, cigarettes are the top plastic polluters around the world. Globally, approximately 6.5 trillion cigarettes are purchased each year, and of those, "an estimated two-thirds of the trillions of filters used each year are tossed into the environment." 
Cigarettes are not biodegradable. The breakdown that results from weathering and time spent in the elements leads to further environmental degradation, as thousands of microscopic plastic fibers and chemicals are released. The chemicals found in cigarette ash and filters, which include arsenic, lead and benzene, among others, are poisonous to the environment and its inhabitants.
In 2019, a study led by Anglia Ruskin University (ARU) was published in the journal of Ecotoxicology and Environmental Safety highlighting how cigarette butts significantly reduce plant growth. "We believe it is the chemical composition of the filter that is causing damage to the plants," says co-author Dr. Bas Boots, "Most are made from cellulose acetate fibers, and added chemicals which make the plastic more flexible … may also be leaching out and adversely affecting the early stages of plant development."  
In addition to inhibiting early plant growth, cigarette litter consistently ends up in waterways that lead to surrounding rivers, lakes, and the ocean. This contaminates the water with dangerous chemicals and plastics that poison marine life and other animals, who often mistake cigarette butts for food.
Not to mention, in regions experiencing hotter, dryer climates, cigarette butts can lead to wildfires when discarded before being properly extinguished. In June 2019, the Vancouver Island Fire Department responded to 7 fires in 7 days, all of which were caused by improperly discarded cigarette butts. 
The social norm that permits cigarette butts as an acceptable form of litter is far outdated. Cigarette litter should be held to the same standard as all other forms of chemical and plastic waste that negatively impact the environment, meaning the onus is on the user to ensure proper, safe disposal. 
Brain Garden is a family run business based in Vernon, British Columbia, on an international mission to eliminate cigarette litter and its detrimental environmental effects. 
Founded by 'Head Gardener" Jack Elliman in 2013, Brain Garden manufactures eco-friendly, airtight Pocket Ashtrays for safe, on-the-go disposal of cigarette butts. When users drop their lit cigarettes into the Pocket Ashtray and snap it shut, the airtight seal extinguishes the butt and traps the smoke, successfully tackling two of the main reasons individuals litter in the first place – convenience and lingering smell.
The inspiration for the Pocket Ashtray originated in the transformational festival industry, where individuals are encouraged, if not required, to leave no trace. Though not as commonly as on a city sidewalk, even there, Elliman noticed, cigarette butts were ending up on the ground. It was there Elliman identified the need for a convenient, eco-conscious solution to keep cigarette butts from ending up in the environment.
From there, the environmentally friendly invention has expanded into the global market as a convenient, educational product that leads to less cigarette waste littering our towns, contaminating our waterways, harming our wildlife, and causing wildfires.
"It really comes down to education," says Elliman, inventor of the Pocket Ashtray, "people forget that cigarette waste is toxic waste, and now with COVID, it's a biohazard as well." Since the launch of Brain Garden nine years ago, hundreds of thousands of Pocket Ashtrays have been distributed to cities, fire departments, music festivals, cleanup groups and more worldwide. 
The story doesn't end there, however. The Pocket Ashtray goes one step beyond simply keeping cigarette litter off the ground. Once the Pocket Ashtray becomes full, the contents can be mailed to TerraCycle using free shipping labels provided by Brain Garden, compliments of TerraCycle. From there, TerraCycle composts the remaining paper and tobacco and recycles the cellulose acetate. 
"We are approaching 1000 total pounds of recycled cigarette litter with TerraCycle," says Elliman. This half-ton milestone is a result of global participation in various Brain Garden cigarette litter campaigns, including "butt barrels" and "butt buckets" which function alongside the Pocket Ashtrays.
The funds generated from the recycling process with TerraCycle are then put towards the Brain Garden Wildfire Prevention and Education Campaign. This campaign focuses on reducing wildfire risk by providing free Pocket Ashtrays to the smokers, promoting safe and responsible cigarette disposal, and educating the public about the dangers of improperly discarded cigarette butts. 
It's 2021. Time to respect the environment, be a good human and use an ashtray.

For more information on the Pocket Ashtray and how to join Jack Elliman and Brain Garden on their ongoing mission to protect the environment from the largest global plastic pollutant, visit https://braingarden.ca
For more stories, visit Todayville Calgary.
The ultimate penalty for package thieves – A hilarious Christmas story of revenge
You may be familiar with Mark Rober. Mark is an engineer who loves to put his profession to work for him in curious and extremely entertaining ways.  His video called Building the Perfect Squirrel Proof Bird Feeder has been watched more than 53 Million times!
Well here's a new video and the timing is perfect.  Considering the combination of COVID19 and online Christmas shopping, package thieves are undoubtedly busier than ever.   A couple of years ago the creator of this video had a package stolen from his front step and when there was nothing police could do about it, he decided to take his revenge and do his part to decrease the practice of poaching packages.
For anyone who has had a package stolen from their step, here's your revenge!  Mark admits it's a bit petty, but his overall goal is to steer people away from making poor decision.  Take a few minutes to enjoy Mark's amazing work.