Calgary Hotels Open for Now
What does a "state of emergency" mean for tourism in our city
Over the last number of days we have seen closures of many different services and businesses. We are all curious about what will still be available in the coming weeks. In the meantime it seems as though hotels and hostels in Calgary will continue to keep their doors open for now.
Calgary has one of the highest concentrations of head offices in Canada. Many of the large organisations are owned by foreign bodies, relationships with foreign diplomats or have senior chartered professionals travel through our airport. We host various events and summits over the year that draw large crowds of people from across the globe. The most undeniable example is the Calgary Stampede, which recently announced a loss of 80% of their workforce due to rising concerns in the spread of Covid-19. Their organisers are working closely with Calgary Emergency Management Agency and the Alberta Health Services. Check out their full update here.
We are used to a high intake of tourists over the summer months of the year. According to VisitCalgary.com Q4 report from 2019 we welcomed just under 18 million people through our Calgary International Airport. 
How Covid-19 is affecting our hotel industry
We have 74 hotels in Calgary with more in towns like Cochrane and Airdrie. In the same report from VisitCalgary.com, their data shows that hotels in Calgary sold over 3.3 million rooms in 2019. If we look at the effects of what a travel restriction can do to our economy, we will see a dramatic reduction in tourists spending money in our city. 
Following orders from the City of Calgary, Grey Eagle Casino has temporarily closed their doors, in light of this direction a message from the General Manager Martin Brickstock stated: 
"This closure notice becomes effective immediately. We anticipate this closure will be until further notice, but we promise to provide consistent updates as information becomes available.
We look forward to inviting everyone back when we reopen. Please take care and be safe.
Please note that Grey Eagle Hotel will remain open"
Other well known institutions who have multiple locations throughout Calgary have offered updates on their services. They are also making arrangements for last minute cancellations from people who have had their travel itineraries disrupted. It is difficult to know how this will play out in the coming weeks however they are taking every available step to ensure the highest standard of hygiene. 
Marriott Hotels – Covid-19 Update
Hyatt Hotels – Covid-19 Update
Hilton Hotels – Hilton's Commitment to you
Wyndham Hotels – Covid-19 Update
Sandman Hotel Group – Our respond to coronavirus (Covid-19)
In other countries there have been major closures of major hotel chains. Suspending of recreational facilities seems to be the norm for now. An article from the New York Post states that some major names are shutting their doors. Could be evidence that we could be following suit in the coming weeks.
        (NY Post – Lisa Fickensher – March 17th 2020)
Keep yourself in the loop aware of updates on the situation here in Calgary with Alberta Health Services or their self screen application. It is difficult to know what kind of pressure has been placed upon major businesses in our city on how they react. Every step is being taken to continue business. Calgary Economic Development is striving to keep our businesses aware of any updates in policy or guidelines. You can keep yourself in the loop by visiting their website – Calgary Economic Development Covid-19 Updates and Resources. 
For more stories, visit – Todayville Calgary
Get away from the city – Rock Lake Lodge seeks maintenance and caretaker
Wilderness Lodge Maintenance & Caretaker Needed
Click here to apply now.
Looking to get away from the city and experience the wilderness?
Rock Lake Lodge may have the perfect opportunity for you. WHO ARE WE? We are a lodge located in Rock Lake Provincial Park in Alberta, Canada.
Just a short distance away from a 90-foot deep lake with four species of fish, and the lodge is surrounded by wildlife and abounding nature.
Check out www.rocklakelodge.ca to have a look at the stunning surroundings, our lodge and cabins.
It's not all work and no play up at Rock Lake Lodge! Some of the activities provided on site will be hiking, fishing, canoeing. and wildlife watching. This is a seasonal live-in position from June 2021 -Sept 2021.
We are seeking someone with the following:
-general handyman experience (able to use basic tools and general maintenance of the lodge)
-generator experience
-plumbing & electrical (basic)
-construction experience
Above all, we want someone who loves fishing!
Do you have experience with diesel generators? Log buildings? Chainsaws or log splitters? Let us know in your application. Even if your job history doesn't reflect the above- your personal experiences may be exactly what we're looking for!
Wage to be negotiated. This is a fulltime-temporary contract position.
Experience:
maintenance: 1 year (preferred)
diesel generator: 1 year (preferred)
rural water systems: 1 year (preferred)
chainsaw: 1 year (preferred)
plumbing: 1 year (preferred)
electrical: 1 year (preferred)
Driver's License (MANDATORY)
Contract length: 3 months
Start date: Immediately
Click here to apply.
Premier Kenney says Alberta is "Open Forever!"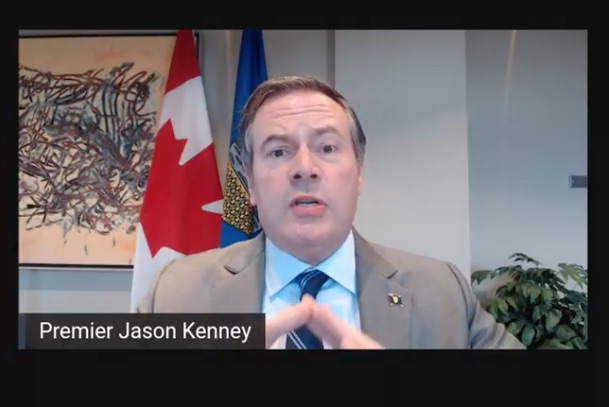 Premier Jason Kenney joined Danielle Smith of the Alberta Enterprise Group for a live interview Thursday at noon.  Right off the top of the interview the pair established the fact that Thursday, June 10 is the first day every single business in Alberta has been allowed to open in some capacity since the beginning of the pandemic back in March 2020.   Then Jason Kenney made a bold announcement.  Alberta's Premier says Alberta is not only opening up, but due to the success they're seeing with the vaccines, Alberta will stay open.
Enjoy Danielle Smith's interview with Premier Jason Kenney.
From the Alberta Enterprise Group