Calgary carjacking suspects caught near Crossfield
Airdrie RCMP Intercept Vehicle Involved in Carjacking
Crossfield, Alberta– The Airdrie RCMP have assisted the Calgary Police Service (CPS) to intercept a vehicle involved in a carjacking in Calgary and arrest the suspects responsible just outside of Crossfield, Ab.
On Tuesday, June 12, 2018 at approximately 2:30 pm, Airdrie RCMP were alerted to a vehicle being followed by CPS HAWCS helicopter northbound on Highway #2 into Airdrie's area. The vehicle had reportedly been carjacked at knifepoint inside Calgary. Airdrie RCMP attempted to stop the vehicle, a silver Dodge Caravan, but the vehicle continued northbound while also increasing speed. A short pursuit of the Caravan ensued involving multiple RCMP and CPS units. A spike belt was deployed successfully along Township Road 285 as the suspect vehicle travelled westbound towards Crossfield. The suspect vehicle slowed considerably allowing the CPS Tactical unit and RCMP to safely engage the suspect vehicle and arrest the two suspects, a male and a female, without incident. A search of the van was also completed where a large knife was located.
The 35-year-old male suspect, who has yet to appear before a Justice of the Peace, is facing charges of robbery, flight from police, dangerous operation of a motor vehicle, driving while disqualified and possession of methamphetamine. The female suspect is also facing charges.
If you have information about this incident, or can identify either male suspect, please call the Airdrie RCMP at 403-945-7200 or call your local police. If you want to remain anonymous, you can contact Crime Stoppers by phone at 1-800-222-8477 (TIPS), by internet at www.tipsubmit.com, or by SMS (check your local Crime Stoppers www.crimestoppers.ab.ca for instructions).
Graven Images: The Greening Of Calgary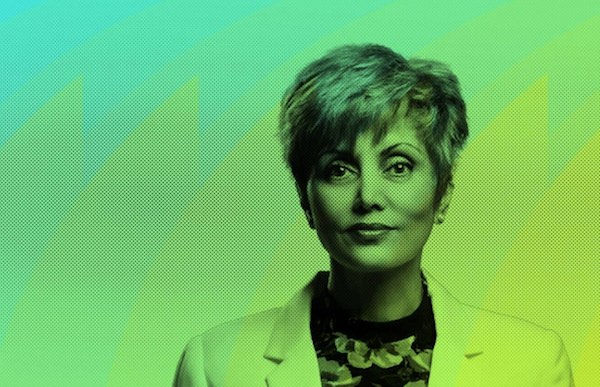 The city of Calgary this week elected the first woman mayor in its history. This is a source of great satisfaction to those citizens who cringe at Calgary's image as part buckaroo/ part bitumen cowboy. The fact that Jyoti Gondek is of Pashtun origin only deepens the sense of accomplishment for the urban elite of Calgary.
How giddy are the wokesters? A CBC reporter illustrated the story with a tweet showing a long series of emoji men followed by a single emoji of a woman. Because journalistic objectivity at the national broadcaster demands a clever tweet. "Look what we've done, world! Woman! Punjabi! Now we can hold our heads up in the polite society of the urban hives."
The new mayor has a PhD in urban sociology which "furnishes understanding of the complex as well as profound meaning of every urban reality, notably the territorial stabilization of social life, the rise of a space symbol system and culture, and the origin and evolution of human settlements."
Which sounds like the sort of convoluted stuff that Wokesters toss around when they're trying to distance themselves from the Stampede crowd. What it means in reality is that Gondek will commit $250 K to declare a climate emergency in Calgary as her first priority as mayor. As this photo below shows, it's not a moment too soon.
Can she tame the city's transit snarls and stare down a council bent on destroying the budget? Who knows? Who cares? The natural gas/ petroleum bastards will now have to take a knee to the symbolism of her outreach to Big Climate. And that's enough.
Okay, it's just a mayor in a mid-sized Canadian city, but you have to start with small dreams if you're going to make the world a progressive paradise. Especially when, like Gondek, you spend every working day cloying with guilt over how Calgary's energy industry is ravaging Mother Earth.
The big Green virtue dreams are the ones about to be dreamt in Glasgow in the next weeks as the world's guiltiest liberals— aka the IPCC— convene to reconstitute the world economy by killing fossil fuels. If this all sounds familiar it's because the Al Gores and Neil Youngs have been hard at this project for decades, sending thunderbolts of doom via a captive media. (Sample: 1987: NASA's James Hansen predicts world 3C warmer by 2020. Reality: average temp only 0.44C higher.) And lots more faceplants.
No matter. The evolution of Green is a litany of half-baked predictions and salacious slanders. Even as European governments scramble to replace their sacred renewable dreams with the realities of nuclear power or, gasp, Russian natural gas, the pious will still party like it's 1999— when all things seemed possible. There's a revolution of purity happening here, folks, and a few inconvenient facts isn't going to harsh the vibe.
The vibe, of course, is not climate change or even first women mayors. The vibe is victim culture, re-fitting Marxism so the uncouth and intemperate opposition can be permanently rendered inert. If Marx's wealth re-distribution is to happen equity— not just equality— must be achieved. Any weapon at hand— climate, gender, victimization— will serve to get there.
The old Commie's theories just need a new coat of victim's paint to make them current. Author Chris Rufo explains how the Left is making the quick flip after their Cold War dreams died in the '70s at the altar of capitalist riches. : "… rather than abandon their political project, Marxist scholars in the West simply adapted their revolutionary theory to the social and racial unrest of the 1960s. Abandoning Marx's economic dialectic of capitalists and workers, they substituted race for class and sought to create a revolutionary coalition of the dispossessed based on racial and ethnic categories."
Suddenly, it's all victims, all the time.
Thus the new liturgy, funded by Big Tech oligarchs such as Mark Zuckerberg and Bill Gates. Capitalist roaders are failed humans. Writes Christopher Chantrill: "Today's elites are totally down as Allies of the Oppressed Peoples. Their political power is justified by their untiring support of and advocacy for The Victims."
Andrea Widburg describes the role reversal in The American Thinker: "In its new iteration, Whites are irredeemably racist and evil. Equality is a trap because White societal dominance means that the other races (and sexualities) will never be able to catch up. Forced equity is the only answer, and one way to pave the way for that to happen is to force Whites to remove themselves from society, from the economy, from politics, and from any other area in which they can be seen to have an advantage."
Celebrating the ascent of symbolism, not the skill-set of politicians such as Barack Obama (and the removal of statues) is how whites willingly remove themselves from the economy and society. As Rufo tweets, "@LockheedMartin, the nation's largest defense contractor, sent key executives to a three-day white male reeducation camp in order to deconstruct their "white male culture" and atone for their "white male privilege."
To the surprise of the Marxists, their old enemies on Wall Street are enthusiastically taking the bait. Now they have only the rump opposition of libertarians and stubborn conservatives left to hammer into shape and the Bernie Sanders revolution, begun in the '60s, will be complete.
Calgary will be so proud.
Bruce Dowbiggin @dowbboy is the editor of Not The Public Broadcaster (http://www.notthepublicbroadcaster.com). The best-selling author of Cap In Hand is also a regular contributor to Sirius XM Canada Talks Ch. 167. A two-time winner of the Gemini Award as Canada's top television sports broadcaster, his new book with his son Evan is called InExact Science: The Six Most Compelling Draft Years In NHL History is now available on http://brucedowbigginbooks.ca/book-personalaccount.aspx
Calgary Beer is Back! Calgary Craft Brewer reimagines one of Alberta's most iconic brands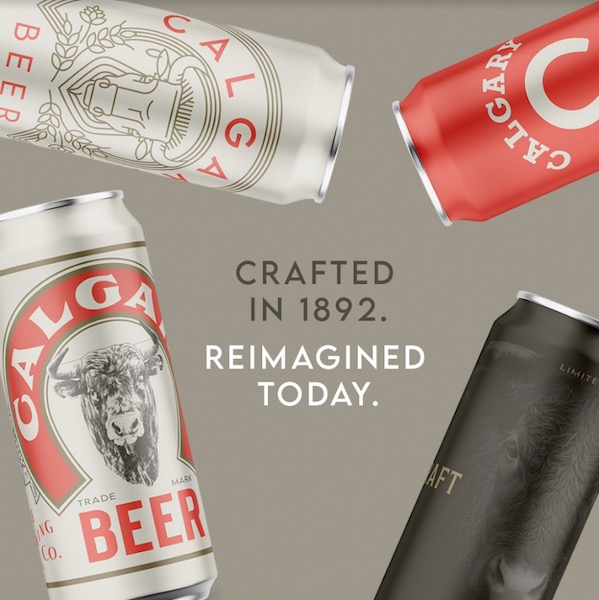 From technology, to communication, all the way to beer, our world is changing more rapidly every day. Who could have imagined how the brewing industry would be turned upside down by craftsmen and entreupreneurs who risk it all for their passion to create a better product right in their community?
In a world that used to be very predictable, everyday another new craft beer hits the market. It's hard to keep up, though many of us are doing our best. Despite all the excitement around the new tastes and all the clever marketing needed to get those beers into our hands, we all know a few people who are 'holding out'. Maybe they don't like change. Maybe they don't know where to start. Maybe they're perfectly fine with the same safe brew they've been tasting for their entire adult lives. Maybe they should know one of Alberta's finest craft brewers is bringing back a familiar brand, offering a ton of comfort and enjoyment, one sip at a time.
The renowned brand "Calgary Beer" is back! And of all the craft brewers in Southern Alberta, Village Brewery is the natural choice to have taken on this "reimagined" project. Village Brewery was established by seven veterans of the brewing business, all with an equal passion for beer, and for their community. It made perfect sense for this group to recognize their roots by recreating some local history in the town they love so much. Just in case you didn't know, Village Brewery turns 10% of their profits, back to the Calgary community.
When Village Brewery Re-launched Calgary Beer they were nice enough to make their Head Brewer Jeremy McLaughlin available for a few questions.
Here's Jeremy McLaughlin.
1) Why are you bringing "Calgary" back?
The Calgary Beer brand is an important part of beer history in Calgary. It dates back to 1892 and the brand imagery is iconic and represents the origins of beer in Calgary. At Village Brewery, we have always been about supporting the community and bringing people together around beer. The idea of being able to produce something under this brand just fits so well with what we stand for at Village. It's special to us because we were given an awesome opportunity to modernize both the label and the recipe for today's craft beer fans.
2) Is this the exact same "Calgary" I drank many years ago?
Since the core ideology of this was to modernize the brand, we were not going to be using the same Export Lager style or name and decided to go with "Craft Lager". We felt this would reach the audience that Village reaches already. The main distinction, in terms of ingredients, is a significant hop character (from Ella, Sabro and Enigma), which make up the flavour profiles of a lot of craft beer.
3) Talk about the "craft" version. The can looks fantastic by the way. Curious about that and the beer itself.
The beer is really something that we as a brewery were looking to explore, a Craft Lager or dry-hopped lager is very much in the realm of beer profiles that can be interesting to new craft drinkers but something that experienced craft connoisseur would find interesting as well. A breakdown on ingredients and vital stats should get the conversation started here:
-ABV is 5.00%
-IBU: 15
-Colour: Light Gold
-Clarity: Light/Moderate Haze -Malt: Rahr 2-Row
-Yeast: Escarpment's Krispy Kveik
-Hops: Ella, Sabro and Enigma (all mainly used as a dry-hop). These are symbolic to the ideology of the project (modernization and reimagining, while paying respect). These hops are developed through breeding programs, which modernized historical varieties of hops.
The can design was by Jackson and includes 4 versions
-A vintage throw-back to the original design
-A modernized vintage design featuring design concepts that are popular in craft breweries today (line art)
-A more high design variation that is black with the bull image wrapping the can
-A minimalistic version featuring a red backdrop and a white horseshoe, focusing on clean and crisp presentation
All Alberta residents can purchase this limited edition lager by clicking this link.