Business Spotlight: Massage Above All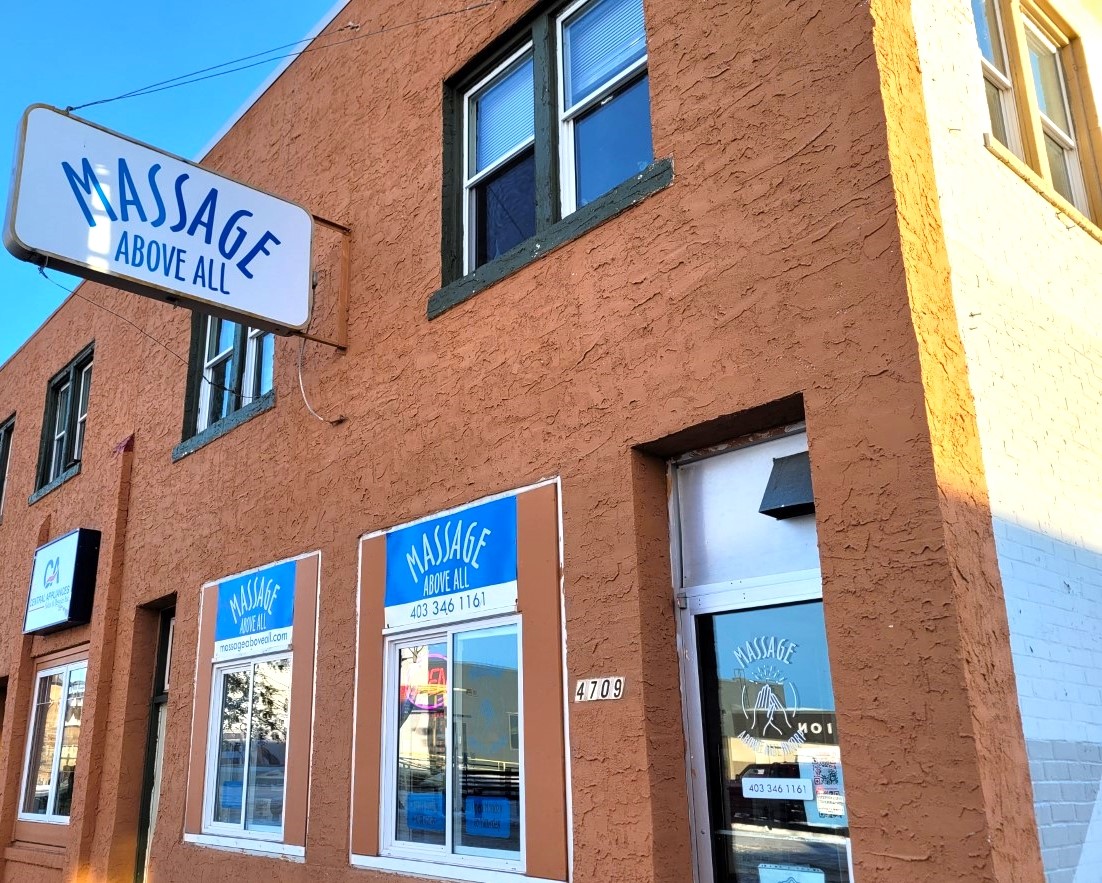 This week's Business Spotlight shines on Massage above all an excellent place to heal and relax with truly professional staff.
1. What is your business?
We are a Professional Therapeutic and Holistic Massage clinic serving Central Alberta in Downtown Red Deer since 1995.
2. When did your business open?
Originally opened in a small rental space in 1995, as we grew, it became apparent that we would need to expand. We purchased and completely renovated our current 2525 sq ft property with our clients in mind. Each treatment is spacious, clean and meets all health standards as per AHS.
3. What makes your business unique?
We are a local Massage Clinic that owns our property and has thrived in the Downtown for some 27 years: 6 treatment rooms spacious lobby. Our therapists are registered with professional associations, and as such, we can direct bill to most insurance companies. *Some conditions apply*
4. What are some products/services that you offer?
We offer Professional Massage Therapy services, including Therapeutic, Relaxation, Lymphatic, Hot Stone, Couples Massage, Reflexology, Cupping, and Craniosacral therapy.
We also offer fair trade merchandise from around the world. Stop in and see
5. Why did you choose Downtown Red Deer as the location for your business?
Personally, I chose the Downtown because our family has owned and operated businesses since 1974 when we moved to Red Deer from Calgary when my parents took over Red Deer Auction Co Ltd.
6. What do you think makes Downtown vibrant?
The unique and friendly businesses and business owners and staff.
7. Finish this sentence: I love Downtown Red Deer because…
It is the core of the city, close to home. A vibrant community with eclectic and unique shopping experiences.
For more information
Facebook – Massage Above All | Facebook
Twitter –@MassageAboveAll
These are the three things you should expect in the federal Liberals' upcoming budget
An electric vehicle is charged in Ottawa on Wednesday, July 13, 2022. Ottawa is expected to make big investments in clean energy and technology in the upcoming budget as it tries to keep competitive in the transition toward a greener economy. THE CANADIAN PRESS/Sean Kilpatrick
By Nojoud Al Mallees in Ottawa
The federal Liberal government is expected to release its budget for the 2023-24 fiscal year on Tuesday.
Here's a look at three big things to expect:
Investments in the clean economy
Ottawa is expected to make big investments in clean energy and technology in the upcoming budget as it tries to keep competitive in the transition toward a greener economy.
Canada's main competitor is the United States, which decided last summer to invest nearly US$400 billion over ten years in the Inflation Reduction Act.
The law targets that investment in key areas tied to the clean economy: critical minerals, battery manufacturing, electric vehicles and renewable energy, including hydrogen.
As part of Canada's efforts to keep up, the government is expected to introduce new tax credits in the budget that would encourage the development of renewable energy sources such as wind and solar power.
Promises on affordability
The Liberals have sought to signal that more help is on the way for vulnerable Canadians who are struggling with the cost of living.
In a speech delivered in Oshawa, Ont. last Monday, Finance Minister Chrystia Freeland said the budget would include targeted inflation relief. But she warned the federal government won't have the capacity to compensate all Canadians for the rise in prices caused by global inflation.
The NDP has called on the federal government to extend the temporary boost to the GST rebate that was offered in the fall. When he was recently asked about the potential move, Prime Minister Justin Trudeau would not say if it was in the cards.
NDP Leader Jagmeet Singh has also called for federal funding for school lunches.
Following a U.S. decision to target hidden and unexpected consumer fees, the government intends to include its own crackdown on "junk fees" in the budget.
Big health-care spending
Last month, the federal government offered provinces and territories nearly $200 billion in funding for health care over the next 10 years. The spending on those agreements is expected to be allocated in the upcoming budget.
But the NDP, which agreed to support the Liberal minority government on key votes in exchange for movement on its priorities, is looking for far bigger commitments on the health front.
As part of the deal, the Liberals have already agreed to create a federally funded and administered dental care program this year. It would replace the dental benefit for children in low-income families that was rolled out in the fall.
The agreement also commits the Liberals to passing legislation to create a national pharmacare program by the end of 2023.
This report by The Canadian Press was first published March 26, 2023.
Ford says EV unit losing billions, should be seen as startup
Ford's Chief Executive Engineer Linda Zhang unveils the Ford F-150 Lightning on May 19, 2021, in Dearborn, Mich. Ford Motor Co. announced Thursday, March 23, 2023, that their electric vehicle business has lost $3 billion before taxes during the past two years and will lose a similar amount this year as the company invests heavily in the new technology. (AP Photo/Carlos Osorio, File)
By Tom Krisher in Detroit
DETROIT (AP) — Ford Motor Co.'s electric vehicle business has lost $3 billion before taxes during the past two years and will lose a similar amount this year as the company invests heavily in the new technology.
The figures were released Thursday as Ford rolled out a new way of reporting financial results. The new business structure separates electric vehicles, the profitable internal combustion and commercial vehicle operations into three operating units.
Company officials said the electric vehicle unit, called "Ford Model e," will be profitable before taxes by late 2026 with an 8% pretax profit margin. But they wouldn't say exactly when it's expected to start making money.
Chief Financial Officer John Lawler said Model e should be viewed as a startup company within Ford.
"As everyone knows, EV startups lose money while they invest in capability, develop knowledge, build (sales) volume and gain (market) share," he said.
Model e, he said, is working on second- and even third-generation electric vehicles. It currently offers three EVs for sale in the U.S.: the Mustang Mach E SUV, the F-150 Lightning pickupand an electric Transit commercial van.
The new corporate reporting system, Lawler said, is designed to give investors more transparency than the old system of reporting results by geographic regions. The automaker calculated earnings for each of the three units during the past two calendar years.
Model e had pretax losses of $900 million in 2021 and $2.1 billion last year, and it is expected to lose $3 billion this year. In the past two years Ford has announced it would build four new battery factories and a new vehicle assembly plant as well as spending heavily to acquire raw materials to build electric vehicles.
By the end of this year, the company based in Dearborn, Michigan, expects to be building electric vehicles at a rate of 600,000 per year, reaching a rate of 2 million per year by the end of 2026.
Ford Blue, the unit that sells internal combustion and gas-electric hybrid vehicles, made just over $10 billion before taxes during the last two years. Ford Pro, the commercial vehicle unit, made $5.9 billion during those years, the company said.
For this year, Ford expects Ford Blue to post a $7 billion pretax profit, modestly better than last year. Ford Pro is expected to earn $6 billion before taxes, nearly double its earnings last year, Lawler said.
Ford was to present the new structure, announced last March, to analysts and investors on Thursday. Other business units include corporate, Ford Credit and Ford Next, a new business incubator. Shares of Ford rose 1.8% in Thursday morning trading ahead of the presentation.
Lawler said the company is changing the way it does business, not just doing an accounting exercise.
"After 120 years, we've essentially re-founded Ford," he said. "We're embracing technology and competitive disruption in our industry, fundamentally changing how we're thinking, how we're making decisions, and how we're running the company."