Blackfalds, Sylvan Lake, and Red Deer County team up with City of Red Deer to attract employers
A joint communication from the Town of Blackfalds, the Town of Sylvan Lake, the County of Red Deer, and the City of Red Deer
Regional Approach to Economic Development Revealed
A new Regional Labour Force Profile has been developed for central Alberta as a collaborative effort by the Town of Blackfalds, the City of Red Deer, Red Deer County, the Town of Sylvan Lake and the Province of Alberta – Ministry of Labour and Immigration.
The profile will provide superior labour force information to businesses that are considering growth, expansion, or new development or markets, as well as to prospective entrepreneurs and companies thinking of locating in or starting up in the region.
"We can better support and encourage appropriate workforce development intiaitives when we work together. In this case each of the four communities contributed $4,000 to the project to match the funds secured through the provincial Labour Market Partnership Program (LMP)."Jennifer Hartigh, Project Lead
"Having accurate and up-to-date labour information is often a key factor when new employers are choosing locations, or when existing employers want to expand. We're pleased to be able to partner with municipalities to help provide this critical intelligence for central Alberta as part of our commitment to create jobs and expand our economy."
Jason Copping, Minister of Labour and Immigration
The area that the four communities represent accounts for 226,396 Albertans, 68% of whom are of working age. This Regional Labour Profile is an important resource to help the region continue to grow, and sustain both the businesses, and families, that call this region 'home'.
Please refer to the attached Regional Profile for detailed information.
BACKGROUNDER
In 2018, Economic Development Officers from the communities of Blackfalds, Red Deer, SylvanLake and Red Deer County approached the provincial Ministry of Labour to partner on a project resulting in the creation of a Regional Labour Force Profile. The communities were lacking in- depth and current data to share with businesses interested in expanding or diversifying or for investors, educational institutes, and entrepreneurs to use in creating and forecasting business plan development.
In late 2018, the Ministry of Labour awarded an LMP grant to the Town of Blackfalds, as the project leader and administrator.
Each partnering municipality contributed $4,000 toward the project, and by doing so was able to leverage $31,250 in LMP funding from the Province of Alberta and the Government of Canada.
Data for the Regional Labour Profile was acquired from several sources, including: 2001 to 2016 federal Census from Statistics Canada, the Canadian Business Registry – 2013 and 2018, SuperDemographics 2018 from Manifold Data Mining Inc., EMSI Analyst 2018 Q3, and local municipal census data as available. Consultation with relevant stakeholders also informed the information included in the Regional Labour Profile.
Conversations with representatives from Olds College, Red Deer College, Burman University, Express Employment, and Manpower were used to confirm the skills and labour data acquired, and also to uncover opportunities to develop new programming to meet the needs of the regional business community.
Region At A Glance
The region accounts for 226,396 Albertans, of whom 68% are of working age (15 to 64).
Residents have an average employment income slightly lower than the provincial figure (-4%); however, more than half of the population between the ages of 25 to 64 has completed some form of post secondary education.
The regional economy, which grew by 5% between 2013 and 2018, sustains over 119,000 jobs. The region boasts a higher participation and employment rate compared to the rest of the province.
When looking at the number of jobs versus the number of workers in the region, a large surplus of workers was found within the following occupational groups:
o trades,
o transport and equipment operators
o management,
o education,
o law, social, community and government services.
Residents with the skills and talent to work in these occupations may work outside the region. Conversely, the region has a gap of approximately 270 workers to support natural resources, agriculture and related production occupations. This gap is likely filled by workers coming in from outside of the region.Attached you will find the Regional Labour Profile. For local profiles, contact the municipalities directly.
28 year old Blackfalds woman arrested after drug trafficking investigation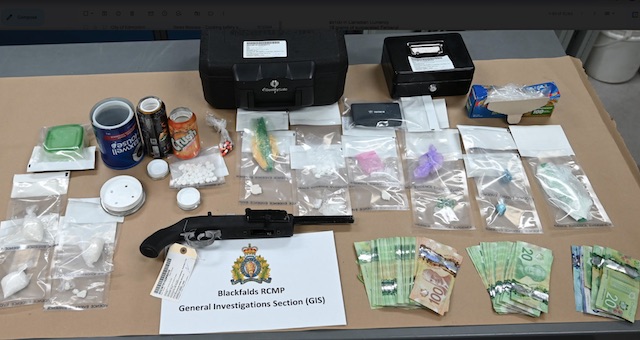 News release from Blackfalds RCMP
Blackfalds RCMP lay charges after drug trafficking investigation
In the summer of 2023, Blackfalds RCMP began an investigation into drug trafficking in the Blackfalds area. As a result of the investigation, on Sept. 5th, 2023, RCMP observed the suspect who appeared to be selling drugs from a Toyota Camry. RCMP initiated a traffic stop and arrested the suspect. RCMP seized:
86.8 grams of suspected Methamphetamine
5.6 grams of suspected Cocaine
93 Percocet pills
A loaded prohibited/Restricted firearm
$5100 in Canadian Currency
16 grams of suspeceted Fentanyl
Other pills that are not yet known.
Evidence obtained in the search of the vehicle led officers to continue the investigation. On Sept. 6, 2023, RCMP executed a search warrant at a hotel in Red Deer. As a result of the search of the hotel room, RCMP seized:
28.3 grams of suspected methamphetamine
8 grams of suspected Cocaine
12.6 grams of suspected Fentanyl
RCMP have arrested and charged Blackfalds resident, Reanne Brodersen (28), with:
Possession for the Purpose of Trafficking (x4)
Possession of the Proceeds of Crime
Weapons offences (x4)
Failure to Comply with Weapons Prohibition Order (x2)
Fail to Comply with Release Order (x2)
Bordersen has been taken before a justice of the peace and remanded with her next appearance date set for Oct. 19, 2023, at the Alberta Court of Justice in Red Deer.
Blackfalds Community Plaza To Be Named Border Paving Plaza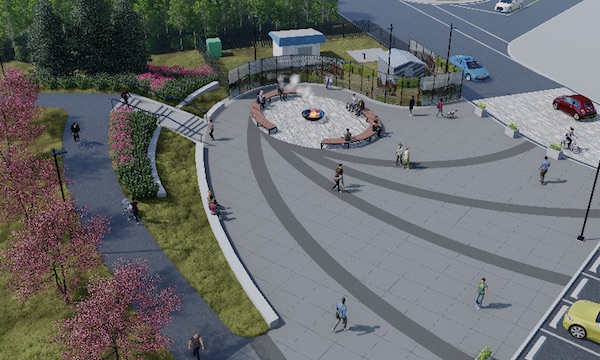 News Release from the Town of Blackfalds
The Town of Blackfalds is proud to announce that the community plaza set to open in the fall of 2022 will be officially named the Border Paving Plaza! Council formally approved the naming sponsorship at the March 22 Regular Council meeting.
The Border Paving Plaza will be a four-season gathering place that will provide residents and visitors with an aesthetically pleasing open area in which they can participate in markets, festivals, performances, and other community events. The Plaza will be east of the Eagle Builders Centre and south of the existing parking lot.
"Over the past number of years, outdoor gatherings and events have been steadily growing in participation and popularity in Blackfalds, so it's very exciting that we are moving forward with the Border Paving Plaza project that will serve to be a focal point for many of these exciting events," shared Mayor Jamie Hoover. "Along with completing the Eagle Builder Centre and the road realignment, this outdoor plaza will quickly become a central point of pride in our always improving community."
The 24,000 square foot space will feature a decorative stained concrete deck, stairs and ramps, landscape features, and a natural gas fire pit.
Border Paving Plaza's budget is $668,000, of which 75 per cent was approved through the Canada Community Revitalization Fund. The remaining funds will be alleviated from sponsorships, including Border Paving Ltd, DB Bobcat Services, STEP Energy, Stantec, and ATCO gas.
Amanda Stasiuk, Border Paving's Community Outreach Coordinator, said that the company is looking forward to the development and the continued partnership with the Town.
"Once again, we are very excited to be a part of Blackfalds' commitment to public gatherings and community-minded development. Donations like this are part of our long-standing commitment to the communities we are part of."
Construction of the Border Paving Plaza will begin this spring, in conjunction with the Gregg Street Realignment project.