A Big Bowl of Blazing Banjo, Hip Hop, Folk, Rock at Bo's May 25
Bo's Bar and Grill is featuring some excellent artists over the next few weeks starting May 25th with Calgary's The Ashley Hundred.  Check out this video for the song Falling Up,  A real blend of musical styles, featuring Brett Cassidy's banjo.  Also on the same bill, Calgary's Fox Who Slept The Day Away and Nature.
From Ashley Hundred's website:
Since their formation in 2012, The Ashley Hundred has been constantly writing, stripping apart, and rewriting the songs of each of the band members. Continually growing as a band and as individual musicians. The bands first 2013 release, Postcards From The Moon, marked their firm arrival into the Calgary music scene, and brought them across the country on campus radio charts and on the stages from BC to Quebec. Soon after the release of their debut EP, Calgary veterans 36? approached the band to collaborate on a Split LP, which lead The Ashley Hundred to their first vinyl release, and first professionally produced music video made with funding from the Telus Storyhive grant. They are now working closely with Juno Award winning producer Josh Gwilliam, and engineer Howard Redekopp (Mother Mother, The New Pornographers) to create their first full-length album, which will be released in early 2017.
Calgary's Fox Who Slept the Day Away is another treat from the city south of us.
Fox Who Slept The Day Away does not spend their days idly, despite what their name suggests. From their first demo, "Sometimes", it was easy to see that the quartet were on to something special. The EP spoke to a maturity far beyond what is expected of the young group, and since then this dynamic has been ever evolving and delighting fans. Blending jazz and math-rock technicality with the ambience of post rock, they have created a unique and diverse sonic range. With ambitious influences such as The Antlers, Grizzly Bear, and Local Natives, the band is constantly working to develop and encompass new branches of music.
FWSTDA released their second EP, the live-off-the-floor "Asleep" in 2014, and their first full length, "Orbit", in late 2015. Their sound has come to showcase an underlying progressive urgency largely driven by the powerfully adept rhythm section. As a perfect counterpart, overlying is a silken, sweet reprieve of ethereal vocals and intricately woven guitar, adding to the already expansive atmosphere. The juxtaposition of dualities will serve to grab the listener by the heart and make them feel and simultaneously transport them to a spacey dreamscape that will allow them to explore and discover on their own.
Through chemistry-rich jam sessions the foursome has developed an overwhelming connectedness which is easy to see and easy to be drawn into with their live shows. This magnetism has been showcased on a larger scale at the High Hopes Tribute Concert in Calgary at the Jubilee, where the band played alongside Jesse and the Dandelions, Windigo, The Ashley Hundred, and A Tribute to Zackariah and the Prophets to raise funds for a collection of scholarships and trusts set up in memory of Zack Rathwell, Josh Hunter, Jordan Segura, and Kaiti Perras. Additionally, the group has played Calgary's BIG Winter Classic alongside Guantanamo Baywatch, The Wet Secrets, Freak Heat Waves, 36? and many more.
CLICK HERE for more info about everything going on at Bo's Bar and Grill 
Three Red Deer filmmakers receive $20,000 in production funding to produce documentaries.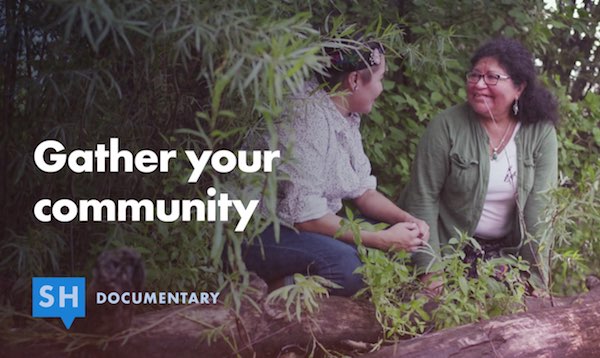 STORYHIVE's 19th edition aims to highlight remarkable people!
Remarkable people making positive contributions to their local communities by sharing how Canadian neighbourhoods adapt, change and strengthen connections in the face of distance and difficulty.
What is STORYHIVE? STORYHIVE from TELUS has proudly provided long-term support and resources for creators across BC and Alberta to grow their careers and empower them to share impactful stories that strengthen connections and inspire audiences around the world. How cool!
It's no secret that Red Deer is home to some amazing talents. Hosting the annual Central Alberta Film Festival (CAFF) giving acknowledgement to a very cool indie film scene right here in the heart of the province.
So who's repping Red Deer in the 19th edition of STORYHIVE? Check it out.
Creator Adam Jasper is taking viewers into the life of Jan Underwood, an industrious, heart-driven Red Deer resident who has helped ease the transition of grief-stricken refugees to a new beginning in Central Alberta through Central ALberta Refugee Effort (C.A.R.E). "A Refugee's Refuge – C.A.R.E" follows Jan as she navigates her own grief after the passing of her husband of 42 years Peter while she continues to support refugees through their own. Jan has been a staple of the Red Deer community and Adam looks forward to shining a light on this remarkable woman.
Director and possibly part-time detective Linda Pidhirney is producing "Anonymous Heroes," a documentary turned mystery that follows residents across Central Alberta as they share their experiences falling to unfortunate and desperate circumstances. In the midst of intense struggles, these residents encounter help from an anonymous hero that is a stranger to these residents. Linda dives into the stories of these Red Deer residents as they explain how this stranger brought them new hope.
Writer Jessica Swainson is making her film debut with "Jason and Me," a documentary about a friend everyone should have, Jason. Jason is a Red Deer resident who will see a need and connect people to fill that need. When Jessica was first writing her book and looking for a publisher, Jason dropped everything to help her find success. Whether it be a project, vision or even a door opened, Jason brings a smile to everyone's face that he meets. A true definition of a local hero.
These are just three of 40 projects selected out of 171 applications to receive not only $20,000 in funding, but also mentorship, customized career training and distribution from TELUS STORYHIVE Since 2014.
Tour the newly renovated Westerner Park Centrium
From the City of Red Deer and Westerner Park
Preview of renovations almost complete ahead of Team Canada training at Westerner Park Centrium
In 2019, Red Deer City Council approved a $3 million capital request from Westerner Park's Exhibition Association, which operates the Centrium, as part of its 2020 capital budget to help with renovations needed at the facility.
The City of Red Deer approved $3 million toward a revitalization project that would improve the 1991- era arena's dressing rooms, concourse and seating.
At the time of budget approval, Tara Lodewyk, General Manager of Planning and Protective Services said "Westerner Park is a huge economic driver in the region. We want it to keep attracting more events, as Red Deer businesses and citizens' benefit whenever the Centrium brings in various sport, business and cultural attractions."
Renovations, which are nearing completion, include updating dressing rooms, adding additional railing to the outer edge of the concourse, new modernized LED score clock and signage, and one of the biggest projects, replacing the 30-year-old spectator seats to meet modern facility standards. Westerner Park officials had aimed to complete renovations before hockey players started arriving for the World Junior Championship that were set to run Dec. 26, 2020, to Jan. 5, 2021, which has since been deferred to 2021/2022. Construction during the pandemic occurred more efficiently due to no events being held in the facility, while renovations also provided local economic stimulus by employing local trades.
On September 17, the International Ice Hockey Federation (IIHF) announced that all games for the 2021 IIHF World Junior Championship will be played in Edmonton, instead of Red Deer, due to COVID- 19 restrictions, without fans in attendance, but will return to Edmonton and Red Deer in 2021.
However, Red Deer is hosting Canada's best under 20 hockey players ahead of the 2021 IIHF World Junior Hockey Championships. Forty-seven players will attend a training camp at the Centrium at Westerner Park from November 16 until December 13. The selection camp will include practices and three intrasquad games, as well as six games against a team of sports all-stars, before the team enters the bubble in Edmonton. The Red Deer camp will take place in a cohort bubble and will be closed to the public and the media.
"Not being able to host World Juniors this year was a significant disappointment for many Red Deerians who were anticipating welcoming the international hockey community back to our city," said Mayor Tara Veer. "I know Red Deer will be ready to welcome the world to our community in 2021/2022, and will actively continue our preparations for this incredible opportunity for our city. This year, we are glad to be able to participate in preparation for the World Juniors by hosting a selection camp bubble at the Centrium."
"The renovations and upgrades will enhance guest experience at Westerner Park and ensure the comfort and safety for everyone that attends events in the Centrium," said Mike Olesen, Westerner Park CEO. "The upgrades will also create more interest from national and international events to consider Red Deer and Westerner Park for upcoming events."
"We're incredibly excited for hockey fans to experience the bold changes taking place inside our home, the Centrium," said Merrick Sutter, Sr. Vice President, Red Deer Rebels. "The much needed upgrades provide a fresh, clean look for all guests and events, and further cements the facility as a premiere destination for major events and junior hockey."