Beautiful downtown restaurant and gift shop turning to community to survive Covid-19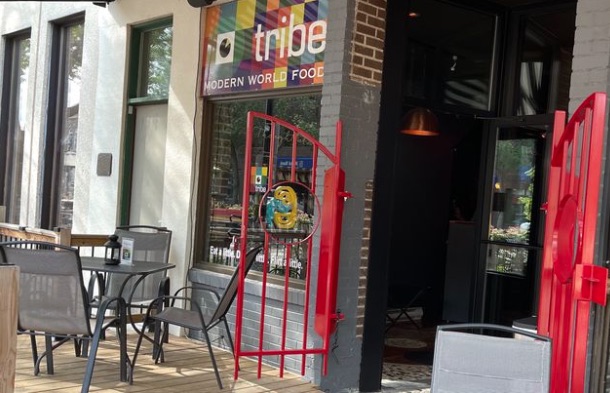 This GoFundMe request is indicative of the atmosphere so many small businesses have been forced to try to endure for the last two long years.
Here's an opportunity for people who love these particular businesses to have the opportunity to save them.
From GoFundMe
It's time for us to ask even though this is extremely uncomfortable. We have exhausted all of our other options. Sunworks and Tribe need your help to keep open until life returns to some sort of normal. We've set up this GoFundMe page with the hope that you'll come to our rescue. Please consider giving to help us through what we all hope is the end of the pandemic.
What follows is our story of our struggle to survive, while so many of our fellow retailers and restaurateurs haven't. This industry has been especially hard hit, and in many ways overlooked in policy and funding decisions. We know you have watched us, supported us when you could, and had us in your thoughts as the community wrestled to keep everyone safe and healthy.
Here's our story.
In 2019 Tribe and Sunworks were both in the process of restructuring and expanding, when everything went sideways at the start of 2020.
Sunworks
Sunworks sold most of its inventory and moved in March of 2019 to its new location on Little Gaetz. What remained, our customers and friends carried by hand in a long fire line from our old location to the new one. 2019 our revenues were sparse as we worked to rebuild our inventory and adapt to our new space. This is important to note because it is the 2019 figures that all the COVID-19 grants were based upon. By the end of the year Sunworks was up and running in our new place but still working to rebuild the business. Things were steadily improving in spite of the economy, which you will recall was pretty flat.
COVID struck in the beginning of 2020 and we did our best to adapt. We used our closed time to build an online shop and to install a takeout food counter so that when we were able to reopen we would have improved services and hopefully multiple streams of revenue. With only one employee we worked to keep the store alive through online sales. She did a fantastic job and you supported us through the first couple of months of shutdown.
We used the government loan funds to help us with these projects and those at Tribe. Funds went to the staff to keep some of them employed and also for the building costs to improve the space.
Most recently, the Omicron wave has by far been the most difficult for us, striking our business in what should have been the busiest season of the year. Sales were down about 60K for the shopping season, which is typically the time we make it or break it.
Tribe
As you know restaurants and bars suffered a lot more than retail and other industries. We had longer periods of closure and restrictions. We were unable to keep many of the staff employed but did what we could to help them. We hired, trained, and reopened no matter how limited after each shutdown. It became a cycle of layoffs, retraining, and adapting. Quite exhausting for everyone.
In 2019 Tribe was expanding and taking on new liabilities as we doubled the size of the space with the long term vision to build what is now Tribe River Bar. During the shutdowns and restrictions we used the time to make renovations and improvements as best we could. We tried to adapt for 'online, curbside, and delivery', but quickly discovered that our customers, although they loved our food, were coming for the ambiance and romance of the room itself. We had limited success with the strategy even though we tried multiple apps.
The Omicron wave hit Tribe with equal force. Christmas parties and celebrations were postponed, and the new year was very minimal. We did what we could with the workforce we had. There were days that we had more cancellations than bookings. Revenue was a quarter of what it should have been. It made the preparation and planning nearly impossible. There has been a lot of food wasted during the restriction. All of this created chaos and hardship for the staff. Our most loyal staff are hanging on with faith and hope.
—-
As we progressed with the pandemic we didn't qualify for many of the grants, because most were based on 2019 revenue numbers and our businesses were expanding, taking on new lease/mortgage commitment or debt to grow prior to the pandemic. Although business was down in 2020 and 2021 compared to 2019, it wasn't enough to reach the threshold for grant approval. Expenses were not considered. Growing businesses across the country fell through the cracks with the funding program with the exception of new debt. We are liquidating what we can to minimize the growing debt. The workload this created for business owners like us was unsustainable. Almost daily we were forced to choose among the most urgent tasks to leave for the next day.
Our local bank has been exceptional in helping us through some of the worst times by postponing payments. This added to the future debt owing but at least it allowed us to operate.
Which brings us to today. We have exhausted all of the options we had to keep our heads above water. We've delayed payments to CRA (which is never a good thing), refinanced everything we can, limited labour hours and cut costs wherever we could and held off mortgage payments. Omicron has created such uncertainty among the public who are growing weary of the pandemic, who don't want to get sick nor spread the virus any further. The weather has been too cold to encourage restaurant bookings. Add this to a very weak Christmas and New Year season, which normally supports us through until the warm weather in April, and we've reached the end of our rope.
Here is what we are proposing.
During the course of the pandemic, we have had numerous customers call or comment to ask how they can help, offering money to support the utilities or other expenses. We have up until this point have appreciated the calls of support but have struggled onward. We expected the situation to improve more quickly and we certainly worked hard to set ourselves up to succeed once life returns to some sense of normal.
Our commitment to you is that if you fund us now, once we are back on our feet and revenue has recovered, we will make contributions to the Red Deer and District Community Foundation to assist in other community needs in the future. We have no idea whether our asking for help will be met with respect or with the good intent we mean. We are grateful for everyone that has supported us over the years and particularly through this pandemic crisis. If you can help now it will mean a lot to us.
Updates (2)
Today
by Terry Warke,

Organizer
Thank you you everyone for your support. We are 36% of the way. We appreciate everyone's efforts. Please feel free to share this campaign with those whom you think would want to know and help. We are hoping that by the end of next week we'll reach the goal and can begin to address some of the issues that have accumulated over the past two years. Also, thank you to many of you who have come to shop for Valentine's day or who have made reservations at Tribe. We are feeling the strength and support of our community and this gives us hope. As always please give us a call or stop in if you would like to. chat. Paul and Terry.
Organizer
Statistics Canada reports merchandise trade deficit $160 million in December
Ottawa – Statistics Canada says the country posted a merchandise trade deficit of $160 million in December as both exports and imports fell compared with November.
The result followed a revised deficit of $219 million for November compared with an initial reading for the month that showed a $41 million deficit.
Statistics Canada says exports in December fell 1.2 per cent in the month to $63.0 billion. Energy exports fell 7.6 per cent to $14.3 billion, while exports of farm, fishing and intermediate food products dropped 9.9 per cent to $5.3 billion.
Meanwhile, imports dropped 1.3 per cent in December to $63.1 billion as imports of consumer goods fell 6.4 per cent to $12.1 billion and motor vehicles and parts dropped 6.0 per cent to $9.9 billion.
In volume terms, total exports in December rose 0.9 per cent, while import volumes fell 1.9 per cent.
For the whole of 2022, Statistics Canada says the country posted a merchandise trade surplus of $20.1 billion, up from a surplus of $4.6 billion in 2021.
This report by The Canadian Press was first published Feb. 7, 2023.
Britcoin? UK gets closer to launching a digital currency
By Danica Kirka in London
LONDON (AP) — Britcoin is moving closer to reality.
U.K. authorities on Monday said British businesses and consumers are likely to need a digital version of the pound, formally asking for public comment on the idea of introducing a central bank digital currency.
Britain, home to the world's second-biggest financial center, is trailing former colonies such as Nigeria, the Bahamas and Jamaica in rolling out a digital currency. More than 80% of the world's central banks are considering launching digital currencies or have already done so, according to the consultant PwC.
"While cash is here to stay, a digital pound issued and backed by the Bank of England could be a new way to pay that's trusted, accessible and easy to use," Treasury chief Jeremy Hunt said in a statement. "That's why we want to investigate what is possible first, whilst always making sure we protect financial stability."
The call for public input comes almost two years after the Treasury and Bank of England said they were considering introducing a digital currency.
While Prime Minister Rishi Sunak suggested naming the initiative "Britcoin" when he was Treasury chief, the Bank of England has stressed that the potential currency shouldn't be confused with cryptocurrencies like Bitcoin.
Backed by the central bank, the new currency would be "reliable and retain its value over time," in contrast to cryptocurrencies that can fluctuate wildly and threaten the holdings of investors, the Bank of England says on its website.
That industry has been particularly unstable in recent months, escalating calls for greater regulation. Crypto crashes last yeartanked assets, while crypto exchange FTX's multibillion-dollar collapse and bankruptcy in November triggered fraud chargesagainst founder Sam Bankman-Fried.
The proposed digital currency would be denominated in pounds, with 10 pounds of digital currency always equal to a 10-pound note, the bank said. Held in a digital wallet, the currency could be used to pay for goods and services electronically.
Supporters of central bank digital currencies say they make digital transactions easier and cheaper and expand access to the financial system because they can be used by people who don't have bank accounts.
This is one of the reasons the Bahamas became the first country to introduce a digital currency in 2020. Nigeria and Jamaica have since followed suit, with China and more than 20 other countries running trial projects. The U.S. and European Union are considering introducing digital currencies.
But digital currencies also present risks, including cyberattacks, privacy concerns and the danger that they can be used by criminals.
Because money invested in central bank digital currencies is safer than a bank deposit, they also may draw savings away from commercial banks and weaken the financial system, critics argue.
A digital pound would have "risks but no obvious benefits," former Bank of England Gov. Mervyn King, now a member of the House of Lords, said recently.
While such digital currencies may be useful in countries that don't have effective banking systems, that's not the case in the Britain, he said.
"The government has said that it wants the U.K. to be at the forefront of innovation, crypto-assets and fintech, but we need to be selective and not driven by a misplaced enthusiasm for all things crypto," King said.