Around Red Deer May 18th…..
2:50 pm – Red Deer RCMP are hoping you can help them find 35 year old Nadia Bull. She was last seen in Red Deer on May 12. RCMP believe she may now be in the Rocky Mountain House area, and wish to verify her well-being. Read More.
11:53 am – The Innisfail Farmer's Market is back for another season! Read More.
11:48 am – Food Truck Thursdays are back for another season in Sylvan Lake! Read More.
For more local news, click here!
9:16 am – Red Deer RCMP are asking for public assistance to locate 13 year old Jayden Lafferty. He was last seen in Red Deer on April 19 and RCMP wish to verify his well-being. Jayden Lafferty is described as Caucasian, 5'3" tall, 105 lbs, Wavy light brown hair and Blue eyes. If you have been in contact with Jayden Lafferty or have information on his whereabouts, please contact the Red Deer RCMP at 403-343-5575.
9:07 am – Red Deer College celebrated two events on Wednesday, May 17th. The Learning Pathways in Central Alberta Memorandum of Understanding signing and the 2017 Community Awards. In the afternoon, representatives from RDC and seven local School Divisions gathered to celebrate the ongoing partnership created through Learning Pathways in Central Alberta, a Memorandum of Understanding between the eight organizations. Later in the evening, community members, alumni and distinguished guests gathered to celebrate two deserving individuals and one community partner at the 2017 Community Awards ceremony. Alfio Truant was awarded the G.H. Dawe Memorial Award for his commitment to community and leadership. The Distinguished Alumnus Award went to Rod Kennedy for his personal and professional achievements, as well as public service. The Community Partner Award was presented to seven central Alberta School Divisions, in recognition of their collaborations with Red Deer College in promoting high school completion and the transition to post-secondary learning.
8:59 am – Rocky Mountain House RCMP are hoping you can help them find 24 year old Waylon Frencheater. Read More.
For more local news, click here!
8:33 am – Arson charges have been laid against 39-year-old Denis Fortin in connection with an apartment fire in Ponoka on May 1st. Read More.
8:24 am – The Alberta government has announced $54.2 million in funding this year for improvements to campgrounds, new picnic tables and improved infrastructure. In Central Alberta, Jarvis Bay Provincial Park will receive some campground upgrades, while Fish Lake Provincial Park will see campground upgrades and an expansion. Read More.
8:05 am – It's a busy day at St. Francis of Assisi Middle School in Red Deer. A representative from Red Deer College Career Services will be presenting to Grade 8 students. Information will include what it is like to be a college student, what kind of careers going to college can help them achieve, and how to work towards getting to the college level. Also, Presenters from the University of Calgary Let's Talk Science Team will be presenting to Grade 6 students. Students will have an opportunity to participate in various hands-on crime lab activities during this session.
For more local news, click here!
Canada signs $20B compensation agreement on First Nations child welfare
OTTAWA — The federal government says it has signed a $20-billion final settlement agreement to compensate First Nations children and families harmed by chronic underfunding of child welfare.
The Assembly of First Nations and plaintiffs in two class-action lawsuits agreed to the deal, which also accounts for the government's narrow definition of Jordan's Principle.
Indigenous Services Canada says the settlement is the largest in Canadian history.
The $20 billion accounts for half of an overall $40-billion deal that aims to reform the child-welfare system, including five-year funding for the First Nations Child and Family Services program.
The deal must still be approved by the Canadian Human Rights Tribunal and Federal Court.
The court had dismissed Canada's application to review two human-rights tribunal orders around child welfare and Jordan's Principle, which is meant to eliminate jurisdictional squabbles in paying for services for First Nations kids.
AFN Manitoba Regional Chief Cindy Woodhouse says in a statement she is proud of this "historic milestone" for First Nations children and their families.
This report by The Canadian Press was first published July 4, 2022.
The Canadian Press
Putin declares victory in embattled Donbas region of Luhansk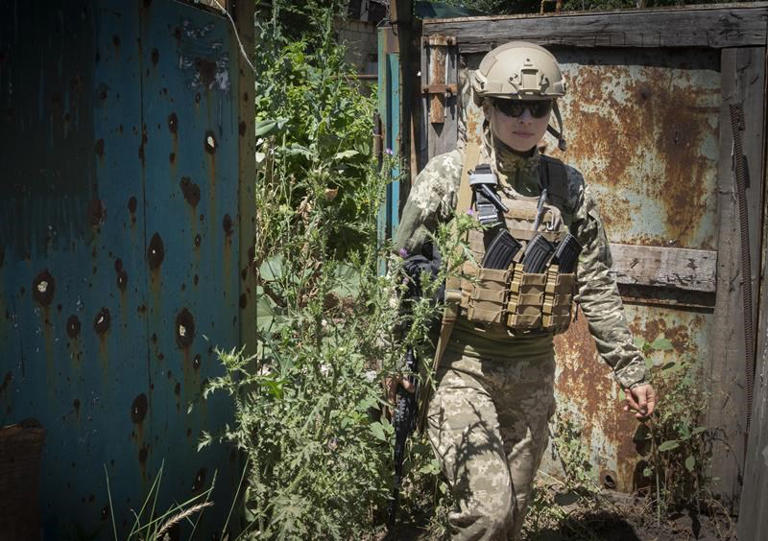 POKROVSK, Ukraine (AP) — Russian President Vladimir Putin on Monday declared victory in the eastern Ukrainian region of Luhansk, one day after Ukrainian forces withdrew from their last remaining bulwark of resistance in the province.
Russia's Defense Minister Sergei Shoigu reported to Putin in a televised meeting Monday that Russian forces had taken control of Luhansk, which together with the neighboring Donetsk province makes up Ukraine's industrial heartland of Donbas.
Shoigu told Putin that "the operation" was completed on Sunday after Russian troops overran the city of Lysychansk, the last stronghold of Ukrainian forces in Luhansk.
Putin, in turn, said that the military units "that took part in active hostilities and achieved success, victory" in Luhansk, "should rest, increase their combat capabilities."
Putin's declaration came as Russian forces tried to press their offensive deeper into eastern Ukraine after the Ukrainian military confirmed that its forces had withdrawn from Lysychansk on Sunday. Luhansk governor Serhii Haidai said on Monday that Ukrainian forces had retreated from the city to avoid being surrounded.
"There was a risk of Lysychansk encirclement," Haidai told the Associated Press, adding that Ukrainian troops could have held on for a few more weeks but would have potentially paid too high a price.
"We managed to do centralized withdrawal and evacuate all injured," Haidai said. "We took back all the equipment, so from this point withdrawal was organized well."
The Ukrainian General Staff said Russian forces were now focusing their efforts on pushing toward the line of Siversk, Fedorivka and Bakhmut in the Donetsk region, about half of which is controlled by Russia. The Russian army has also intensified its shelling of the key Ukrainian strongholds of Sloviansk and Kramatorsk, deeper in Donetsk.
On Sunday, six people, including a 9-year-old girl, were killed in the Russian shelling of Sloviansk and another 19 people were wounded, according to local authorities. Kramatorsk also came under fire on Sunday.
An intelligence briefing Monday from the British Defense Ministry supported the Ukrainian military's assessment, noting that Russian forces will "now almost certainly" switch to capturing Donetsk. The briefing said the conflict in Donbas has been "grinding and attritional," and is unlikely to change in the coming weeks.
While the Russian army has a massive advantage in firepower, military analysts say that it doesn't have any significant superiority in the number of troops. That means Moscow lacks resources for quick land gains and can only advance slowly, relying on heavy artillery and rocket barrages to soften Ukrainian defenses.
Russian President Vladimir Putin has made capturing the entire Donbas a key goal in his war in Ukraine, now in its fifth month. Moscow-backed separatists in Donbas have battled Ukrainian forces since 2014 when they declared independence from Kyiv after the Russian annexation of Ukraine's Crimea. Russia formally recognized the self-proclaimed republics days before its Feb. 24 invasion of Ukraine.
In his nightly video address, Ukrainian President Volodymyr Zelenskyy acknowledged the withdrawal, but vowed that Ukrainian forces will fight their way back.
"If the command of our army withdraws people from certain points of the front where the enemy has the greatest fire superiority, in particular this applies to Lysychansk, it means only one thing: We will return thanks to our tactics, thanks to the increase in the supply of modern weapons," Zelenskyy said.
Since failing to take Kyiv and other areas in Ukraine's northeast early in the war, Russia has focused on Donbas, unleashing fierce shelling and engaging in house-to-house combat that devastated cities in the region.
Russia's invasion has also devastated Ukraine's agricultural sector, disrupting supply chains of seed and fertilizer needed by Ukrainian farmers and blocking the export of grain, a key source of revenue for the country.
In its Monday intelligence report, Britain's defense ministry pointed to the Russian blockade of the key Ukrainian port of Odesa, which has severely restricted grain exports. They predicted that Ukraine's agricultural exports would reach only 35% of the 2021 total this year as a result.
As Moscow pushed its offensive across Ukraine's east, areas in western Russia came under attack Sunday in a revival of sporadic apparent Ukrainian strikes across the border. The governor of the Belgorod region in Western Russia said fragments of an intercepted Ukrainian missile killed four people Sunday. In the Russian city of Kursk, two Ukrainian drones were shot down, according to the Russian Defense Ministry.
In other developments:
— Ukrainian soldiers returning from the front lines in eastern Ukraine's Donbas region — where Russia is waging a fierce offensive — describe life during what has turned into a grueling war of attrition as apocalyptic.
— Two Russian airplanes departed Bulgaria on Sunday with scores of Russian diplomatic staff and their families amid a mass expulsion that has sent tensions soaring between the historically close nations, a Russian diplomat said.
___
Associated Press journalists Maria Grazia Murru and Oleksandr Stashevskyi contributed from Kyiv, Ukraine.
___
Follow AP's coverage of the Russia-Ukraine war at https://apnews.com/hub/russia-ukraine
Francesca Ebel, The Associated Press