Around Red Deer March 22nd…..
5:01 pm – The City of Red Deer is pleased that the Federal Budget announced on Wednesday will continue with stable Gas Tax funding for municipalities but is also hoping to benefit from Infrastructure Investments. Read More.
2:39 pm – Red Deer RCMP have arrested numerous people wanted on outstanding warrants. They were arrested between March 15th – 21st. They include 29 year old Daniel Wade Shields, 24 year old Rickell Jessica Frenchman, 27 year old Kayla Marie Cecka, 22 year old Kyla Joy Harter, 25 year old Matthew Robert McKinney, 20 year old Courtney Darlene Reid, 40 year old Brandy Christine Carl, 25 year old Nicholas Dale Krock and 46 year old James Mitchell. Read More.
1:13 pm – The Red Deer Catholic Regional School District has amended it's Three Year Capital Plan. This, after Alberta Education's school projects announcement on March 21st that indicates St. Patrick's Community School will receive funding for modernization and has now been removed from this plan. Priority #1. Our Lady of the Rosary 8 classroom addition. #2. A new 6-9 middle school in Red Deer. #3. A new K-5 school in Red Deer. #4. A new K-5 French Immersion school in Red Deer. #5. A new K-5 school in Sylvan Lake.
12:48 pm – Red Deerians are being encouraged to turn off the lights for Earth Hour Saturday night! Read More.
For more local news, click here!
12:19 pm – Members of the public are invited to join the Red Deer College Board of Governors, President & CEO Joel Ward and special guest, Minister of Advanced Education Marlin Schmidt on Wednesday, March 29th from 5 – 6 pm as RDC's new Board Chair is introduced. A report on the College's contributions to central Alberta will also be presented. A reception is to follow in the Arts Centre Foyer.
11:54 – The Honourable David Eggen, Minister of Education, will visit St. Patrick's Community School in Red Deer this Saturday, March 25 at 1:00 p.m. to discuss the new modernization project. Alberta Premier Rachel Notley and Minister Eggen announced funding to modernize St. Patrick's Community School on March 21st. This comes as exceptional news as the school has been operating at 130% capacity. The school is one of seven in the province to undergo modernization. This modernization will provide improvements to the school including functional upgrades to ensure students have access to effective and modern learning environments. The Minister will visit with the school Principal, Senior Administration and Trustees.
For more local news, click here!
11:16 am – Red Deer RCMP are looking for a missing woman. Read More.
10:59 am – On Friday, March 24 at 7:00 AM, Red Deer County road bans will come into effect. With the recent warmer conditions, Red Deer County Operations staff have implemented road bans on many different County roadways, excluding all industrial and commercial subdivisions. Gravel roadways will be banned on an as-needed basis. For a complete listing of effected roads, go to www.rdcounty.ca or contact Red Deer County at 403.350.2150.
10:23 am – Rocky Mountain House RCMP are looking for an assault suspect possibly on the O'Chiese First Nation. Read More.
For more local news, click here!
10:09 am – Improvements to Main Street in Lacombe will soon be underway. Here, the City's Engineering Services Manager Jordan Thompson provides a brief overview of the upcoming 2017 Main Street Improvements project:
9:54 am – The Red Deer Regional Catholic School Board received an update Tuesday regarding their current capital projects. St. Marguerite Bourgeoys School Work is progressing in the last stage of the project. This work is expected to be completed by the end of March. St. Gregory the Great Catholic School Ceiling grid has started on the second floor, painting is occurring in all areas, gym floor hardwood is starting in April and all other work is progressing on schedule. The school is scheduled to be completed at the end of May. St. Joseph High School Construction is complete other than some seasonal deficiencies which will be addressed in the spring. Our Lady of the Rosary Modular relocation is currently out for tender with results expected by the end of this month. St. Elizabeth Seton Modular relocation will be going out to tender shortly. Father Henri Voisin Modular addition planning has begun. ABC School, as part of the P3 contract, will deal with all aspects of this project.
9:32 am – The Red Deer College Men's and Women's Curling teams are competing in Camrose for a national title over the next few days. The University of Alberta (Augustana) will host the event from March 22nd to 25th at the Rose City Curling Club.
TC Energy shuts down Keystone pipeline system after leak in Nebraska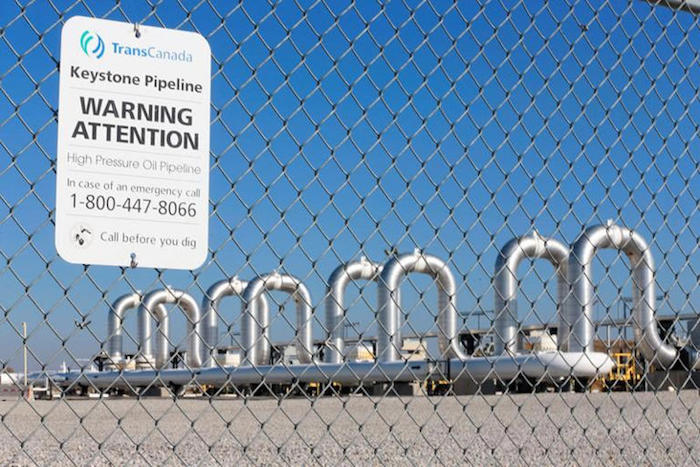 CALGARY — TC Energy Corp. says it has shut down its Keystone pipeline after a leak in Nebraska.
The company says it has mobilized people and equipment in response to a confirmed release of oil into a creek, about 32 kilometres south of Steele City, Neb.
TC Energy says an emergency shutdown and response was initiated Wednesday night after a pressure drop in the system was detected.
It says the affected segment of the pipeline has been isolated and booms have been deployed to prevent the leaked oil from moving downstream.
The Keystone pipeline system stretches 4,324 kilometres and helps move Canadian and U.S. crude oil to markets around North America.
TC Energy says the system remains shutdown as its crews respond and work to contain and recover the oil.
This report by The Canadian Press was first published Dec. 8, 2022.
Companies in this story: (TSX:TRP)
The Canadian Press
Advocate asks AFN chiefs to ensure $40B settlement deal leaves no child behind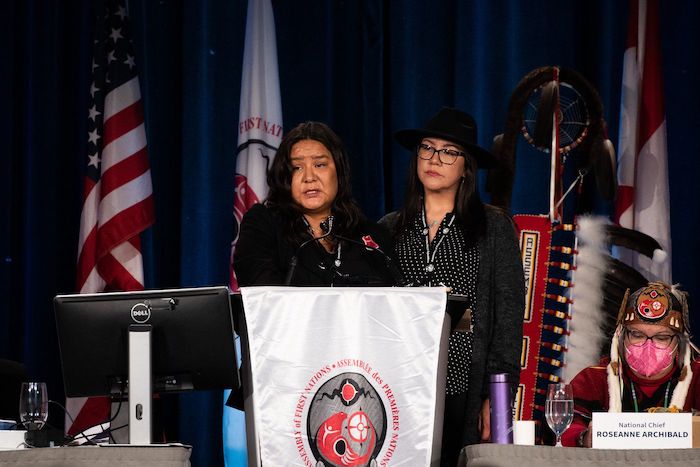 By Stephanie Taylor in Ottawa
A First Nations child welfare advocate on Wednesday implored chiefs to ensure "no child is left behind" in a landmark $40-billion settlement agreement with the federal government.
Cindy Blackstock delivered the message to an Assembly of First Nations gathering in Ottawa, after being invited to take the stage by Cindy Woodhouse, regional chief in Manitoba who helped negotiate the agreement, which had been thrown into question since being rejected by the Canadian Human Rights Tribunal.
The AFN, representing more than 600 First Nations across the country, had asked the tribunal to approve the settlement deal, which would see the government spend $20 billion to compensate families and children for systemic discrimination in the Indigenous child welfare system. It would also spend another $20 billion on making long-term reforms.
Blackstock, the executive director of the First Nations Caring Society who first lodged the complaint at the heart of the issue, raised concerns that the agreement wouldn't provide $40,000 in compensation to all eligible claimants, which is the amount the tribunal ruled they should get.
"We can make sure that in our First Nations canoe of justice, no child has to see their money go away and no child is left behind in justice," she said Wednesday.
"We are capable of that."
Following the tribunal's decision in October, the federal government filed for a judicial review of some parts of its decision.
Endorsing the settlement agreement loomed as one of the biggest items on the assembly's agenda, with chiefs being asked to vote on what the organization should do next.
The chiefs had been preparing to vote on conflicting resolutions, with one asking them to support the final settlement agreement, while another sought to see the organization not appeal the tribunal decision and renegotiate the deal.
But on Wednesday, further talks between both sides took place, assisted by former senator and judge Murray Sinclair, who helped the AFN, federal government and lawyers for two related class-action lawsuits reach the $40-billion agreement in the first place, which was formally announced in January.
Chiefs ultimately voted late Wednesday against re-entering negotiations but to instead support compensation for victims outlined in the agreement and "those already legally entitled to the $40,000 plus interest under the Canadian Human Rights Tribunal compensation orders."
It also included a provision that AFN leaders must regularly return to chiefs to provide it with progress updates and "seek direction" from chiefs on implementing the final agreement.
Many chiefs thanked Blackstock, who was greeted with applause after further agreement was met and said she was honoured to see people come together for children harmed by Ottawa's discrimination.
"We have had too many apologies, we've had too many compensation deals, we've had too many kids hurt. And this has got to be it," she said.
She added more discussion on the long-term reform part of the deal would be presented to chiefs on Thursday.
Earlier in the day, the assembly heard from sisters Melissa Walterson and Karen Osachoff, plaintiffs on the case, about the impact the foster care system had on their lives.
Osachoff said she had been in the child welfare system since she was born and didn't have a chance to grow up with her sister.
"Had it not been for the '60s Scoop and the child welfare (system), her and I would have grown up together."
She said she understands why the tribunal characterizes those like her as "victims," but told chiefs to instead think of them as survivors.
"I am not a victim and our claimants are not victims."
This report by The Canadian Press was first published Dec. 7, 2022.