Around Red Deer March 22nd…..
5:01 pm – The City of Red Deer is pleased that the Federal Budget announced on Wednesday will continue with stable Gas Tax funding for municipalities but is also hoping to benefit from Infrastructure Investments. Read More.
2:39 pm – Red Deer RCMP have arrested numerous people wanted on outstanding warrants. They were arrested between March 15th – 21st. They include 29 year old Daniel Wade Shields, 24 year old Rickell Jessica Frenchman, 27 year old Kayla Marie Cecka, 22 year old Kyla Joy Harter, 25 year old Matthew Robert McKinney, 20 year old Courtney Darlene Reid, 40 year old Brandy Christine Carl, 25 year old Nicholas Dale Krock and 46 year old James Mitchell. Read More.
1:13 pm – The Red Deer Catholic Regional School District has amended it's Three Year Capital Plan. This, after Alberta Education's school projects announcement on March 21st that indicates St. Patrick's Community School will receive funding for modernization and has now been removed from this plan. Priority #1. Our Lady of the Rosary 8 classroom addition. #2. A new 6-9 middle school in Red Deer. #3. A new K-5 school in Red Deer. #4. A new K-5 French Immersion school in Red Deer. #5. A new K-5 school in Sylvan Lake.
12:48 pm – Red Deerians are being encouraged to turn off the lights for Earth Hour Saturday night! Read More.
For more local news, click here!
12:19 pm – Members of the public are invited to join the Red Deer College Board of Governors, President & CEO Joel Ward and special guest, Minister of Advanced Education Marlin Schmidt on Wednesday, March 29th from 5 – 6 pm as RDC's new Board Chair is introduced. A report on the College's contributions to central Alberta will also be presented. A reception is to follow in the Arts Centre Foyer.
11:54 – The Honourable David Eggen, Minister of Education, will visit St. Patrick's Community School in Red Deer this Saturday, March 25 at 1:00 p.m. to discuss the new modernization project. Alberta Premier Rachel Notley and Minister Eggen announced funding to modernize St. Patrick's Community School on March 21st. This comes as exceptional news as the school has been operating at 130% capacity. The school is one of seven in the province to undergo modernization. This modernization will provide improvements to the school including functional upgrades to ensure students have access to effective and modern learning environments. The Minister will visit with the school Principal, Senior Administration and Trustees.
For more local news, click here!
11:16 am – Red Deer RCMP are looking for a missing woman. Read More.
10:59 am – On Friday, March 24 at 7:00 AM, Red Deer County road bans will come into effect. With the recent warmer conditions, Red Deer County Operations staff have implemented road bans on many different County roadways, excluding all industrial and commercial subdivisions. Gravel roadways will be banned on an as-needed basis. For a complete listing of effected roads, go to www.rdcounty.ca or contact Red Deer County at 403.350.2150.
10:23 am – Rocky Mountain House RCMP are looking for an assault suspect possibly on the O'Chiese First Nation. Read More.
For more local news, click here!
10:09 am – Improvements to Main Street in Lacombe will soon be underway. Here, the City's Engineering Services Manager Jordan Thompson provides a brief overview of the upcoming 2017 Main Street Improvements project:
9:54 am – The Red Deer Regional Catholic School Board received an update Tuesday regarding their current capital projects. St. Marguerite Bourgeoys School Work is progressing in the last stage of the project. This work is expected to be completed by the end of March. St. Gregory the Great Catholic School Ceiling grid has started on the second floor, painting is occurring in all areas, gym floor hardwood is starting in April and all other work is progressing on schedule. The school is scheduled to be completed at the end of May. St. Joseph High School Construction is complete other than some seasonal deficiencies which will be addressed in the spring. Our Lady of the Rosary Modular relocation is currently out for tender with results expected by the end of this month. St. Elizabeth Seton Modular relocation will be going out to tender shortly. Father Henri Voisin Modular addition planning has begun. ABC School, as part of the P3 contract, will deal with all aspects of this project.
9:32 am – The Red Deer College Men's and Women's Curling teams are competing in Camrose for a national title over the next few days. The University of Alberta (Augustana) will host the event from March 22nd to 25th at the Rose City Curling Club.
CP NewsAlert: Michael Kovrig, Michael Spavor back in Canada after detention in China
Two Canadians who were imprisoned in China for nearly three years are home.
Video from CTV shows Prime Minister Justin Trudeau greeting Michael Kovrig and Michael Spavor on the tarmac at the airport in Calgary early this morning.
More coming.
The Canadian Press
Last-minute Fajardo TD gives Roughriders 31-24 victory over B.C. Lions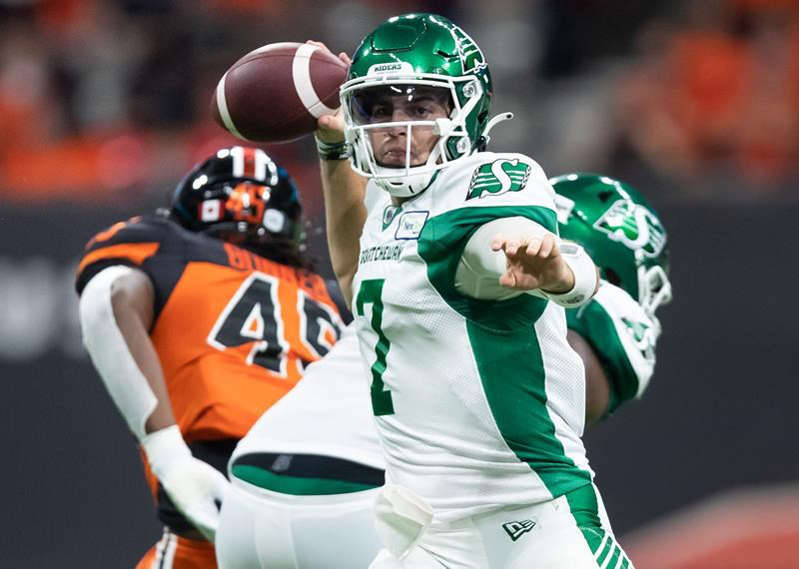 VANCOUVER — A last-minute touchdown by quarterback Cody Fajardo gave the Saskatchewan Roughriders a 31-24 road victory over the B.C. Lions on Friday.
Fajardo scored on a quarterback sneak on third down with two seconds left on the clock, clinching a back-and-forth game between the two sides.
Damon Webb poured salt in the Lions' wounds, recovering a fumble by B.C. wide receiver Lucky Whitehead and darting into the end zone for a touchdown as time expired.
Fajardo threw for 279 yards, one touchdown and one interception on the night, completing 24-of-31 attempts. Kicker Brett Lauther had four field goals for Saskatchewan, including a 49-yard bomb in the first quarter.
Lions quarterback Michael Reilly had 259 passing yards, and made good on 23-of-34 attempts, including a pair of touchdown passes to Whitehead.
The win gives Saskatchewan (5-2) sole possession of second place in the West Division and snapped a three-game win streak for the Lions (4-3).
The Riders were first on the scoreboard when Lauther made a 38-yard field goal 5:52 into the game.
B.C. was quick to respond. Reilly connected with wide receiver Bryan Burnham on a 28-yard pass on the next play, then followed it with a short toss to Whitehead.
The speedy Florida Atlantic product evaded several Saskatchewan defenders and streaked 47 yards down the sideline for his first touchdown of the night.
Whitehead leads the CFL in receiving this season with 665 yards in seven games.
A solid Lions defence kept the Riders frustrated and pinned in their own territory for much of the first half.
Lauther kept Saskatchewan within striking distance, booting a 49-yard field goal to close out the first quarter and a 28-yard kick early in the second.
Reilly struggled at times to connect with his receivers across the first half.
But with less than a minute to go in the second frame, the veteran QB narrowly avoided a sack, then got a running pass off to Jevon Cottoy for a 26-yard gain. He then sent an 11-yard dish to Whitehead to set up a first-and-goal, then once again found Whitehead in the end zone for B.C.'s second major of the night.
Jimmy Camacho made the converts on both plays and the Lions took a 14-9 lead into halftime.
A 21-yard pass from Fajardo to Kyran Moore put the Riders in good position early in the third, but B.C.'s Jalon Edwards-Cooper spoiled the ensuing touchdown attempt, knocking down a pass before it reached the hands of Mitchell Picton as he waited in the end zone.
Saskatchewan settled for yet another Lauther field goal, this time from 30-yards out.
B.C. responded with a field goal of its own, a 32-yard kick by Camacho.
Saskatchewan caught a big break in the final minutes of the third when Whitehead fumbled a punt return, giving the Riders the ball at the Lions 48-yard line.
Minutes later, Fajardo blasted a 23-yard pass to Ricardo Louis in the end zone, giving the Riders their first touchdown of the night 13:16 into the quarter. Saskatchewan was stymied on the two-point conversion attempt, though, keeping the score 18-17.
The strike was Louis' first in the CFL. The 27-year-old wide receiver is playing his first season in the league after spending three years with the NFL's Cleveland Browns.
Down a point heading into the final frame, the Lions refused to relent.
About four minutes into the quarter, Reilly made an 11-yard run to give his side a first down at Saskatchewan's 31-yard line. Ed Gainey tripped Burnham in the end zone on the next play and the pass interference created a first-and-goal opportunity for the Lions.
Reilly handed the ball off to Shaq Cooper and the running back snuck across the goal line for the touchdown. B.C. went up 24-18 after Camacho made the convert.
Camacho later missed a 43-yard field goal attempt.
Edwards-Cooper came up big once again with three minutes left in the game, intercepting a long pass from Fajardo along the sidelines, but the Lions couldn't whether the Riders' final push.
The Lions will face a tough test on Oct. 1 when they host the league-leading Winnipeg Blue Bombers. Saskatchewan will visit the Calgary Stampeders the following night.
NOTES: Saskatchewan defensive back Ed Gainey returned to the lineup after missing two games with an injured toe. … The Lions gave out 10,000 orange shirts with a reimagined logo by Kwakwaka'wakw/Tlingit artist Corrine Hunt to mark the first-ever National Day for Truth and Reconciliation.
This report by The Canadian Press was first published Sept. 24, 2021.
Gemma Karstens-Smith, The Canadian Press