Around Red Deer June 5th…..
2:47 pm – Imagine if every Canadian did three things for their neighbourhood, their nation, and their world this year. With Canada celebrating its 150th year of Confederation in 2017, Red Deer Mayor, Tara Veer, has accepted the challenge placed by Calgary Mayor, Naheed Nenshi, to do "Three Things for Canada". Read More.
1:08 pm –  Lab results from Health Canada have confirmed that drugs seized in Red Deer in March were a mixture of Carfentanil, fentanyl and caffeine, making this the first known seizure of the deadly opioid Carfentanil in the Red Deer area. Read More.
For more local news, click here!
12:56 pm – The Town of Sylvan Lake will celebrate it's annual summer fair this weekend. 1913 days starts on Friday! Read More.
12:54 pm – Paving work will result in some road closures in Sylvan Lake tomorrow. Read More.
12:43 pm – Police in Lacombe are looking for suspects after some recent graffiti incidents. Read More.
For more local news, click here!
11:59 am – Lacombe Police say thefts appear to be on the rise in the community. Read More.
11:45 am – High School students can check out their career options at a Career High School Info session at the Penhold Regional Multi-Plex today. Read More.
11:15 am – Find out what Alberta's new requirements are for children in car seats and booster seats. Read More.
For more local news, click here!
11:07 am – Red Deer's School and Playground Zone times are set to change starting August 1st. Read More.
11:02 am – Red Deer City Councillor Lawrence Lee was elected on Sunday to the Federation of Canadian Municipalities (FCM) board, which develops policy and advocates in the interests of municipalities to the federal government. Read More.
10:55 am – The Town of Blackfalds is gearing up for "Blackfalds Days" later this month. Find out more.
For more local news, click here!
10:46 am – Ponoka RCMP have arrested 37 year old Mark Carr in connection with an alleged sexual assault on June 2nd. Read More.
10:32 am – Landscaping work will result in some road closures from 39th Street to 37th Street on Red Deer's south hill on Tuesday. Read More.
10:19 am – Grade 5 students at Red Deer's St. Teresa of Avila School in Red Deer will perform songs they have learned this school year in a band concert in the gymnasium starting at 1:00 pm. While band and choral students from Ecole Secondaire Notre Dame High School in Red Deer will share their musical talents at a concert at the Red Deer College Arts Centre tonight at 7:00 pm.
For more local news, click here!
10:04 am – St. Gregory the Great Catholic School in Blackfalds will benefit from a Provincial Grant to help build a playground at the new school set to open this fall! Read More.
9:50 am – An Edmonton-based, door-to-door sales company must pay $15,000 for three tickets it received from The City of Red Deer for operating without a business license. Read More.
9:24 am – Red Deer College celebrated its 53rd Convocation ceremonies on Friday, June 2nd. More than 580 out of 1,900 eligible graduates crossed the stage to celebrate their achievements. Three special award recipients were also recognized. Dr. Bernie Pauly was presented with an Honorary Degree. Red Deer College Foundation Outstanding Student Award was presented to Ben Fleury for his leadership and commitment to RDC. The Governor General's Academic Medal (Collegiate Bronze Level) was presented by Earl Dreeshen, Member of Parliament for Red DeerMountain View to Kelsie Bakker. Bakker had the highest academic standing of all RDC students this year, as she completed the final year of her diploma-level post-secondary program in Business Administration.
For more local news, click here!
9:05 am – You can help support the United Way of Central Alberta by dining out at some local restaurants! Read More.
8:50 am – A Rimbey resident has won the lottery after buying a Western 649 ticket in Red Deer! Read More.
8:38 am – Visitors to the Red, Deer, Lacombe and Stettler areas will now be able to get tourism information in more innovative and easier ways. It's all thanks to some new grants being offered by the provincial government. Read More.
For more local news, click here!
8:28 am – Red Deerians are taking part in the Commuter Challenge this week. It's a week-long event that takes place during Canadian Environment Week from June 4-10, 2017 and features free transit services! Read More.
8:13 am – The City of Red Deer is honouring seniors in our community by offering free admission and discounted monthly passes to City recreation facilities this week. It's Senior's Week! Details Here.
8:07 am – The Town of Sylvan Lake and the Sylvan Lake Chamber of Commerce have teamed up to host a Customer Service Workshop from 10:00 am – 3:00 pm at the NexSource Centre today. It's a great opportunity for business owners, managers and front line staff to learn how to improve the level of customer service in your business. Details Here.
Canadian sprinter Andre De Grasse wins bronze in men's 100 metres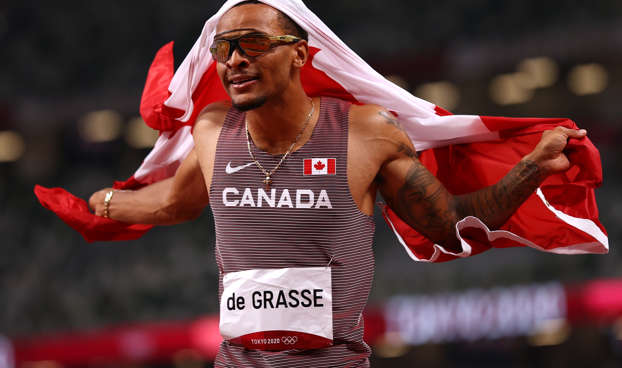 TOKYO — Canada's Andre De Grasse has claimed the bronze medal in the men's 100 metres for the second straight Olympics.
The 26-year-old from Markham, Ont., overcame a rough start and raced to third in a personal-best time of 9.89 seconds.
Italy's Lamont Jacobs took the gold in 9.80 seconds, followed by American Fred Kerley in 9.84 seconds. All three medallists ran personal bests.
It's Canada's first track and field medal at the Tokyo Olympics. It's also the latest piece of hardware in the event for De Grasse, who won bronze in the 100 in both the 2016 Olympics and 2019 world championships.
Two hours earlier, De Grasse ran 9.98 to finish second in his semifinal and seventh overall.
De Grasse is the first Canadian male to climb the medal podium in Tokyo. Led by swimming superstar Penny Oleksiak, women had captured all of Canada's 13 previous medals.
De Grasse will have a day off before he's back on the track for the 200 heats and semifinal on Tuesday. He captured silver in the 200 at both the 2016 Olympics and 2019 world championships.
There was no clear-cut favourite in the men's 100 this year with the retirement of Usain Bolt. The Jamaican superstar and world record-holder (9.58) captured gold and silver in the 100 and 200 in the Beijing, London and Rio, and what the media dubbed his "bromance" with fellow Puma athlete De Grasse was an entertaining storyline in Rio.
American Christian Coleman, the reigning world 100-metre champion and the sprinter considered De Grasse's biggest challenge in Tokyo, is serving a doping suspension through May of next year.
This report by The Canadian Press was first published Aug. 1, 2021.
The Canadian Press
Penny Oleksiak makes history as Canada swims to bronze in medley relay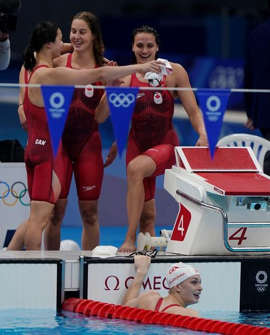 Masse, 25, earned a pair of silver in backstroke. Oleksiak also claimed bronze in the 200-metre freestyle.
The women's swim team amassed six medals in Tokyo to equal its Rio count of five years ago.
Taylor Ruck of Kelowna, B.C., Pickrem, Mac Neil and Toronto's Kayla Sanchez posted the fastest qualification time in Friday's heats to give Canada a middle lane Sunday.
The medley relay medal was Canada's first since 1988 and fourth in the 61-year Olympic history of race. Canadian women were bronze medallists in 1976, 1984 and '88.
Oleksiak won 100-freestyle gold, 100-butterfly silver and anchored Canada to a pair of freestyle relay bronze medals at age 16 in Rio.
Heats, semifinals, finals and relays added up to 10 races over nine days for Oleksiak in Tokyo, where she added a pair of relay medals and the 200 free bronze to her total.
Oleskiak, Mac Neil and Masse claimed their third medals at the Tokyo Aquatic Centre.
This report by The Canadian Press was first published July 31, 2021.
The Canadian Press