Around Red Deer June 5th…..
2:47 pm – Imagine if every Canadian did three things for their neighbourhood, their nation, and their world this year. With Canada celebrating its 150th year of Confederation in 2017, Red Deer Mayor, Tara Veer, has accepted the challenge placed by Calgary Mayor, Naheed Nenshi, to do "Three Things for Canada". Read More.
1:08 pm – Lab results from Health Canada have confirmed that drugs seized in Red Deer in March were a mixture of Carfentanil, fentanyl and caffeine, making this the first known seizure of the deadly opioid Carfentanil in the Red Deer area. Read More.
For more local news, click here!
12:56 pm – The Town of Sylvan Lake will celebrate it's annual summer fair this weekend. 1913 days starts on Friday! Read More.
12:54 pm – Paving work will result in some road closures in Sylvan Lake tomorrow. Read More.
12:43 pm – Police in Lacombe are looking for suspects after some recent graffiti incidents. Read More.
For more local news, click here!
11:59 am – Lacombe Police say thefts appear to be on the rise in the community. Read More.
11:45 am – High School students can check out their career options at a Career High School Info session at the Penhold Regional Multi-Plex today. Read More.
11:15 am – Find out what Alberta's new requirements are for children in car seats and booster seats. Read More.
For more local news, click here!
11:07 am – Red Deer's School and Playground Zone times are set to change starting August 1st. Read More.
11:02 am – Red Deer City Councillor Lawrence Lee was elected on Sunday to the Federation of Canadian Municipalities (FCM) board, which develops policy and advocates in the interests of municipalities to the federal government. Read More.
10:55 am – The Town of Blackfalds is gearing up for "Blackfalds Days" later this month. Find out more.
For more local news, click here!
10:46 am – Ponoka RCMP have arrested 37 year old Mark Carr in connection with an alleged sexual assault on June 2nd. Read More.
10:32 am – Landscaping work will result in some road closures from 39th Street to 37th Street on Red Deer's south hill on Tuesday. Read More.
10:19 am – Grade 5 students at Red Deer's St. Teresa of Avila School in Red Deer will perform songs they have learned this school year in a band concert in the gymnasium starting at 1:00 pm. While band and choral students from Ecole Secondaire Notre Dame High School in Red Deer will share their musical talents at a concert at the Red Deer College Arts Centre tonight at 7:00 pm.
For more local news, click here!
10:04 am – St. Gregory the Great Catholic School in Blackfalds will benefit from a Provincial Grant to help build a playground at the new school set to open this fall! Read More.
9:50 am – An Edmonton-based, door-to-door sales company must pay $15,000 for three tickets it received from The City of Red Deer for operating without a business license. Read More.
9:24 am – Red Deer College celebrated its 53rd Convocation ceremonies on Friday, June 2nd. More than 580 out of 1,900 eligible graduates crossed the stage to celebrate their achievements. Three special award recipients were also recognized. Dr. Bernie Pauly was presented with an Honorary Degree. Red Deer College Foundation Outstanding Student Award was presented to Ben Fleury for his leadership and commitment to RDC. The Governor General's Academic Medal (Collegiate Bronze Level) was presented by Earl Dreeshen, Member of Parliament for Red DeerMountain View to Kelsie Bakker. Bakker had the highest academic standing of all RDC students this year, as she completed the final year of her diploma-level post-secondary program in Business Administration.
For more local news, click here!
9:05 am – You can help support the United Way of Central Alberta by dining out at some local restaurants! Read More.
8:50 am – A Rimbey resident has won the lottery after buying a Western 649 ticket in Red Deer! Read More.
8:38 am – Visitors to the Red, Deer, Lacombe and Stettler areas will now be able to get tourism information in more innovative and easier ways. It's all thanks to some new grants being offered by the provincial government. Read More.
For more local news, click here!
8:28 am – Red Deerians are taking part in the Commuter Challenge this week. It's a week-long event that takes place during Canadian Environment Week from June 4-10, 2017 and features free transit services! Read More.
8:13 am – The City of Red Deer is honouring seniors in our community by offering free admission and discounted monthly passes to City recreation facilities this week. It's Senior's Week! Details Here.
8:07 am – The Town of Sylvan Lake and the Sylvan Lake Chamber of Commerce have teamed up to host a Customer Service Workshop from 10:00 am – 3:00 pm at the NexSource Centre today. It's a great opportunity for business owners, managers and front line staff to learn how to improve the level of customer service in your business. Details Here.
Most unused COVID-19 vaccines will expire at the end of the year: auditor general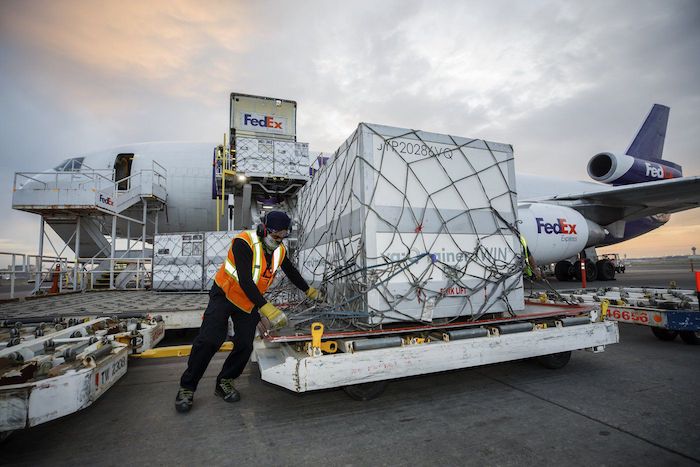 By Laura Osman in Ottawa
Tens of millions of doses of COVID-19 vaccines are likely about to expire and go to waste because of a failure to manage an oversupply, Canada's auditor general reported Tuesday — a failure with an estimated price tag of about $1 billion.
Karen Hogan has released the results of her office's investigation into the government's efforts to get ahold of COVID-19 vaccine doses in the early days of the pandemic, and track how many people got them.
The auditor gave the Public Health Agency of Canada and the Procurement Department a thumbs up when it came to quickly getting enough doses into the country to meet vaccination goals, but said the government did a much poorer job of managing all that supply.
"We found that the Public Health Agency of Canada was unsuccessful in its efforts to minimize vaccine wastage," Hogan wrote in the report.
The government knew that by signing advanced purchase agreements with a number of pharmaceutical companies there was a risk of buying up more COVID-19 vaccines than Canadians needed.
PHAC and the federal government signed deals with seven companies that were developing vaccines in 2020 and 2021, in case only a few them were approved by Health Canada.
So far six of those have been authorized by the drug review agency.
"In my view, it was a prudent approach given all the uncertainty back in 2020," she said at a press conference Tuesday.
The auditor found that about half of the 169 million doses the government paid for have made it into the arms of Canadians between December 2020 and May 2022.
The federal government announced plans to donate some 50 million surplus doses to other countries, but as of May 31 only about 15 million had been given away and another 13.6 million expired before they could be donated.
Canada has offered the remaining 21.7 million doses to other countries but so many countries are now offering donations that the market is saturated, Hogan said, and those vaccines will be wasted if they are not distributed soon.
There were also 32.5 million doses in federal and provincial inventories by the end of the audit period in May, worth about $1 billion, based on the auditor's estimate.
Hogan said in her report that the majority of those doses will expire by the end of 2022.
Hogan said the public health agency informed her that another 10 million have expired since the end of the audit and another 11 million were donated.
Part of the problem, she said, was that provinces and territories did not communicate and share data with PHAC.
"Although some provinces and territories consistently reported to the agency, the agency was unable to obtain complete data from most. This meant that the status of these doses was unknown and reduced the agency's ability to predict supply needs and plan for donations," the report said.
The auditor general's office and the public health agency itself warned for a decade before the COVID-19 pandemic that there were serious gaps in the federal and provincial health data sharing plans.
In January 2021, Deloitte Inc. was awarded a $59.1 million contract to come up with a national vaccine management system called VaccineConnect to share timely information about vaccine distribution, coverage and safety.
Some elements of that program were up and running on time, but others were delayed and the auditor found that PHAC was instead using spreadsheets to manually track expiration dates and waste as of June 2021.
The information silos made it difficult for vaccine companies to monitor national safety indicators of their products, as they've been ordered to by Health Canada.
"Companies cannot entirely fulfil this requirement when they do not have access to the necessary data on adverse events," the report said.
Hogan found two incidents in 2021 where companies learned of adverse effects to their vaccines from the media and urgently requested the data from the government, but couldn't get access to it for three months.
Canada is also the only G7 country that does not follow World Health Organization guidance to share case-level information about patients who have adverse effects after immunization, and instead sends only summary data.
This report by The Canadian Press was first published Dec. 6, 2022.
Federal Court of Appeal upholds all but one rule on airline compensation
OTTAWA — The federal court of appeal says it will uphold all but one ofthe rules that bolster compensation for air passengers subjected to delayed flights and damaged luggage.
The court on Tuesday dismissed the appeal that challenged the validity of the passenger bill of rights, with the exception of one regulation that applies to the temporary loss of baggage.
Air Canada and Porter Airlines Inc., along with 16 other appellants that include the International Air Transport Association had argued that the passenger rights charter launched in 2019 violates global standards and should be rendered invalid for international flights.
In court filings, the airlines argued the regulation exceed the Canadian Transportation Agency's authority and went against a multilateral treaty by imposing compensation requirements for flight cancellations or lost baggage that were too stringent.
The CTA and Attorney-General argued there is no conflict between the passenger protections and the treaty.
The FCA initially turned down a request from the airlines to suspend the Air Passenger Protection Regulations (APPR) in 2020.
This report by The Canadian Press was first published Dec. 6, 2022.
Companies in this story: (TSX:AC)
The Canadian Press