Around Red Deer June 1st – 4th…..
10:51 am – RCMP have wrapped up a multi-pronged property crime investigation in Red Deer. Read More.
10:45 am – Red Deer's Westerner Park is a busy hive of activity over the next several days. The Southside RV Centre Spring Event continues until Sunday, while the RDC Convocation Ceremonies take place on Friday, June 2nd. Meantime, the West Central 4H Regional Horse Show runs June 2 – 4, while the Red Deer 4H Beef Show runs June 2 – 5. Read More.
10:36 am – From Art Shows, to Live Theatre, a downtown Scavenger Hunt and fundraising Walks for Muscular Dystrophy and Arthritis, there's lots going on in Red Deer over the next several days. Details Here.
For more local news, click here!
10:26 am – STARS Air Ambulance helicopters can now land at the Hospital in Didsbury! Read More.
10:19 am – Red Deer's Blue Grass Sod Farms Central Spray Park and the Recreation Centre outdoor pool open for the season today! Read More.
10:16 am – A Boil Water Advisory is in place for several addresses on Red Deer's South Hill near Taylor and 32nd Street. Read More.
For more local news, click here!
10:07 am – Tips from the public have helped Red Deer RCMP make several arrests in our city over the past week. Read More.
10:01 am – École Camille J. Lerouge School Grade 9 students are working in conjunction with Kevin Traptow, owner of the "Cool Beans Coffee Company" to launch an initiative called "Pay Ahead for Daily Bread." The aim of the project is to encourage Red Deerians to pre-pay for various food or drink items at the Cool Beans Coffee bus so that when someone in need stops by the coffee shop, there is a cup of warm coffee or a small snack available for them to have free of charge. On Friday, June 23 from 11:30 a.m. – 2:00 p.m. Grade 9 students will be at Cool Beans Coffee Company to serve coffee and lunch to its patrons while encouraging the citizens of Red Deer to "Pay Ahead for Daily Bread."
9:46 am – The Aboriginal Voices on Housing Network (AVOHN) is excited to launch the findings of its Gap Analysis on Housing supports for Aboriginal people in the city of Red Deer. The report entitled Red Deer Aboriginal Housing Gap Analysis: Towards an Aboriginal Strategy on Housing, is having an official launch at the Snell auditorium on June 2nd from 2:30 – 3:30. The launch includes representatives from 4 levels of government and will include a presentation by the researcher, Linda Many Guns of the University of Lethbridge, on her findings and recommendations.
For more local news, click here!
9:32 am – On May 31st, the House of Commons Standing Committee on Industry Science and Technology, for which Red Deer – Mountain View MP Earl Dreeshen serves as Vice Chair, tabled its report on the state of Canada's manufacturing sector. The report, titled The Canadian Manufacturing Sector: Urgent Need to Adapt, included an overview of the issues currently facing the manufacturing industry. According to the Canadian Manufacturers & Exporters, the industry has seen a notable drop in employment over the past decade.
9:25 am – Heads up Red Deer drivers! There will be some road closures throughout the city this weekend to be on the lookout for. One for Saturday's Market and the other for the Hudson's Heart project on Sunday. Details Here.
9:17 am – Red Deer College invites central Albertans to celebrate the best films of the year at Film Works 2017. This annual event features films created by RDC's latest student actors, directors, cinematographers and all-around filmmakers. Show times are 7 pm on Friday, June 2nd and Saturday, June 3rd at the Welikoklad Event Centre.
For more local news, click here!
9:03 am – RDC grads will celebrate their achievements at the 53rd Annual Convocation Ceremonies at the Parkland / Prairie Pavilions in Westerner Park on Friday, June 2nd!
8:52 am – Grade 6 – 9 students from St. Thomas Aquinas Middle School in Red Deer will perform what they have learned this school year in a year-end band concert. It's from 7 – 8 pm at the school tonight!
8:27 am – Students at Annie L. Gaetz Elementary School in Red Deer will take some time today to enjoy a Bike Roadeo. This means all students will bring their bikes and ride through a course. Elsewhere, the Lindsay Thurber Choral Music Program presents One World, One Song. It's their year end choir concert with tickets available at the Lindsay Thurber bookstore or at the door for $10. On Friday night, Hunting Hills High School has their 9th Annual Advanced Placement and International Baccalaureate Art programs show. This runs from May 24 – June 17, with the opening reception on June 2nd.
For more local news, click here!
CP NewsAlert: CFL, CFL Players' Association reach tentative collective agreement
TORONTO — The second strike in CFL history is over.
Two sources told The Canadian Press that the CFL and CFL Players' Association reached a tentative seven-year collective bargaining agreement Wednesday night.
The sources spoke on the condition of anonymity as neither side immediately offered confirmation.
The contract must still be ratified by both the CFL board of governors as well as the CFLPA membership but the expectation is players will report to their teams Thursday and go through an opening-day walkthrough.
More coming.
The Canadian Press
Alberta premier Jason Kenney steps down as UCP leader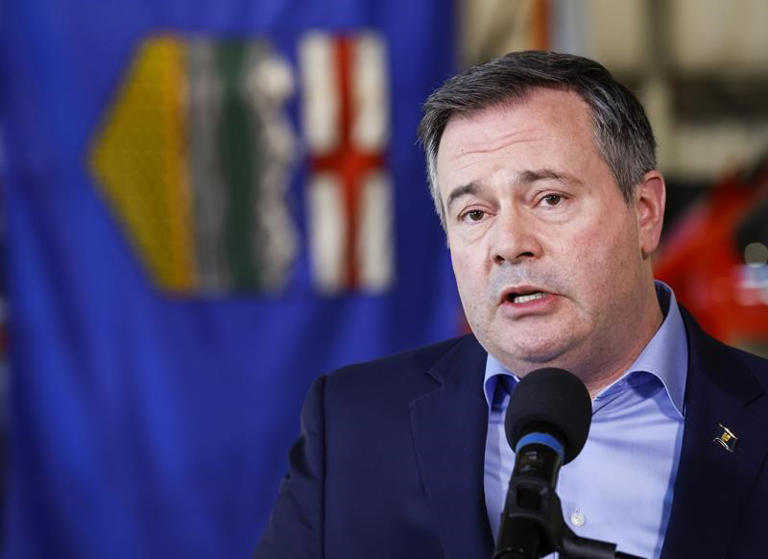 Alberta Premier Jason Kenney has stepped down as leader of the United Conservative Party after narrowly winning the party's leadership vote.
Kenney received 51.4 per cent support in voting results released tonight in Calgary.
He told supporters that the number is not what he hoped for and is not enough for him to continue on as leader.
If Kenney had received less than 50 per cent plus one, he would have had to quit as per party rules and a leadership contest would have been called.
Normally, leaders consider 75 to 80 per cent — or higher — the minimum credible mandate to continue leading their party.
Kenney had earlier said he would accept a slim majority, because the voting pool was skewed by last-minute members interested only in scuttling his big-tent conservative party.
"While 51 per cent of the vote passes the constitutional threshold of a majority, it clearly is not adequate support to continue on as leader," Kenney said.
"I've informed the president of the party of my intention to step down as leader of the United Conservative Party," he said to gasps in the audience.
"We need to move forward united. We need to put the past behind us. And a large number of our members have asked for an opportunity to clear the air through a leadership election."
The leadership review took on heightened importance over the past year as Kenney was buffeted by poor polling numbers, sluggish fundraising and open dissent from some in his party and caucus.
It was also punctuated by controversy. It had already been delayed by a year when it was set for an in-person ballot on April 9 in Red Deer, Alta.
When 15,000 members signed up — five times more than expected — the party said it couldn't handle the logistics and moved to a mail-in ballot open to all 59,000 members.
Critics said the change was made to give Kenney the edge as it appeared he was going to lose the in-person vote.
Elections Alberta is also investigating allegations of illegal bulk buying of memberships in the review. And the party remains under investigation by the RCMP over allegations of criminal identity fraud in the 2017 contest that saw Kenney elected leader.
Kenney had made it clear that the vote and open dissent had become a "soap opera" distracting the party facing a provincial election next May.
He also said that if he got the required support, he would expect dissenters in his caucus to rally behind him or face unnamed consequences.
Two backbenchers who openly criticized Kenney last year — Todd Loewen and Drew Barnes — were voted out of caucus and sit as Independents.
Backbenchers Jason Stephan, Peter Guthrie and Brian Jean — who helped Kenney found the UCP — have been the most vocal. They openly urged the premier to resign for the good of the party.
Kenney has tried to downplay the dissent by tying it directly to unhappiness over COVID-19 restrictions his government bought in to try to stop the spread of the virus.
Opponents in caucus say the dissatisfaction is also over Kenney's policies and management style, which they deem to be top-down, dismissive and undemocratic. They say Kenney has not done enough to gain a better deal for Alberta with the federal government on shared programs.
Conservative leaders in Alberta have not fared well after middling votes in leadership reviews.
Former Progressive Conservative premier Ralph Klein left after getting 55 per cent of the vote in 2006. Ed Stelmach and Alison Redford received 77 per cent in their reviews, but stepped down from the top job when the party pushed back.
This report by The Canadian Press was first published May 18, 2022.
The Canadian Press