Around Red Deer June 1st – 4th…..
10:51 am – RCMP have wrapped up a multi-pronged property crime investigation in Red Deer. Read More.
10:45 am – Red Deer's Westerner Park is a busy hive of activity over the next several days. The Southside RV Centre Spring Event continues until Sunday, while the RDC Convocation Ceremonies take place on Friday, June 2nd. Meantime, the West Central 4H Regional Horse Show runs June 2 – 4, while the Red Deer 4H Beef Show runs June 2 – 5. Read More.
10:36 am – From Art Shows, to Live Theatre, a downtown Scavenger Hunt and fundraising Walks for Muscular Dystrophy and Arthritis, there's lots going on in Red Deer over the next several days. Details Here.
For more local news, click here!
10:26 am – STARS Air Ambulance helicopters can now land at the Hospital in Didsbury! Read More.
10:19 am – Red Deer's Blue Grass Sod Farms Central Spray Park and the Recreation Centre outdoor pool open for the season today! Read More.
10:16 am – A Boil Water Advisory is in place for several addresses on Red Deer's South Hill near Taylor and 32nd Street. Read More.
For more local news, click here!
10:07 am – Tips from the public have helped Red Deer RCMP make several arrests in our city over the past week. Read More.
10:01 am – École Camille J. Lerouge School Grade 9 students are working in conjunction with Kevin Traptow, owner of the "Cool Beans Coffee Company" to launch an initiative called "Pay Ahead for Daily Bread." The aim of the project is to encourage Red Deerians to pre-pay for various food or drink items at the Cool Beans Coffee bus so that when someone in need stops by the coffee shop, there is a cup of warm coffee or a small snack available for them to have free of charge. On Friday, June 23 from 11:30 a.m. – 2:00 p.m. Grade 9 students will be at Cool Beans Coffee Company to serve coffee and lunch to its patrons while encouraging the citizens of Red Deer to "Pay Ahead for Daily Bread."
9:46 am – The Aboriginal Voices on Housing Network (AVOHN) is excited to launch the findings of its Gap Analysis on Housing supports for Aboriginal people in the city of Red Deer. The report entitled Red Deer Aboriginal Housing Gap Analysis: Towards an Aboriginal Strategy on Housing, is having an official launch at the Snell auditorium on June 2nd from 2:30 – 3:30. The launch includes representatives from 4 levels of government and will include a presentation by the researcher, Linda Many Guns of the University of Lethbridge, on her findings and recommendations.
For more local news, click here!
9:32 am – On May 31st, the House of Commons Standing Committee on Industry Science and Technology, for which Red Deer – Mountain View MP Earl Dreeshen serves as Vice Chair, tabled its report on the state of Canada's manufacturing sector. The report, titled The Canadian Manufacturing Sector: Urgent Need to Adapt, included an overview of the issues currently facing the manufacturing industry. According to the Canadian Manufacturers & Exporters, the industry has seen a notable drop in employment over the past decade.
9:25 am – Heads up Red Deer drivers! There will be some road closures throughout the city this weekend to be on the lookout for. One for Saturday's Market and the other for the Hudson's Heart project on Sunday. Details Here.
9:17 am – Red Deer College invites central Albertans to celebrate the best films of the year at Film Works 2017. This annual event features films created by RDC's latest student actors, directors, cinematographers and all-around filmmakers. Show times are 7 pm on Friday, June 2nd and Saturday, June 3rd at the Welikoklad Event Centre.
For more local news, click here!
9:03 am – RDC grads will celebrate their achievements at the 53rd Annual Convocation Ceremonies at the Parkland / Prairie Pavilions in Westerner Park on Friday, June 2nd!
8:52 am – Grade 6 – 9 students from St. Thomas Aquinas Middle School in Red Deer will perform what they have learned this school year in a year-end band concert. It's from 7 – 8 pm at the school tonight!
8:27 am – Students at Annie L. Gaetz Elementary School in Red Deer will take some time today to enjoy a Bike Roadeo. This means all students will bring their bikes and ride through a course. Elsewhere, the Lindsay Thurber Choral Music Program presents One World, One Song. It's their year end choir concert with tickets available at the Lindsay Thurber bookstore or at the door for $10. On Friday night, Hunting Hills High School has their 9th Annual Advanced Placement and International Baccalaureate Art programs show. This runs from May 24 – June 17, with the opening reception on June 2nd.
Musk's plan to end Russian war infuriates Ukraine on Twitter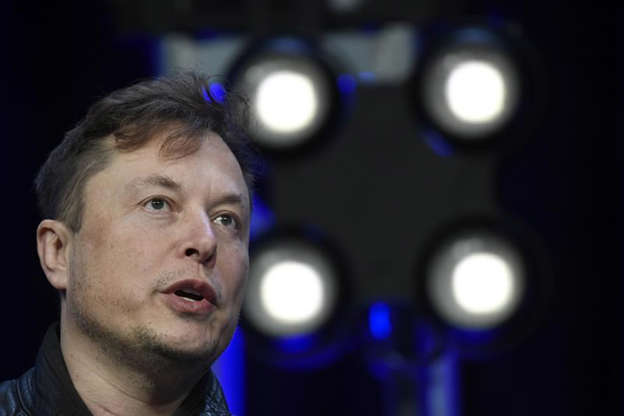 Elon Musk has gotten into a Twitter tussle with Ukrainian President Volodymyr Zelenskyy after the tech billionaire floated a divisive proposal to end Russia's invasion.
The Tesla CEO, soon facing a court fight over his attempt to abandon a $44 billion offer to buy Twitter, argued in a tweet Monday that to reach peace Russia should be allowed to keep the Crimea Peninsula that it seized in 2014. He also said Ukraine should adopt a neutral status, dropping a bid to join NATO following Russia's partial mobilization of reservists.
Musk also crossed red lines for Ukraine and its supporters by suggesting that four regions Russia is moving to annex following Kremlin-orchestrated "referendums" denounced by the West as a sham should hold repeat votes organized by the United Nations.
Musk noted Crimea was part of Russia until it was given to Ukraine under the Soviet Union in 1950s and said that a drawn-out war will likely not end in a resounding Ukrainian victory.
These positions are anathema for Zelenskyy, who considers them pro-Kremlin. The Ukrainian leader has pledged to recover all the terrain conquered in the war and considers Crimea as Ukraine's to reclaim as well.
Musk also launched a Twitter poll asking whether "the will of the people" should decide if seized regions remain part of Ukraine or become part of Russia.
In a sarcastic response, Zelenskyy posted a Twitter poll of his own asking "which Elon Musk do you like more?": "One who supports Ukraine" or "One who supports Russia."
Musk replied to Zelenskyy that "I still very much support Ukraine, but am convinced that massive escalation of the war will cause great harm to Ukraine and possibly the world."
Andrij Melnyk, the outgoing Ukrainian ambassador to Germany, responded to Musk's original tweet with an obscenity.
"Russia is doing partial mobilization. They go to full war mobilization if Crimea is at risk. Death on both sides will be devastating," Musk wrote in another tweet. "Russia has (over) 3 times population of Ukraine, so victory for Ukraine is unlikely in total war. If you care about the people of Ukraine, seek peace."
The Kremlin itself chimed in, praising Musk for his proposal but warning that Russia will not backtrack on its move to absorb the Ukrainian regions.
"It's very positive that such a person as Elon Musk is trying to look for a peaceful settlement," Kremlin spokesman Dmitry Peskov said Tuesday. But, "as for the referendums, people have voiced their opinion and there could be nothing else."
Ukraine and the West have said that the hastily organized votes in four occupied regions were clearly rigged to serve Putin's purpose to try to cement his loosening grip on Ukrainian terrain.
Musk's ideas seemed to get little support on Twitter, including from Russian chess great and anti-Putin political activist Garry Kasparov, who bashed the plan.
"This is moral idiocy, repetition of Kremlin propaganda, a betrayal of Ukrainian courage and sacrifice, and puts a few minutes browsing Crimea on Wikipedia over the current horrific reality of Putin's bloody war," Kasparov tweeted.
In the first weeks of the invasion in early March, Musk came to Ukraine's aid when his SpaceX company shared its Starlink satellite system that helps deliver internet access to areas that lack coverage. At the time, Zelenskyy thanked Musk for the equipment that he said would help maintain communications in cities under attack.
However, in April, Musk said that as a "free speech absolutist" Starlink would not block Russian state media outlets that spread propaganda and misinformation on the war in Ukraine.
___
Follow the AP's coverage of the war at https://apnews.com/hub/russia-ukraine.
Joseph Wilson, The Associated Press
Loretta Lynn, coal miner's daughter and country queen, dies
NASHVILLE, Tenn. (AP) — Loretta Lynn, the Kentucky coal miner's daughter whose frank songs about life and love as a woman in Appalachia pulled her out of poverty and made her a pillar of country music, has died. She was 90.
In a statement provided to The Associated Press, Lynn's family said she died Tuesday at her home in Hurricane Mills, Tennessee.
Lynn already had four children before launching her career in the early 1960s, and her songs reflected her pride in her rural Kentucky background.
As a songwriter, she crafted a persona of a defiantly tough woman, a contrast to the stereotypical image of most female country singers. The Country Music Hall of Famer wrote fearlessly about sex and love, cheating husbands, divorce and birth control and sometimes got in trouble with radio programmers for material from which even rock performers once shied away.
Her biggest hits came in the 1960s and '70s, including "Coal Miner's Daughter," "You Ain't Woman Enough," "The Pill," "Don't Come Home a Drinkin' (With Lovin' on Your Mind)," "Rated X" and "You're Looking at Country." She was known for appearing in floor-length, wide gowns with elaborate embroidery or rhinestones, many created by her longtime personal assistant and designer Tim Cobb.
Her honesty and unique place in country music was rewarded. She was the first woman ever named entertainer of the year at the genre's two major awards shows, first by the Country Music Association in 1972 and then by the Academy of Country Music three years later.
"It was what I wanted to hear and what I knew other women wanted to hear, too," Lynn told the AP in 2016. "I didn't write for the men; I wrote for us women. And the men loved it, too."
In 1969, she released her autobiographical "Coal Miner's Daughter," which helped her reach her widest audience yet.
"We were poor but we had love/That's the one thing Daddy made sure of/He shoveled coal to make a poor man's dollar," she sang.
"Coal Miner's Daughter," also the title of her 1976 book, was made into a 1980 movie of the same name. Sissy Spacek's portrayal of Lynn won her an Academy Award and the film was also nominated for best picture.
Long after her commercial peak, Lynn won two Grammys in 2005 for her album "Van Lear Rose," which featured 13 songs she wrote, including "Portland, Oregon" about a drunken one-night stand. "Van Lear Rose" was a collaboration with rocker Jack White, who produced the album and played the guitar parts.
Born Loretta Webb, the second of eight children, she claimed her birthplace was Butcher Holler, near the coal mining company town of Van Lear in the mountains of east Kentucky. There really wasn't a Butcher Holler, however. She later told a reporter that she made up the name for the purposes of the song based on the names of the families that lived there.
Her daddy played the banjo, her mama played the guitar and she grew up on the songs of the Carter Family.
"I was singing when I was born, I think," she told the AP in 2016. "Daddy used to come out on the porch where I would be singing and rocking the babies to sleep. He'd say, 'Loretta, shut that big mouth. People all over this holler can hear you.' And I said, 'Daddy, what difference does it make? They are all my cousins.'"
She wrote in her autobiography that she was 13 when she got married to Oliver "Mooney" Lynn, but the AP later discovered state records that showed she was 15. Tommy Lee Jones played Mooney Lynn in the biopic.
Her husband, whom she called "Doo" or "Doolittle," urged her to sing professionally and helped promote her early career. With his help, she earned a recording contract with Decca Records, later MCA, and performed on the Grand Ole Opry stage. Lynn wrote her first hit single, "I'm a Honky Tonk Girl," released in 1960.
She also teamed up with singer Conway Twitty to form one of the most popular duos in country music with hits such as "Louisiana Woman, Mississippi Man" and "After the Fire is Gone," which earned them a Grammy Award. Their duets, and her single records, were always mainstream country and not crossover or pop-tinged.
The Academy of Country Music chose her as the artist of the decade for the 1970s, and she was elected to the Country Music Hall of Fame in 1988.
In "Fist City," Lynn threatens a hair-pulling fistfight if another woman won't stay away from her man: "I'm here to tell you, gal, to lay off of my man/If you don't want to go to Fist City." That strong-willed but traditional country woman reappears in other Lynn songs. In "The Pill," a song about sex and birth control, Lynn writes about how she's sick of being trapped at home to take care of babies: "The feelin' good comes easy now/Since I've got the pill," she sang.
She moved to Hurricane Mills, Tennessee, outside of Nashville, in the 1990s, where she set up a ranch complete with a replica of her childhood home and a museum that is a popular roadside tourist stop. The dresses she was known for wearing are there, too.
Lynn knew that her songs were trailblazing, especially for country music, but she was just writing the truth that so many rural women like her experienced.
"I could see that other women was goin' through the same thing, 'cause I worked the clubs. I wasn't the only one that was livin' that life and I'm not the only one that's gonna be livin' today what I'm writin'," she told The AP in 1995.
Even into her later years, Lynn never seemed to stop writing, scoring a multi-album deal in 2014 with Legacy Records, a division of Sony Music Entertainment. In 2017, she suffered a stroke that forced her to postpone her shows.
She and her husband were married nearly 50 years before he died in 1996. They had six children: Betty, Jack, Ernest and Clara, and then twins Patsy and Peggy. She had 17 grandchildren and four step-grandchildren.
Kristin M. Hall, The Associated Press