Around Red Deer July 25th…..
3:26 pm – Poshika Dhingra from Red Deer was one of eight young leaders from across Alberta that received a Queen Elizabeth II Golden Jubilee Citizenship Medal at Government House in Edmonton today. Read More!
3:09 pm – Red Deer RCMP say the death of a man found in an alley near 55th Street this afternoon is not considered suspicious. Read More.
11:03 am – Innisfail RCMP have made multiple arrests over the past week, including that of a Red Deer man and seized stolen property in the process. Property included trucks, trailers and firearms.
For more local news, click here!
10:38 am – Some fun events coming up in and around the Town of Innisfail over the next couple of weeks. Read More!
10:27 am – Heads up Red Deer drivers, Alberta Transportation will be paving on 2A north of 11A and south of Red Deer until August 19th. Paving will take place during the day and evening and there will be lane closures.
10:16 am – Some central Alberta families are among 52 being recognized from across the province with Century Farm and Ranch Awards on Thursday, July 27th. Read More.
For more local news, click here!
9:27 am – Sunshine, warm temps and live tunes on the Ross Street Patio from 11:30 am – 1:00 pm today! Read More.
9:14 am – A preliminary report on a standalone shelter will be released early by The City of Red Deer after the Province of Alberta announced potential funding for the planning and development of temporary shelter services last week. While the full study is not yet complete, a decision to release a preliminary report was made by City Council Monday night because of tight provincial timelines that call for Expression of Interest (EOIs) to be submitted by August 11, 2017. Read More.
9:00 am – Full implementation of automated traffic enforcement at select intersections in Red Deer will be delayed after City Council decided to modify the timeframe from August 11 to November 1, 2017 to start issuing violation tickets. There will also be an increased focus on public education so that citizens and drivers understand the expanded program before they get a ticket in the mail. Read More.
For more local news, click here!
8:52 am – There are some road closures to avoid in Red Deer today. Details Here.
8:42 am – Parkland Mall is seeking artisans running home-based businesses for the 6th annual Mall Street Market between October 20th and 22nd. Chosen vendors will have floor space to display and sell unique, handmade goods at the Mall. Interested parties can apply online before August 15th and chosen vendors will be notified by August 18th. Read More.
8:26 am – Red Deer's Poshika Dhingra will receive a Queen Elizabeth ll Golden Jubilee Citizenship Medal at Government House in Edmonton today. The ceremony to celebrate the citizenship and volunteer service of youth leaders from across Alberta will start at 2:00 pm and be hosted by Her Honour, the Honourable Lois Mitchell. Read More.
For more local news, click here!
NewsAlert: CFL players turn down new collective bargaining agreement with league
TORONTO — CFL players have rejected the new collective bargaining agreement with the league.
According to the source, CFL players voted against ratifying the tentative deal reached Wednesday between the league and CFL Players' Association.

More to come
The Canadian Press
Biden: US would intervene with military to defend Taiwan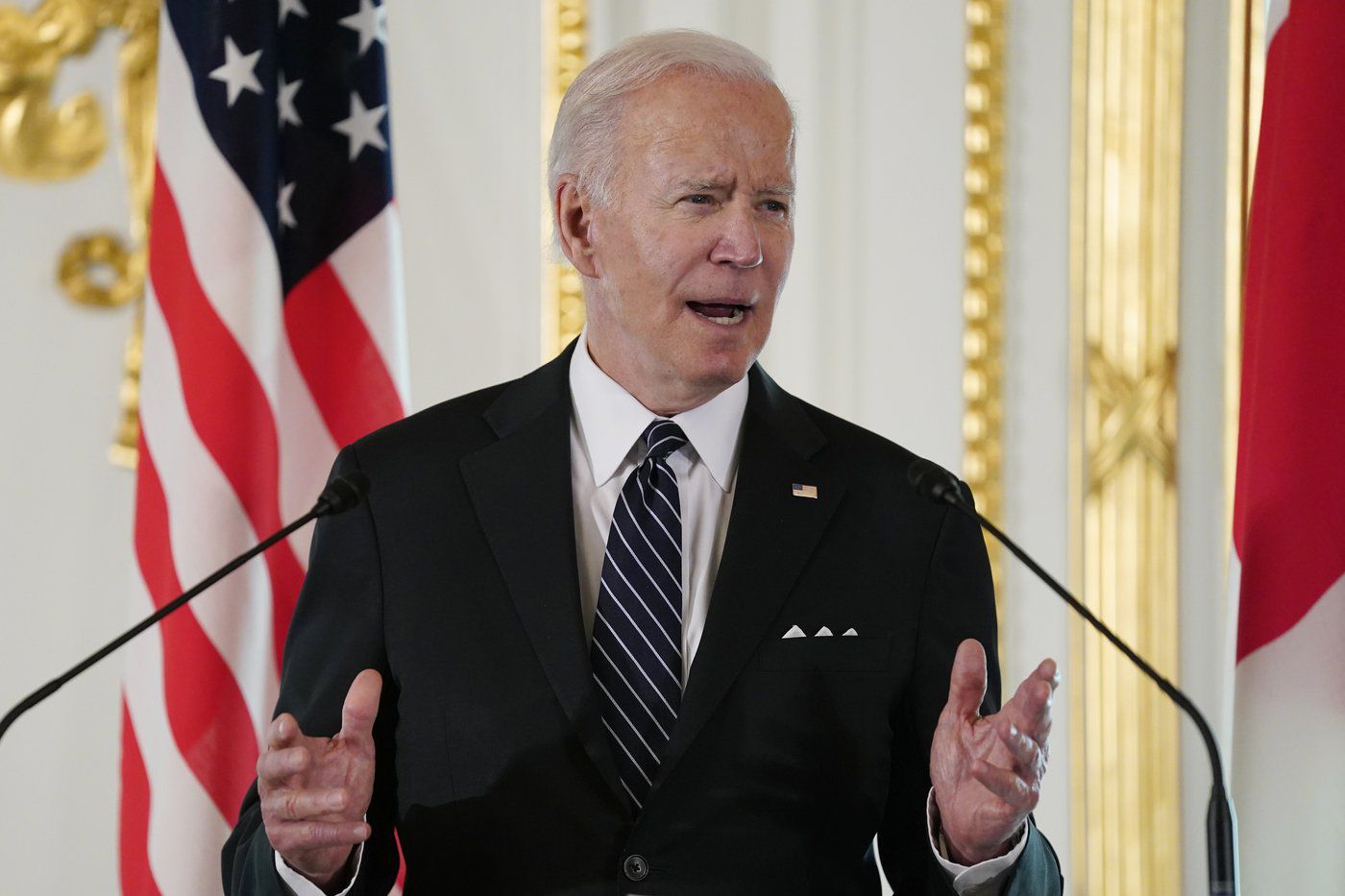 TOKYO (AP) — President Joe Biden said Monday that the U.S. would intervene militarily if China were to invade Taiwan, saying the burden to protect Taiwan is "even stronger' after Russia's invasion of Ukraine. It was one of the most forceful presidential statements in support of self-governing in decades.
Biden, at a news conference in Tokyo, said "yes" when asked if he was willing to get involved militarily to defend Taiwan if China invaded. "That's the commitment we made," he added.
The U.S. traditionally has avoided making such an explicit security guarantee to Taiwan, with which it no longer has a mutual defense treaty, instead maintaining a policy of "strategic ambiguity" about how far it would be willing to go if China invaded. The 1979 Taiwan Relations Act, which has governed U.S. relations with the island, does not require the U.S. to step in militarily to defend Taiwan if China invades, but makes it American policy to ensure Taiwan has the resources to defend itself and to prevent any unilateral change of status in Taiwan by Beijing.
Biden's comments drew a sharp response from the mainland, which has claimed Taiwan to be a rogue province.
Chinese Foreign Ministry spokesperson Wang Wenbin expressed "strong dissatisfaction and resolute opposition" to Biden's comments. "China has no room for compromise or concessions on issues involving China's core interests such as sovereignty and territorial integrity."
He added, "China will take firm action to safeguard its sovereignty and security interests, and we will do what we say."
A White House official said Biden's comments did not reflect a policy shift.
Speaking alongside Japanese Prime Minister Fumio Kishida, Biden said any effort by China to use force against Taiwan would "just not be appropriate," adding that it "will dislocate the entire region and be another action similar to what happened in Ukraine."
China has stepped up its military provocations against democratic Taiwan in recent years aimed at intimidating it into accepting Beijing's demands to unify with the communist mainland.
"They're already flirting with danger right now by flying so close and all the maneuvers that are undertaken," Biden said of China.
Under the "one China" policy, the U.S. recognizes Beijing as the government of China and doesn't have diplomatic relations with Taiwan. However, the U.S. maintains unofficial contacts including a de facto embassy in Taipei, the capital, and supplies military equipment for the island's defense.
Biden said it is his "expectation" that China would not try to seize Taiwan by force, but he said that assessment "depends upon just how strong the world makes clear that that kind of action is going to result in long-term disapprobation by the rest of the community."
He added that deterring China from attacking Taiwan was one reason why it's important that Russian President Vladimir Putin "pay a dear price for his barbarism in Ukraine," lest China and other nations get the idea that such action is acceptable.
Fearing escalation with nuclear-armed Russia, Biden quickly ruled out putting U.S. forces into direct conflict with Russia, but he has shipped billions of dollars in U.S. military assistance that has helped Ukraine put up a stiffer-than-expected resistance to Russia's onslaught.
Taipei cheered Biden's remarks, with Ministry of Foreign Affairs spokesperson Joanne Ou expressing "sincere welcome and gratitude" for the comments.
"The challenge posed by China to the security of the Taiwan Strait has drawn great concern in the international community," said Ou. "Taiwan will continue to improve its self-defense capabilities, and deepen cooperation with the United States and Japan and other like-minded countries to jointly defend the security of the Taiwan Strait and the rules-based international order, while promoting peace, stability and prosperity in the Indo-Pacific region."
It's not the first time Biden has pledged to defend Taiwan against a Chinese attack, only for administration officials to later claim there had been no change to American policy. In a CNN town hall in October, Biden was asked about using the U.S. military to defend Taiwan and replied, "Yes, we have a commitment to do that."
Biden's comments came just before he formally launched a long-anticipated Indo-Pacific trade pact that excludes Taiwan.
White House national security adviser Jake Sullivan confirmed Sunday that Taiwan isn't among the governments signed up for the Indo-Pacific Economic Framework, which is meant to allow the U.S. to work more closely with key Asian economies on issues like supply chains, digital trade, clean energy and anticorruption.
Inclusion of Taiwan would have irked China.
Sullivan said the U.S. wants to deepen its economic partnership with Taiwan on a one-to-one basis.
___
Miller reported from Washington. Associated Press writer Darlene Superville in Washington contributed to this report.