Around Red Deer April 28th – 30th…..
3:11 pm – Red Deer man charged with giving drugs to youth in Airdrie. Read More.
3:04 pm – Red Deer RCMP's Victim Services Unit is hosting a Volunteer Information event on Thursday, May 4th at 6 pm at the Downtown Detachment. Learn more about this volunteer opportunity!
For more local news, click here!
2:13 pm – Red Deer RCMP are looking for a suspect who robbed a man at gun-point in a back alley in the Bower neighbourhood April 25th. Read More.
12:17 pm – Results are in from last weekend's Spring Fever Fun Run. The MS Society fundraiser saw 169 people take part in the event and raise $510 for the MS Society of Canada – Central Alberta Branch. The MS Society's partner, Blitz Events will also host a 5K / 10K / 15K Roundup Run in Red Deer on Saturday, July 15th. For more details on this run and others coming up in Red Deer, Click here!
10:40 am – Some temporary road closures to make note of in Innisfail this weekend. Affected roads include 47 Avenue between 50 Street and 48 Street on Saturday, April 29 between 8 a.m. and 6 p.m. The Spring Fever Road Hockey Tournament will take place on the site at that time. For event details, visit www.deanturnquist.ca
For more local news, click here!
10:37 am – The following streets are due to be swept in Innisfail today:
47 Ave. from 51 St. to 46 St.
51 St. from 47 Ave. to 44 Ave.
41 St. from 50 Ave. to 48 Ave.
41 St. Close
49A Ave. from 42 St. to 40 St.
10:33 am – Motorists in Sylvan Lake will likely encounter some road closures today. Road or lane closures are planned at various times for:
-50 Street, between 45 Avenue and 47 Avenue;
-Staring on Friday, April 28 at 4:00 PM;
-Ending on (estimated) Saturday, May 13.
These closures are due to emergency utility repairs, and the water main repair project, previously identified.
10:22 am – Red Deer RCMP are hoping you can help them find a missing teen. Read More.
For more local news, click here!
10:19 am – The Town of Blackfalds is holding a Community BBQ at the Community Hall at noon on Saturday, April 29th. The event will wrap up the Town's Community Clean Up Campaign.
10:13 am – The following streets are slated to be swept in Blackfalds today:
Broadway North of Indiana
Old section of Park St.
Wilson St.
Waghorn St
East Ave
Lawton Ave.
Queens Cr.
10:09 am – Red Deer RCMP are searching for a suspect after a man suffered a serious hand wound from a sword during a home invasion April 25th. Read More.
For more local news, click here!
10:04 am – The Town of Penhold is playing host to The 2017 Wheelchair Basketball Junior West Regional Championships this weekend! The first game is at 10:00am on Saturday morning at the Penhold Regional Multi-Plex.
10:00 am – Heads up on a road closure in Gasoline Alley starting Monday. Read More.
9:56 am – Wondering if your child's car seat is safe? You can have it checked out between 10:15 am – 1:00 pm at the Crossroads Church parking lot on Sunday. Read More.
For more local news, click here!
9:41 am – Federal MP and NDP Leadership hopeful Charlie Angus will be in Red Deer next Tuesday, May 2nd. His meet and greet with the public will begin at 5 pm at the International Beer Haus in downtown Red Deer. It's located at 5008 48th Street.
9:35 am – Food Truck Wars are coming to Red Deer's École Secondaire Notre Dame High School next week. On Thursday, May 4 from 12:00 p.m. – 1:00 p.m., Food Studies 30 students will be participating in a Food "Truck" Wars competition in the gathering area to continue raising money for this year's Grad Service Project – the RCMP Victim Services Trauma Dog. In this competition, student groups will each be preparing six different "food truck style" dishes to see who can raise the most money for charity. There will be lots of unique and tasty dishes, such as gourmet grilled cheese, burgers, panini sandwiches and perogies. All are welcome and encouraged to purchase some tasty food truck creations in the school's gathering area and support a worthy cause in our community.
9:13 am – Ponoka RCMP are asking for the public's help in finding 22-year-old Nikita Rabbit. She was last seen on April 26th in the late morning at the Centennial Centre in Ponoka. Rabbit is described as Aboriginal, 5'8" tall, approximately 190 lbs. She has long brown hair and brown eyes and was last seen wearing a dark hoodie and blue jeans.
For more local news, click here!
9:07 am – Red Deer City Council will consider on Monday, May 1st, implementing a Cart Pilot Program next year that would see some City residents given Green carts for organic waste, Blue carts for recycling and Black carts for garbage. Details Here.   
9:02 am – Rimbey RCMP have arrested a man accused of trying to steal a truck at a rural property on April 3rd. Mounties say thanks to tips from the public, they are no longer looking for Quinn Russell Peterson. He is now in custody.
8:48 am – Red Deer's Gordon Cove has been appointed to the Board of Directors for the Agriculture Financial Services Corporation (AFSC). Read More.
For more local news, click here!
8:38 am – A local High School student is going to be graduating a semester early this year! Officials with Red Deer Catholic Regional Schools say Nicole Issacs, a Grade 12 student at École Secondaire Notre Dame High School has now completed fourth class Power Engineering at NAIT and a high school diploma a semester early. This program and other dual credit programs provide the opportunity for high school students to participate in apprenticeship training or post-secondary courses. Students are able to earn both high school and post-secondary credits for the same course.
8:26 am – St. Elizabeth Seton School will have their first annual Father's Day Fun Run on Sunday, June 18, 2017 to raise money for a new playground at the school. This 3 or 5 kilometer run/walk will start and end at Kin Kanyon (33 Street & 47 Avenue) at 10:00 a.m. rain or shine. You can register as an individual or as a family. Until May 1, 2017 you can receive special family prices and early bird rates. To register, please visit the Running Room website www.events.runningroom.com. In June of 2016, St. Elizabeth Seton School had to remove their old school playground to make room for new modular classrooms to accommodate their growing school. The school is now fundraising for a new playground to be built on a new site at the school.
8:13 am – The Zone 4 West High School Drama Festival continues at Red Deer's Hunting Hills High School again today (Apr 28) and tomorrow (Apr 29). Over 20 plays from Central Alberta schools – most of them student directed – celebrate the performing arts by sharing their works at the festival. Two plays will be selected to represent the Zone at the Provincial High School Festival in May at RDC. Plays start at 6:00 pm on April 28th and at noon on April 29th. Admission is $5 at the door.
For more local news, click here!
CP NewsAlert: Michael Kovrig, Michael Spavor back in Canada after detention in China
Two Canadians who were imprisoned in China for nearly three years are home.
Video from CTV shows Prime Minister Justin Trudeau greeting Michael Kovrig and Michael Spavor on the tarmac at the airport in Calgary early this morning.
More coming.
The Canadian Press
Last-minute Fajardo TD gives Roughriders 31-24 victory over B.C. Lions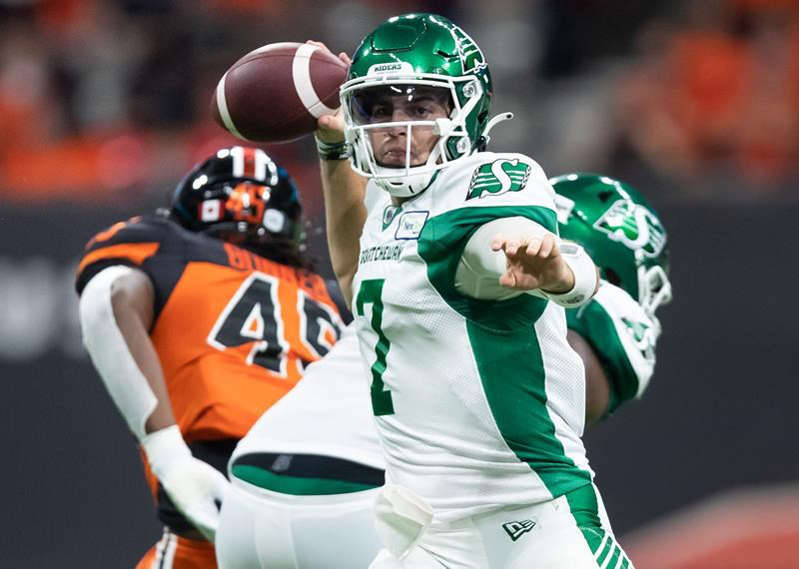 VANCOUVER — A last-minute touchdown by quarterback Cody Fajardo gave the Saskatchewan Roughriders a 31-24 road victory over the B.C. Lions on Friday.
Fajardo scored on a quarterback sneak on third down with two seconds left on the clock, clinching a back-and-forth game between the two sides.
Damon Webb poured salt in the Lions' wounds, recovering a fumble by B.C. wide receiver Lucky Whitehead and darting into the end zone for a touchdown as time expired.
Fajardo threw for 279 yards, one touchdown and one interception on the night, completing 24-of-31 attempts. Kicker Brett Lauther had four field goals for Saskatchewan, including a 49-yard bomb in the first quarter.
Lions quarterback Michael Reilly had 259 passing yards, and made good on 23-of-34 attempts, including a pair of touchdown passes to Whitehead.
The win gives Saskatchewan (5-2) sole possession of second place in the West Division and snapped a three-game win streak for the Lions (4-3).
The Riders were first on the scoreboard when Lauther made a 38-yard field goal 5:52 into the game.
B.C. was quick to respond. Reilly connected with wide receiver Bryan Burnham on a 28-yard pass on the next play, then followed it with a short toss to Whitehead.
The speedy Florida Atlantic product evaded several Saskatchewan defenders and streaked 47 yards down the sideline for his first touchdown of the night.
Whitehead leads the CFL in receiving this season with 665 yards in seven games.
A solid Lions defence kept the Riders frustrated and pinned in their own territory for much of the first half.
Lauther kept Saskatchewan within striking distance, booting a 49-yard field goal to close out the first quarter and a 28-yard kick early in the second.
Reilly struggled at times to connect with his receivers across the first half.
But with less than a minute to go in the second frame, the veteran QB narrowly avoided a sack, then got a running pass off to Jevon Cottoy for a 26-yard gain. He then sent an 11-yard dish to Whitehead to set up a first-and-goal, then once again found Whitehead in the end zone for B.C.'s second major of the night.
Jimmy Camacho made the converts on both plays and the Lions took a 14-9 lead into halftime.
A 21-yard pass from Fajardo to Kyran Moore put the Riders in good position early in the third, but B.C.'s Jalon Edwards-Cooper spoiled the ensuing touchdown attempt, knocking down a pass before it reached the hands of Mitchell Picton as he waited in the end zone.
Saskatchewan settled for yet another Lauther field goal, this time from 30-yards out.
B.C. responded with a field goal of its own, a 32-yard kick by Camacho.
Saskatchewan caught a big break in the final minutes of the third when Whitehead fumbled a punt return, giving the Riders the ball at the Lions 48-yard line.
Minutes later, Fajardo blasted a 23-yard pass to Ricardo Louis in the end zone, giving the Riders their first touchdown of the night 13:16 into the quarter. Saskatchewan was stymied on the two-point conversion attempt, though, keeping the score 18-17.
The strike was Louis' first in the CFL. The 27-year-old wide receiver is playing his first season in the league after spending three years with the NFL's Cleveland Browns.
Down a point heading into the final frame, the Lions refused to relent.
About four minutes into the quarter, Reilly made an 11-yard run to give his side a first down at Saskatchewan's 31-yard line. Ed Gainey tripped Burnham in the end zone on the next play and the pass interference created a first-and-goal opportunity for the Lions.
Reilly handed the ball off to Shaq Cooper and the running back snuck across the goal line for the touchdown. B.C. went up 24-18 after Camacho made the convert.
Camacho later missed a 43-yard field goal attempt.
Edwards-Cooper came up big once again with three minutes left in the game, intercepting a long pass from Fajardo along the sidelines, but the Lions couldn't whether the Riders' final push.
The Lions will face a tough test on Oct. 1 when they host the league-leading Winnipeg Blue Bombers. Saskatchewan will visit the Calgary Stampeders the following night.
NOTES: Saskatchewan defensive back Ed Gainey returned to the lineup after missing two games with an injured toe. … The Lions gave out 10,000 orange shirts with a reimagined logo by Kwakwaka'wakw/Tlingit artist Corrine Hunt to mark the first-ever National Day for Truth and Reconciliation.
This report by The Canadian Press was first published Sept. 24, 2021.
Gemma Karstens-Smith, The Canadian Press