Around Red Deer April 26th…..
12:28 pm – A 52 year old Maskwacis woman was struck by bullets while sleeping in her bed on Monday morning. Read More.
12:22 pm – RDC will host a Career Expo on Thursday, April 27th. It's geared towards students set to graduate from High School. The event is the largest student-focused career information expo in the region. Last year, nearly 3,700 students attended the CAREERexpo. This year, organizers along with the 100+ exhibitors, expect to see at least that many students from 37 schools in the region. At the expo, junior and senior high school students will connect with future employers and representatives from a variety of university, college and technical institutions, including Red Deer College. The Expo is in the Four Centres, furthest east building on RDC's main campus.
12:11 pm – More details have been released regarding the official Grand Opening of the NexSource Centre in Sylvan Lake. Read More.
For more local news, click here!
12:00 pm – A Community Clean Up is underway in the Town of Blackfalds today! The Town will also host a Volunteer Appreciation Event tonight at 6 at the Community Hall at 4810 Womacks Rd.
10:59 am – A Grad Fashion Show is taking place at Lindsay Thurber High School tonight at 7 pm. The Show is the number one grad fundraiser for the grad class. Approximately 75 students are involved and 14 stores. Students have been busy choosing their songs and choreography and rehearsing for what will be a spectacular event. Tickets are $15.00 and can be pre-purchased ahead of time or at the door. Public are welcome!
10:47 am – A Community Well-Being Survey Open House takes place at the Red Deer County office from 5:00 – 7:30 tonight. Read More.
For more local news, click here!
10:41 am – Grade 7 Girls singles and doubles will be playing in the City Badminton finals at St. Francis of Assisi Middle School from 4 – 8 pm today!
10:36 am – Red Deer County residents have another chance today to learn more about growing Agricultural Development in the region. A public info gathering session goes this afternoon from 3 – 5 pm at the Aberdeen Social Club. Read More.
8:36 am – Barrie Wilson and Mattie McCullough schools will be hosting a Telus Wise session on digital safety and citizenship today. The session will focus on how to ensure that students have a positive digital footprint. Representatives from the Telus Wise program will be presenting to all students in grades 3-5 in the morning at Mattie McCullough and in the afternoon at Barrie Wilson. There will also be a session for parents on how to ensure their children are safe online at home. The parent session will be at Barrie Wilson from 6:30-8. Parents from other schools are invited to attend the evening session.
Canada ends scoring drought at men's World Cup but can't hold off Croatia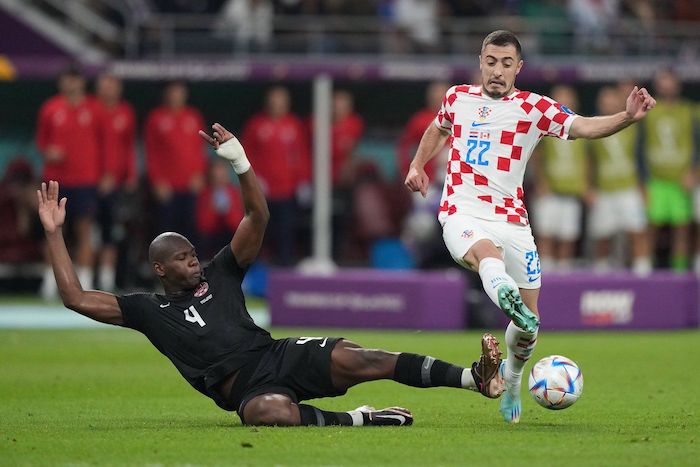 Umm Şalāl 'Alī – Canada wasted little time Sunday ending its scoring drought at the men's World Cup via Alphonso Davies but could not hold off Croatia, losing 4-1 to end its hopes of reaching the tournament's knockout round.
Ranked 12th in the world and runner-up to France four years ago in Russia, Croatia is filled with talent from top clubs and its class showed in rallying from an early 1-0 deficit.
Two goals by Andrej Kramaric and one by Marko Livaja accounted for the Croatian comeback. Lovro Majer added a stoppage-time goal in the 94th minute on a two-on-none attack.
The 41st-ranked Canadians started with a bang with a Milan Borjan goal kick finding Cyle Larin at midfield. Larin controlled the ball deftly with his foot and sent it over to Tajon Buchanan down the right flank. Buchanan surged ahead, took two touches, lifted his head and sent in a cross that Davies, soaring through the air high above fullback Josip Juranovic, headed home past goalkeeper Dominik Livakovic.
The Canadians came into the contest — the first-ever meeting between the two countries — needing at least a point to keep alive their hope of advancing out of the group stage with coach John Herdman calling it "one of those do-or-die games."
Croatia also needed a result after tying Morocco 0-0 in its opener.
This report by The Canadian Press was first published Nov. 27, 2022
Canada beats Australia to claim its first Davis Cup tennis championship
MALAGA, Spain (AP) — Felix Auger-Aliassime fell to his back behind the baseline, then waited for teammates to race off Canada's bench and pile on top of him.
A few minutes later, the Canadians finally could lift the Davis Cup.
"I think of us all here, we've dreamt of this moment," Auger-Aliassime said.
Canada won the title for the first time on Sunday, beating Australia behind victories from Denis Shapovalov and Auger-Aliassime.
Auger-Aliassime secured the winning point when he downed Alex de Minaur 6-3, 6-4 after Shapovalov opened the day by rolling past Thanasi Kokkinakis 6-2, 6-4.
Seven years after leading Canada to the top of junior tennis, Auger-Aliassime, Shapovalov and their teammates finally got to lift the biggest team trophy in their sport.
"We wanted to grow up and be part of the team and try to help the country win the first title," Shapovalov said, "so everything is just so surreal right now."
Shapovalov had dropped both his singles matches this week and needed treatment on his back during a three-set loss Saturday in the semifinals to Lorenzo Sonego of Italy that lasted 3 hours, 15 minutes. But the left-hander moved quickly around the court Sunday, setting up angles to put away winners while racing to a 4-0 lead in the first set.
Auger-Aliassime then finished off his superb second half of the season by completing a perfect week in Spain. He twice had kept the Canadians alive after Shapovalov dropped the opening singles match, and on Saturday he replaced his weary teammate to join Vasek Pospisil for the decisive doubles point.
This time, Auger-Aliassime made sure the doubles match wouldn't even be necessary. After his teammates poured onto the court to celebrate with him, they got up and danced around in a circle.
Canada had reached the final only once, falling to host Spain in Madrid in 2019, when Rafael Nadal beat Shapovalov for the clinching point after Auger-Aliassime had lost in the opening match.
But with Auger-Aliassime having since surged up the rankings to his current spot at No. 6, the Canadians are a much more formidable team now. They won the ATP Cup in January and finally added the Davis Cup crown to the junior Davis Cup title Auger-Aliassime and Shapovalov led them to in 2015.
Australia was trying for its 29th title and first since current captain Lleyton Hewitt was part of the title-winning team in 2003.
But it was finally time for the Canadians, who were given a wild card into the field when Russia was suspended because of its invasion of Ukraine.
"Look, I think we were very close today," de Minaur said. "Just wait until the next time we get the same matchup. Hopefully we can get the win and prove that we can do it."
But Canada will be tough to beat as long as Auger-Aliassime and Shapovalov play.
Shapovalov is just 23 and Auger-Aliassime 22, but both already have been Grand Slam semifinalists and Auger-Aliassime ended 2022 as one of the hottest players on the ATP Tour. He won all of his four titles this year, including three straight weeks in October.
He also beat Carlos Alcaraz in the previous Davis Cup stage in September, just after the Spaniard had won the U.S. Open to rise to No. 1 in the rankings. That victory helped send the Canadians into the quarterfinals, which they started this week by edging Germany.
"They're not kids anymore, that's for sure. Not after today — well not after the last couple of years," said Pospisil, the team veteran at 32. "They've been crushing it."
___
AP tennis: https://apnews.com/hub/tennis and https://twitter.com/AP_Sports