Anne Frank exhibition at Red Deer Museum + Art Gallery
From Red Deer Museum + Art Gallery (MAG)
Anne Frank: A History for Today opening at Red Deer MAG
The travelling exhibition Anne Frank – A History for Today, a travelling exhibition from the Anne Frank House (Amsterdam, The Netherlands), will be on display at the Red Deer Museum + Art Gallery (MAG) January 12 to March 22, 2020. This exhibit aims to bring Anne's life story to the attention of people all over the world to encourage them to reflect on the dangers of anti-Semitism, racism and discrimination and the importance of freedom, equal rights and democracy. As part of this exhibit the MAG will be showing artworks created by Red Deer high school students in response to the Anne Frank story.
This exhibition tells the story of Anne Frank set against the background of the Holocaust. The exhibition makes use of images from the Frank family and quotations from the Diary of Anne Frank. Each panel displays information about the most important developments of that time: the rise of National Socialism, the Second World War and the persecution of the Jews. This exhibition has three artefacts that visitors will be able to see: a replica of the Diary of Anne Frank, a Yellow Star of David, a 3D model of the Anne Frank House and a Nazi program from 1935-1936.
"We are pleased to present this exhibition during the 75th anniversary of the Liberation of Holland from Nazi occupation," says Lorna Johnson, Executive Director. "The Diary of Anne Frank continues to be a moving testament to the optimism of youth in the most trying situations. The Anne Frank House Museum in Amsterdam has made a commitment to work with youth all over the world to eliminate racism and discrimination. We are pleased to bring their message to Red Deer and we would like to thank the teachers and students of Red Deer's high schools who have embraced the project and created artworks for display, and who have volunteered to be tour guides in the exhibition."
Aims of the exhibition
To increase knowledge of youth and public on the historical events of the second world war, the Holocaust and the life of Anne Frank
To foster dialogue between attendees on topics such as the dangers of discrimination and the importance of tolerance and the human rights
To increase the knowledge of local /national / international history through various activities in conjunction with the exhibition
To invite youth to live a learning experience of exchange and dialogue.
Opening Reception: Join the Red Deer Museum + Art Gallery at 2pm on Sunday, January 26, 2020 for the joint opening reception of Anne Frank: A History for Today and the MAG's in-house exhibit Sacrifice, Hope, Friendship: Canada and the Liberation of Holland.
Anne Frank
In many countries Anne Frank has become the symbol of the mass murder of Jews during the Second World War.
Anne Frank was born on 12th June, 1929 in Frankfurt, Germany. She was the daughter of Otto and Edith Frank and had a three year old sister, Margot. Just like many other Jews, the Frank family fled Germany after Hitler and his National-Socialist party came to power in 1933. The Jews who stayed in Germany were step by step excluded from society. The Frank family went to the Netherlands where father Otto started a company.
In May 1940 the Nazis occupied the Netherlands and soon anti-Jewish measures were introduced. In July 1942 large-scale deportations of Jews took place. The Frank family went into hiding along with four others. They hid in the annex of Otto Frank's office building on the Prinsengracht in Amsterdam, right in the heart of the city. During their time in hiding, Anne Frank kept a diary. In August 1944 the hiding place was betrayed and the eight people were taken to different concentration camps. Anne Frank eventually died in the camp Bergen-Belsen. Only Otto Frank survived the war. In 1947 the diary of Anne Frank was first published. By now it is translated into sixty languages and has become one of the best known documents about the Holocaust. The building where the Frank family hid is now a museum.
For more details regarding the exhibition Anne Frank: A History for Today contact Kim Verrier, Exhibitions Coordinator at [email protected], 403-309-8440.
Alberta's Distinguished Artist Award Recipients Announced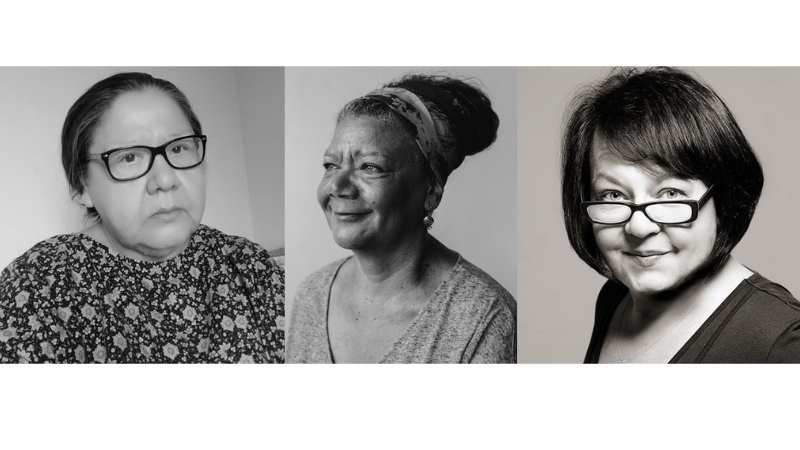 June 16, 2021
Alberta's Distinguished Artist Award Recipients Announced
(Calgary, AB) The Lieutenant Governor of Alberta Arts Awards Foundation is pleased to announce that artist Faye HeavyShield (Blood Reserve, Kainaiwa Nation, AB), writer and filmmaker Cheryl Foggo (Calgary, AB), and dance choreographer Vicki Adams Willis (Calgary, AB), have been selected to receive the 2021 Lieutenant Governor of Alberta Distinguished Artist Award.
Arlene Strom, chair of the Lieutenant Governor of Alberta Arts Awards Foundation said, "Albertans can be proud of these three whose contributions have pushed the boundaries of art to reflect Indigenous identity and expression; present a more inclusive and diverse view of Alberta's history; and define the province as a beacon for jazz dance artists. Each has contributed immeasurably to the development of the province's artists, arts communities and expanding art disciplines."
Faye HeavyShield, Visual Arts
Over the past 30 years, Faye HeavyShield has been one of Canada's pre- eminent artists within Alberta and the Blackfoot Confederacy. Currently living on the Blood Reserve in southwestern Alberta, Faye studied at Alberta University for the Arts in Calgary.
Honouring her Kainaiwa (Blood) Nation, the striking landscape they dwell within and the Blackfoot language which she speaks, Faye HeavyShield's legacy of three-dimensional art and sculpture including recent installations incorporating photography and delicately constructed paper figures make her a senior figure in the artistic and cultural renaissance of Indigenous nations in the country.
"…My art is a reflection of my environment and personal history as lived in the physical geography of southern Alberta with its prairie grass, river coulees, and wind and an upbringing in the Kainaiwa community. I would say the environment is an extension of myself because it's always been there, from the time I was a child. It was one of the first things that I saw and smelled. I consider it a part of me. The landscape is an extension of the body because we're dependent on it, and to flip that, the landscape is dependent on us…" Faye Heavyshield
Beyond her personal practice, Faye is actively involved with her community by working with youth through art programming and creating cultural connections for children in care.
Cheryl Foggo, Playwright, screenwriter, film maker, author
Creating a more inclusive and diverse view of Alberta's history through her plays, films, books, articles and multi-media presentations has been Cheryl Foggo's life work. Profiled in Who's Who in Black Canada and the recipient of the 2008 national Harry Jerome Award for The Arts, Foggo has applied her talent as a researcher and writer to uncovering the compelling but overlooked stories of Alberta's Black settlers and
cowboys. Most recently, the award winning National Film Board feature- length documentary, John Ware Reclaimed (2020), highlighted an earlier thriving Black community in the province often left out of the history books.
Her seminal, autobiographical book, Pourin' Down Rain: A Black Woman Claims Her Place In The Canadian West, is a powerful narrative of Foggo's ancestors' journey from enslavement in the United States to Western Canada. The book, first published in 1990, received the distinction of a special 30th anniversary reprint in 2020. Her books for young people: Dear Baobab, I Have Been in Danger and One Thing That's True have garnered many commendations between them, including One Thing That's True being short-listed for the Governor General's Award. In addition to her books, Cheryl Foggo has published prose in more than 40 journals and anthologies.
Two new productions of Foggo's plays are scheduled in 2021 with the Citadel Theatre in Edmonton and the Urgency Collective in Calgary, and her short play The Sender is currently available through Toronto's Obsidian Company's 21 Black Futures Project. As a cultural activist, mentor and volunteer she advocates for writers and Black artists.
Vicki Adams Willis Performing Arts: Dance
Vicki Adams Willis has changed the face of jazz dance in Alberta and Canada. A co-founder nearly 40 years ago of Decidedly Jazz Danceworks (DJD), she is foremost a teacher and choreographer of more than 35 original productions. She is recognized as a true leader in the world of jazz; an acclaimed ground-breaking choreographer who created one of the most unique jazz dance companies in the world, and the key person to ensure Calgary, Alberta as a viable dance centre for serious jazz artists. She has helped to change the very course of the jazz dance art form by influencing students, dancers, musicians and audiences with her strongly researched and brilliantly creative work.
Jazz dance is a misunderstood art form. Born of African parents and of the Black American experience, Vicki Adams Willis acknowledges herself as a guest in this form and has demonstrated her deep understanding of, and utter respect for, the authentic roots and history of jazz through her research, teaching and choreography. The company she co-created in 1984 – Decidedly Jazz Danceworks (DJD) has gained international recognition. It has been referenced in articles, dissertations, anthologies and, most recently, in an award-winning international film: Uprooted–The Journey of Jazz Dance, which had its Canadian premiere at the 2021 Toronto Black Film Festival.
"..These three ground-breaking women have offered important contributions to the arts in Canada. Their creativity has brought new light to their respective disciplines and created countless opportunities for us all to learn, grow and explore fresh ideas. Artists like this are essential to the vibrancy of our communities and we are truly fortunate to have them as cultural leaders in our province and country as a whole…"
Her Honour, the Honourable Salma Lakhani, Lieutenant Governor of Alberta
The laureates will each receive a handcrafted medal, a $30,000 award and a two-week residency at the Banff Centre's Leighton Artist Studios. The awards patron, the Honourable Salma Lakhani Lieutenant Governor of Alberta, will present the awards at a celebration hosted by the Community of Lac La Biche and Portage College, Lac La Biche campus, at an awards event June 10 and 11, 2022.
The awards are funded through an endowment established with private donations and gifts from the Province of Alberta and Government of Canada. The Lieutenant Governor of Alberta serves as honorary patron of the awards. Since its inception, 23 Distinguished Artists and 63 Emerging Artists have been recognized across Alberta with this significant honour. See details at artsawards.ca
The 2021 Distinguished Artists were chosen from nominations received and reviewed by a jury of experts overseen by the Banff Centre for Arts and Creativity. Jurors for the 2021 Distinguished Artist Awards were Mary-Beth Laviolette, visual arts curator and author; John Estacio, 2017 Distinguished Artist and JUNO nominated composer; Seika Boye, scholar, writer, artist and Assistant Professor, University of Toronto, Centre for Drama, Theatre & Performance Studies; Jordan Abel, Nisga'a writer from Vancouver and Assistant Professor in the Department of English and Film Studies at the University of Alberta teaching Indigenous Literatures and Creative Writing.
Click to learn more about the Lieutenant Governor of Alberta Arts Awards Foundation.
Read more on Todayville.com.
Book of poetry about healing journey. Proceeds shared with sexual assault centre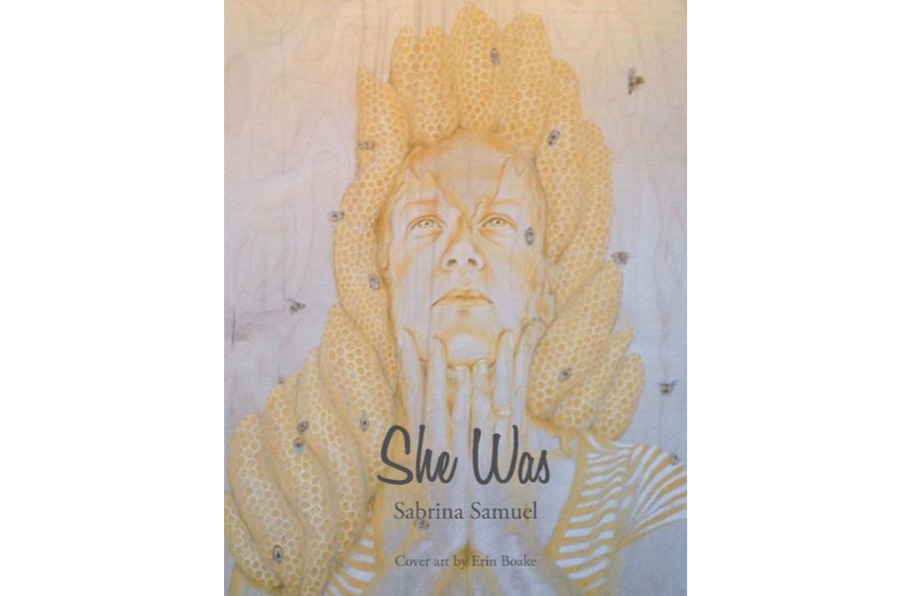 Submitted by the Central Alberta Sexual Assault Centre 
She Was – Book of poetry speaks to healing journey
Local author releases book in support of CASASC
Local artist and mental health advocate Sabrina Samuel has released a book of poetry with a portion of proceeds supporting the Central Alberta Sexual Assault Support Centre (CASASC).
The book She Was is inspired by Samuel's healing journey, with each poem telling the story of incredible women along the path.
"The work illustrates our dynamic power, but also our humanity," said Samuel. "Women are multi-dimensional. My hope for the book is that it will be an agent for positive change, celebration, collaboration and discussion. I'm deeply grateful for the help I received from CASASC, so I wanted to partner with them."
The launch of She Was coincides with Sexual Violence Awareness Month (SVAM) in the month of May and leads up to Mother's Day.
Samuel said all art is a response to something.
"When you use metaphor to address pain, you can reach people differently," she said. "I understand fully that racialized women are the most vulnerable to abuse, harassment and assault. I don't want to be a statistic. This work has shown me I'm owning more of my story each day by drawing strength from my feminine influences."
She Was is available for purchase in-person at Cheeky Couture's Boutique on Gasoline Alley, Housewarmings in downtown Red Deer, at the CASASC main office or by emailing [email protected]
Copies are $20 each with 50 per cent of the proceeds supporting CASASC. A $5 delivery fee will be charged to orders outside of Red Deer.
She Was has been selected by Lloydminster and Vermillion for Equity's Monthly Book Club for May 2 at 2 p.m. Samuel will also be a guest on Coffee Chat with CASASC on May 6 at 10:30 a.m. on CASASC's Instagram page (@CASASC3).
Samuel is hosting the She Was Author's Launch on Friday, April 30 at 7 p.m. via Zoom. The launch will feature a reading, input from other readers, a Q & A segment, door prizes and giveaways.
For more information about She Was visit facebook.com/surrenderliving or www.surrenderliving.com
Readers are encouraged to participate in the She Was challenge by selecting a poem from the book and recording themselves reading it on Facebook or Instagram. Dedicate the post to a great woman and tag them to do the same. Tag @surrenderliving and use the hashtag #shewas to be entered into the challenge. The winner will be selected at the end of SVAM.
Join the conversation for the month by using the hashtag #SVAM for Sexual Violence Awareness Month. Help us eliminate sexual violence in our community by creating a culture of respect.
CASASC is a voluntary, non-profit organization serving the Central Alberta region under the direction of a community-based Board of Directors. CASASC educates, supports and empowers individuals, families and communities regarding all aspects of sexual violence.