All Canadians should know what this Calgarian is up to!
Submitted by Scott Cameron of Bassa Social Innovations
Get to know your neighbour.
You might be surprised how they're changing the world.
#visioncanada2119
I've known Steve for the past year. He's one of the first guys I met when I moved to Calgary and, as part of a small group of friends, someone that I get together with quite regularly for group dinners, birthdays and vacations – spent an amazing few days on the west coast sailing with he and his wife earlier this summer. Until today, I only had a hint of what he does.
Steve is an entrepreneur and a passionate energy sector guy. Like many Canadians, I've tended to glaze over when these guys start talking about their work. I'm a social sciences and former government sector guy – I had energy sector guys in my family and never really conditioned myself to understand what they did. I decided to change that and chose to take an hour out of my day to visit Steve in his shop here in SE Calgary.
He had another visitor in the shop with him that morning. A fourteen-year-old, middle school student that learned about Crossfire (the name of the technology) from her parents and decided to investigate it as part of her science curriculum. I'm glad she did. She took me over to a whiteboard at the front of the shop and used the schematics already drawn to explain how Steve's invention (Crossfire) makes it possible to use solar energy to power a small air compressor (93% efficient) that controls the pneumatic valves at natural gas and oil wells making it possible for the site to eliminate emissions. Cool.
I'm not even going to attempt any further explanation because, well, I'm a social sciences guy. I learned a few things as a result of my visit today – that Steve is one of many Canadians investing their life savings into entrepreneurial ventures to make the energy sector greener, that the political and policy environment appears to be working against these innovations, that innovations of this nature won't just improve the sector here but is gaining traction globally, and that a fourteen-year-old student has the intellect to understand and explain the technology to an old guy like me (because I chose to listen).
I also heard, firsthand, how this work can be frustrating and "profoundly discouraging" when it feels like the systems are stacked against innovation and political responses are filled with rhetoric. Innovation feels like a nice idea but appears to be tough sell politically. For now, it's the courageous entrepreneurs that are taking up the cause and making stuff happen.
I'm encouraged by Steve's work and glad that he has such a keen mind and passion to improve efficiency in the sector. He notes that "when given the challenge, we rise to the occasion". Imagine the country we'd be if we adopted that attitude across industries – and I don't necessarily think we're far from it. Remember, I'm a social sciences guy writing about innovation in the energy sector – imagine the impact if people from across sectors chose to align for the purpose of building a nation to support our people, our progress and our planet. We need to support one another. We need a new narrative Canada. Let's build that narrative together at #visioncanada2119.
Scott Cameron is the former Social Planning Manager at The City of Red Deer, and before that he was Executive Director of The United Way of Central Alberta. He now lives in Calgary.
bassa Social Innovations is a values-based and principled consulting firm committed to positive social well-being for people, their families and their communities. We can help navigate the shared, and sometimes divergent perspectives of government, corporate, non-profit and community organizations to unravel social complexity, and explore collaborative and sustainable social change.
The term 'bassa' comes from the world of music, and basically means to play or sing an octave below what's written. That's how we describe our work – we work collaboratively to understand what isn't obvious on the surface. The metaphor goes one step further…the bass note is the foundation of the chord and we seek to create foundational work that serves our clients in the present and future.
Edmonton council to ask province to support new centre to fight downtown crime
By Fakiha Baig in Edmonton
City council has voted unanimously to ask the government of Alberta to support the creation of a hub in Edmonton's Chinatown where social workers, firefighters and peace officers could work together to reduce crime.
City administration submitted a report to council Monday that describes the proposed Healthy Streets Operations Centre.
David Jones, who is with the city and presented the report, told councillors it would not be a traditional police station.
"The people who will see the benefits of this include Chinatown residents and businesses, but also people who are on the streets who are vulnerable and being preyed on by some of the criminal element," Jones said.
The creation of the centre is one of several actions the city has promised to address a spike in violent crime downtown, in nearby Chinatown and on the transit system.
Edmonton police officers have already increased their presence in problem areas.
In May, Justice Minister Tyler Shandro used his ministerial power to demand a report from the city on what is being done to get crime under control.
Mayor Amarjeet Sohi said during Monday's council meeting that the city has delivered with its plan for the centre and now it is time for the province to step up.
"Edmonton gets the lowest per-capita funding to support ending homelessness compared to seven other cities (in Alberta). I think it's really important that we ask the people whose inaction has caused harm to the community to be stepping up," Sohi said.
"Most of the violence in Chinatown is related to houselessness … and addictions causing a lot of harm to the community and to individuals. We're asking city taxpayers to pick up the pieces or pay for the consequences of lack of investment in health and lack of investment in housing."
Sohi added he gets the sense the province wants to help.
The provincial government did not immediately respond to a request for comment.
The report says the centre will operate seven days a week, 21 hours a day, and could cost up to $18.1 million over the next four years.
The city and Edmonton Police Service could partially support the centre and Jones said there have also been offers from different businesses in Chinatown to provide a building for the hub at no cost.
But council voted in favour of asking the provincial government to determine how it can provide mental health, housing and shelter support.
Sohi said he plans to engage with the province and will report back to council on Aug. 15.
Jones said to get the centre up and running by next summer, the city aims to hire four peace officer sergeants, 16 community peace officers, two community safety liaisons and three firefighters or fire prevention officers.
The report said community members asked for increased security in problem areas and that building a centre in "hot spots" can effectively reduce crime. Research cited in the report has also shown it wont displace violence to other areas.
"Studies have consistently found no noticeable displacement and, in some cases, a diffusion effect, meaning that hot-spot policing reduces crime in the areas adjacent to the hot spots as well."
Dr. Temitope Oriola, a criminology professor at the University of Alberta, said the hub model has been around for at least a decade in Canada and the centre is a good start.
"The real test is to ensure it is not too heavily tilted toward and reliant on policing," he said in a email.
"The approach needs to have law enforcement as one of several critical components with people, community revitalization and customized social service at the epicentre."
Oriola added the centre would be most effective in reducing crime if it also goes hand-in-hand with other initiatives in the city that address addictions issues and homelessness.
"Employment created should also focus on those most directly connected to Chinatown," he said.
This report by The Canadian Press was first published on July 4, 2022.
—
This story was produced with the financial assistance of the Meta and Canadian Press News Fellowship.
Alberta expands its support for Ukrainians fleeing war and settling in the province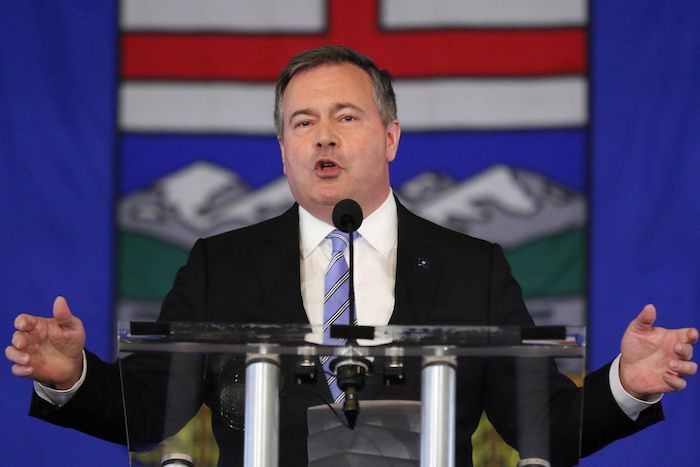 Edmonton – The Alberta government is expanding its support for Ukrainians coming to the province from the war-ravaged country.
Premier Jason Kenney said there's a special, deep connection between Alberta and Ukraine, with more than 369,000 Albertans who have Ukrainian roots.
"That is why we are proud to have opened our doors of refuge to Ukrainians fleeing the violence of that conflict," he said Monday at a news conference at the Ukrainian Cultural Heritage Village just east of Edmonton.
Kenney said more than 3,800 Ukrainians — many of whom are women and children because men are required to stay behind to help defend their nation — have already arrived in Alberta and thousands more are expected as the conflict continues into its fourth month.
"Starting July 25, Ukrainian evacuees arriving in Alberta will be eligible for new forms of aid," he said.
Those additional measures, he said, include temporary financial assistance for basic living expenses — such as food, clothing and rent — for up to six months. Anyone with children under the age of 12 would also be able to apply for child-care support for six months, said Kenney.
"This expanded support will be key for people whose lives have been thrown into chaos by the invasion," he said. "We can't take away their fears for those who have been left behind, but we can at least dispel the uncertainties that come with trying to start over and make ends meet in a new country."
Orysia Boychuk, president of the Alberta chapter of the Canadian Ukrainian Congress, said the income support and child-care subsidy are appreciated.
"We are confident this will definitely help support and contribute to the Ukrainian nationals' successful integration in Canadian society," she said at the news conference.
"We also thank the Alberta government for its unwavering support for the past four months as Russia continues to wage war on Ukraine."
Kenney said the additional supports are expected to cost between $15 million and $38 million, depending on how many Ukrainians arrive in the coming months.
The province has already provided money for settlement and language services, humanitarian aid and defensive equipment.
This report by The Canadian Press was first published July 4, 2022.
— By Colette Derworiz in Calgary