ALBERTA'S PARKER THOMPSON AND SPEEDSTAR MOTORSPORT CONTINUE AUTHORITATIVE CAMPAIGN IN CANADIAN TOURING CAR CHAMPIONSHIP
From Parker Thompson Racing
On a beautiful Canada Day weekend at Shannonville Motorsport Park, Parker Thompson continued his winning ways in the Canadian Touring Car Championship. Now six races into this 10 race 2019 schedule, Thompson is undefeated driving the #1 Audi R8 LMS GT4 of Speedstar Motorsport and New Roads Automotive Group.
For Thompson, the weekends event represented his first drive of Shannonville Motorsport Park. With only one 15-minute practice session ahead of Saturday's qualifying round, it was crucial that Thompson quickly accustom himself to the 15 turn, 4.0 km road course, east of Toronto. For Race 1, he earned pole position late in qualifying, and then lead the 40-minute race from start to finish. Sunday's Race 2 took place on the shorter 2.5 km Pro-Track and followed a very similar storyline.
The young Albertan has led every single lap of the Canadian Touring Car Championship season to date. While he and Speedstar Motorsport were considered by many to be strong favorites for the 2019 championship title, such a dominant performance was unexpected. For Thompson, the success that has been experienced so far, is expected to serve as foundation for future endeavors in sports car racing.
"Many thanks to Frank Law and the whole Speedstar Motorsport team for our performance this weekend. As a driver, coming to a new race track with limited preparation time is no easy task. The team did an incredible job helping me get the #1 Speedstar Motorsport / New Roads Automotive Group Audi R8 LMS GT4 up to speed quickly. With our performance so far this year, it's very easy to be confident in this race car. I'm looking forward to the remaining events in this 2019 season, and I'm excited about what opportunities might lie beyond that!" – Parker Thompson
Lafreniere scores in OT to lift Rangers over Flames 5-4
By Allan Kreda in New York
NEW YORK (AP) — Alexis Lafreniere scored 1:37 into overtime and Jaroslav Halak made 28 saves as the New York Rangers beat the Calgary Flames 5-4 on Monday night.
Lafreniere led a 2-on-1 rush and then tracked down the rebound of Mika Zibanejad's shot, beating netminder Jacob Markstrom for his seventh goal this season. That ended a frenzied game that was tied four times and featured several fights following big hits — two by Rangers captain Jacob Trouba.
"Getting the game-winning goal in OT is always fun," the 21-year-old Lafreniere said. "It was a great up-and-down game with two really good goalies. It was fun to play."
Calgary's Andrew Mangiapane and Michael Stone scored two minutes apart early in the third period to give the Flames a 4-3 lead, but Zibanejad scored his second goal of the game — his team-leading 24th — to tie it for the fourth time at 12:55.
Filip Chytil also scored twice for the Rangers, who improved to 9-2-3 in their last 14 games and are 17-4-3 since Dec. 5.
Halak has won six straight and seven of his last eight appearances.
Zibanejad put New York ahead 3-2 with 14 seconds left in the second but Mangiapane scored at 6:38 of the third to tie it. The play was reviewed to determine if Mangiapane kicked in the puck with his skate, but the goal stood.
"It wasn't pretty at times. … It was a hard battle. We just kept going," Zibanejad said. "It was a big two points and a great way to come back from the break."
Zibanejad's first goal came as he roofed the puck past Markstrom on the power play with assists to Chris Kreider and Artemi Panarin. The assist was Panarin's 300th point with the Rangers.
Chytil opened the scoring at 5:37 of the first, rifling a high shot past Markstrom. Kaapo Kakko and Adam Fox assisted.
Calgary forward Blake Coleman tied it at 10:25 with his 11th goal.
There were several skirmishes in the first as both teams were playing for the first time since Jan. 27 following the All-Star break.
"It wasn't a great hockey game, but it was an exciting game," Rangers coach Gerard Gallant said. "It was different — a bunch of fights going on. … Maybe the break was too short."
Trouba tussled with Calgary's Chris Tanev after the defenseman leveled Flames forward Dillon Dube with an open-ice check.
Later in the first, several fights ensued after Rangers forward Sammy Blais drilled Flames forward Milan Lucic. New York rookie Will Cuylle fought Calgary's MacKenzie Weegar, and Lucic was assessed an extra two minutes for roughing against Rangers forward Jake Leschyshyn.
"Exciting game. Fun game. I thought we were valiant to come back," Flames coach Darryl Sutter said. "I thought we played really well. … There were three or four hits. They were clean, big hits."
Chytil put the Rangers ahead 2-1 on a breakaway at 2:02 of the second. Fans at Madison Square Garden chanted the 23-year-old Czech forward's name after his second goal.
"That's cool, feels very good," he said. "It motivates me to be better the next shift and show what I can do."
Chytil has a career-best 18 goals and 31 points this season. He has six goals in his last four games and 14 points — 10 goals — in his last 12 games.
Calgary's Tyler Toffoli tied it at 2 with his 19th goal on the power play at 16:45 of the second.
Trouba struck again with just under a minute left in the second, body-checking Nazem Kadri hard in the Rangers zone, then fighting Dube who rushed to his teammate's defense. Dube received an extra two-minute penalty for instigating, and Zibanejad scored the go-ahead goal on the ensuing power play.
NOTES: Zibanejad's 83rd power-play goal for the Rangers moved him ahead of Phil Esposito and Jean Ratelle into a tie with Vic Hadfield for sixth place on the franchise list. … Calgary scratched defensemen Dennis Gilbert and Connor Mackey, plus forward Brett Ritchie. … The Rangers scratched forwards Julien Gauthier and Vitali Kravtsov, plus defenseman Libor Hajek. … The teams meet again Feb. 18 in Calgary.
UP NEXT
Flames: Visit the Detroit Red Wings on Thursday.
Rangers: Host the Vancouver Canucks on Wednesday.
___
AP NHL: www.apnews.com/hub/NHL and www.twitter.com/AP_Sports
Dominating 11 and 1 record for RD Polytechnic Athletics over the weekend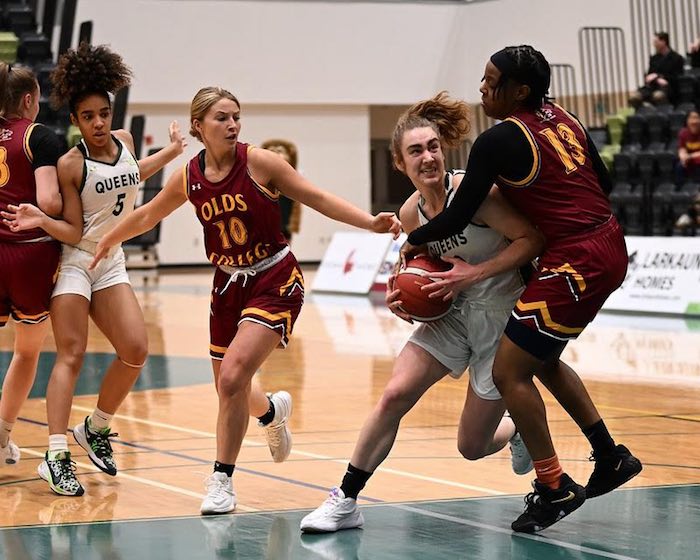 Red Deer Polytechnic Athletics Weekend Recap
Red Deer Polytechnic Athletics had a great weekend that saw all teams go undefeated on Friday night with just one loss on the schedule on Saturday evening. At the end of the week, the teams totaled a record of 11-1. A few teams even went the distance with Queens Hockey needing a shootout, Kings Hockey needing overtime and Kings Volleyball needing five sets to find a winner.
Basketball
Queens (12-6) vs Olds College Broncos (7-11)
The impressive streak continues. The Queens Basketball team extended their win streak to nine games after two hard-fought matches against their Central Alberta rivals, the Olds College Broncos. On Friday night, the Queens exploded in the first quarter but would lose it in the second and third frames. This did not
stop them from coming back in the fourth quarter which resulted in an impressive 79-71 comeback victory. Guard Amy Szymanek (Bachelor of Education) was named the player of the game with 25 points and 10 rebounds.
The game on Saturday night in Olds was much different as they were able to win all four quarters on the score sheet and route the Broncos 87-49. Guard Heena Sidhu (Bachelor of Arts in Political Science) had 13 points and six assists on the night and was named the player of the game.
Kings (11-7) vs Olds College Broncos (3-15)
Regardless of the record of the Olds College Broncos, the Kings were put to the test on Friday and Saturday as the Broncos are a team that is full of adversity. The Kings were able to figure things out on Friday night early on and managed to have a much better second half which led to an 88-56 victory, which was a good
stepping stone after falling to the SAIT Trojans last week in heartbreaking fashion. With all nine of his points coming off the long-range shot, Guard MacGregor Manyluk (Business Administration General) was named the player of the game.
But the Broncos did not go down so easily on Saturday night in their own gym. They fought right until the final whistle blew in what was a much closer game than the night before. Late in the fourth, the Kings managed to get multiple stops which led to points on the board and an 85-77 victory. Guard Eduardo Crespo was named the player of the game after completing his night with a double-double, 29 points and 15 rebounds.
Hockey
Queens (10-3-1) vs Lakeland College Rustlers (7-4-2)
The Queens came into this weekend facing a Rustlers team that won back-to-back games against the NAIT Ooks the previous weekend. It was not going to be easy. After the Queens gave up the opening goal, they battled back with two straight goals. But the Rustlers tied it and forced it to go to overtime, which solved
nothing. They ended up in a shootout. The Queens scored twice and drove home with a 3-2 victory. Forward Madison Sansom (Social Work) had a goal on the night to extend her point streak to six games. Forward Alli Soyko (Bachelor of Education) was named the player of the game with a goal and an assist on the night.
To cap off the weekend, the Queens managed to shut out the Rustlers 2-0 in their own barn. Goaltender Tanya Disotell-Dunsmore had an 18-save shutout. Sansom had a goal and an assist to complete her weekend with a player of the game honour. She also extended her point streak to seven games. Forward Jailyn Bablitz (Bachelor of Education) got the other marker on Saturday night.
Kings (14-6-1) at Briercrest College Clippers (8-8-2)
The Kings hit the road and pulled off a feat that is pretty rare as they were able to defeat the Briercrest College Clippers in back-to-back games. This usually does not happen in all sports. Earlier on in the year, the Kings and Queens Volleyball won on Friday night and would lose the match the following afternoon. On
Friday, the Kings would score three straight goals after falling behind 1-0 to win it 3-2. The Clippers added a late marker with the goaltender pulled. Forward Chance Longjohn (Bachelor of Education) scored the first goal of the night for the Kings and was awarded the player of the game. The other goals were scored by forward's Hayden Clayton (Open Studies) and Nolan Doell (Bachelor of Education).
It was a very gritty game on Saturday afternoon with both teams getting multiple 10-minute misconducts. But this game needed overtime. After going down 2-0 early, the Kings would score three straight goals to take the lead. But the Clippers battled back and tied it up at three. Later in the game, they tied it at four. Five
minutes into overtime, forward Jacob Wozney was on an odd-man rush and finished it top-shelf to win 5-4. The player of the game went to Jaxon Steele (Bachelor of Kinesiology), who finished his afternoon with two assists.
Volleyball
Queens (10-7) vs Olds College Broncos (0-15)
As the Queens continued to improve and look at peaking near championships, they were able to come away with a sweep of the Olds College Broncos. But it was definitely a slow start on Friday night for the Queens. They managed to pick things up when they needed to and find the set victories. After winning the first two
sets, the Queens dropped the third set but were able to win the fourth set and take the match. With 12 digs in the match, libero Frankie Sandini (Justice Studies) was named the player of the game.
On Saturday night, it was a whole different story as the Queens managed to make quick work of the Broncos in a match that was just over an hour long. The women's volleyball team came out of the gate fast and ready to play. Outside-hitter Vanessa Loos (Bachelor of Arts in Psychology) was named the player of the game, who had an all-around effort. She had five kills, seven aces and nine digs.
Kings (15-2) vs Olds College Broncos (11-6)
It was a tough blow for the Kings this past weekend as they dropped their first match since the beginning of the season in a five-set thriller against the Olds College Broncos. But the weekend did not start all bad as they were able to sweep the Broncos in three-straight sets in Olds for the victory. Setter Maddux Greves (Business Administration) was named the player of the game after finishing with 25 assists, eight digs and two blocks.
But it was a whole different story on Saturday night. The Kings would drop the first and third set 25-23. They managed to pick up the second set victory with a score of 25-21. With the game on the line in the fourth set, they blew out the Broncos with a score of 25-12. After a hard-fought fifth set, the Kings would lose 15-13 and their winning streak ended at 14 matches. Outside-hitter Noah Carlson (Open Studies) had 13 assists and five blocks and was named the player of the game.