Alberta's Internet Child Exploitation Unit working on record number of cases
Article submitted by the Alberta Law Enforcement Response Team
ICE responds to surge in record number of case files
ALERT's Internet Child Exploitation (ICE) unit has begun the new year with a number of arrests across Alberta. Twenty-four suspects have been charged with 60 offences related to the online sexual exploitation of children.
After receiving a record number of case referrals in 2020, ICE has been collaborating with its policing partners across the province to make arrests. Last year, ICE experienced nearly a 40% increase in its number of case referrals with over 2,100 intakes.
2020-21 – 2,136;
2019-20 – 1,555;
2018-19 – 1,237;
2017-18 – 903;
2016-17 – 894;
2015-16 – 749.
"This is a concerning consequence of our digital dependency during the pandemic. ALERT has responded by directing more tools and resources to our ICE units and we are prepared to travel to every corner of the province in order to stop child sex predators," said ALERT CEO Supt. Dwayne Lakusta.
"The sexual exploitation of children is a crime that tears at the fabric of society and preys on our most vulnerable. Increased provincial funding is enabling ALERT to double the size of its ICE unit, ensuring it has the tools and resources to track down predators who commit these heinous acts and bring them to justice," said Hon. Kaycee Madu, Minister of Justice and Solicitor General.
With new provincial funding, ALERT has sought to double the size of the ICE unit with the addition of investigators, forensic technicians, analysts, and disclosure clerks, along with new technologies and software applications. With now more than 50 positions, Alberta's ICE unit is one of the largest of its kind in Canada.
Between January 1 and March 31, 2021, ICE arrested 24 suspects. There is no definitive link between the suspects other than the nature of offences allegedly committed.
The arrests came as the result of investigative referrals from the RCMP's National Child Exploitation Coordination Centre, which works with internet and social media providers to track and investigate online instances of child sexual exploitation.
Each of the suspects was charged with at least one child pornography offence:
Michael Antonio, 25-year-old man from Calgary;
Curt Backlund, 48-year-old man from Grande Prairie;
Brad Bailey, 19-year-old man from Marlboro;
Brett Beer, 54-year-old man from Onoway;
Eric Bultmann, 30-year-old man from Calgary;
Kevin Dykstra, 35-year-old man from Barrhead;
Brian Harrison, 35-year-old man from Calgary;
Jeremy Henderson, 42-year-old man from Okotoks;
Bryan Hillman, 39-year-old man from Calgary;
Christopher Hoffner, 34-year-old man from Medicine Hat;
James Kydd, 39-year-old man from Calgary;
Mica LePage, 44-year-old man from Edmonton;
Jordan MacDonald, 30-year-old man from Edmonton;
Cris Marshall, 29-year-old man from Stettler;
Stedson McDonald, 32-year-old man from Grande Prairie;
James Merrison, 21-year-old man from Edmonton;
Traline Munn, 44-year-old man from Cold Lake;
Krishnamoort Nalla Naidu, 38-year-old man from Edmonton;
Van Linh Nguyen, 24-year-old man from Edmonton;
Ivan Scott, 47-year-old man from Cochrane;
Jerry Lee Thompson, 47-year-old from Fort MacLeod;
Hunter Tonneson, 20-year-old man from Blackfalds;
Chase Viau, 23-year-old man from Edmonton; and
Richard Westland, 45-year-old man from Medicine Hat.
During the investigations, ICE relied upon the assistance of a number of partner agencies, including: Calgary Police, Edmonton Police, Lethbridge Police, Medicine Hat Police, and RCMP detachments in Barrhead, Beaverlodge, Blackfalds, Cochrane, Edson, Fort MacLeod, Grande Prairie, Onoway, Okotoks, Slave Lake, Stettler, and Wood Buffalo.
Anyone with information about these investigations, or any child exploitation offence is encouraged to contact local police or cybertip.ca.
Saskatchewan ranchers call for investigation into retail meat pricing
REGINA — A group of Canadian ranchers is calling for an investigation into meat pricing.
The Saskatchewan Stock Growers Association says it's asking the provincial and federal governments to look into what it calls an "imbalance" between the price ranchers receive for the cattle and the price consumers pay at the meat counter.
The group says many ranchers and feedlots are operating at a loss this year. Grass is still scarce on the Prairies due to last summer's drought, and the cost of feed grain and fuel has skyrocketed since last year.
But packers and retailers are reporting strong profits this year. The Stock Growers say they believe slaughterhouses may be intentionally running fewer shifts to in order to keep wholesale beef prices high and allow fed cattle supplies to build up in the countryside.
In the U.S., the Biden administration has already expressed concerns about rising meat prices and vowed to implement policies aimed at increasing competition in the meat-packing sector.
According to Statistics Canada, the retail price of beef is up 11.2 per cent year-over-year.
This report by The Canadian Press was first published July 5, 2022.
The Canadian Press
First test production of plastic a milestone for Heartland Petrochemical Complex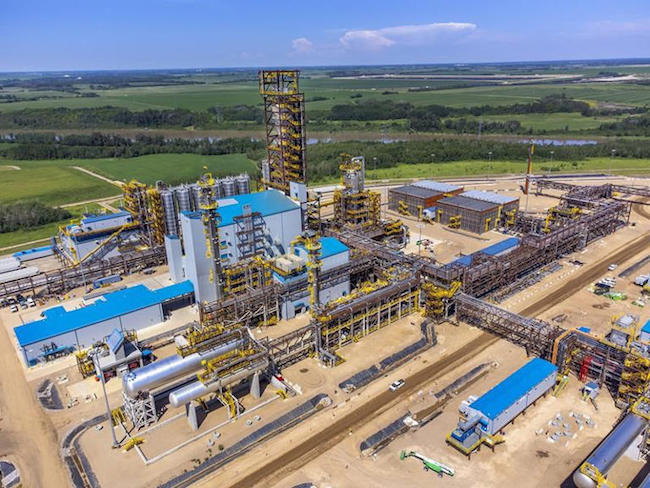 CALGARY — The $4.3-billion Heartland Petrochemical Complex, which has been under construction northeast of Edmonton since 2018, has produced its first plastic pellets.
Owner and operator Inter Pipeline Ltd. said Tuesday the newly commissioned facility has been producing test pellets steadily since late June, an important milestone en route to the expected start of full commercial operation sometime this fall.
The Heartland Petrochemical Complex will convert Alberta propane into 525,000 tonnes per year of polypropylene beads, an easily transported form of plastic that is used in the manufacturing of a wide range of finished products.
Steven Noble, spokesman for Calgary-based Inter Pipeline, said the facility will be the first integrated propane dehydrogenation and polypropylene production facility in North America. He said approximately 70 per cent of Heartland's total production capacity has been already contracted out to long-term customers.
"Through the duration of the project's construction, we've seen demand for polypropylene increase significantly … including at one point hitting an all-time record (market price)," Noble said in an interview. "The demand that we initially forecast certainly hasn't gone away."
The Heartland facility is being built with the support of a $408-million grant from Alberta's provincial government. The cash grant, part of an incentive program aimed at growing the province's petrochemicals sector, is to be paid to Inter Pipeline in equal instalments over three years once the complex is operational.
Noble said by creating a new market for propane, the Heartland facility is an example of how natural resource development in Alberta is diversifying.
"The fact that we're now looking at our raw resources in a different way, and figuring out different ways to get value out of them and create other refined products right here at home … is really the part of the story that everyone here is excited about," he said.
The Heartland Petrochemical Complex is expected to employ 300 people once fully operational.
The polypropylene produced at the facility will be branded as Heartland Polymers.
This report by The Canadian Press was first published July 5, 2022.
Amanda Stephenson, The Canadian Press