Red Deer family needs a little support as toddler spends 3rd birthday in Children's Hospital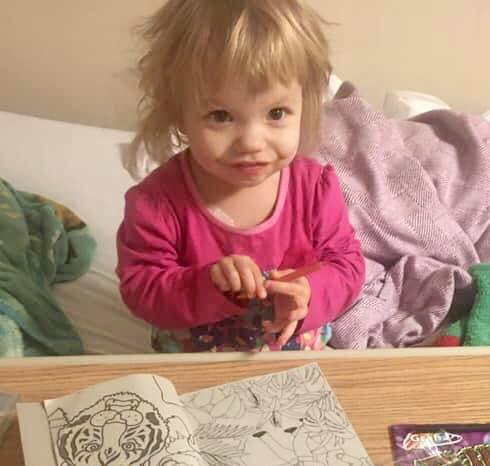 Article submitted by Roxzane Sisson Armstrong.
It's time for:
Coffee for Codeigh!
This is a challenge I am starting for my sweet cousin's fundraiser.
Please share, share, share and have some fun challenging others!
Details in the pictures attached.
Fundraiser can be found at:
From gofundme
It's been about a month since our last update. When last we left you, Codeigh Mae was in the hospital for a "tune up" to her dialysis as we attempted to manage her ever changing sodium levels.
Her and Dad spent close to two weeks at the children's hospital making changes to various medications and when we came home, Codeigh Mae's hospital schedule was changed to twice a week – once for Albumin and bloodwork and once to get a shot to increase her red blood cell count, which seemed to keep dropping – a common complication of Congenital Nephrotic Syndrome and the secondary conditions it causes, such as blood clots and low iron.
We notice during this time home that Codeigh Mae doesn't have the same energy levels, she's puffy and she's peeing less – even on Albumin days, when we're used to getting very full wet diapers. After multiple instances of very high blood pressure, it was decided to send her back to the children's hospital.
She's now been there for a week and we're not 100% sure what the going home plan looks like. She even spent her 3rd birthday in the hospital!
Codeigh Mae is really throwing these doctors for a loop. They've noticed her bloodwork will be dramatically different based on what time of day it's taken at or whether it comes from her arm or her port. As soon as they get control of one set of numbers (for example, her sodium), other numbers will go crazy (like her potassium). Her blood pressure has also been hard to manage and on multiple occasions she has had what is called a hypertensive crisis, in which the blood pressure reaches dangerous levels. Her hemoglobin (or red blood cell count) has also been incredibly low – nearing transfusion territory, which we need to avoid for transplant reasons.
Yesterday, Dad met with the surgeon to discuss and get consent for a double nephrectomy. The actual term is Radical Bilateral Nephrectomy – radical meaning the whole kidney (not just a part of it) and bilateral meaning both kidneys.
Yes, you can live with no kidneys!
Essentially, her kidneys, which still function even though she's on dialysis, are releasing a hormone that tells her blood vessels to constrict – which causes her blood pressure to rise. Remove the kidneys, remove the hormone and cascades that cause funkiness in her other numbers and you almost remove the problem. The dialysis becomes her kidneys entirely and we don't have to worry about what the actual kidneys are doing and what role they place in the process.
While the surgeon feels comfortable doing the surgery while her hemoglobin is low, the team has ultimately decided to try to boost the hemoglobin as much as we can prior to surgery – which will hopefully negate the need for a transfusion during.
They expect at least another month before we go for the nephrectomy (hence why the title of this update includes May) and are optimistic that Dad and Codeigh Mae will get to come home before we're admitted again for another undetermined amount of time.
So that's what we know so far! Be sure to follow Caring for Codeigh Mae on Facebook for more regular updates as they happen:
http://facebook.com/codeigh.mae
Alberta extends electricity rebate program until December at a cost of about $600M
Edmonton – The Alberta government says it will extend its electricity rebates until the end of the year as the cost of living continues to rise.
Dale Nally, who's the associate minister of natural gas and electricity, says the United Conservative government is doubling the rebate to help reduce the financial burden on Albertans.
The government says the electricity rebate program will now offer about $600 million in relief through 2022.
It says the program will provide nearly two million homes, farms and small businesses with a monthly $50 bill credit each month from July until December.
The government says it will also provide a natural gas rebate to millions of Albertans starting in October, which will continue until March 2023 if prices remain high.
Last week, Finance Minister Jason Nixon announced a $3.9-billion surplus for the 2021-22 fiscal year ending March 31.
This report by The Canadian Press was first published July 6, 2022.
Telus Corp. marks opening of Telus Sky in downtown Calgary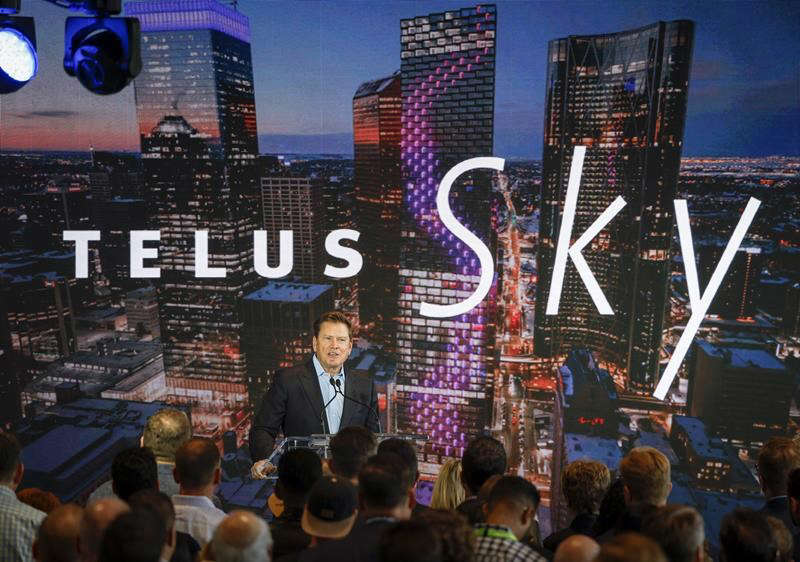 CALGARY — Telus Corp. marked the opening of its new 60-storey Calgary headquarters on Wednesday.
The new $400-million skyscraper, Telus Sky, has been in development for nine years and is now the third-tallest building in downtown Calgary. It features 750,000 square feet of office and retail space as well as 326 rental homes.
The building's eye-catching design, by architects Bjarke Ingels Group (BIG) and Dialog, along with developer partner Westbank and Allied, starts with a rectangular floorplate and then gradually twists as it rises.
Integrated into the facade of Telus Sky is Canada's largest public art display. "Northern Lights" by Canadian author and artist, Douglas Coupland, creates a light show across the building's exterior.
Telus Sky will be home to more than 1,600 Telus employees. It joins TELUS Garden in Vancouver, TELUS Harbour Toronto, TELUS House Ottawa, and Place TELUS Québec as one of the company's LEED (Leadership in Energy and Environmental Design) Platinum-certified buildings.
Among the building's environmental features is a storm water management system that recycles rainwater for use in washroom toilets, reducing the building's municipal water demand by 70 per cent.
This report by The Canadian Press was first published July 6, 2022.
Companies in this story: (TSX:T)
Amanda Stephenson, The Canadian Press