Alberta's bureaucratic shuffle bears little resemblance to necessary health-care reforms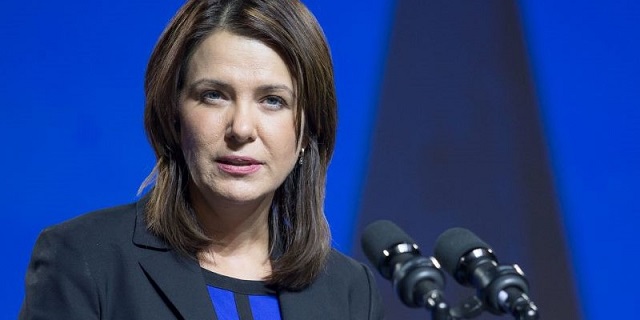 Sometime soon, the Smith government will begin a major shift in the administrative structure of the province's health-care system, switching from a single overarching health authority (Alberta Health Services) to multiple authorities each tasked with overseeing one area of the health-care system. Unsurprisingly, the usual defenders of the status quo were quick to decry the reform as unnecessary or problematic. To other critics, this seems a lot like a distraction tactic from the old playbook where the deck chairs on the Titanic are shuffled to make it appear as if the government is finally doing something about the province's failing health-care system while nothing will really change.
Then again, it's also possible that the provincial government is building the structure for some very positive reforms that will meaningfully benefit Alberta's patients in the future. Alberta's health-care system is not known for being efficient, effective or timely—and reforms are badly needed.
Among the provinces, Alberta's provincial health spending ranked second-highest (after adjusting for age and sex) in 2021, the latest year of available data, while Albertans endure health-care wait times that are longer than the national average. Nationally, Canada is a relatively high spender among universal health-care countries, yet ranks near the bottom for the availability of medical professionals, medical technologies and hospital resources. And Canadian patients suffer some of the longest delays for access to care in the developed world.
Put simply, Albertans spend more and get less than their counterparts in other developed countries when it comes to universal health care. The solution to this problem is to learn from countries such as Switzerland, Australia and Germany, which all deliver more timely universal care with comparable health spending to our own.
So what do these countries do differently? They all have private competitive providers delivering universally accessible services within the public system, and payment for such care is based on actual delivery of services, known as "activity-based" funding. Alberta's new bureaucratic shuffle appears to bear little resemblance to these higher-performing approaches pursued elsewhere. And if the bureaucratic shuffle is the entire goal, then this reform will likely generate little to no improvement.
But again, perhaps the Smith government is setting the stage for meaningful reform. Before moving from a government-dominated health-care system (like we have in Alberta and every other province) to a higher-performing model with competitive patient-focused delivery, governments must first separate and clearly define the roles of the purchaser of health care and the providers of that care. The Alberta Health Services, which the Smith government will soon begin to dissect, directly provides, oversees and pays for health-care services (e.g. surgeries) in the province. This leads to a lack of transparency and the politicization of health-care decision-making.
A shift to multiple health authorities focused on the delivery of care, accountable to other authorities and the provincial government, has hints of the more transparent and contractual relationships between payers and providers that have reduced wait times and enhanced health system efficiency in a number of European countries. If that's indeed the government's goal, Albertans could soon benefit from an improved health-care system.
In other words, if this reform, to move from one large health authority to multiple authorities, is really about more clearly defining government's role as the purchaser and oversight authority for universal health care, with authorities and providers being transparently accountable for delivering timely quality care to patients, then Albertans may well be on the road to shorter wait times and a higher-quality health-care system.
However, if this is the provincial government working from the same old playbook, with another administrative shuffle to distract Albertans from the real problems in the health-care system, then nothing will really change and patients will pay the price.
Author:
Premier Smith reacts to Liberal Government's announcement on new methane reduction targets at COP 28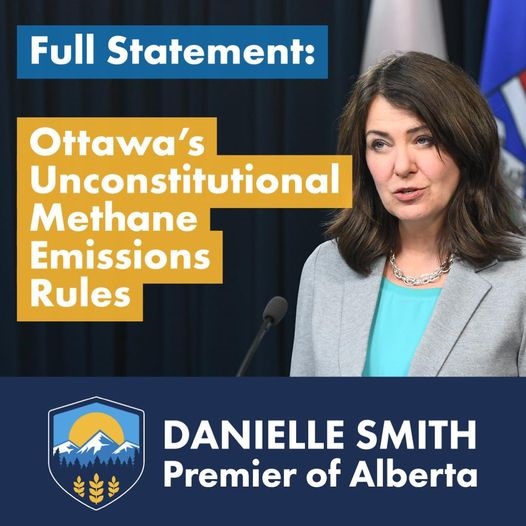 Federal methane emissions targets: Joint statement
"Once again, the federal government is setting unrealistic targets and timelines. Infrastructure can only be updated as quickly as technology allows. For example, Alberta will not accept nor impose a total ban on flaring at this time, as it is a critical health and safety practice during production. Any regulation that completely prohibits this is putting lives at risk"
Premier Danielle Smith and Minister of Environment and Protected Areas Rebecca Schulz issued the following statement on the federal government's proposed methane emissions regulations:
"The federal government has unilaterally established new methane emissions rules and targets to help win international headlines. Instead of building on Alberta's award-winning approach, Ottawa wants to replace it with costly, dangerous and unconstitutional new federal regulations that won't benefit anyone beyond Environment and Climate Change Minister Steven Guilbeault's post-office career.
"Managing emissions from Alberta's oil and gas industry is our constitutional right and responsibility, not Ottawa's, and we are getting the job done. Using a province-led approach, Alberta has already reduced methane emissions from the oil and gas sector by 45 per cent – hitting our target three years early – and we're just getting started.
"Meanwhile, not only is it illegal for Ottawa to attempt to regulate our industries in this manner, Ottawa also hasn't even hit one of its past arbitrary and unscientific emissions targets largely because it has little to no credible expertise regulating the natural resource, agricultural and other industry sectors in this space.
"Ottawa could have helped us keep reducing emissions with joint incentive programs in line with Alberta's Emissions Reduction and Energy Development Plan. It could have listened to the Supreme Court's declaration that the Impact Assessment Act was unconstitutional and abandoned this kind of arrogant and ineffective scheme. Instead, these new regulations threaten our successful province-led approach and impede good work that's already underway.
"Once again, the federal government is setting unrealistic targets and timelines. Infrastructure can only be updated as quickly as technology allows. For example, Alberta will not accept nor impose a total ban on flaring at this time, as it is a critical health and safety practice during production. Any regulation that completely prohibits this is putting lives at risk. A total ban would also be costly, resulting in shut-ins and loss of production.
"This approach will also cost tens of billions in infrastructure upgrades, yet Ottawa has provided virtually no financial support to do so. Thousands of Albertans could be put out of work in the coming years due to these costly regulations. A federal government willing to invest $37.7 billion into just three battery plants in Ontario and Quebec cannot credibly refuse to provide tax credits and financial incentives for producers in Alberta and Saskatchewan to assist with achieving a carbon-neutral economy by 2050.
"For years, Alberta, not Ottawa, has done the hard work and achieved results. We strongly support reducing methane emissions and have invested tens of millions into developing these technologies. Minister Guilbeault must work with us, and not against us, to keep cutting methane emissions and charting a course for carbon neutrality by 2050.
"Given the unconstitutional nature of this latest federal intrusion into our provincial jurisdiction, our government will use every tool at our disposal to ensure these absurd federal regulations are never implemented in our province."
Alberta's Methane Target Reached Early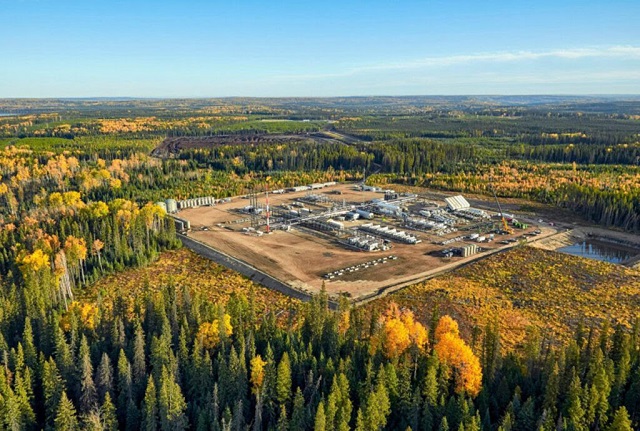 Gas processing plant in northwest Alberta, courtesy of EnergyNow
Courtesy of ENERGYminute
See more articles and infographics from ENERGYminute HERE
---
In a pat-yourself-on-the-back moment, Alberta's oil and gas industry successfully achieved a 45 percent reduction in methane emissions, surpassing the province's mandated target ahead of schedule.
Background: Alberta was the first province in Canada to commit to a 45 percent reduction in methane emissions from the oil and gas sector by 2025, based on 2014 levels. Spoiler alert: Alberta achieved its methane mission three years early.
Their targeted approach to reducing methane emissions from flaring, venting and fugitives has become an example globally, earning national and international awards for its effectiveness and cost-efficiency.
Alberta strong: The government credited the early success to close collaboration with the industry, implementing early action programs such as carbon offsets, tough regulations for all facilities, and enhanced leak detection and repair methods.
Minister of Environment Rebecca Schulz highlighted that this made-in-Alberta approach not only achieved the goal three years ahead of schedule but also resulted in roughly $600 million in savings for the industry compared to the proposed federal program.
Getting the job done: Alberta allocated $57 million from the Technology Innovation and Emissions Reduction fund for methane emissions programs, including:
$25 million in rebates to companies adopting emissions reduction equipment.
$17 million supporting alternatives to detecting and quantifying emissions.
$15 million to help small- and medium-sized operators assess methane reduction opportunities.
Overall, the initiatives eliminated 16.6 million tonnes of carbon dioxide equivalent from the atmosphere.
Looking ahead: Alberta is committed to building on this momentum and collaborating with industry experts to determine the next steps in their emissions reduction journey, aligning with the goal of carbon neutrality by 2050.