Alberta's 2022 Lt. Governor Emerging Artists Named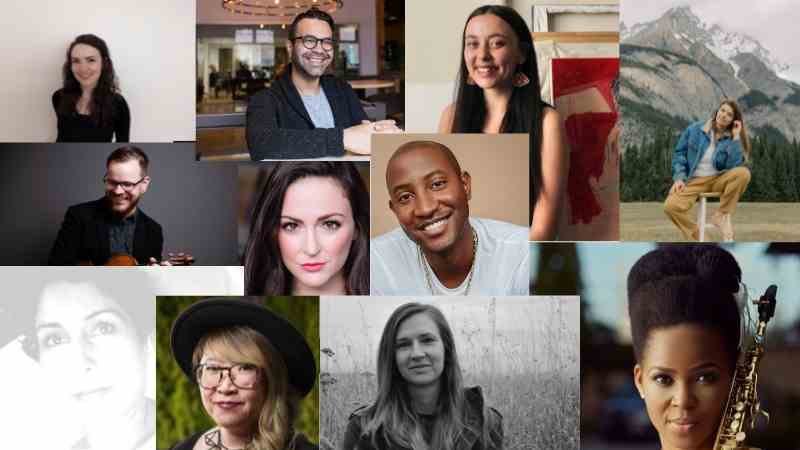 Alberta's 2022 Lt. Governor Emerging Artists Named
The Lieutenant Governor of Alberta Arts Awards Foundation announces awards totaling $110,000 to the 11 recipients of its 2022 Emerging Artist Award.
"When economic times are tough, our artists are particularly vulnerable," says Foundation Chair, Arlene Strom. "We are thrilled to invest $110,000 this year in advancing the careers of these outstanding artists at the early stages of their professional development."
2022 Emerging Artist Recipients:
Perpetual Atife Saxophone, Calgary
Vicki Chau Filmmaker, Calgary
Arlan Vriens Violin, Edmonton; Toronto
Eden Tremayne Soprano, Calgary
Omar Mouallem Writer, Edmonton
Trina Moyles Writer, Peace River
Kiona Ligtvoet Visual Arts, Edmonton
Tenaj Williams Actor, Calgary
Ally McIntyre Visual Arts, Edmonton
Moni Brar Writer/Poet, Calgary
Nahanni McKay Visual Arts, Banff
The Award's patron, Her Honour, the Honourable Salma Lakhani, Lieutenant Governor of Alberta AOE, B.Sc., LLD (hon) awarded the 2022 Emerging Artists at a celebration hosted by the County of Lac La Biche and Portage College on June 10, 2022. Each awardee receives a $10,000 cash award, a handcrafted medal and a certificate.
The 11 recipients were selected from 140 applications in an adjudication process overseen by The Banff Centre. The adjudication panel included: Darren Fung, renowned composer based out of Los Angeles, originally from Edmonton; Sean Caulfield, artist and Centennial Professor in the Department of Art & Design at the University of Alberta; Patricia Darbasie, Alberta actor, director and educator; Jenna Butler, 2014 LG Emerging Artist, award-winning author and educator; Derek Beaulieu, Jury Facilitator, Director of Literary Arts at the Banff Centre.
For more information on the awardees visit artsawards.ca
Who are the 2022 Emerging Artists?
Perpetual Atife Saxophonist, Calgary: Perpetual Atife is retelling African stories and music through her practice as a jazz saxophonist and songwriter. Her entrepreneurial spirit and energy are as impressive as her skills as a band leader and performer. The aural tapestry she creates combines her Nigerian roots and the realities she exists in today. Her debut album, a collection of her journey through instrumental music, spoken word and vocal music, is due to be released in the Fall of 2022.
Vicki Chau Filmmaker, Calgary: Vicki Chau is a filmmaker and media artist based in Calgary. Her two short films Pulled Strings and Hearth of the Lion capture a slice of her Chinese-Vietnamese heritage in a beautiful lyrical way. Her family and cultural identity have been a core inspiration in her artistic practice and help her to promote the appreciation of both Chinese and Vietnamese culture through a uniquely Canadian perspective. She was selected for the WarnerMedia Access Festivals Program at Toronto's Reelworld Film Festival in 2021.
Arlan Vriens, Violin, Edmonton/Toronto: Arlan Vriens is an Edmonton-born classical violinist noted for his ability to evoke strong, emotional performances with difficult, contemporary repertoire that pushes the boundaries of what the instrument was designed to do. Equally at home performing newly-written contemporary works or rediscovering long-lost violin techniques, Arlan is committed to nurturing and critiquing classical music as a living, evolving practice. His chamber music and solo violin projects have been supported by the Canada Council for the Arts and the arts councils of Alberta, Ontario, and Newfoundland.
Eden Tremayne Soprano, Calgary: Eden Tremayne delivers an authenticity and emotional strength that is impressive to see in an emerging opera singer. A soprano with both a strong technical facility and range, she is noted for her stirring performances. For the past three seasons, Ms. Tremayne has been a McPhee Artist with Calgary Opera. She had her Calgary Opera mainstage debut In the 2019-2020 season as Clotilde in Bellini's Norma and covered Musetta in Puccini's La bohème. Tremayne was previously featured as an Apprentice Artist with the San Diego Opera and a Yulanda M. Faris Young Artist with Vancouver Opera.
Omar Mouallem Writer, Edmonton: Omar Mouallem has established himself as a talented young journalist and filmmaker to watch. With the arrival of his important new book of non-fiction, Praying to the West: How Muslims Shaped the Americas, he's an important voice in Canadian literature with a long career ahead. A second-generation Canadian born and raised in Northern Alberta's Muslim Lebanese community, Mouallem has become known for his ability to intertwine human interest stories with world history and broad social issues. Omar co-authored the national bestseller Inside the Inferno: A Firefighter's Story of the Brotherhood that Saved Fort McMurray and co-directed Digging in the Dirt (with Dylan Rhys Howard), a raw look at the psychological toll of oil and gas labour.
Trina Moyles Writer, Peace River: Trina Moyles blends journalistic knowledge with literary expertise and a love for the land. She grew up in the northern community of Peace River, Alberta (Treaty 8), where she spent much of her childhood immersed in the boreal forest. Moyles's first book, Women Who Dig: Farming, Feminism, and the Fight to Feed the World was published in 2018 by the University of Regina Press. Her second book, a memoir and frontline reportage on the increasing prevalence of wildfire in North America, Lookout: Love, Solitude, and Searching for Wildfire in the Boreal Forest, was published in 2021 by Penguin Random House Canada. Lookout won a National Outdoors Book Award in 2021 and has recently been nominated as a finalist for the 2022 Robert Kroetsch City of Edmonton Book Prize and a finalist for the Memoir Award at the 2022 Alberta Literary Awards.
Kiona Ligtvoet Visual Arts, Edmonton: Kiona Ligtvoet looks to experiences with family and the land they live and work on to create paintings, prints and installations that function as both a personal archive, as well as non-linear storytelling. Kiona grew up west of Edmonton near the hamlet of Calahoo where she lived with her moshom and relatives on scrip land. Her family lines are Cree and Métis descending from Michel First Nation, as well as Dutch/ mixed European. Kiona works in painting, printmaking and drawing, recollecting personal stories of grief and tenderness. Most recent exhibitions have been sahkitok mistahi at Ociciwan Contemporary Art Centre (2021), and her solo show, These Are the Things at Latitude 53 (2021). She is currently writing her debut graphic novel We Were Younger Once (2022).
Tenaj Williams Actor, Calgary: Tenaj Williams has built on his community theatre experiences to create a provincial and national footprint as an actor, professionally performing on stages in Alberta and across the country. He has recently branched out into film and television landing roles on various TV series, most prominently the hit CTV comedy show, JANN. Tenaj hopes to further advance his work in the arts and be instrumental in helping to create and foster safe, and brave spaces for diverse and emerging artists. He plans to develop his skills as a director and learn more about theatre production and management.
Ally McIntyre Visual Arts, Edmonton: Ally McIntyre creates bold, powerful paintings that combine passages of abstraction with naturalistic imagery, and which contain moments of aggressive and expressive mark-making, alongside more introspective, sensitive passages of drawing. This blending of visual languages results in highly compelling imagery that fosters unexpected narratives and poetic associations for viewers. Bold and assertive, her works question the prevailing gendered association of large-scale art and expressionism. In 2015, McIntyre was awarded the HIX Award 2015 presented by Tracey Emin and the Jealous Prize 2015. Exhibits include various galleries in London, UK, The Original Print Fair at the Royal Academy, The London Art Fair, Start Art Fair and Art Toronto. She was a finalist in the RBC national painting competition (2018). Her solo exhibition 'Dog Day Circus' was featured at the Saatchi Gallery in London, UK (2022). Her work can be found in private collections in Australia, Asia, Europe, and North America.
Moni Brar Writer/Poet, Calgary: Moni Brar has published in many of the most respected journals in Canada and received a number of the top writing awards. A Punjabi Canadian writer exploring diasporan guilt and intergenerational trauma, she is poised to make major contributions to the literary arts in Canada. She has been nominated for the Pushcart Prize and multiple Best of the Net awards and was the winner of the SAAG Arts Writing Prize, runner-up in PRISM international's Grouse Grind Prize, honourable mention in Room magazine's Poetry Prize, and a finalist in the Alberta Magazine Awards and the Subnivean Awards. Her work can be found in Best Canadian Poetry 2022, the Literary Review of Canada, Passages North, Prairie Fire, Hobart, and the League of Canadian Poets' "Poem in Your Pocket" postcard series.
Nahanni McKay Visual Arts, Banff: McKay's creative practice utilizes photography, digital media, as well as performances in the landscape to explore pressing questions related to environmental change. The work often considers the ways landscape and animals have been depicted historically, particularly in the context of national parks, in order to investigate the complex interrelationship between colonial power structures, identity and ecological degradation and loss. Nahanni uses her photography to bring awareness of the need to coexist with wildlife to prevent further harm to the land we reside on. Exhibits include Personal Structures Exhibition, European Cultural Centre, Venice, Italy (2022), Loop 14, Alberta Foundation for the Arts Travelling Exhibition (2020), EXPOSURE Photography Festival Emerging Artists Showcase, Contemporary Calgary and more.
About The Awards
Founders Fil Fraser, Tommy Banks, John Poole and Jenny Belzberg established the Lieutenant Governor of Alberta Arts Awards Foundation in 2003 to celebrate and promote excellence in the arts. The endowments they established were created with philanthropic dollars and gifts from the Province of Alberta and the Government of Canada. Since its inception in 2003, the Foundation has awarded $1,430,000 to 23 Distinguished Artists and 74 Emerging Artists, all Alberta affiliated. The Foundation administers two awards programs: The Emerging Artist Awards program, established in 2008, gives up to 10 awards of $10,000 each to support and encourage promising artists early in their professional careers. Emerging Artist Awards are given out in even years. The Distinguished Artist Awards program, begun in 2005, gives up to three awards of $30,000 each in recognition of outstanding achievement in, or contribution to, the arts in Alberta. Distinguished Artist Awards are given in odd years.
Post-secondary schools must report on free speech efforts on campus, minister says
Edmonton – The Alberta government says it will require post-secondary institutions to report annually on their efforts to protect free speech on campus.
A news release from the Department of Advanced Education does not detail exactly what must be included in these reports, or say what the consequences would be if the requirements are not met.
Minister Demetrios Nicolaides signalled changes were coming earlier this week after the University of Lethbridge reversed its decision to host a speech by a former Mount Royal University professor whose comments on residential schools have drawn fierce criticism.
Frances Widdowson was fired from Mount Royal in late 2021 after she spoke of the educational benefits of residential schools while questioning whether abuses at the institutions amounted to cultural genocide.
Widdowson's campus speech this week was to centre on concerns that a mob mentality and "woke policies" increasingly threaten academic freedom.
The Alberta government says the latest move builds on its earlier work in 2019, when it required all 26 publicly funded post-secondary institutions in Alberta to either endorse the Chicago Principles on free expression, or develop a policy consistent with them.
"It is abundantly clear that more needs to be done to ensure our institutions are adequately protecting free speech," Nicolaides said in a written statement Friday.
Alberta's post-secondary institutions should be bastions of free speech and academic freedom that promote critical thinking. I will continue to explore greater steps we can take to strengthen free speech on campus."
This report by The Canadian Press was first published Feb. 3, 2023.
Overdose prevention services in Red Deer will soon transition to a mobile site operated by Alberta Health Services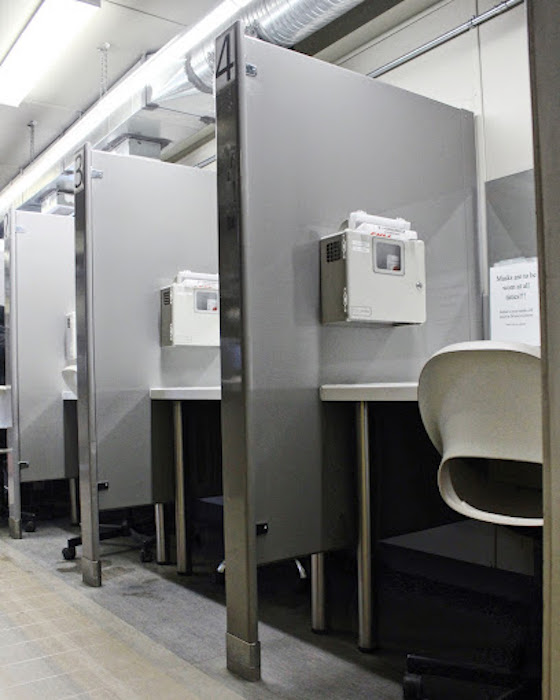 Next steps for Red Deer overdose prevention site
Alberta's government continues to make overdose prevention services available across the province while also ensuring the safety of communities and neighbourhoods is a top priority. Alberta's government will be working in partnership with Alberta Health Services (AHS) and Turning Point over the next three to six months to implement the transition to a mobile overdose prevention site operated by AHS.
This transition is necessary to respond to the changing needs in Red Deer while improving the standard of service delivery at the overdose prevention site. Alberta's government will continue working closely with the City of Red Deer and the broader community to put the safety and security of the community first while continuing to provide overdose prevention services in a professional manner.
"Overdose prevention services are healthcare services that must meet quality standards to ensure the safety of the community and a high-standard of care. Alberta Health Services is an accountable and proven operator that has experience managing these services across Alberta. My ministry will be working closely with AHS and the current operator over the next few months to smoothly transition these operations, ensuring there are no gaps in service for clients of the services."
"We appreciate the leadership of the government of Alberta in this area. We thank Turning Point for their service and the lives saved over the past several years. Ensuring the safety and wellbeing of Red Deerians is a top priority, and we are confident this new AHS-operated mobile site will continue to meet the needs of our residents."
Once the transition occurs, the new AHS-operated mobile unit will initially operate at the same location as the current overdose prevention site. Alberta's government will continue to work with the City of Red Deer, and may change the location of the service within Red Deer based on input from the municipality ­and the changing needs of the community.
As with all overdose prevention services in the province, this mobile unit will be regulated and be required to meet the quality standards outlined in the Recovery-oriented Supervised Consumption Standards in order to be licensed. Overdose prevention site service providers must also demonstrate clearly defined referral pathways to detox, treatment and recovery services, as well as primary health-care services.
Alberta's government is continuing to build a recovery-oriented system of care, where everyone struggling with addiction and mental health challenges is supported in their pursuit of recovery. This includes adding more than 9,000 new publicly funded treatment spaces, eliminating fees for residential addiction treatment, launching the Digital Overdose Response System (DORS) app and expanding opioid agonist treatment.
Quick facts
To be licensed, supervised consumption site service providers need to follow requirements related to:
the safety and security of clients, employees and the surrounding community
standardized data collection
staff qualifications and training
clinical practice standards
good neighbour agreements
physical site requirements, such as having access to washrooms for clients
Health Canada is responsible for granting exemptions under Section 56.1 of the Controlled Drugs and Substances Act to allow supervised consumption sites to operate. Overdose prevention sites require a similar exemption under Section 56(1) of the act or a letter of authorization from the Government of Alberta under the authority of the province's class exemption.
Alberta spends more than $1 billion annually on addiction and mental health care and supports, including prevention, intervention, treatment and recovery.
Any Albertan struggling with addiction can contact 211 Alberta to connect with local services and virtual supports. 211 is free, confidential and available 24-7.
The Virtual Opioid Dependency Program provides same-day access to addiction medicine physicians and life-saving medications to Albertans across the province. Albertans can call 1-844-383-7688 seven days a week, from 8 a.m. to 8 p.m. daily.