Albertans to elect three new Senators this fall – Nominations are open
Giving Albertans their say with Senate nominee elections
Alberta continues to lead the way in the democratization of the Canadian Senate by holding Senate nominee elections with the next municipal elections.
Albertans will elect three Senate nominees – one for each of the two vacancies and one in case of early retirement.
"We are keeping our platform commitment to renew Alberta's 30-year-old tradition of electing nominees to the Senate of Canada. Albertans have every right to choose who should represent them in the national Parliament. It's about democracy, plain and simple."
While the previous government let Senate nominee elections expire, the current government brought back the Alberta Senate Election Act to allow for Senate nominee elections in the province. We are proud to give Albertans the chance to have their say for the good of the province we all call home.
"The Senate nominee election is a chance for Albertans to choose the individuals who will stand up for them in their federal Parliament. Elected senators would give Albertans a real way to make their voices heard in the Senate."
In order to be included on the ballot, Senate nominee candidates are required to collect 500 signatures for their nomination papers and provide a $4,000 deposit to Elections Alberta by Sept. 20. Additionally, candidates must be Canadian citizens, at least 30 years old, own $4,000 in real property in Alberta and be a resident of the province.
Quick facts
The nominees' terms begin when the person is elected and end when the writ for the next Senate nominee election is issued.
To date, five of Alberta's elected Senate nominees have been appointed to the Senate: Stan Waters (1990), Bert Brown (2007), Betty Unger (2012), Doug Black and Scott Tannas (2013).
Municipal elections across Alberta will take place on Oct. 18.
Severe weather in Canada caused $3.1 billion in insured damages in 2022
The Insurance Bureau of Canada says severe weather caused $3.1 billion in insured damage in Canada in 2022, from flooding to storms to Hurricane Fiona.
That makes 2022 the third worst year for insured losses in Canadian history.
The bureau says no single event or particular region accounted for the majority of the insured damage in 2022, with disasters in almost every part of Canada last year.
That's in contrast to a year like 2016, the worst year on record primarily because of the Fort McMurray, Alberta wildfire, which accounted for around three-quarters of national losses.
The most expensive extreme weather event for Canada in 2022 was the Ontario and Quebec derecho in May, which caused $1 billion in damages.
The other most expensive events included Hurricane Fiona, which cost $800 million, and the summer storms in Canada which cost $300 million.
This report by The Canadian Press was first published Jan. 18, 2023.
Pierre Poilievre doesn't like anti-Trudeau flags, but understands anger behind them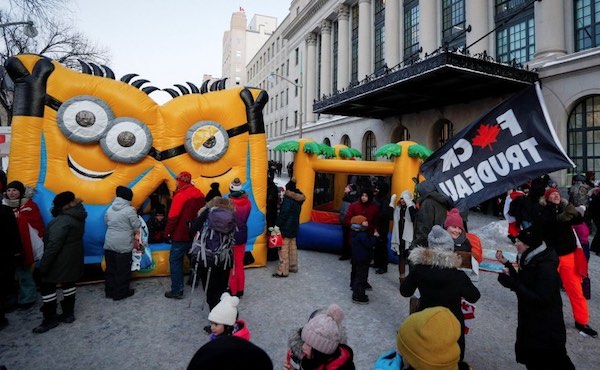 By Lee Berthiaume in Ottawa
Federal Conservative Leader Pierre Poilievre says he doesn't like the expletive-laden flags some Canadians are using to denounce Prime Minister Justin Trudeau, but that he understands the anger fuelling such displays.
"I don't like the flags, and I don't like rage," Poilievre said during an end-of-year news conference in Ottawa on Friday. "But I think we have to ask ourselves: 'Why are people so angry?' And the answer is that they're hurting."
The comments follow a blog post by former Conservative leader Erin O'Toole, who said one of his hopes for 2023 "is to see fewer profanity-laden Trudeau flags across Canada."
Describing Trudeau as his political opponent in the last federal election, not his enemy, O'Toole wrote: "These flags and the hyper-aggressive rhetoric that often accompanies them are slowly normalizing rage and damaging our democracy."
O'Toole's criticism was not limited to only those who have flown the flags targeting Trudeau, as he accused actors on both the extreme right and left of contributing to a growing polarization in Canadian politics by playing off each other.
"The proliferation of these types of political displays in recent years are a sign that we are slowly becoming desensitized to political stunts and aggressive rhetoric whether it comes from the left or right," he added.
The anti-Trudeau flags have become particularly linked to the "Freedom Convoy" protests, whose members Poilievre courted during his successful run for the Conservative leadership earlier this year. The Conservative caucus had ousted O'Toole as leader just days into the weeks-long protest in Ottawa.
Asked about O'Toole's blog post and the flags, Poilievre said it's easy for politicians to tell people to stop complaining. However, he added that many Canadians are angry because they are hurting financially and in other ways.
"I have never seen so much hurt and so much pain and suffering in our population during my nearly two decades in politics," he said.
"So sure, let's tell people to be more civil. But as political leaders, let's actually try to solve the problems that have upset and angered and hurt people so badly. It is our job to turn that hurt into hope."
Poilievre went on to suggest many Canadians are struggling because the Liberal government is out of touch, before promising to be a prime minister "that actually bring people together and gives them hope that tomorrow can be better.
"Let's make this a place where people feel their hard work pays off, where they're respected, where their leaders don't talk down to them and point fingers at them."
This report by The Canadian Press was first published Dec. 30, 2022.