Alberta RCMP welcomes provincial funding to help address rural crime
Edmonton, Alta. – Today, the Government of Alberta announced an investment of $8 million that will enable Alberta RCMP to place more employees where they can make the most impact: on the streets and in communities across the province.
This investment demonstrates the province's confidence in the Alberta RCMP's systematic and evidence-led Crime Reduction Strategy – a collaborative policing approach designed to address the root causes of crime and breaking the cycle of criminal activity in a community.
In partnership with the province, Alberta RCMP has developed an action plan that will enable the Force to address rural crime by adding 39 new officer positions and 40 civilian employees in areas that will ultimately lead to more RCMP officers on the road.
The investment represents additional support for Crime Reduction Units in communities that need it the most, six new intelligence-focused officers, four additional crime analysts and more civilian staff to cut down on paperwork so that officers can focus on investigations, patrols, and engaging with their communities.
"Rural Crime Reduction Units are designed to act fast to target repeat offenders who commit the vast majority of crimes in an area," said Deputy Commissioner Todd Shean. "I can assure you, if you are committing crime in Alberta, we will identify you and we will stop you."
"Rural police officers are part of their communities," said Kathleen Ganley, Minister of Justice and Solicitor General. "They do difficult and extremely important work every day. I want to thank the RCMP for the work they do to protect Albertans. I'm confident this plan will give our rural police officers more tools in their toolbox to fight crime."
The RCMP is proud to be the rural police force of Alberta. With the cooperation and support of the Government of Alberta and other community partners, Albertans can be certain that the RCMP's crime reduction strategies in rural communities will be innovative, sophisticated and successful.
Quick Facts:
·         Each RCMP District is equipped with a Crime Reduction Team dedicated to targeting prolific offenders, particularly in the areas of break and enters, vehicle thefts and thefts of other property.
·         District Crime Reduction Teams have arrested 219 people, have laid 469 Criminal and Drug charges and have arrested 170 wanted persons.
·         The Alberta RCMP Traffic Units (RTU), in addition to promoting highway safety through enforcement activities, are also targeting traveling criminals. In January 2018 alone, the RTU Traffic Units made 9 major seizures of drugs and contraband, totalling in excess of $1.3 million. This resulted in 14 arrests and 19 new Criminal charges being laid.
Major drug haul; ALERT seizes $3 million in drugs and cash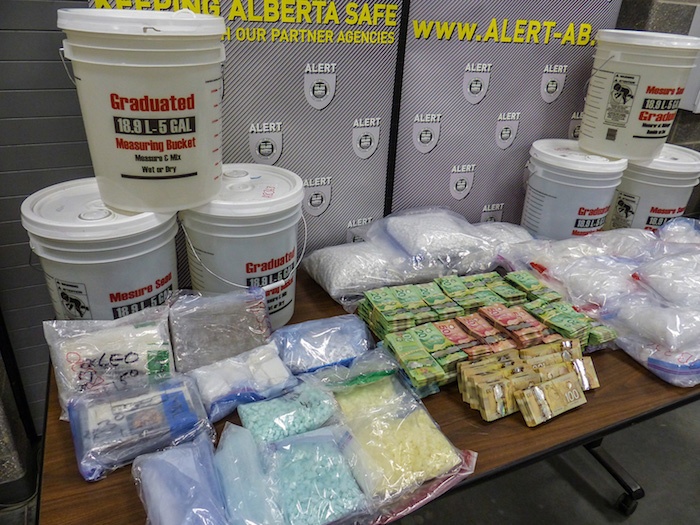 Post submitted by Alberta Law Enforcement Response Team (ALERT)
Three million dollars' worth of drugs and cash was seized from two Calgary homes, including what is believed to be the province's largest seizure of gamma-hydroxybutyrate (GHB).
On April 27, 2021 ALERT Calgary's organized crime and gang team concluded a short-term investigation with a record drug haul. ALERT seized enough methamphetamine, fentanyl, cocaine, and GHB to equal an estimated 100,000 doses.
The GHB seizure of 113.5 litres is believed to be the largest seizure of its kind in Alberta.
Meanwhile, the amount of methamphetamine and fentanyl pills seized ranks amongst ALERT Calgary's biggest busts.
"The totality of what was seized is staggering, and represents a high degree of community harm. Behind so many doses are crimes committed to feed that addiction; be it property crimes, thefts, frauds, and robberies, and all feeding into social disorder," said Supt. Dwayne Lakusta, ALERT CEO.
In total, ALERT seized roughly $3 million worth of drugs and cash:
113.5 litres of GHB;
22.3 kilograms of methamphetamine;
18,000 fentanyl pills;
1.5 kilograms of fentanyl;
4.1 kilograms of cocaine; and
$386,220 cash.
GHB is colourless and odourless, and is commonly referred to as the "date-rape drug" but is usually abused as a club drug. In July 2013 Edmonton Police Service seized 106 litres of GHB, which at the time, was believed to be Alberta's largest seizure.
ALERT's investigation is ongoing and additional charges are being contemplated. To date, 14 drug-related charges have been laid against three suspects:
Ashley Stanway, 30-year old from Calgary;
Rayann Blackmore, 22-year old from Calgary; and
Harmandeep Tiwana, 28-year old from Calgary.
ALERT began its investigation just a month prior after receiving information about suspected drug trafficking activity in the Calgary region.
Members of the public who suspect drug or gang activity in their community can call local police, or contact Crime Stoppers at 1-800-222-TIPS (8477). Crime Stoppers is always anonymous.
ALERT was established and is funded by the Alberta Government and is a compilation of the province's most sophisticated law enforcement resources committed to tackling serious and organized crime.
There's Resistance Everywhere To Building Anything. We Need Government Help