Alberta RCMP welcomes provincial funding to help address rural crime
Edmonton, Alta. – Today, the Government of Alberta announced an investment of $8 million that will enable Alberta RCMP to place more employees where they can make the most impact: on the streets and in communities across the province.
This investment demonstrates the province's confidence in the Alberta RCMP's systematic and evidence-led Crime Reduction Strategy – a collaborative policing approach designed to address the root causes of crime and breaking the cycle of criminal activity in a community.
In partnership with the province, Alberta RCMP has developed an action plan that will enable the Force to address rural crime by adding 39 new officer positions and 40 civilian employees in areas that will ultimately lead to more RCMP officers on the road.
The investment represents additional support for Crime Reduction Units in communities that need it the most, six new intelligence-focused officers, four additional crime analysts and more civilian staff to cut down on paperwork so that officers can focus on investigations, patrols, and engaging with their communities.
"Rural Crime Reduction Units are designed to act fast to target repeat offenders who commit the vast majority of crimes in an area," said Deputy Commissioner Todd Shean. "I can assure you, if you are committing crime in Alberta, we will identify you and we will stop you."
"Rural police officers are part of their communities," said Kathleen Ganley, Minister of Justice and Solicitor General. "They do difficult and extremely important work every day. I want to thank the RCMP for the work they do to protect Albertans. I'm confident this plan will give our rural police officers more tools in their toolbox to fight crime."
The RCMP is proud to be the rural police force of Alberta. With the cooperation and support of the Government of Alberta and other community partners, Albertans can be certain that the RCMP's crime reduction strategies in rural communities will be innovative, sophisticated and successful.
Quick Facts:
· Each RCMP District is equipped with a Crime Reduction Team dedicated to targeting prolific offenders, particularly in the areas of break and enters, vehicle thefts and thefts of other property.
· District Crime Reduction Teams have arrested 219 people, have laid 469 Criminal and Drug charges and have arrested 170 wanted persons.
· The Alberta RCMP Traffic Units (RTU), in addition to promoting highway safety through enforcement activities, are also targeting traveling criminals. In January 2018 alone, the RTU Traffic Units made 9 major seizures of drugs and contraband, totalling in excess of $1.3 million. This resulted in 14 arrests and 19 new Criminal charges being laid.
Teen found guilty of manslaughter in hit-and-run death of Calgary police officer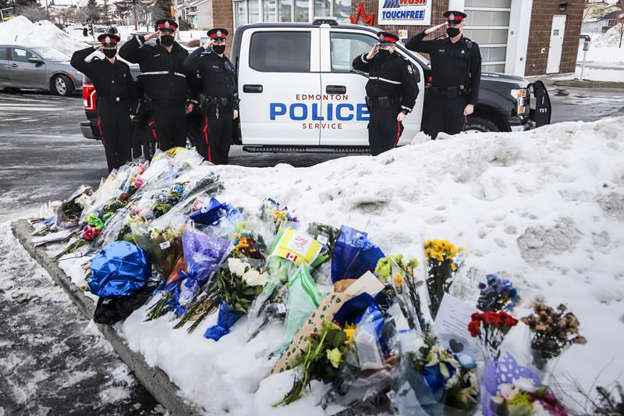 Calgary – A judge has found a teen involved in the hit-and-run death of a Calgary police officer guilty of manslaughter.
Sgt. Andrew Harnett died in hospital on Dec. 31, 2020, after being dragged by a fleeing SUV and falling into the path of an oncoming car.
The driver, who cannot be identified because he was 17 at the time, had testified he was scared when Harnett and another officer approached the vehicle during a traffic stop and he saw Harnett put his hand on his gun.
The teen's lawyer said his client was guilty of manslaughter, but not first-degree murder.
Justice Anna Loparco agreed, saying that although the accused had "outright lied" about the gun, he was in a "panicked state" when he decided to flee and unable to know his actions would cause Harnett's death.
The Crown says it will be seeking an adult sentence.
Loparco says Harnett's behaviour was "exemplary" and there was no indication that he posed a threat to the accused.
"There's no doubt he (the accused) should have realized it was likely to cause death," Loparco said Thursday.
"But I'm unable to conclude this accused turned his mind to the consequences."
This report by The Canadian Press was first published Nov. 10, 2022.
'He's not breathing': Trial begins for Calgary man accused in infant's death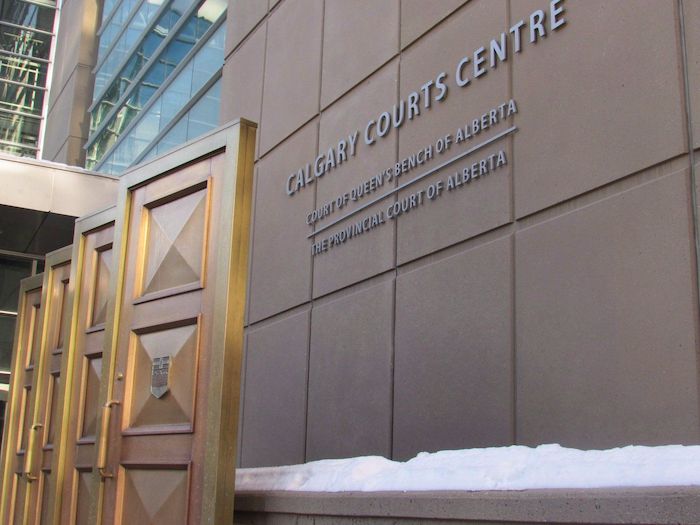 By Colette Derworiz in Calgary
A Calgary father has pleaded not guilty to second-degree murder in the death of his infant son, as court heard the man's 911 call in which he said he was trying to calm the baby down.
The trial for Anthony Karl Kurucz, 32, started Monday in the Court of King's Bench in Calgary. It is scheduled to run for almost three weeks.
Police have said emergency crews were called to a Calgary home in April 2018 to help a three-month-old in medical distress and that Kurucz was alone with his son at the time. The infant, Jayden Cyluck-Kurucz, was unconscious and he died in hospital two days later.
Kurucz was charged in September 2019 after police said the story he provided to medical staff was inconsistent with the boy's symptoms.
On Monday, court heard a recording of the 911 call from Kurucz that came in around 12:15 p.m. on April 25, 2018.
"My baby was freaking out," Kurucz said on the call. "I was trying to calm him down, rock him, that kind of thing."
He said there was blood coming out of his son's nose.
"I'm freaking out because my wife just went to take our dog to the vet," Kurucz said.
He told the dispatcher he believed the boy's heart was still beating.
"He's very floppy, he's very limp," said Kurucz.
When asked by the dispatcher whether the baby was breathing, he responded: "I can't tell. I know his heart is beating, though."
He then asked whether his son was going to live.
"I don't know what to do," said Kurucz on the call. "I didn't do anything wrong to him. I was just trying to calm him down and rock him.
"He's not going to die, is he?"
Kurucz asked the dispatcher, Craig Moxley, whether police were coming. Moxley said paramedics and firefighters were on the way. Moxley confirmed the call during his testimony in court Monday.
Court heard fire crews were the first to arrive at the home in southeastern Calgary.
One of the senior firefighters, Greg Heise, testified that the crew found Kurucz outside.
"The father was holding Jayden on the sidewalk," Heise said Monday. "We were probably caught a little off guard.
"The father said, 'He's not breathing.'"
Heise said first responders placed Jayden on the ground. His colleague started CPR while he tried to open Jayden's airway, he said.
"I was not able to do that," said Heise, noting there was dried blood around the baby's nose and mouth.
He said the father didn't provide much information when Kurucz was asked what happened.
"He was freaking out," said Heise, who noted it was difficult to get a clear answer from the father. "He initially stayed with us.
"At some point, he mentioned he needed to have a cigarette."
Heise said he and his colleague continued to treat Jayden until paramedics arrived a few minutes later.
"He was pale," said Heise, adding there was a bluish tinge around the baby's nose and mouth. "His eyes were open but not reactive."
Another firefighter and a paramedic are scheduled to take the stand Monday afternoon.
This report by The Canadian Press was first published Nov. 7, 2022.