Alberta NDP Opposition says Albertans need help to pay utility bills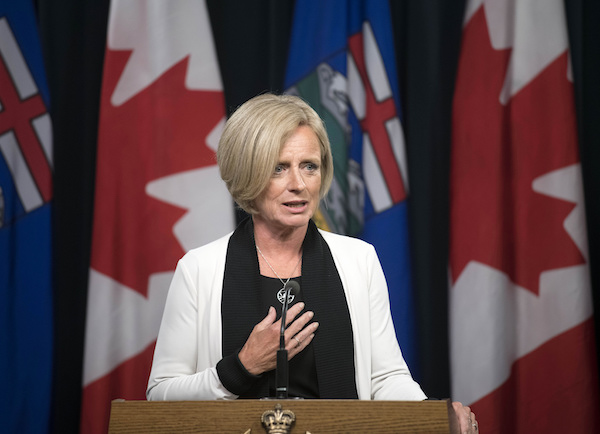 From the Alberta NDP
NDP CALLS FOR UTILITY BILL RELIEF IN RESPONSE TO SHOCKING BILLS DURING PANDEMIC, ECONOMIC DOWNTURN
Alberta's NDP is calling for major relief for consumers following a sudden surge in constituents coming forward with massive cost increases on their monthly electricity and overall utility bills.
The Office of the Utilities Consumer Advocate (UCA) cites a number of contributing factors to the upswing in prices in Alberta, including increased consumption while people are staying home to observe COVID-19 public health orders, increased use during the winter, increased costs for natural gas and electricity and increased transmission and distribution charges.
"There's a compounding effect here and it's hammering household budgets," said NDP Leader Rachel Notley. "Many Albertans have to use more natural gas and electricity if they work from home or spend more time at home to help protect their communities from the spread of COVID. Couple that with soaring prices for natural gas and electricity and you're seeing massive bills and no relief for families."
In 2016, the NDP Government capped electricity prices under the Regulated Rate Option at 6.8 cents per kilowatt hour; however, Jason Kenney and the UCP removed it in late 2019. According to the UCA, average electricity prices have exceeded that previous cap in January, February and March of this year — the highest price was reported in February by EPCOR, which charged an average of 8.95 cents per kilowatt hour.
As well, natural gas prices are at highs not seen in seven years, with prices in March exceeding four cents per gigajoule — the last time prices were this high was in June 2014. For context, rates were just 1.6 cents per gigajoule in March 2020.
In response, the NDP is calling for the following four actions to be taken by the UCP immediately:
Provide direct consumer relief to two-thirds of Albertans (those earning up to $55,000 annually as an individual or $102,500 per couple). Model the relief program after the COVID-19 Energy Assistance Program offered by the Government of Ontario, which provided customers with up to $750 in support both their electricity and natural gas bills. Consumers can apply for relief on both bills separately, providing total potential relief of $1,500.
Reinstate the Regulated Rate Option cap for electricity at 6.8 cents per kilowatt hour.
Reinstate the Utility Payment Deferral Program, which allowed consumers and businesses to defer payment of bills but which ended last June.
Ban all utility shutoffs for Alberta homes until the pandemic ends and public health orders are lifted.
Notley noted that Albertans are already struggling greatly during the pandemic and economic downturn, with tens of thousands of jobs lost in the province and currently the second-highest unemployment rate in Canada. In a recent Angus Reid poll, the percentage of Canadians reporting that they are worse off than they were a year ago is highest in Alberta.
"We need action to help Albertans in this time of great need," Notley said. "People doing the right thing and staying closer to home during this pandemic should not be penalized for doing so. We need real consumer relief from these glaring utility bills and we need it to last for the duration of the pandemic, no matter when it might end."
Thousands of Albertans have written or come forward to the NDP Caucus with complaints and concerns about their utility bills. Calgary father Hassan Ali Nakokara lost his job early in the pandemic and has been struggling to pay bills since. In February, his monthly utility bill jumped to $850 from $450 the month prior.
"It's impossible for me to pay that," Nakukara said. "I'm out of work, I'm trying to support my kids while I look for work. The last thing I can do is hand over hundreds to heat and power my home. I need help and I'm desperately hoping the government will step up to help me and so many others."
Fellow Calgarian Carolyn Nystrom said she and her husband have lived in their home since 2012 and paid between $250-300 for utilities per month. Her bill has been increasing rapidly since December – for March, the total reached $576. Nystrom said it appears the greatest increases are being seen on electricity and transmission charges.
"We are in a pandemic," Nystrom said. "People have lost their jobs. People have spent their savings. My husband and I have both been fortunate to keep our jobs through all of this. Even though we still get a paycheque, a bill doubling in three months is absolutely unaffordable … if companies like Enmax and Direct Energy can charge whatever they want per kilowatt hour or gigajoule, what can stop them? And what can we do? We live in Canada. Being able to turn lights on is not exactly an option here. We have to pay, and companies without regulations and caps know that."
Correspondence and calls regarding spiking utility bills have come in from all over the province.
Airdrie mother Lisa Gilling said her most recent electricity bill shows the price being charged per kilowatt hour jumped from 5 cents to 19 cents per kilowatt hour and her bill for electricity alone totaled over $400.
"A three hundred per cent increase for a product or service is drastic but when it is an essential service, like electricity, it can be catastrophic, especially for a single-income family," Gilling said. "Do you cut back on groceries in order to have lights and hot water?"
Mickey Moore, a senior living alone in Vermillion said his bill has risen by hundreds of dollars since the beginning of the year to more than $550 in March.
"Without some kind of control on essential service, with no real competition, how can we seniors expect to keep up on our fixed incomes?" Moore said. "Does the government plan to index seniors' incomes to the rising utility costs? When we had regulated utility oversight there was some control and fairness applied."
Smith says despite difficulty with Ottawa, Alberta has allies in Trudeau cabinet
Alberta Premier Danielle Smith speaks to business leaders at the Global Business Forum in Banff, Alta., Friday, Sept. 22, 2023. Smith told the conference that despite her concerns with the federal Liberal government there was some cabinet ministers she can work with. THE CANADIAN PRESS/Jeff McIntosh
By Bill Graveland in Banff
Alberta Premier Danielle Smith told a business conference on Friday that despite her concerns with the federal Liberal government, there are some cabinet ministers she can work with.
Smith has been at odds with federal Environment Minister Steven Guilbeault and Natural Resources Minister Jonathan Wilkinson amid concerns over Ottawa's climate-change policies and transition plan for a net-zero emissions economy.
Guilbeault intends to publish draft regulations this fall to cap emissions from oil and gas, then force them downward overtime. Ottawa has also set a target to have the electricity grid be net-zero by 2035, but Alberta says it's unrealistic.
Smith says Alberta won't implement the emissions cap, nor will it follow the 2035 target.
The premier told delegates at the Global Business Forum in Banff, Alta., that Wilkinson needs to answer for comments he made earlier this week at the World Petroleum Congress in Calgary.
Wilkinson's call for the industry to work aggressively to get to net-zero was basically telling them to "pack it up, because the oil and gas industry is winding down," said Smith.
"You could just feel the energy leave the room and you could just feel the investment dollars leave the room."
Smith said energy producing provinces such as Alberta, Saskatchewan and Newfoundland and Labrador, can't trust the Trudeau government to look out for their interests at international conferences.
"After hearing how the natural resources minister talks about our industry, after hearing how the federal environment minister talks about our industry, we can't afford to let them carry our message," Smith said.
"We can't afford not to be there."
Smith said she has been in discussions with Saskatchewan Premier Scott Moe and intends to talk to Newfoundland and Labrador Premier Andrew Furey about joint presentations at conferences in the future.
Despite her disappointment with Wilkinson and Guilbeault, Smith said it's not all bad.
Finance Minister Chrystia Freeland among the top allies, she said.
"Let's give her credit for shepherding through all of the constant need to give more debt financing to Trans Mountain pipeline to get that to the finish line. That has not been easy," Smith said.
She also praised Innovation Minister Francois-Philippe Champagne, Public Safety Minister Dominic LeBlanc, Labour Minister Seamus O'Regan and Employment Minister Randy Boissonnault.
"I would say it's not uniformly negative in the Liberal caucus. But for some reason they're allowing Stephen Guilbeault to be a maverick and a renegade and quite offensive to those of who are trying to be reasonable and adult about this," Smith said.
Smith said it's time for the federal government to back away from setting "aggressive targets" in dealing with the provinces.
"Aggressive targets are not helpful. They're not helpful to us. They're not helpful to investors."
This report by The Canadian Press was first published Sept. 22, 2023.
New app uses AI to help Calgary medical students practise interacting with patients
A Calgary medical student has developed a new app that allows future doctors to work on their diagnostic and communication skills before they set up their practices. Eddie Guo, seen in an undated handout photo, is a second-year student at the University of Calgary's Cumming School of Medicine. He says that one of the challenges in medical school is becoming better at interacting with patients. THE CANADIAN PRESS/HO-University of Calgary
By Bill Graveland in Calgary
A Calgary medical student has developed an app that allows future doctors to work on their diagnostic and communication skills before they set up their practices.
Eddie Guo, a second-year student at the University of Calgary's Cumming School of Medicine, said one of the challenges beyond the book learning in medical school is becoming better at interacting with patients.
As a result, he's turned to the rapidly growing area of artificial intelligence to create a number of virtual patients, with a variety of health conditions, that a student can talk to.
"It's good to get more than just two or four hours of the practice we get in medical school to really be able understand what it's like to communicate in a real-life scenario," said Guo.
"We think it's a good idea to have more than a few hours of practice before actually going out into the wild and seeing patients for the first time."
Guo created a program, called OSCE-GPT, where the computer is the patient. Users choose the patient's gender and can select a scenario or let the computer decide on one for them.
"I'm Ben Johnson and I've been having some really bad abdominal pains over the past two days. It's in the right upper quadrant and it spreads to my back," said the robotic male voice in the program.
"I've also been feeling nauseous and vomiting. I'm here in the emergency department because of the pain."
The AI patient can answer questions about its condition and, after the conversation, provides feedback to the student along with a list of other questions that could have been asked.
Guo said until he is finally allowed on the medical wards, the only other interactions he gets are with standardized patients, professional actors who present with various conditions.
"As you can imagine, they're really quite good at their job, but they're also very expensive," Guo said.
"We don't get that much opportunity really to practise speaking with a patient, and so what this app was born out of was a lack of possibility to practise."
Guo collaborated with medical resident Dr. Mehul Gupta. He said this kind of additional help will make for better doctors.
"One of the things we learn again and again in medical school, and that's reinforced again in residency, is that the history you take from a patient is almost 99 per cent of the diagnosis that you make and the impression you make on a patient the first time you speak with them is long-lasting," Gupta said.
"If you have the opportunity to practise to tailor your questions to see how you could have done better, you really do become a better doctor overall."
Guo said the app is still being upgraded and at this point there is no image of a patient that shows up on the screen. He said he is hoping that things like a chest X-ray, a CT scan or a picture of someone's skin could be incorporated into the program.
Within the first month of the app's launch, more than 550 health-care trainees from Canada and across the world including Europe, India, Saudi Arabia and the United States signed on.
This report by The Canadian Press was first published Sept. 22, 2023.