Alberta NDP Opposition says Albertans need help to pay utility bills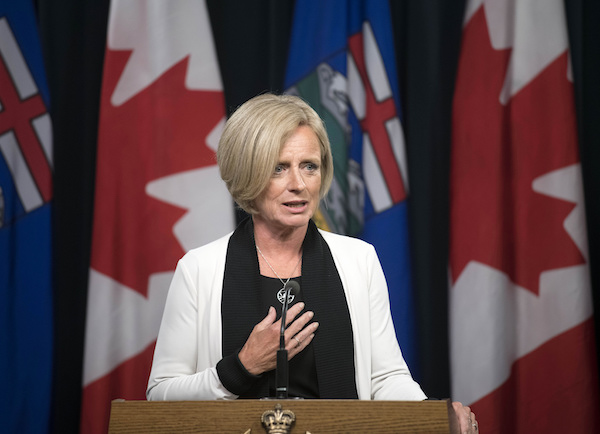 From the Alberta NDP
NDP CALLS FOR UTILITY BILL RELIEF IN RESPONSE TO SHOCKING BILLS DURING PANDEMIC, ECONOMIC DOWNTURN
Alberta's NDP is calling for major relief for consumers following a sudden surge in constituents coming forward with massive cost increases on their monthly electricity and overall utility bills.
The Office of the Utilities Consumer Advocate (UCA) cites a number of contributing factors to the upswing in prices in Alberta, including increased consumption while people are staying home to observe COVID-19 public health orders, increased use during the winter, increased costs for natural gas and electricity and increased transmission and distribution charges.
"There's a compounding effect here and it's hammering household budgets," said NDP Leader Rachel Notley. "Many Albertans have to use more natural gas and electricity if they work from home or spend more time at home to help protect their communities from the spread of COVID. Couple that with soaring prices for natural gas and electricity and you're seeing massive bills and no relief for families."
In 2016, the NDP Government capped electricity prices under the Regulated Rate Option at 6.8 cents per kilowatt hour; however, Jason Kenney and the UCP removed it in late 2019. According to the UCA, average electricity prices have exceeded that previous cap in January, February and March of this year — the highest price was reported in February by EPCOR, which charged an average of 8.95 cents per kilowatt hour.
As well, natural gas prices are at highs not seen in seven years, with prices in March exceeding four cents per gigajoule — the last time prices were this high was in June 2014. For context, rates were just 1.6 cents per gigajoule in March 2020.
In response, the NDP is calling for the following four actions to be taken by the UCP immediately:
Provide direct consumer relief to two-thirds of Albertans (those earning up to $55,000 annually as an individual or $102,500 per couple). Model the relief program after the COVID-19 Energy Assistance Program offered by the Government of Ontario, which provided customers with up to $750 in support both their electricity and natural gas bills. Consumers can apply for relief on both bills separately, providing total potential relief of $1,500.
Reinstate the Regulated Rate Option cap for electricity at 6.8 cents per kilowatt hour.
Reinstate the Utility Payment Deferral Program, which allowed consumers and businesses to defer payment of bills but which ended last June.
Ban all utility shutoffs for Alberta homes until the pandemic ends and public health orders are lifted.
Notley noted that Albertans are already struggling greatly during the pandemic and economic downturn, with tens of thousands of jobs lost in the province and currently the second-highest unemployment rate in Canada. In a recent Angus Reid poll, the percentage of Canadians reporting that they are worse off than they were a year ago is highest in Alberta.
"We need action to help Albertans in this time of great need," Notley said. "People doing the right thing and staying closer to home during this pandemic should not be penalized for doing so. We need real consumer relief from these glaring utility bills and we need it to last for the duration of the pandemic, no matter when it might end."
Thousands of Albertans have written or come forward to the NDP Caucus with complaints and concerns about their utility bills. Calgary father Hassan Ali Nakokara lost his job early in the pandemic and has been struggling to pay bills since. In February, his monthly utility bill jumped to $850 from $450 the month prior.
"It's impossible for me to pay that," Nakukara said. "I'm out of work, I'm trying to support my kids while I look for work. The last thing I can do is hand over hundreds to heat and power my home. I need help and I'm desperately hoping the government will step up to help me and so many others."
Fellow Calgarian Carolyn Nystrom said she and her husband have lived in their home since 2012 and paid between $250-300 for utilities per month. Her bill has been increasing rapidly since December – for March, the total reached $576. Nystrom said it appears the greatest increases are being seen on electricity and transmission charges.
"We are in a pandemic," Nystrom said. "People have lost their jobs. People have spent their savings. My husband and I have both been fortunate to keep our jobs through all of this. Even though we still get a paycheque, a bill doubling in three months is absolutely unaffordable … if companies like Enmax and Direct Energy can charge whatever they want per kilowatt hour or gigajoule, what can stop them? And what can we do? We live in Canada. Being able to turn lights on is not exactly an option here. We have to pay, and companies without regulations and caps know that."
Correspondence and calls regarding spiking utility bills have come in from all over the province.
Airdrie mother Lisa Gilling said her most recent electricity bill shows the price being charged per kilowatt hour jumped from 5 cents to 19 cents per kilowatt hour and her bill for electricity alone totaled over $400.
"A three hundred per cent increase for a product or service is drastic but when it is an essential service, like electricity, it can be catastrophic, especially for a single-income family," Gilling said. "Do you cut back on groceries in order to have lights and hot water?"
Mickey Moore, a senior living alone in Vermillion said his bill has risen by hundreds of dollars since the beginning of the year to more than $550 in March.
"Without some kind of control on essential service, with no real competition, how can we seniors expect to keep up on our fixed incomes?" Moore said. "Does the government plan to index seniors' incomes to the rising utility costs? When we had regulated utility oversight there was some control and fairness applied."
Kadri's winner halts Coyotes' comeback effort as Flames earn 3-2 victory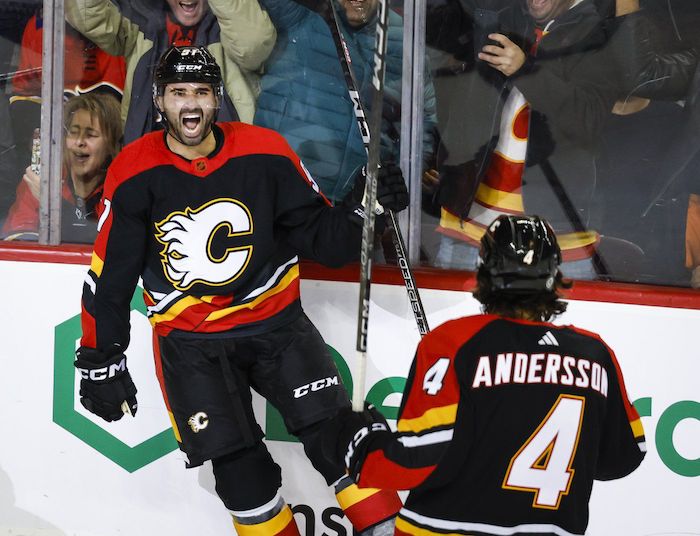 By Darren Haynes in Calgary
Nazem Kadri scored the game-winning goal at 15:42 of the third period and added two assists to lead the Calgary Flames to a 3-2 victory over the Arizona Coyotes on Monday.
Dillon Dube and Elias Lindholm also scored for Calgary (12-10-3), which has won five of its last six games at the Saddledome. Jonathan Huberdeau chipped in a pair of assists.
Shayne Gostisbehere and Jeff Chychrun each had a goal and an assist for Arizona (7-12-4), which has won just one of its last 10 (1-6-3).
Dan Vladar, starting for the fifth time in the last seven games, made 18 stops to even his record at 4-4-1.
Karel Vejmelka had 24 stops for the Coyotes in falling to 6-7-3.
Down 2-1 to start the third period, Arizona tied it at 5:50 when Chychrun snapped a shot over Vladar's shoulder. It was Chychrun's third goal in seven games since the defenceman returned from a wrist injury that sidelined him the first six weeks of the season.
But nine minutes later, Chychrun took a tripping penalty that proved to be costly.
Calgary regained the lead as Tyler Toffoli neatly set up Kadri, who notched his team-leading ninth goal of the season.
The Flames finished the night a perfect 2-for-3 on the power play, after having been in a slump, going 2-for-21 over the previous seven games.
Arizona went 0-for-2 on the man advantage.
Fuelled by back-to-back power plays early in the first period, Arizona held a 7-1 edge in shots at the 13-minute mark of the first period before Calgary started to tilt the ice in its favour.
After an extended stretch of pressure in the Coyotes' end, Dube opened the scoring deflecting a Chris Tanev point shot at 14:13 of the frame for his fifth goal of the season and fourth goal in his last eight games.
Just under three minutes later, Lindholm netted a power-play marker for his ninth of the campaign.
The Flames piled up 15 shots in a row before the Coyotes, having gone over 15 minutes without testing Vladar, finally directed a puck on the Calgary net seven minutes into the second.
With Vejmelka keeping the visitors within two, Arizona cut its deficit in half at 13:53 of the second. Rookie right-winger Matias Maccelli sent a drop pass to Gostisbehere whose shot found its way through a couple of screens and in off Vladar's arm.
HOMECOMING WEEK
Coyotes defenceman Juuso Valimaki, selected 16th overall in the 2017 draft, is the fourth Flames first-round pick to play against Calgary during its homestand. He follows Matthew Tkachuk (2016) and Sam Bennett (2014) with Florida on Tuesday and Sean Monahan (2013) with the Canadiens on Thursday.
ROOKIE RISING
Maccelli's assist extends the 22-year-old's point streak to four games (one goal, five assists). It's also his 15th helper on the season, which leads all rookies. Maccelli is second in rookie scoring behind Seattle's Matty Beniers.
UP NEXT
Coyotes: Having not played at home since Nov. 3, Arizona's stretch of 14 straight games on the road concludes on Wednesday in Edmonton.
Flames: Wrap up their five-game homestand on Wednesday against Minnesota.
This report by The Canadian Press was first published Dec. 5, 2022.
Dowd's winner lifts Capitals past Oilers 3-2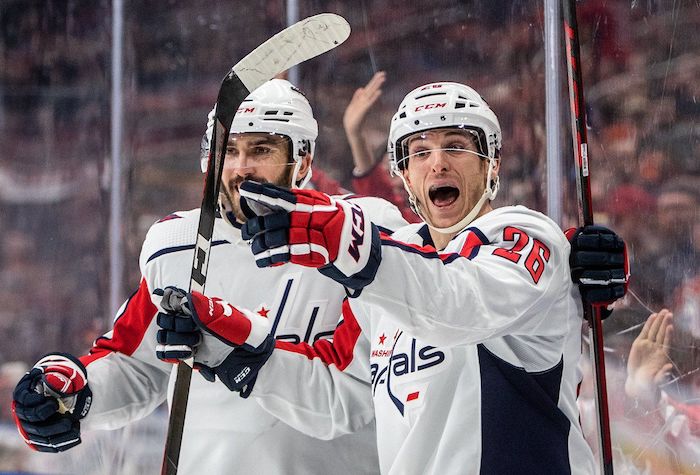 By Shane Jones in Edmonton
Throwing 50 shots on net proved to be a successful recipe for the Washington Capitals on Monday.
Nic Dowd scored the game winner as the Capitals snapped a two-game losing skid with a 3-2 victory over the Edmonton Oilers. Washington outshot Edmonton by 20 in the win.
"It was one of our best wins of the season," Capitals coach Peter Laviolette said. "I thought it was every guy in there that played really hard and came out the right way in the first period and were doing the right things.
"We had gotten away from that for a couple of games. I thought we did a good job tonight of trying to push it and control the game."
Lars Eller and T.J. Oshie also scored for the Capitals (11-12-4), who have gone 2-5-3 in their last 10 road games. Charlie Lindgren made 28 saves.
"It was good, especially considering we have so many guys out," Eller said of his team's high-octane performance. "We haven't had that many wins in this building, It is a tough place to come in to and we gave it everything we had and it was enough today.
"We were playing to our identity with good forechecking and forcing some turnovers and having some long times in the zone cycling and long attacks. That is the stuff we are doing when we are playing our best and we saw some of that today. There were a lot of positives."
Brett Kulak and Connor McDavid replied for the Oilers (14-12-0), who have lost two of their last three. Stuart Skinner stopped 47 shots.
With yet another bad start, Edmonton was fortunate to emerge from the first period without surrendering a goal, despite being blitzed by Washington, getting outshot 22-12.
"We come in here and we talk about it every day," Oilers defenceman Darnell Nurse said of his team's rough starts. "We sit here after the game, talk about it over and over and over. … We want to have good starts each and every night but, you know, we're sitting here and it's a part of our game. We're almost a quarter of the way through the season.
"The more we just talk away and pester at it, we need to just show up and play. Relax, pin our ears back and come out on the on the attack."
Skinner was rock solid in the opening frame, particularly during a Washington power play where he made seven saves in one sequence, including a pair of one-timers from Alex Ovechkin and an opportunity in tight for Oshie.
Despite the slow start, the Oilers opened the scoring 1:44 into the second period as Kulak unleashed a blast from the point with traffic in front for his first of the season.
Washington levelled the score just under six minutes later. Leon Draisaitl coughed the puck up in his own zone, giving Eller a clear path to the net and he beat Skinner following a deke for his fourth of the campaign.
Edmonton regained the advantage with 4:35 to play in the middle frame when McDavid picked off a John Carlson pass and blazed up ice on a breakaway before beating Lindgren through his legs for a short-handed marker.
McDavid's 22nd of the year pushed his goal streak to five games. It is the best start through 26 games of his career, with his previous best being 16 goals in that span.
The Capitals answered back on the same power play, however, on a perfect three-way passing effort that was finished off when Oshie blasted a feed from Dylan Strome into the net. The shot totals were 41-19 for the visitors after 40 minutes.
Washington grabbed its first lead 7:13 into the third period as a buzzing Aliaksei Protas came in on a partial break, but instead dropped it back to Dowd, who wired home his fourth to give his team the eventual win.
NOTES:
Both teams have been badly hit with injuries. Missing from the Washington lineup were Nicklas Backstrom (hip surgery), Connor Brown (torn ACL), Carl Hagelin (hip surgery), Tom Wilson (torn ACL), Beck Malenstyn (upper body), Dmitry Orlov (lower body), Darcy Kuemper (upper body) and Martin Fehervary (upper body). … Hunter Shepard was called up from the Hershey Bears of the American Hockey League to serve as the backup goalie with Kuemper getting injured in their last game against Calgary. … The Oilers were missing Evander Kane (wrist surgery), Warren Foegele (undisclosed), Ryan McLeod (undisclosed) and Zach Hyman, who took a stick to the head in Saturday's contest against Montreal. The Oilers did get some good news, with Kailer Yamamoto able to return after missing 11 games with an undisclosed injury.
UP NEXT:
Both teams return to action on Wednesday. The Capitals close out a six-game road trip in Philadelphia against the Flyers. The Oilers play the third of a four-game homestand when they host the Arizona Coyotes.
This report by The Canadian Press was first published Dec. 5, 2022.