Alberta NDP Opposition says Albertans need help to pay utility bills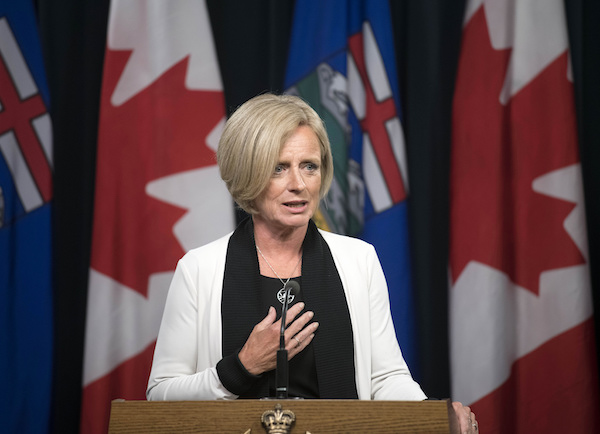 From the Alberta NDP
NDP CALLS FOR UTILITY BILL RELIEF IN RESPONSE TO SHOCKING BILLS DURING PANDEMIC, ECONOMIC DOWNTURN
Alberta's NDP is calling for major relief for consumers following a sudden surge in constituents coming forward with massive cost increases on their monthly electricity and overall utility bills.
The Office of the Utilities Consumer Advocate (UCA) cites a number of contributing factors to the upswing in prices in Alberta, including increased consumption while people are staying home to observe COVID-19 public health orders, increased use during the winter, increased costs for natural gas and electricity and increased transmission and distribution charges.
"There's a compounding effect here and it's hammering household budgets," said NDP Leader Rachel Notley. "Many Albertans have to use more natural gas and electricity if they work from home or spend more time at home to help protect their communities from the spread of COVID. Couple that with soaring prices for natural gas and electricity and you're seeing massive bills and no relief for families."
In 2016, the NDP Government capped electricity prices under the Regulated Rate Option at 6.8 cents per kilowatt hour; however, Jason Kenney and the UCP removed it in late 2019. According to the UCA, average electricity prices have exceeded that previous cap in January, February and March of this year — the highest price was reported in February by EPCOR, which charged an average of 8.95 cents per kilowatt hour.
As well, natural gas prices are at highs not seen in seven years, with prices in March exceeding four cents per gigajoule — the last time prices were this high was in June 2014. For context, rates were just 1.6 cents per gigajoule in March 2020.
In response, the NDP is calling for the following four actions to be taken by the UCP immediately:
Provide direct consumer relief to two-thirds of Albertans (those earning up to $55,000 annually as an individual or $102,500 per couple). Model the relief program after the COVID-19 Energy Assistance Program offered by the Government of Ontario, which provided customers with up to $750 in support both their electricity and natural gas bills. Consumers can apply for relief on both bills separately, providing total potential relief of $1,500.
Reinstate the Regulated Rate Option cap for electricity at 6.8 cents per kilowatt hour.
Reinstate the Utility Payment Deferral Program, which allowed consumers and businesses to defer payment of bills but which ended last June.
Ban all utility shutoffs for Alberta homes until the pandemic ends and public health orders are lifted.
Notley noted that Albertans are already struggling greatly during the pandemic and economic downturn, with tens of thousands of jobs lost in the province and currently the second-highest unemployment rate in Canada. In a recent Angus Reid poll, the percentage of Canadians reporting that they are worse off than they were a year ago is highest in Alberta.
"We need action to help Albertans in this time of great need," Notley said. "People doing the right thing and staying closer to home during this pandemic should not be penalized for doing so. We need real consumer relief from these glaring utility bills and we need it to last for the duration of the pandemic, no matter when it might end."
Thousands of Albertans have written or come forward to the NDP Caucus with complaints and concerns about their utility bills. Calgary father Hassan Ali Nakokara lost his job early in the pandemic and has been struggling to pay bills since. In February, his monthly utility bill jumped to $850 from $450 the month prior.
"It's impossible for me to pay that," Nakukara said. "I'm out of work, I'm trying to support my kids while I look for work. The last thing I can do is hand over hundreds to heat and power my home. I need help and I'm desperately hoping the government will step up to help me and so many others."
Fellow Calgarian Carolyn Nystrom said she and her husband have lived in their home since 2012 and paid between $250-300 for utilities per month. Her bill has been increasing rapidly since December – for March, the total reached $576. Nystrom said it appears the greatest increases are being seen on electricity and transmission charges.
"We are in a pandemic," Nystrom said. "People have lost their jobs. People have spent their savings. My husband and I have both been fortunate to keep our jobs through all of this. Even though we still get a paycheque, a bill doubling in three months is absolutely unaffordable … if companies like Enmax and Direct Energy can charge whatever they want per kilowatt hour or gigajoule, what can stop them? And what can we do? We live in Canada. Being able to turn lights on is not exactly an option here. We have to pay, and companies without regulations and caps know that."
Correspondence and calls regarding spiking utility bills have come in from all over the province.
Airdrie mother Lisa Gilling said her most recent electricity bill shows the price being charged per kilowatt hour jumped from 5 cents to 19 cents per kilowatt hour and her bill for electricity alone totaled over $400.
"A three hundred per cent increase for a product or service is drastic but when it is an essential service, like electricity, it can be catastrophic, especially for a single-income family," Gilling said. "Do you cut back on groceries in order to have lights and hot water?"
Mickey Moore, a senior living alone in Vermillion said his bill has risen by hundreds of dollars since the beginning of the year to more than $550 in March.
"Without some kind of control on essential service, with no real competition, how can we seniors expect to keep up on our fixed incomes?" Moore said. "Does the government plan to index seniors' incomes to the rising utility costs? When we had regulated utility oversight there was some control and fairness applied."
Elks down Tiger-Cats 29-25 for first win of CFL season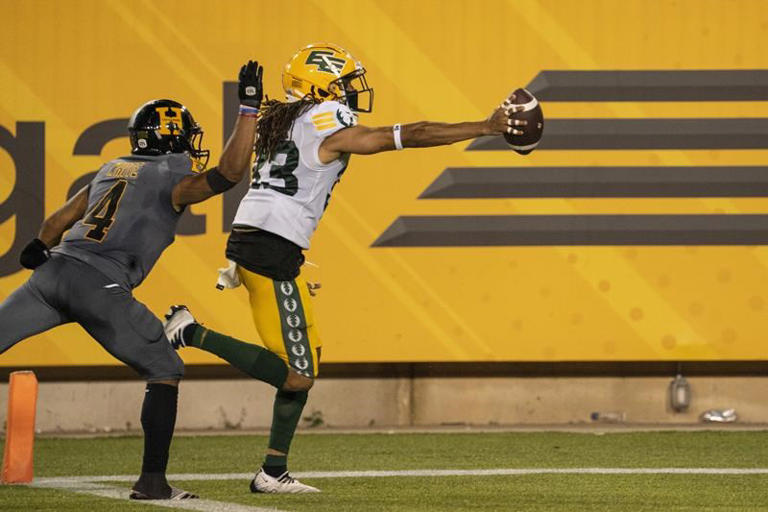 HAMILTON — Tre Ford was in his happy place Friday in Hamilton.
The Edmonton Elks quarterback got a win in his first career CFL start 30 minutes down the Queen Elizabeth Highway from his hometown of Niagara Falls, Ont.
The Elks came from behind to beat the Tiger-Cats 29-25 in front of 20,233 at Tim Hortons Field.
"To come back to Hamilton and have all my family watching me get that first start and that first win has been fantastic," Ford said.
Among Ford's supporters were his wife, parents, sister, sister-in-law and mother-in-law, his high school football coach from A.N. Myer Secondary, his University of Waterloo head coach Chris Bertoia, eight of his former university teammates and more friends.
Ford was shaky at times as the Elks trailed by 13 points early in the second half.
But the 2021 winner of the Hec Crighton Trophy winner that goes to the most outstanding Canadian university football player threw a game-tying touchdown pass to Kenny Lawler early in the fourth quarter.
The winning play for the Elks (1-3) arrived with 1:38 remaining when defensive back Scott Hutter tackled Hamilton quarterback Dane Evans and knocked the ball loose.
Jalen Collins recovered for a 14-yard touchdown.
"I saw him tackle him and thought, 'please punch the ball out," Collins said. "All we needed was an opportunity to close the game out. We were fighting all night. It was ugly."
The winless Tiger-Cats opened a season with four straight losses for the first time since 2017 when they started 0-8.
"I want to apologize to all the guys. I put both home losses on me," Evans said. "I just have to take care of it, and we win the game."
Evans was 20-for-31 in passing for 197 yards and a touchdown throw. He was intercepted twice.
Ford's numbers didn't sparkle, although he did rush for 61 yards on six carries. The 24-year-old competed 15 of 26 passes for 159 yards and a touchdown. He was intercepted once.
Edmonton's defence helped out with interceptions by Sheldon Brady and Matthew Thomas, as well as the pivotal late-game recovered fumble by Collins.
"A big shout out to the defence," Ford said. "They won us that game. They made what, three or four turnovers? They did super well.
"I have room for improvement. I'm not going to complain because we did win. But I'm going to hit the film room to see what I can critique and where I can get better."
Hamilton went after the rookie with various blitzes in the first half.
"My legs are going to open things up for my arm," Ford said.
Ford credited teammate and quarterback Nick Arbuckle, who started in Edmonton's three losses this season, for advising him during the game on defensive reads.
"He's been like that since day one, even though we're competitors for the position," Ford said.
He admitted to early jitters as Hamilton led 16-6 after the first quarter and 19-9 at halftime.
"I always get nervous for the first play of every game," Ford said. "I think it's a good thing because it means I care and that I want to win."
Evans hit Steven Dunbar for a 21-yard strike, and Lawrence Woods returned a kickoff of 72 yards for Hamilton's first-half touchdowns.
Edmonton's Kai Locksley scored on a one-yard plunge.
Elks kicker Sergio Castillo made two of his three field-goal attempts, while Hamilton counterpart Michael Domagala nailed his three and gave the Ticats at lead with a 33-yarder with 3:10 remaining in the game
"We're not good enough right now," Hamilton head coach Orlondo Steinauer said. "We're not executing at the level which needs to happen. We're just not making those plays we need to make."
This report by The Canadian Press was first published July 1, 2022.
Tim Wharnsby, The Canadian Press
Calgary Stampede receives $10M from federal government to aid recovery from pandemic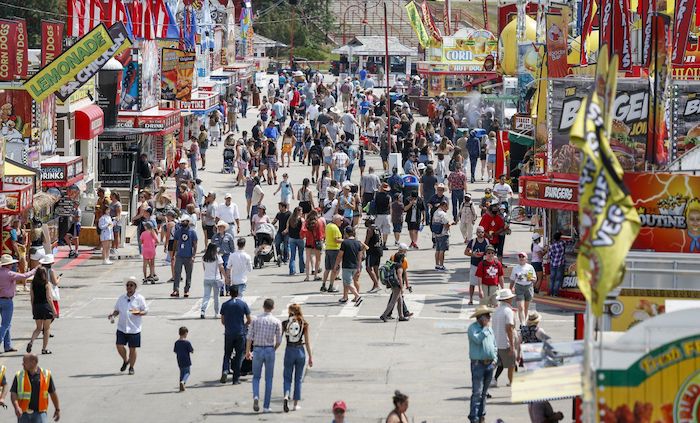 Calgary – The Calgary Stampede has received more than $10 million from the federal government to help it bounce back after last year's event was scaled down due to the COVID-19 pandemic.
A report to the city this week showed the Stampede had an operating loss of $8.3 million in 2021.
Last year's Stampede ran at half capacity because of COVID-19 public health measures and was cancelled all-together the year before.
Daniel Vandal, the federal minister for Prairies Economic Development Canada, says the money aims to support a full-scale Stampede to deliver the "authentic western experience" this year.
He says it would also help to reignite Alberta's visitor economy.
The 2022 Stampede is set to run from July 8 to 17.
"Festivals large and small were hard hit during the pandemic," Vandal said in a news release. "They are events where families and friends come together and take in the exciting atmosphere.
"The tourism industry is facing a strong comeback providing quality jobs across the country, showcasing stunning landscapes and offering exciting experiences right here in Alberta."
The federal government also provided about $1.8 million for four other tourism projects in southern Alberta: Charmed Resorts, Cochrane Tourism Association, Heritage Park and Tourism Calgary.
This report by The Canadian Press was first published June 30, 2022.