Alberta goes back to Step 1 Lockdown Restrictions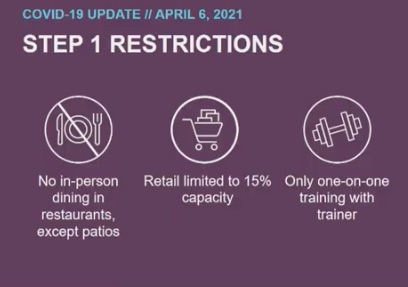 From the Province of Alberta
Alberta is returning to Step 1 of the four-step framework to protect the health system and reduce the rising spread of COVID-19 provincewide.
Effective at 11:59 p.m. on April 6, updated mandatory health measures go into effect for retail, fitness and performance activities. Effective at noon on Friday, April 9, restaurants will be restricted to providing only takeout, delivery and patio service.
Alberta will remain in Step 1 with restaurant restrictions until further notice. Health officials will continue to closely monitor the spread of COVID-19 to assess whether additional action is needed to reduce transmission.
"We are taking strong action to stop the third wave from threatening our health system and the health of thousands of Albertans. The rapid rise in cases, especially variants of concern, makes this a critical time to stop the spread. These measures will buy us some time for additional COVID-19 vaccines to arrive and take effect so we can once again start safely easing restrictions as quickly as possible."
"The rising spread of variants means that we must take stricter measures in order to protect capacity in our health system and save lives. These mandatory new health measures will only be needed for a short while as we vaccinate Albertans as quickly as possible."
"I am extremely concerned by the recent increase in COVID-19 cases in Alberta. All Albertans must take these additional measures very seriously; this virus is highly contagious. Only by working together can we protect each other, reduce the spread and protect our health system."
Step 1 restrictions
The following mandatory public health measures come into effect at 11:59 p.m. on April 6:
Retail
Retail services must reduce customer capacity to 15 per cent of fire code occupancy, with a minimum of five customers permitted.

Curbside pickup, delivery and online services are encouraged.

Shopping malls will be limited to 15 per cent of fire code occupancy.
Indoor fitness
Only one-on-one training with an individual or household is permitted for indoor fitness activities (e.g., fitness in dance studios, training figure skating on ice, one-on-one lessons).
No drop-in activities or unsupervised individual fitness.
Group fitness, high or low intensity, is not allowed.
Outdoor physical activity is allowed with up to 10 people, provided physical distancing is maintained between households.
Adult performance activities
Adult performance activities are not permitted. Performance activities include dancing, singing, acting, playing a musical instrument and any rehearsal or theatrical performances.
The following mandatory public health measures come into effect at noon on Friday, April 9:
Restaurants, pubs, bars, lounges and cafés
Indoor in-person service is no longer permitted

Takeout, curbside pickup and delivery services are permitted.
Outdoor patio dining is also allowed. Tables and dining parties must be two metres apart or separated by an impermeable barrier that will prevent droplet transmission.
Household members only, or two close contacts of someone who lives alone.
Contact information must be collected from one person of the dining party.
The following mandatory public health measures remain in effect unchanged:
Places of worship
All places of worship will continue to be limited to 15 per cent of fire code occupancy for in-person attendance.

Virtual or online services are strongly encouraged.
Drive-in services where individuals do not leave their vehicles and adhere to guidance will be permissible and are not subject to capacity restrictions.
Social gatherings
Indoor social gatherings continue to be prohibited.
Outdoor social gatherings are limited to 10 participants, provided physical distancing and other measures continue to be followed.
Personal and wellness services
Personal and wellness services can be open for appointment only. This includes hair salons, nail salons, massage, tattoos and piercing.
Health services, including physiotherapy or acupuncture, social or protective services, shelters for vulnerable persons, emergency services, child care, and not-for-profit community kitchens or charitable kitchens can remain open for in-person attendance.
Indoor and outdoor children's sport and performance
K-12 schools and post-secondary children's sport and performance activities, such as physical education classes, can now use off-site facilities to support curriculum-related educational activities.
Lessons, practices and conditioning activities, but not games, may occur for indoor team-based minor sports/activities and school athletics.

All participants must be 18 years old or younger, excluding coaches or trainers.
Maximum of 10 individuals, including all coaches, trainers and participants.
Participants must stay physically distanced from each other at all times.
Metrics based on cases and growth, including COVID-19 variants, are being monitored and will also be used to guide any decisions around the need to pause further steps or potentially increase restrictions.
Alberta's government is responding to the COVID-19 pandemic by protecting lives and livelihoods with precise measures to bend the curve, sustain small businesses and protect Alberta's health-care system.
Gustavsson leads AHL Senators in 4-2 win over Heat
CALGARY — Filip Gustavsson stopped 30 shots as the Belleville Senators doubled up the Stockton Heat 4-2 on Wednesday in American Hockey League play.
Lassi Thomson, Egor Sokolov, Mark Kastelic and Parker Kelly scored to help the Senators (8-12-1) halt a three-game slide.
Matthew Phillips and Zac Leslie replied for the Heat (10-12-1).
Garret Sparks stopped 28-of-31 shots for Stockton.
—
This report by The Canadian Press was first published April 14, 2021.
The Canadian Press
Calgary schools to shift to at-home learning for grades 7 to 12 due to COVID-19
CALGARY — The Alberta government says schools in Calgary will move to at-home learning starting Monday for students in grades 7 to 12.
The change, due to COVID-19, is to last for two weeks.
Alberta Education said Wednesday that it approved requests from public and Catholic schools in the city to make the move to online learning.
Education Minister Adriana LaGrange said in a release that some school boards are dealing with operational pressures due to rising COVID-19 cases.
"The safety of students and staff is my top priority, which is why I am responding to the boards' requests and respecting their autonomy," she said.
"By having a clear process in place, we are giving them flexibility to move to at-home learning when necessary."
The province said it has not closed any schools for health reasons, and any decision to move a portion of a school to at-home learning is at the discretion of each school board.
About 19 per cent of schools have COVID-19 alerts or outbreaks. Nine schools are currently doing online learning.
Marilyn Dennis, board chair with the Calgary Board of Education, said in the release that the greatest impacts of COVID-19 have been in schools with higher grades.
Alberta's chief medical health officer, Dr. Deena Hinshaw, also said there has been a sharp rise in cases among school-aged Albertans.
The province, with 15,569 active infections, currently has the highest rate of active cases in Canada.
On Wednesday, the province reported 1,412 new cases of COVID-19 and eight additional deaths due to the virus. There were 420 people in hospital due to COVID-19, with 92 in intensive care.
This report by The Canadian Press was first published April 14, 2021.
The Canadian Press