Alberta goes back to Step 1 Lockdown Restrictions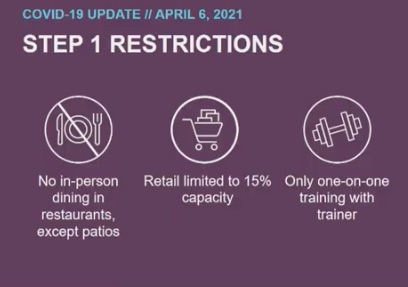 From the Province of Alberta
Alberta is returning to Step 1 of the four-step framework to protect the health system and reduce the rising spread of COVID-19 provincewide.
Effective at 11:59 p.m. on April 6, updated mandatory health measures go into effect for retail, fitness and performance activities. Effective at noon on Friday, April 9, restaurants will be restricted to providing only takeout, delivery and patio service.
Alberta will remain in Step 1 with restaurant restrictions until further notice. Health officials will continue to closely monitor the spread of COVID-19 to assess whether additional action is needed to reduce transmission.
"We are taking strong action to stop the third wave from threatening our health system and the health of thousands of Albertans. The rapid rise in cases, especially variants of concern, makes this a critical time to stop the spread. These measures will buy us some time for additional COVID-19 vaccines to arrive and take effect so we can once again start safely easing restrictions as quickly as possible."
"The rising spread of variants means that we must take stricter measures in order to protect capacity in our health system and save lives. These mandatory new health measures will only be needed for a short while as we vaccinate Albertans as quickly as possible."
"I am extremely concerned by the recent increase in COVID-19 cases in Alberta. All Albertans must take these additional measures very seriously; this virus is highly contagious. Only by working together can we protect each other, reduce the spread and protect our health system."
Step 1 restrictions
The following mandatory public health measures come into effect at 11:59 p.m. on April 6:
Retail
Retail services must reduce customer capacity to 15 per cent of fire code occupancy, with a minimum of five customers permitted.

Curbside pickup, delivery and online services are encouraged.

Shopping malls will be limited to 15 per cent of fire code occupancy.
Indoor fitness
Only one-on-one training with an individual or household is permitted for indoor fitness activities (e.g., fitness in dance studios, training figure skating on ice, one-on-one lessons).
No drop-in activities or unsupervised individual fitness.
Group fitness, high or low intensity, is not allowed.
Outdoor physical activity is allowed with up to 10 people, provided physical distancing is maintained between households.
Adult performance activities
Adult performance activities are not permitted. Performance activities include dancing, singing, acting, playing a musical instrument and any rehearsal or theatrical performances.
The following mandatory public health measures come into effect at noon on Friday, April 9:
Restaurants, pubs, bars, lounges and cafés
Indoor in-person service is no longer permitted

Takeout, curbside pickup and delivery services are permitted.
Outdoor patio dining is also allowed. Tables and dining parties must be two metres apart or separated by an impermeable barrier that will prevent droplet transmission.
Household members only, or two close contacts of someone who lives alone.
Contact information must be collected from one person of the dining party.
The following mandatory public health measures remain in effect unchanged:
Places of worship
All places of worship will continue to be limited to 15 per cent of fire code occupancy for in-person attendance.

Virtual or online services are strongly encouraged.
Drive-in services where individuals do not leave their vehicles and adhere to guidance will be permissible and are not subject to capacity restrictions.
Social gatherings
Indoor social gatherings continue to be prohibited.
Outdoor social gatherings are limited to 10 participants, provided physical distancing and other measures continue to be followed.
Personal and wellness services
Personal and wellness services can be open for appointment only. This includes hair salons, nail salons, massage, tattoos and piercing.
Health services, including physiotherapy or acupuncture, social or protective services, shelters for vulnerable persons, emergency services, child care, and not-for-profit community kitchens or charitable kitchens can remain open for in-person attendance.
Indoor and outdoor children's sport and performance
K-12 schools and post-secondary children's sport and performance activities, such as physical education classes, can now use off-site facilities to support curriculum-related educational activities.
Lessons, practices and conditioning activities, but not games, may occur for indoor team-based minor sports/activities and school athletics.

All participants must be 18 years old or younger, excluding coaches or trainers.
Maximum of 10 individuals, including all coaches, trainers and participants.
Participants must stay physically distanced from each other at all times.
Metrics based on cases and growth, including COVID-19 variants, are being monitored and will also be used to guide any decisions around the need to pause further steps or potentially increase restrictions.
Alberta's government is responding to the COVID-19 pandemic by protecting lives and livelihoods with precise measures to bend the curve, sustain small businesses and protect Alberta's health-care system.
Canadian women's under-18 hockey roster announced for cancelled world championship
CALGARY — Hockey Canada named its roster for the world under-18 women's hockey championship even though the tournament was cancelled.
Jade Iginla, daughter of Hockey Hall of Famer Jarome Iginla, was among the three goaltenders, seven defenders and 13 forwards named to the Canadian team Thursday.
The Jan. 8-15 championship in Sweden was called off Dec. 24 because of concerns over the COVID-19 virus.
The International Ice Hockey Federation was criticized for cancelling the women's under-18 championship a second straight year while the men's under-20 championship in Alberta was about to get underway for a second year.
The junior men's championship in Edmonton and Red Deer halted after four days because of rising numbers of infections.
The IIHF indicating it would try to hold the junior men's championship later in 2020 puts the organization under pressure to do the same for the under-18 women.
"Our disappointment of not competing in the championship this month does not overshadow the dedication and hard work our athletes and staff put in to be ready to compete," said Gina Kingsbury, Hockey Canada's director of operations.
"It is crucial for the development of these athletes, as well as the growth of the women's game, to be able to hold this tournament, and we remain hopeful there is an opportunity for them to showcase their talents and represent Canada on the world stage in the near future."
Holly Abela, Avi Adam, Jocelyn Amos, Jordan Baxter, Madison Chantler, Tessa Holk, Emerson Jarvis, Reichen Kirchmair, Alex Law, Emmalee Pais, Karel Prefontaine and McKenna Van Gelder join Iginla at forward.
Maya D'Arcy, Brooke Disher, Piper Grover, Tova Henderson, Sarah MacEachern, Alyssa Regalado and Sarah Swiderski round out the defence. Hailey MacLeod, Lucy Phillips and Mari Pietersen were the goaltenders selected.
Olympic gold medallists Vickie Sunohara (2002, 2006) and Tara Watchorn (2014) were named assistant coaches to Howie Draper of the University of Alberta Pandas.
Hockey Canada also announced the women's world championship roster after the 2020 tournament in Nova Scotia was cancelled, in order to recognize the effort of making the team.
Canada's under-18 team won gold in 2019 in Obihiro, Japan in a 3-2 overtime win over the United States, but lost 2-1 in OT to the Americans in the following year's final in Bratislava, Slovakia.
The 2021 and 2022 championships in Linkoping and Mjolby, Sweden, were then cancelled. Canada has won five gold medals in the history of the tournament.
This report by The Canadian Press was first published Jan. 20, 2022.
The Canadian Press
Edmonton Elks sign Canadian receivers Smith, Jones to extensions
EDMONTON — The Edmonton Elks signed Canadian receiver Tevaun Smith and Mike Jones to one-year extensions Thursday.
The two were scheduled to become free agents Feb. 8.
Smith, of Toronto, had 27 catches for 324 yards last season, starting 10-of-13 games with Edmonton.
Jones, also of Toronto, registered 29 catches for 394 yards and two touchdowns in 11 games with Edmonton in 2021.
Jones spent his first four CFL seasons with Hamilton and has accumulated 130 receptions for 1,866 yards and six TDs in 69 regular-season contests.
This report by The Canadian Press was first published Jan. 20, 2022.
The Canadian Press