Alberta goes back to Step 1 Lockdown Restrictions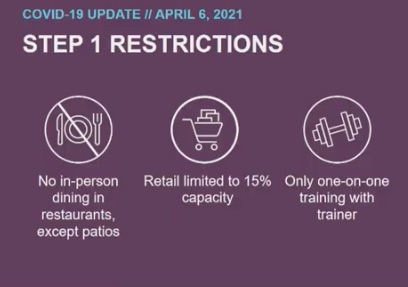 From the Province of Alberta
Alberta is returning to Step 1 of the four-step framework to protect the health system and reduce the rising spread of COVID-19 provincewide.
Effective at 11:59 p.m. on April 6, updated mandatory health measures go into effect for retail, fitness and performance activities. Effective at noon on Friday, April 9, restaurants will be restricted to providing only takeout, delivery and patio service.
Alberta will remain in Step 1 with restaurant restrictions until further notice. Health officials will continue to closely monitor the spread of COVID-19 to assess whether additional action is needed to reduce transmission.
"We are taking strong action to stop the third wave from threatening our health system and the health of thousands of Albertans. The rapid rise in cases, especially variants of concern, makes this a critical time to stop the spread. These measures will buy us some time for additional COVID-19 vaccines to arrive and take effect so we can once again start safely easing restrictions as quickly as possible."
"The rising spread of variants means that we must take stricter measures in order to protect capacity in our health system and save lives. These mandatory new health measures will only be needed for a short while as we vaccinate Albertans as quickly as possible."
"I am extremely concerned by the recent increase in COVID-19 cases in Alberta. All Albertans must take these additional measures very seriously; this virus is highly contagious. Only by working together can we protect each other, reduce the spread and protect our health system."
Step 1 restrictions
The following mandatory public health measures come into effect at 11:59 p.m. on April 6:
Retail
Retail services must reduce customer capacity to 15 per cent of fire code occupancy, with a minimum of five customers permitted.

Curbside pickup, delivery and online services are encouraged.

Shopping malls will be limited to 15 per cent of fire code occupancy.
Indoor fitness
Only one-on-one training with an individual or household is permitted for indoor fitness activities (e.g., fitness in dance studios, training figure skating on ice, one-on-one lessons).
No drop-in activities or unsupervised individual fitness.
Group fitness, high or low intensity, is not allowed.
Outdoor physical activity is allowed with up to 10 people, provided physical distancing is maintained between households.
Adult performance activities
Adult performance activities are not permitted. Performance activities include dancing, singing, acting, playing a musical instrument and any rehearsal or theatrical performances.
The following mandatory public health measures come into effect at noon on Friday, April 9:
Restaurants, pubs, bars, lounges and cafés
Indoor in-person service is no longer permitted

Takeout, curbside pickup and delivery services are permitted.
Outdoor patio dining is also allowed. Tables and dining parties must be two metres apart or separated by an impermeable barrier that will prevent droplet transmission.
Household members only, or two close contacts of someone who lives alone.
Contact information must be collected from one person of the dining party.
The following mandatory public health measures remain in effect unchanged:
Places of worship
All places of worship will continue to be limited to 15 per cent of fire code occupancy for in-person attendance.

Virtual or online services are strongly encouraged.
Drive-in services where individuals do not leave their vehicles and adhere to guidance will be permissible and are not subject to capacity restrictions.
Social gatherings
Indoor social gatherings continue to be prohibited.
Outdoor social gatherings are limited to 10 participants, provided physical distancing and other measures continue to be followed.
Personal and wellness services
Personal and wellness services can be open for appointment only. This includes hair salons, nail salons, massage, tattoos and piercing.
Health services, including physiotherapy or acupuncture, social or protective services, shelters for vulnerable persons, emergency services, child care, and not-for-profit community kitchens or charitable kitchens can remain open for in-person attendance.
Indoor and outdoor children's sport and performance
K-12 schools and post-secondary children's sport and performance activities, such as physical education classes, can now use off-site facilities to support curriculum-related educational activities.
Lessons, practices and conditioning activities, but not games, may occur for indoor team-based minor sports/activities and school athletics.

All participants must be 18 years old or younger, excluding coaches or trainers.
Maximum of 10 individuals, including all coaches, trainers and participants.
Participants must stay physically distanced from each other at all times.
Metrics based on cases and growth, including COVID-19 variants, are being monitored and will also be used to guide any decisions around the need to pause further steps or potentially increase restrictions.
Alberta's government is responding to the COVID-19 pandemic by protecting lives and livelihoods with precise measures to bend the curve, sustain small businesses and protect Alberta's health-care system.
'Life consuming': Alberta Crown stays charges against parents in toddler's death
LETHBRIDGE, Alta. — Crown prosecutors have stayed charges against parents who were facing a third trial in the death of their toddler in southern Alberta. 
Shawn Buckley, a lawyer for David and Collet Stephan, said Tuesday he received a letter from the Crown about the decision. 
"The Crown dropped the charges," Buckley told The Canadian Press. 
"Obviously they're very relieved that the Crown is not proceeding against them to try and convict them." 
A copy of the letter from Chief Prosecutor Shelley Bykewich directs the Lethbridge court to stay charges of failing to provide the necessaries of life against the Stephans.
No reason for the decision was given and Alberta Justice did not immediately respond to a request to explain why.
David Stephan said it has been nine years since his son Ezekiel died and it was eight years ago he and his wife were charged.
"It has been absolutely life consuming," Stephan said in an interview.
"It's somewhat of a relief in relation to not going back to trial again although there was a part of me as well that would have liked to go back to trial and been able to dig in more to the missing evidence and all that we still haven't had provided to us eight years into it."
Stephan successfully represented himself at the second trial.
The Stephans were accused of not seeking medical attention sooner for 19-month-old Ezekiel, who died in 2012. 
Over the course of their trials, the Stephans testified that they initially thought Ezekiel had croup, an upper airway infection, and treated him with natural remedies, including a smoothie with tinctures of garlic, onion and horseradish. 
They said he appeared to be recovering at times and saw no reason to take him to hospital, despite his having a fever and lacking energy. 
They called an ambulance when the boy stopped breathing. 
A jury convicted them in 2016, but the Supreme Court of Canada overturned that verdict and ordered a second trial. A judge hearing the case without a jury found them not guilty in 2019. 
The Alberta Court of Appeal granted a request by the Crown earlier this year to overturn the acquittal and ordered a new trial.
Buckley said the Crown's decision caught him off guard and the matter isn't over.
"Actually it's a little surprising because we still have an application for leave to appeal to the Supreme Court of Canada," Buckley said.
"Both David and Collet want to proceed with that because they think it's very important for the law to be clarified so that other parents don't face the type of uncertainty that they have been facing."
David Stephan said he's not expecting to celebrate.
"I think it's a little early to celebrate now," he said.
"We're still involved in the battle. We're still moving forward to the Supreme Court and it's still going to be a bit of an uphill journey."
Stephan said he will also seek to be repaid by the courts for the "tremendous amount of money" they spent over the past eight years.
The report by The Canadian Press was first published June 22, 2021.
— By Bill Graveland in Calgary.
The Canadian Press
Wildfire forces evacuation of an area in Yellowhead County west of Edmonton
EDMONTON — A wildfire has forced the evacuation of an area in Yellowhead County west of Edmonton.
An Alberta Emergency Alert message says the evacuation order affects people along Highway 16 between Evansburg and Wildwood.
It says the order also applies to people who are in the Lobstick resort area.
The order says all people in this zone must leave immediately.
The province says an evacuation centre is being set up at the Evansburg Arena in Evansburg.
The wildfire danger in the area is listed as very high and there are six airtankers, four helicopters, six pieces of heavy equipment and 30 firefighters working on containing the blaze.
This report by The Canadian Press was first published June 22, 2021
The Canadian Press