Alberta Blue Cross continues to support community organizations through COVID grant program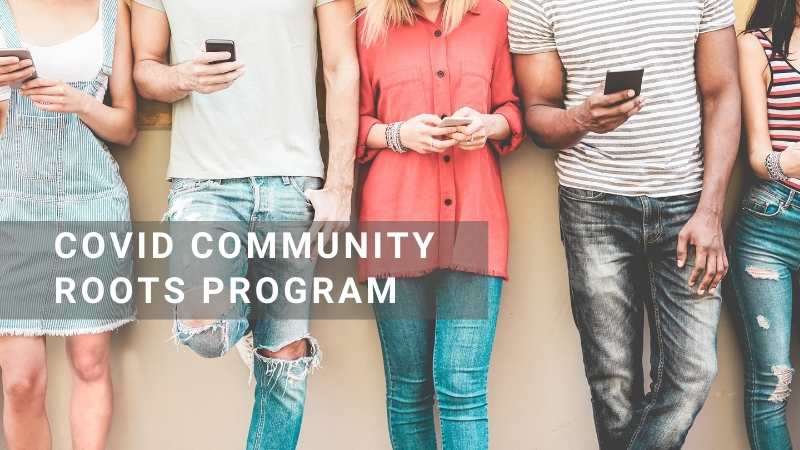 Based on the continued need for support, Alberta Blue Cross has extended its popular COVID Community Roots Program into 2021.
Alberta Blue Cross received 156 applications for the program in 2020 and awarded a total of $195,000 to 45 projects in 38 different communities across Alberta. The program is now being extended to the end of June.
More than $45,600 of this was received by 11 organizations in central Alberta, including the Boys and Girls Club of Leduc, Shine Lloydminster, Samson Youth and Sport Development, Park Valley Pool, Leduc County, Devon and two projects in Edson. Some of the funded projects include the following:
Louis Bull Tribe—to rebuild a community rodeo project and bring together local people to create entertainment for tribe citizens.
Hinton Friendship Centre—to provide outdoor equipment and additional materials for a program that helps at-risk and vulnerable youth, allowing it to continue to run throughout the pandemic.
Thorsby Family and Community Support Services—to support in purchasing four laptops to help make virtual workshops more accessible for families.
See a complete list of funded projects at ab.bluecross.ca/aboutus/community-roots-funded-projects.php.
To support services in rural and remote communities, the COVID Community Roots Program offers grants of up to $5,000 for grassroots, community-led initiatives serving vulnerable populations during the pandemic. "These projects are helping to support the social, mental, emotional and physical well-being of people and communities across Alberta through the pandemic," says Brian Geislinger, vice-president of Corporate Relations, Alberta Blue Cross. "We're so glad to be able to support these initiatives."
As part of its $500,000 commitment to supporting communities through the impact of the pandemic and low energy prices on the provincial economy, Alberta Blue Cross created the COVID Community Roots Program in mid-2020. The program is funded through its community foundation and is administered in partnerships with the Alberta Recreation and Parks Association and Communities Choosewell, who help promote the program and review applications.
The application process for the 2021 COVID Community Roots Program open March 1. Organizations eligible to apply include non-profits, charities, municipalities, First Nations communities and Metis Settlements. Unregistered organizations may apply with a partner organization. Interested organizations can find more information and apply online at ab.bluecross.ca/aboutus/community-roots.
Read more on Todayville.
Province wants everyone in Alberta to get a third shot
Expanding COVID-19 booster to all Albertans 18-plus
Expanded availability of third doses of COVID-19 vaccine will help Albertans increase their protection against COVID-19.
Starting Dec. 2, all Albertans aged 60 and older can book appointments for a booster dose of mRNA vaccine six months after receiving their second dose. First appointments will be available beginning Dec. 6.
All other Albertans aged 18-plus will be notified when the next age group is able to book appointments. Additional age groups will be announced as quickly as possible.
"I am pleased that we can offer booster doses to more Albertans. Millions of Albertans have rolled up their sleeves to have their best protection against COVID-19. While two doses continues to provide strong protection against severe outcomes, we will continue to push the federal government for supply to ensure all Albertans can receive their third doses to continue limiting COVID-19 infection and transmission."
"With the winter season increasing transmission risks, and more Albertans approaching the six-month milestone since receiving their second dose, the evidence supports expanding booster doses to add an additional layer of protection. Vaccines continue to be our best protection against COVID-19, and I continue to encourage Albertans to book their first, second and third doses as soon as they are eligible."
Current evidence indicates that vaccine effectiveness against COVID-19 infection appears to wane over time. While individual protection against severe outcomes remains strong after two doses for most people, there are still many in our communities who are completely unprotected, and third doses will help boost population protection and limit the spread of COVID-19.
Expansion of booster dose eligibility was informed by the advice of the Alberta Advisory Committee on Immunization.
Booking for booster doses
Effective Dec. 2, eligible individuals can book appointments for third doses online with participating pharmacies by using the Alberta vaccine booking system. Albertans can also call 811, participating pharmacies or participating physicians' offices. The first appointments will be available starting Dec. 6.
Booster eligibility is based on birth date. Albertans who are 59 turning 60, and First Nation, Métis or Inuit individuals who are 17 turning 18, are asked to not book appointments before their birthday.
Albertans who were previously eligible for third doses continue to be able to book their appointments.
Albertans eligible for additional doses
Albertans eligible for additional doses now include:
Eligible at least six months after receiving their second dose:
Albertans aged 60-plus
First Nations, Métis and Inuit people aged 18-plus
Health-care workers providing direct patient care and who received their second dose less than eight weeks after their first dose
Individuals who received two doses of AstraZeneca or one dose of Janssen vaccine
Eligible at least five months after receiving their second dose:
Seniors living in congregate care
Eligible at least eight weeks after receiving their second dose:
Individuals with eligible immunocompromising conditions
Quick facts
To date, 378,507 Albertans have received a third dose of COVID-19 vaccine.
84.1 per cent of eligible Albertans 12 years of age and older have received two doses of COVID-19 vaccine while 88.8 per cent have received at least one dose.
Evacuation order lifted after wildfire contained in southern Alberta
Firefighters contained a wildfire on Wednesday that had prompted a temporary evacuation order in a sparsely populated area of southern Alberta.
An emergency alert from the Alberta Emergency Management Agency was issued just after midnight notifying residents of a blaze near the intersection of Highway 22 and Highway 533, west of Nanton, Alta.
The Municipal District of Willow Creek No. 26 said in a statement it was unknown how many people had left.
Just after 6 a.m., evacuees were given the green light to return home with caution. The provincial agency said residents were no longer at immediate risk.
Josee St-Onge, a spokesperson with Alberta Wildfire, said the grass fire was classified as being held.
"It means that given the current weather conditions, and the resources that we have working on that wildfire, it's not anticipated to grow past the boundaries that have been established for it," said St-Onge.
Strong winds could prevent further progress in getting the fire under control and extinguished, she said.
"It's too soon to see exactly how the fire is going to behave and if we're going to be able to bring it under control quickly, but that's definitely the goal."
Aerial and land fire crews continued to fight the fire and additional resources were on standby, St-Onge added. The fire was mapped out at 37 hectares.
No property damage was reported.
St-Onge said fires are not unusual this time of year. Warmer weather, high winds and grassy areas not yet covered by snow increase the risk.
Wind warnings swept southern Alberta on Wednesday.
Environment Canada issued alerts for all southern parts of the province, including Waterton Lakes National Park, Cypress Hills Provincial Park, Lethbridge, Cardston and surrounding areas.
The agency said wind gusts could hit 100 km/h and potentially cause damage to property, down trees, toss loose objects and make driving difficult. Environment Canada said it expected winds to gradually decrease but remain "gusty" into Thursday.
Gary Stanford, who lives in Magrath, south of Lethbridge, said power went out at his home Tuesday night. He expects it was a result of power lines blown over by strong winds.
"A lot of trees broke and it was snapping off big power poles about halfway down to the ground," said Stanford. "During the night was when the big gusts came."
He said winds calmed down by about 8 a.m. Wednesday. He said it's often windy where he lives, but this was out of the ordinary.
In other parts of the province, winter weather conditions were posing a risk.
Lake Louise RCMP advised that "winter has struck the mountain areas" and was creating avalanche risks near the resort village.
Parts of Highway 93, north and south of Highway 1, were closed to traffic and weren't expected to reopen until Thursday, Mounties said.
This report by The Canadian Press was first published Dec. 1, 2021.
Alanna Smith, The Canadian Press