Alberta 2023 budget plows ahead with twinning highway 11 from Sylvan Lake to Rocky Mountain House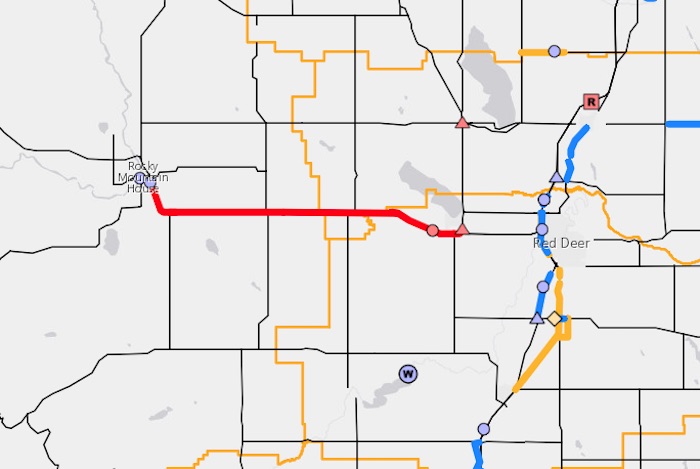 Building Alberta's economic corridor network
Budget 2023 includes strategic investments in Alberta's highway network to build economic corridors, creating jobs, improving safety and supporting economic development.
Budget 2023 includes $8 billion for the Ministry of Transportation and Economic Corridors' three-year capital plan, a $718-million increase compared with Budget 2022.
"Budget 2023 is focused on securing Alberta's future by growing the economy. Our investments will enhance economic corridors that provide vital links to markets in and out of Alberta, helping our industries expand and succeed. These projects will increase the safety and efficiency of our provincial highway network, improving travel for Albertans and commercial carriers in key industries."
The total capital investment is $2 billion for planning, design and construction of major highway and bridge projects. This work focuses on improving traffic flow and supporting investments in the province's major trade corridors. Examples of projects across the province that are receiving funding include the Calgary and Edmonton ring roads, Highway 3 twinning, Highway 11 twinning, and replacing the Highway 2 and Highway 556 interchange at Balzac. This capital investment funding also includes $75.5 million over three years for 23 engineering or planning projects to address known future needs.
"Budget 2023 is investing in Alberta drivers through improvements to Highway 60 through Acheson. These improvements will help families save time on their commute while improving the efficient movement of goods across the province. Budget 2023 also responds to safety concerns from the community with a new intersection at Highway 16A and Range Road 20 in Parkland County. The new intersection will not only help area residents get to and from home safely but will also improve traffic flow along this major economic corridor."
"Highway 63, north of Fort McMurray, is a critical link in northern Alberta for oversize and overweight vehicles transporting goods for the energy sector. Twinning this highway will improve efficiency and safety for both commercial drivers and commuters. It also enables oilsands workers to more easily commute from Fort McMurray, which we know provides a healthier lifestyle for them and their families as opposed to flying from out of province and living in a camp. The workers who decide to make this move will see the benefits of living in such an amazing province like Alberta."
"Alberta's Industrial Heartland Association is pleased that the 55-year-old Vinca Bridge replacement is included in the Government of Alberta's 2023 budget. As a vital component of Alberta's high-load corridor and a strategic connector in Alberta's Industrial Heartland, the bridge services a thriving industrial zone with over $45 billion in total capital investment and billions more expected in the coming years. Replacing Vinca Bridge will shorten travel times, reduce greenhouse gas emissions and enhance the competitiveness of both the Industrial Heartland and the manufacturing supply chain that contributes to its success."
"We have been advocating hard for twinning and rail grade separation for Highway 60, and we are pleased to see this commitment from the Government of Alberta. Acheson is not only the beating, industrial heart of Parkland County, it is one of the largest industrial areas in Western Canada. Completing this work in a timely matter will improve access and movement along Highway 60 and allow for further development in Acheson, which will contribute to economic growth and job creation throughout Parkland County and the Edmonton region."
"Representing hundreds of businesses in the Acheson area, the Acheson Business Association is thrilled with and would like to thank the Government of Alberta for this latest announcement for the twinning and rail grade separation for Highway 60. Highway 60 is an important connector of arterial highways, allowing products to move all directions through the metro Edmonton area, and the twinning and overpass will create a safer route for employees, travellers and business owners who are passing through this stretch of road every day. This will also enable the region to continue to attract more investors and businesses by reducing delays and eliminating congestion along this major trade corridor."
Budget 2023 also includes $1.7 billion over three years for capital maintenance and renewal, which extends the life of the province's existing road and bridge network and helps industry create and maintain jobs. These investments will allow the province to maintain existing roads and bridges to support safe and efficient travel to benefit Albertans and the economy.
Transportation and Economic Corridors will also be providing $3.9 billion for capital grants to municipalities over the next three years. This includes maintaining the funding commitment to Calgary and Edmonton for their LRT projects and continuing to provide funding for the Strategic Transportation Infrastructure Program to help municipalities improve critical local transportation infrastructure. Ongoing investments in water and wastewater infrastructure programs will also ensure all Albertans have reliable access to clean drinking water and effective wastewater services.
Additionally, Budget 2023 will provide nearly $400 million to support building and repairing water management infrastructure that provides irrigation for the agriculture sector and flood mitigation for Alberta communities such as the Springbank Off-stream Reservoir.
Budget 2023 secures Alberta's future by transforming the health-care system to meet people's needs, supporting Albertans with the high cost of living, keeping our communities safe and driving the economy with more jobs, quality education and continued diversification.
Police looking for these 3 suspects after Super 8 Motel in Innisfail robbed early Monday morning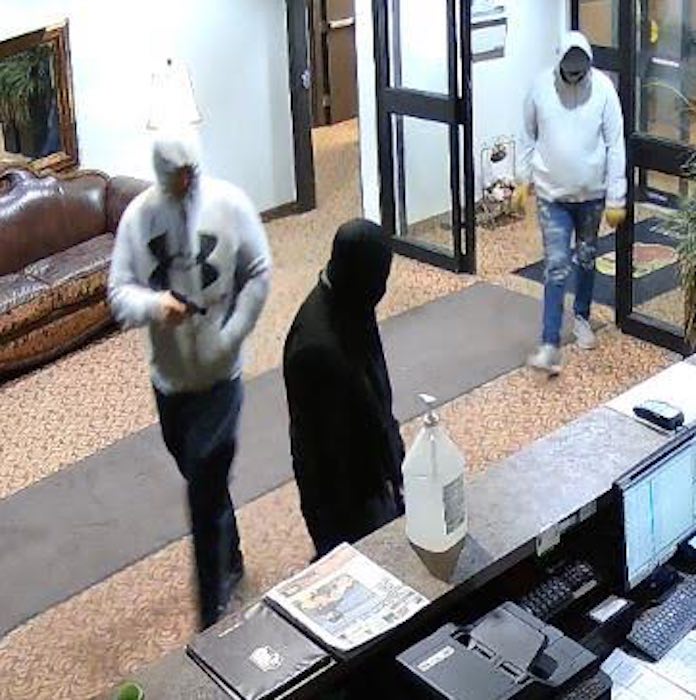 Innisfail RCMP investigate robbery
Innisfail Ala. – On May 29, 2023, at approximately 4:10 a.m., the Super 8 motel in Innisfail was the victim of an armed robbery. Three male suspects entered the hotel, two of which had firearms. Money was demanded from the manager. All three left the motel in a vehicle which is described as:
Chevrolet Dura Max truck
Sliver
Lifted
The suspects are described as:
Suspect #1: Caucasian male, tall and muscular. Wearing jeans and a grey Under Armour hoody. He was carrying a pistol.
Suspect #2: Caucasian male, short. Wearing all black. He was carrying a sawed off shotgun
Suspect #3: Caucasian male tall with a chubby belly. He was wearing a grey hoody, jeans and a black ball hat.
If you have information about this incident, please call the Innisfail RCMP at 403-227-3341 or call your local police. If you want to remain anonymous, you can contact Crime Stoppers by phone at 1-800-222-8477 (TIPS), by internet atwww.tipsubmit.com, or by SMS (check your local Crime Stoppers www.crimestoppers.ab.ca for instructions).
'Tragic accident' blamed for recent death of giraffe at Calgary Zoo
The Wilder Institute/Calgary Zoo says a "tragic accident" led to the recent death of an adult Masai giraffe. A statement from the zoo says the female giraffe named Emara died May 19 after tangling one of her horns on a cable surrounding her enclosure. THE CANADIAN PRESS/HO-Wilder Institute/Calgary Zoo-Sergei Belskey
Calgary
The Calgary Zoo says a "tragic accident" led to the recent death of one of its adult Masai giraffes.
A statement from the zoo says a female giraffe named Emara died May 19 after tangling one of her horns in a cable surrounding her enclosure.
The statement says a necropsy revealed Emara fell against the enclosure fence and died almost instantly of a broken neck.
Emara, who had just turned 12, came to Calgary from the San Diego Zoo in 2016.
The statement says she was a treasured member at the zoo and was known for her cautious yet curious personality and gentle nature.
The zoo says it is checking fencing within its African Savannah Yard enclosure to see if changes are needed to better protect the other giraffes and animals that share the space.
Doug Whiteside, interim associate director of animal care and welfare at the zoo, said Emara was in her prime and was in excellent health when she died.
"Major life changes such as this not only affect our people but can affect our animal residents as well," Whiteside said in the statement Monday.
He said the zoo's remaining giraffes, Nabo and Moshi, are doing well.
Grief counsellors are being made available to Emara's caregivers and other zoo staff.
This report by The Canadian Press was first published May 29, 2023.