Airdrie RCMP's CRU Seizes Suspected Fentanyl, Cash, and Guns in Calgary
Airdrie, Alberta– Airdrie RCMP's Crime Reduction Unit (CRU) has seized suspected fentanyl, other drugs, cash, and firearms after conducting a search warrant within Calgary this past weekend.
On Saturday, March 10, 2018, Airdrie RCMP's CRU along with the assistance of the Calgary Police Service and the RCMP's Federal Serious and Organized Crime Team executed a search warrant at a residence within the Forest Lawn neighbourhood of Calgary. Two individuals were arrested and charged as a result of the search warrant and a significant amount of drugs and cash were removed from the home.
The search of the residence resulted in the seizure of 1616 suspected fentanyl pills, 3.5 ounces of suspected fentanyl powder, 7 grams of suspected carfentanil powder, 25 morphine pills, and 9.5 ounces of methamphetamine. There was also $15,000 in Canadian cash seized along with what is believed to be $5,000 in counterfeit American cash. Two firearms, including an assault-style rifle were also seized by Police.
The investigation was lead by Airdrie RCMP's CRU which targeted suspects whom were believed to be supplying fentanyl and other drugs to Airdrie and Rockyview County areas.
"The searches conducted are part of a larger crime reduction strategy that focuses on identifying repeat offenders and conducting targeted, intelligence-led investigations. This seizure of drugs, cash, and firearms plays a part in making our communities safer," says Sargeant Andrew Boxall, Team Leader for Airdrie RCMP's CRU.
31-year-old, Ivo Musa, of Calgary, Ab has been charged with 11 charges including:
· Possession of fentanyl for the purpose of trafficking
· Possession of carfentanil for the purpose of trafficking
· Possession of methamphetamine for the purpose of trafficking
· Proceeds of crime over $5000
· Weapons offences
· Breaches of Court Orders
23-year-old, Heidi Helene Moran, of Calgary, Ab was arrested on eight outstanding Arrest Warrants from four different Police jurisdictions in Alberta. She is also facing the same 11 charges.
Both individuals have been remanded into custody and are awaiting Court dates for the Provincial Court of Alberta.
If you have information about this incident, please call the Airdrie RCMP at 403-945-7200 or call your local police. If you want to remain anonymous, you can contact Crime Stoppers by phone at 1-800-222-8477 (TIPS), by internet at www.tipsubmit.com, or by SMS (check your local Crime Stoppers www.crimestoppers.ab.ca for instructions).
Teen found guilty of manslaughter in hit-and-run death of Calgary police officer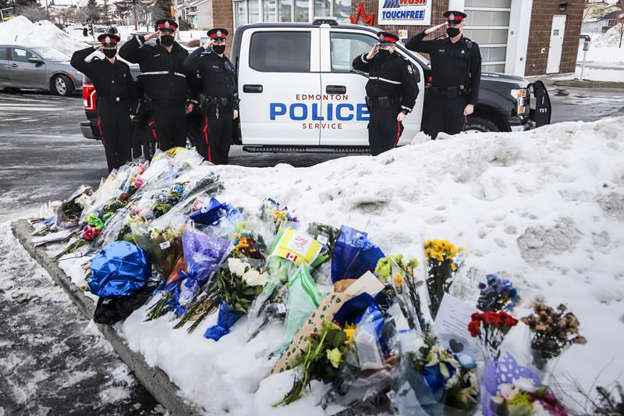 Calgary – A judge has found a teen involved in the hit-and-run death of a Calgary police officer guilty of manslaughter.
Sgt. Andrew Harnett died in hospital on Dec. 31, 2020, after being dragged by a fleeing SUV and falling into the path of an oncoming car.
The driver, who cannot be identified because he was 17 at the time, had testified he was scared when Harnett and another officer approached the vehicle during a traffic stop and he saw Harnett put his hand on his gun.
The teen's lawyer said his client was guilty of manslaughter, but not first-degree murder.
Justice Anna Loparco agreed, saying that although the accused had "outright lied" about the gun, he was in a "panicked state" when he decided to flee and unable to know his actions would cause Harnett's death.
The Crown says it will be seeking an adult sentence.
Loparco says Harnett's behaviour was "exemplary" and there was no indication that he posed a threat to the accused.
"There's no doubt he (the accused) should have realized it was likely to cause death," Loparco said Thursday.
"But I'm unable to conclude this accused turned his mind to the consequences."
This report by The Canadian Press was first published Nov. 10, 2022.
'He's not breathing': Trial begins for Calgary man accused in infant's death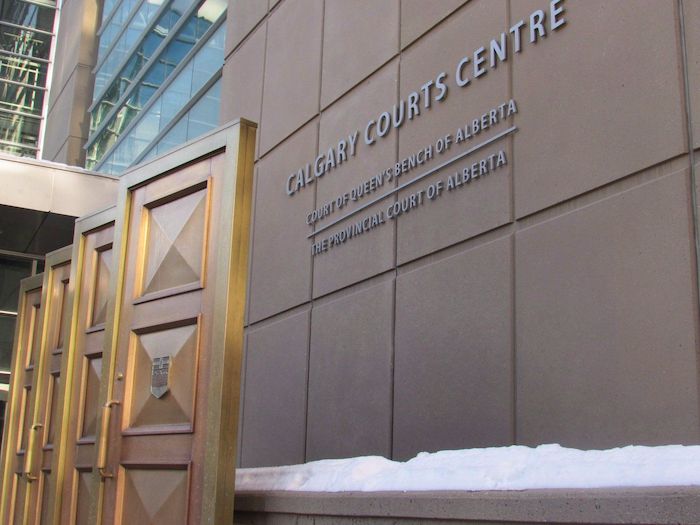 By Colette Derworiz in Calgary
A Calgary father has pleaded not guilty to second-degree murder in the death of his infant son, as court heard the man's 911 call in which he said he was trying to calm the baby down.
The trial for Anthony Karl Kurucz, 32, started Monday in the Court of King's Bench in Calgary. It is scheduled to run for almost three weeks.
Police have said emergency crews were called to a Calgary home in April 2018 to help a three-month-old in medical distress and that Kurucz was alone with his son at the time. The infant, Jayden Cyluck-Kurucz, was unconscious and he died in hospital two days later.
Kurucz was charged in September 2019 after police said the story he provided to medical staff was inconsistent with the boy's symptoms.
On Monday, court heard a recording of the 911 call from Kurucz that came in around 12:15 p.m. on April 25, 2018.
"My baby was freaking out," Kurucz said on the call. "I was trying to calm him down, rock him, that kind of thing."
He said there was blood coming out of his son's nose.
"I'm freaking out because my wife just went to take our dog to the vet," Kurucz said.
He told the dispatcher he believed the boy's heart was still beating.
"He's very floppy, he's very limp," said Kurucz.
When asked by the dispatcher whether the baby was breathing, he responded: "I can't tell. I know his heart is beating, though."
He then asked whether his son was going to live.
"I don't know what to do," said Kurucz on the call. "I didn't do anything wrong to him. I was just trying to calm him down and rock him.
"He's not going to die, is he?"
Kurucz asked the dispatcher, Craig Moxley, whether police were coming. Moxley said paramedics and firefighters were on the way. Moxley confirmed the call during his testimony in court Monday.
Court heard fire crews were the first to arrive at the home in southeastern Calgary.
One of the senior firefighters, Greg Heise, testified that the crew found Kurucz outside.
"The father was holding Jayden on the sidewalk," Heise said Monday. "We were probably caught a little off guard.
"The father said, 'He's not breathing.'"
Heise said first responders placed Jayden on the ground. His colleague started CPR while he tried to open Jayden's airway, he said.
"I was not able to do that," said Heise, noting there was dried blood around the baby's nose and mouth.
He said the father didn't provide much information when Kurucz was asked what happened.
"He was freaking out," said Heise, who noted it was difficult to get a clear answer from the father. "He initially stayed with us.
"At some point, he mentioned he needed to have a cigarette."
Heise said he and his colleague continued to treat Jayden until paramedics arrived a few minutes later.
"He was pale," said Heise, adding there was a bluish tinge around the baby's nose and mouth. "His eyes were open but not reactive."
Another firefighter and a paramedic are scheduled to take the stand Monday afternoon.
This report by The Canadian Press was first published Nov. 7, 2022.