Air Quality Alerts, CNG Buses & Red Deer's Transportation Plan
1:12 pm – A video surveillance system for Innisfail's new RV Sanitary Dump Station has been ordered and will be installed in the next several weeks. Find out what else happened at Innisfail's Council Meeting this week.
For more local news, click here!
12:54 pm – Due to wildfires burning in British Columbia, air quality is expected to be variable across much of the Central Zone of Alberta Health Services (AHS) over the coming days and potentially, weeks. This means a precautionary air quality advisory for the Central Zone. Details Here.
12:47 pm – Lacombe's Police Chief says "the majority of people who attended acted responsibly" during the City's recent Canada Day celebrations on July 1st where Police checkstops took place. Results Here.
12:22 pm – The Laura Avenue Extension project in Red Deer County remains on schedule. Here is the latest update.
For more local news, click here!
12:00 pm – Red Deer Transit rolled out it's new compressed natural gas buses following a celebration at the Civic Yards this morning. Read More.
11:48 am – Thanks to the cooler temperatures and recent precipitation, Lacombe County has lifted its Fire Advisory. Fire permits are still required for all outdoor fires, excluding fires used for cooking or warming purposes and burning barrels. Read More.
11:39 am – Co-op is giving a boost to three local organizations that are creating new opportunities and experiences for central Alberta residents. The Innisfail Public Library, Blackfalds District Agriculture Society and Medicine River Wildlife Centre in Spruce View have all received donations through Co-op Community Spaces, a funding program supporting recreation, environmental conservation and urban agriculture projects. The Innisfail Public Library will receive $25,000 for a new Community Garden. The Blackfalds District Agriculture Society will receive $25,500 for a scenic rest area next to the Wadey Visitor Services Centre and Medicine River Wildlife Centre will receive $133,000 for a Wildlife Home Playground.
For more local news, click here!
11:26 am – Avoid traffic delays by knowing where Red Deer's road closures are. Details Here.
11:15 am – Red Deer's new multimodal transportation plan is moving forward. "Moving Red Deer Forward" charts the course for the future of driving, walking, cycling and transit in Red Deer. Read More.
9:37 am – Meteorologists with Environment Canada have issued special Air Quality Alerts for many parts of Alberta'S west country, including the Nordegg, Rocky – Caroline, Rimbey, Pigeon Lake, Devon and Drayton Valley regions among others. Details Here.
Canadian sprinter Andre De Grasse wins bronze in men's 100 metres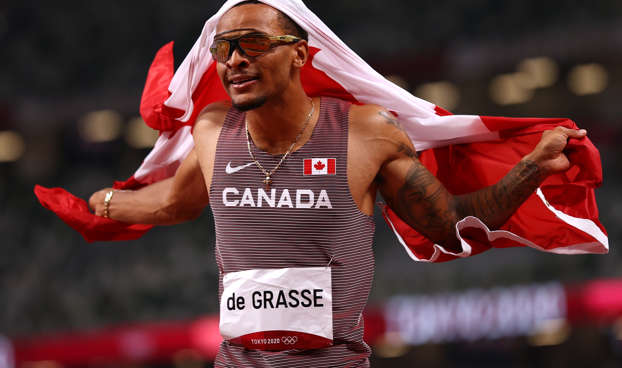 TOKYO — Canada's Andre De Grasse has claimed the bronze medal in the men's 100 metres for the second straight Olympics.
The 26-year-old from Markham, Ont., overcame a rough start and raced to third in a personal-best time of 9.89 seconds.
Italy's Lamont Jacobs took the gold in 9.80 seconds, followed by American Fred Kerley in 9.84 seconds. All three medallists ran personal bests.
It's Canada's first track and field medal at the Tokyo Olympics. It's also the latest piece of hardware in the event for De Grasse, who won bronze in the 100 in both the 2016 Olympics and 2019 world championships.
Two hours earlier, De Grasse ran 9.98 to finish second in his semifinal and seventh overall.
De Grasse is the first Canadian male to climb the medal podium in Tokyo. Led by swimming superstar Penny Oleksiak, women had captured all of Canada's 13 previous medals.
De Grasse will have a day off before he's back on the track for the 200 heats and semifinal on Tuesday. He captured silver in the 200 at both the 2016 Olympics and 2019 world championships.
There was no clear-cut favourite in the men's 100 this year with the retirement of Usain Bolt. The Jamaican superstar and world record-holder (9.58) captured gold and silver in the 100 and 200 in the Beijing, London and Rio, and what the media dubbed his "bromance" with fellow Puma athlete De Grasse was an entertaining storyline in Rio.
American Christian Coleman, the reigning world 100-metre champion and the sprinter considered De Grasse's biggest challenge in Tokyo, is serving a doping suspension through May of next year.
This report by The Canadian Press was first published Aug. 1, 2021.
The Canadian Press
Penny Oleksiak makes history as Canada swims to bronze in medley relay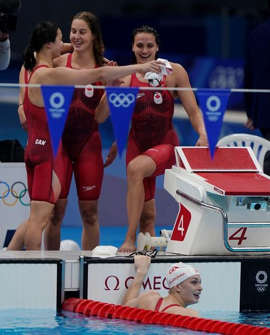 Masse, 25, earned a pair of silver in backstroke. Oleksiak also claimed bronze in the 200-metre freestyle.
The women's swim team amassed six medals in Tokyo to equal its Rio count of five years ago.
Taylor Ruck of Kelowna, B.C., Pickrem, Mac Neil and Toronto's Kayla Sanchez posted the fastest qualification time in Friday's heats to give Canada a middle lane Sunday.
The medley relay medal was Canada's first since 1988 and fourth in the 61-year Olympic history of race. Canadian women were bronze medallists in 1976, 1984 and '88.
Oleksiak won 100-freestyle gold, 100-butterfly silver and anchored Canada to a pair of freestyle relay bronze medals at age 16 in Rio.
Heats, semifinals, finals and relays added up to 10 races over nine days for Oleksiak in Tokyo, where she added a pair of relay medals and the 200 free bronze to her total.
Oleskiak, Mac Neil and Masse claimed their third medals at the Tokyo Aquatic Centre.
This report by The Canadian Press was first published July 31, 2021.
The Canadian Press